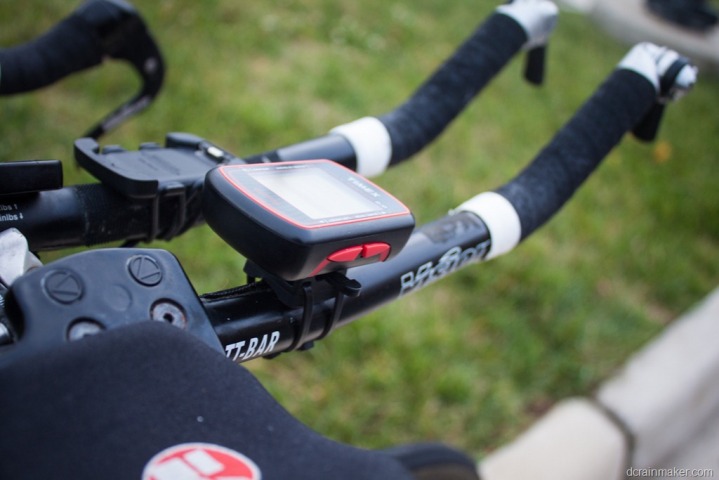 I've always gotten questions as to why I mount various gadget devices on my aerobars, primarily from the belief that in doing so, I'd be blocking my ability to use my aerobars.  So, I figured I'd take a moment to explain my logic in this area.
First, is the reality that on most triathlon (time trial) bikes there are actually very few good areas to mount any bike computers.  The most common location on a road bike tends to be the stem, which is the piece that connects the handlebars to the for  (as seen below in the center of the photo).  However, with a triathlon bike the stem area is often overlapped by the aerobar pads/mounts, or it may have an extremely short stem on it (perhaps only an inch in length) – which may not be enough for the device at hand.  Meaning, you may be able to mount an Edge 500 or Timex Cycle Trainer there, but not an Edge 800 or Joule GPS.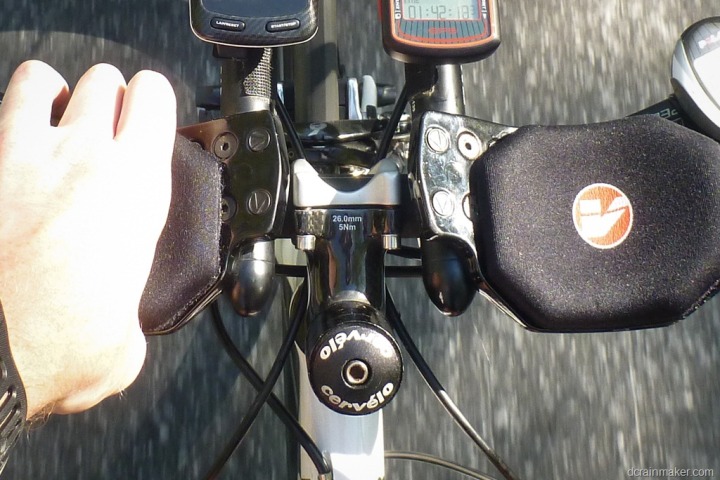 So that removes the stem as a viable option.  Next up is either outermost edge of the main handlebar, the area not covered by the aerobar pads.  I used to use this area to mount my Garmin FR305 back in the day, but I try to avoid this area otherwise these days.  Though today I've got the Polar CS600x on there.  At the time I mounted it there, it was primarily because the unit sorta fit snugly there, and I knew I'd have it on my bike quite a while since it was a longer term test.
The problem here though is that from a safety standpoint this is bad location.  If you're quickly moving your hands back from the aerobars to the main handlebars to then grab the brakes, you don't want your hands to slip on a unit, or somehow swipe your unit off the bike.  Both results would suck.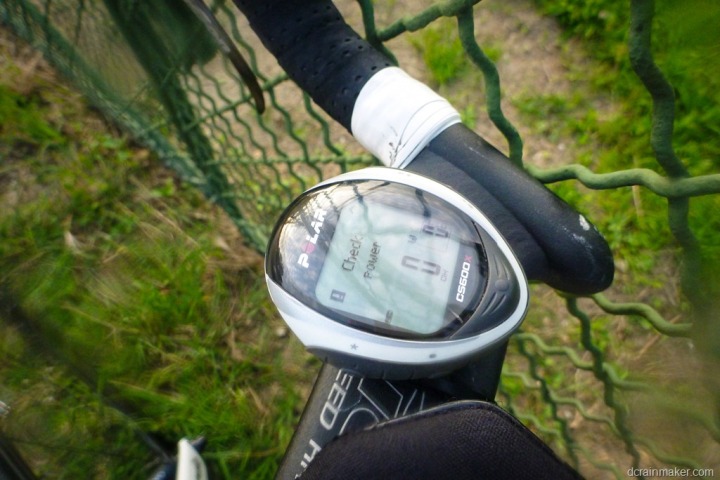 Which then leaves the aerobars and associated airspace in between them.  Within this camp, you've got two main options: On the bars, or the space between the bars.  In between the bars is great when you have aerobars that are spaced wide enough to accommodate any of the various bike computer mount systems that can leverage the small rounded tube that simply tightens onto your aerobars, like below: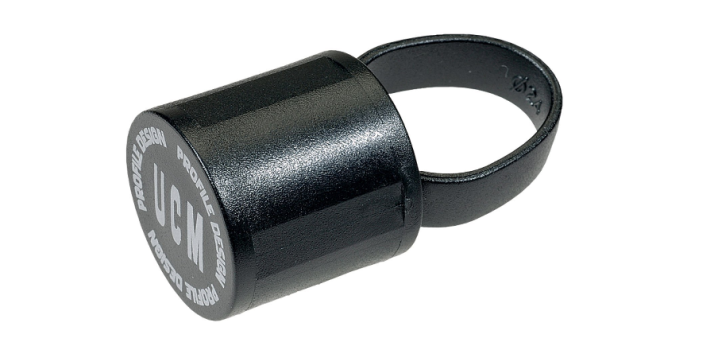 This does work well, and puts it right in plain sight for most folks.  Except, not all aerobars have a wide enough gap.  Or, you've got a short aerobar mount and it's too short for your bike computer.  In my case, my position (as in, bike position), is fairly closed since at the moment most of my races are shorter distance.  Thus with a more closed racing position (meaning the front of my body isn't as wide open), my bars are actually too short to accommodate many of the in-between options (without a hack saw).
Some folks have asked about the below photo, which is part of my FR910XT review.  This is actually a great example of not having the bars wide enough for the particular length mount I had, but they were actually tight enough that I could really wedge just the tube (without the normal mount piece) in between my bars and it was solidly stuck there: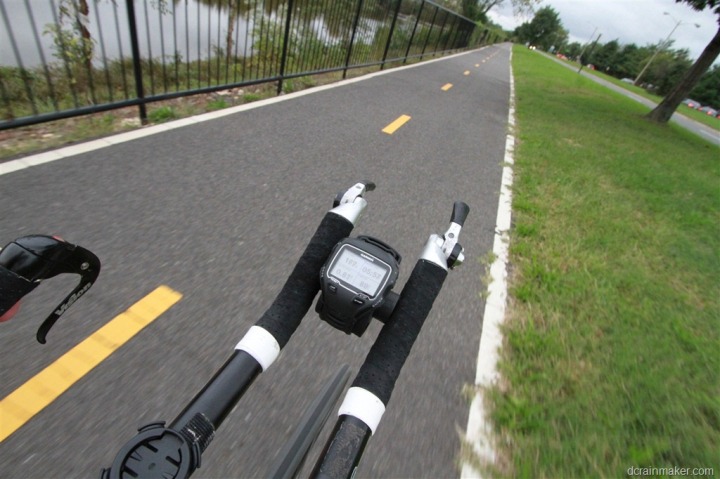 Which, brings me to my final solution – simply sticking them on the bars.  At first glance, many folks believe this blocks my arms.  But the reality is, my arms don't rest on the aerobars themselves, but rather just off to the side of them.  In fact, if you look at the top pro triathlon positions (that gallery from Kona is awesome for this purpose), almost all of them are the same – with their arms just off to the left/right of the aerobars.  Thus my arm just wraps naturally around the unit – which is no different than if no unit were there at all.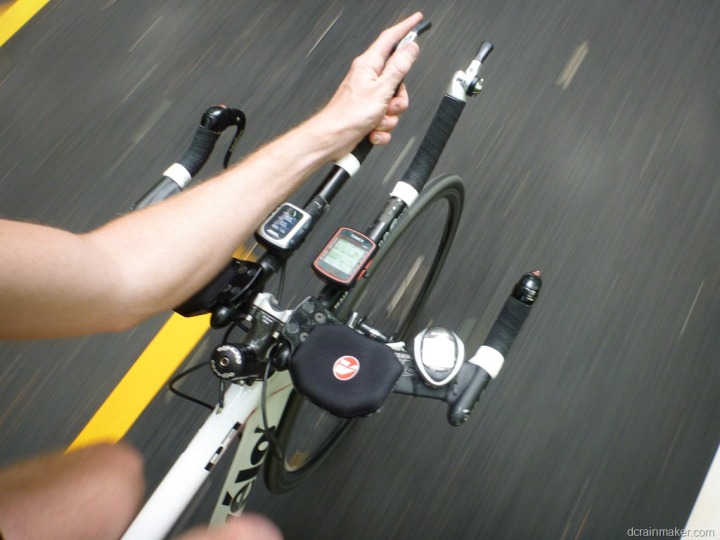 Additionally – and this is specific to me – this allows me much for flexibility in comparing multiple units at once, so I can load more units up.  Obviously, not exactly a problem most people have, but a somewhat real problem for me.  I only have so many rides each week, and I need to make the most of them from a product review standpoint.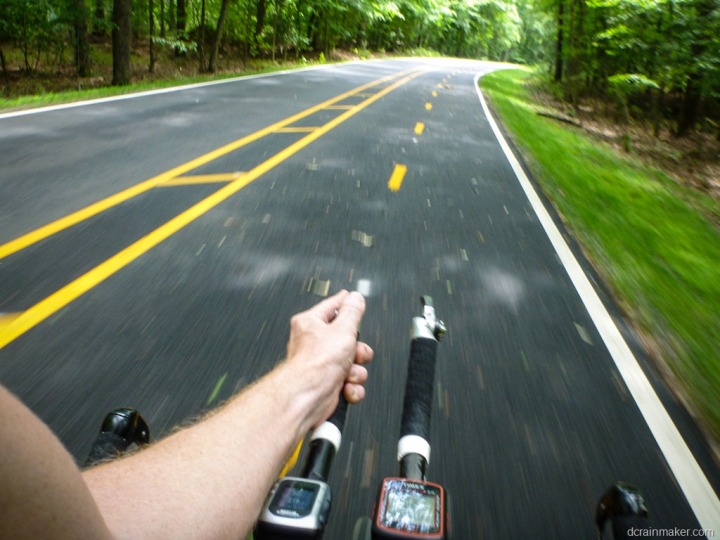 Now going forward, what we're seeing is bikes simply acknowledging this upfront.  For example, the new 3T aerobars on the Cervelo P5 have bike mounting location built into them (the image below from one of the Team Garmin bikes at the TdF this year shows a standard Edge cycling mount then added to it).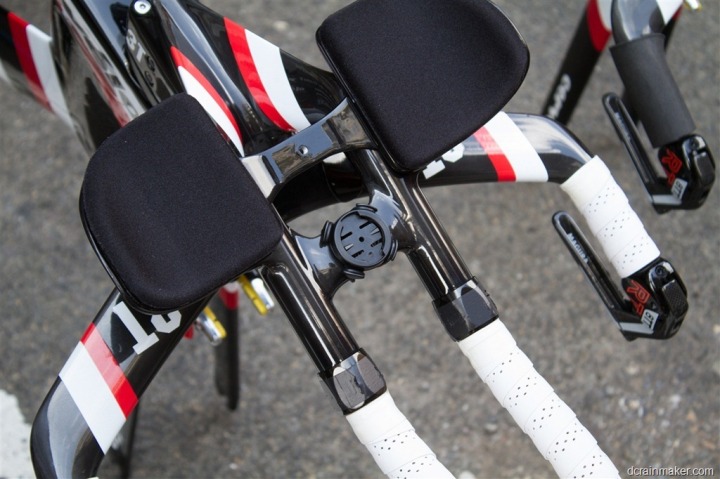 And of course, some companies (again, 3T) are actually building in mount systems that are specific to vendors like the Garmin quarter turn systems.  And we've also seen a ton of Garmin-compatible custom mounts come out in the last 4-6 months.  I suspect we'll continue to see that trend continue.  At some point though, folks will realize that the 3rd party mounts (mostly for road bikes) as being produced today are overpriced – and hopefully we'll see the prices go down.
So there ya have it – my simple logic explanation of how and why I mount things on aerobars, as well a as a bit of a tour as to the most common mounting locations.
Thanks for reading!