(And now… I present a return to Tri/Running stuff…)
I do a lot of traveling.  In particular, I travel quite a bit to Seattle (where I'm originally from) for both work and leisure.  The problem with travel is that it has the potential to hose up your training plans.  Running is fairly easy to get in as you can pretty much run anywhere.  And finding a swimming pool isn't too hard if you take a few minutes to check out the Swimmers Guide.  But biking…that's where things get tricky.  The primary issue being a lack of bike.  In particular – a road bike.  Finding a mountain bike isn't super-hard.  Finding a road-bike is downright near impossible, let alone expensive.
For the first few weeks of going back and forth to Seattle earlier this summer I tried renting a road bike.  I was quickly spending $40-60 a shot to rent it for 2 days.  Forget that, I had to find a better solution.
The problem is I didn't want to spend $1000+ on yet another bike.  This wasn't my primary bike and wasn't something I rode all of the time.  I would ride it a few times (2-6) a month.
I first tried the source of all things cheap: Craigslist. The problem there though is that most 'good deals' on Craigslist tend to last about 12 seconds.  Because I didn't live in Seattle I would have to negotiate with the seller around a time I was in Seattle (which could be days or weeks in advance), and then there was the issue of bike condition, etc…  It just seemed like a painful experience in the making.
I then tried the second source of all things cheap: eBay.  I had found a few bikes that were new that were cheap.  By cheap I mean sub-$500.  But after some discussions with some cycling folks, it was determined the parts were somewhat crap.
So that left me at a physical bike shop.  I tried a few local places for a used bike, but they were all WAY too expensive.  I tend to shop quite a bit at Performance Bike, because it's super-cheap.  It's also a 10 minute drive from my house in DC.  Even better they have a number of places in Seattle.  I also like the fact that they will perform maintenance on the bike for free for life.  That's really handy since I'm not quite adept at all things bike yet.
The cheapest road bike they had was the Fuji Newest 3.0.  Weighing in at $450 (on sale, which is every other week), it seemed like a viable option.  Adding in a slew of Performance points I had (credits basically), it would bring it down towards $375.  At this point, short of the thing falling apart before I left the store it seemed like a good deal.  So I bought it.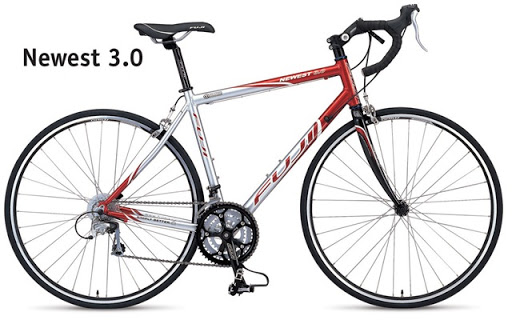 The major parts are:
Frame: Fuji Altair 1 Compact aluminum

Wheels: Formula Alloy Road with Kenda K-152, 700 X 25c tires

Fork: Bonded Carbon

Front/Rear Shifter: Shimano 2203 shifter/brake, 24-speed

Derailleur's: Shimano Sora

Crankset: Fuji Forged Aluminum Road 30/42/52T Chainring

Brake Set: ProMax Dual Pivot Forged Road
After about 200 miles on the bike (spread out over a few months) I'm not entirely sure I made the right decision.  Sure the bike works fairly well and all.  And I can certainly keep up with folks I ride with in Seattle.  But there are a number of little things that I don't particularly like:
The bike is 6.5 pounds heavier than my

Fuji Roubaix RC

.  This is noticeable on hills and flats.

The tires on the bike are a touch wider than I like – and they've got all these stupid little tread thingies sticking out of them.  Of course, I could/should fix this problem by just buying new tires.  But this is how the bike was 'as-is'.

The handlebars have two sets of brakes.  One on the drops and one on the main horizontal portion of the handlebars, closer to the front fork.  I have yet to figure out when I'd use the second set.  Waste of space and weight in my opinion.

I did toss the seat before I even rode it.  It was this massive fluffy thing.  Seriously…on a road bike?

The shifting is sorta crap.  There is a very fine line when shifting up onto the big gear in the front, depending on what gear I use in the back where it will drop the chain.  I brought it back to Performance and this seemingly sharp guy worked on it for about 30 minutes tweaking it a bit and making it slightly better but simply admitted that the parts weren't that great and that was the primary cause to my shifting issues.

It's a three-ring bike.  Nuff said.
Now – to be clear: The bike is perfectly fine for a secondary training bike in a remote city and I even used it in a sprint tri race.  But it's just a lot of little things that are annoying.  I can't say I 'look forward' to riding it.  Once I'm on it, it's fine.  It would probably be good for a first time road bike person who isn't sure they want to enter the sport and you don't want to spend a lot of money on a 'lost cause' so to speak.  So that's something to consider.
But I don't get this overwhelming urge to just go ride it for the fun of it.  In retrospective, I somewhat wish I had spent a few hundred more dollars to get something that I would be 'happy' with.