For roughly the past week I've been hanging out in Seattle for work.  Of course, since Seattle is where I grew up – that also means I get to spend time with the rest of my family, and enjoy some of the things that Seattle is famous for.
Take for example, my running route.  It's no secret that it rains a lot in the Puget Sound, and with the exception of Friday, it did indeed rain every day while I was there.  Since rain degrades a drivers ability to see, it also means that I wanted to find somewhere a bit quieter to run.  So when it came time to run each night I was looking for a route that was both safe, but also well lit.
It so happened that I decided the best route one night was actually running around Paine Field (only two miles from my parents house).  Paine Field is where they make the Boeing 747, 767, 777 and 787 – essentially, all of the wide body Boeing aircraft.
My run was only about 40 minutes that night, but with the main runway closing in on 10,000 feet (basically two miles) – the airport had plenty of running potential.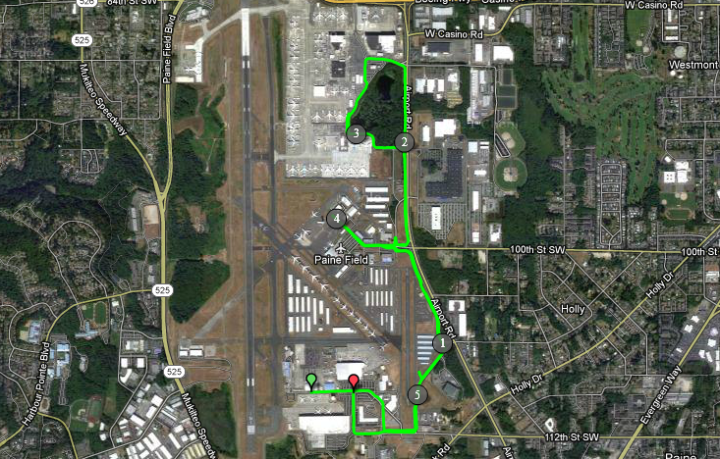 Since the airport is host to a massive number of companies that support Boeing, there were tons of roads to wander around on.  Most of them lined with Boeing 787's waiting to be fixed and delivered to airlines (around 45 of them these days).  You can see some of these in the older satellite image above…there are many more nowadays.
Speaking of which, I thought this photo was kinda neat – which I took after I completed my run.  I'm standing in front of half a dozen 787's waiting to get modification work done, which will ultimately allow them to be delivered to their respective airlines.  In fact, up against the hanger are two 787's destined for United Airlines, to be delivered in the second half of this year (well, hopefully).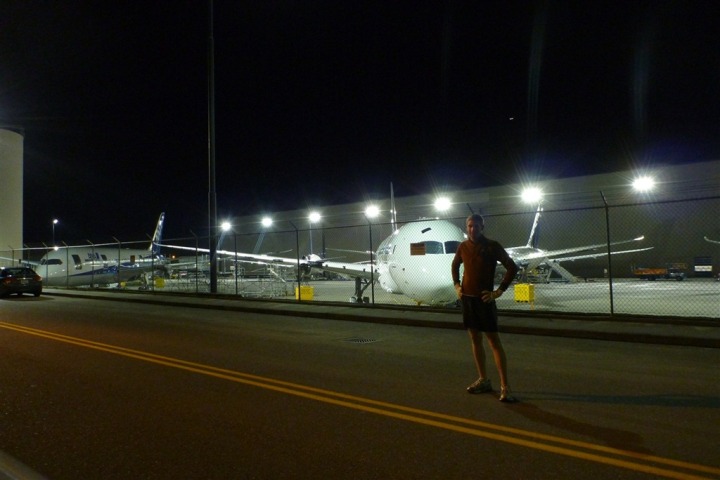 At one point during my run they were doing some engine tests at the other end of the field – neat to just see the constant array of activity, even at 7-8PM at night.
Moving ahead to Saturday, it was skiing time.  With so many options for ski resorts within easy reach of Seattle, we left it as a game-time decision for early Saturday morning. Ultimately, the weather was favoring Stevens (a complex matrix gets implemented, evaluating drive time with expected weather conditions).  Since the weather was largely overcast turning to occasional snow showers, it wasn't worth going further afield for better skiing.  Stevens would do just fine.
Today I was playing/testing with an assortment of gadgets, but the focus of which was primarily the Recon Instruments MOD heads-up display goggles.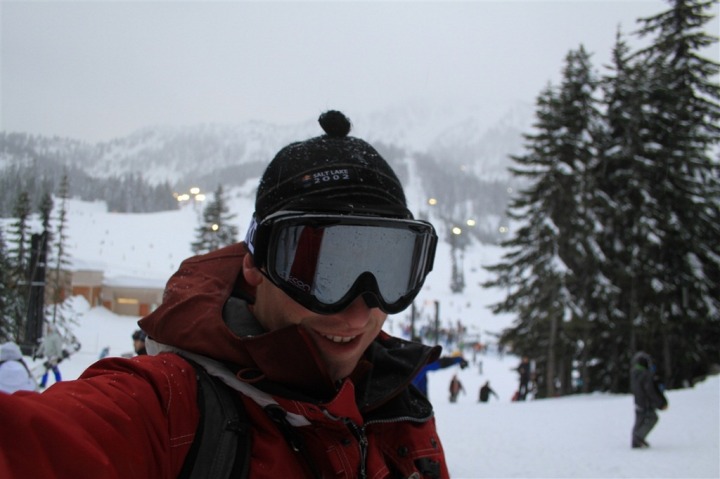 These Android powered goggles display your skiing stats in real-time in the lower corner of your goggle:
It's sorta like having a Garmin inside your goggles.  And I've gotta say, it's really damn cool.  So much better than looking down to check your watch – it's just…well…right there in front of you.  It's really hard to take photos of the inside of the screen, but here's one from that day.  When I'm looking at it inside the goggle, it's crystal clear.  But the photos turn out grainy: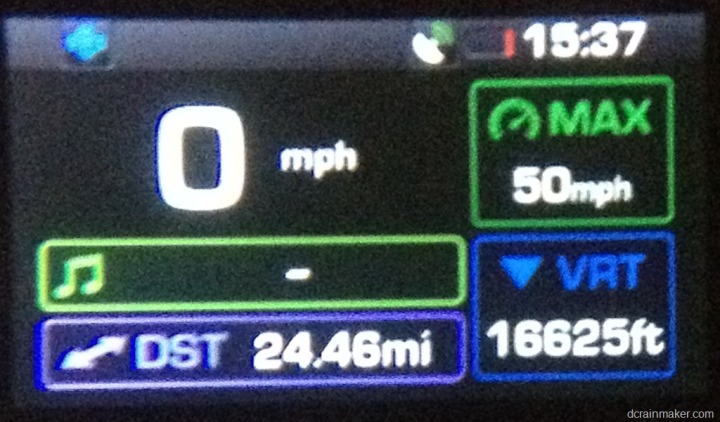 Now, had I not had to work on Friday (day before), I would have definitely bailed and also gone skiing with my brother – since it was incredible weather that day.  But I gave him the goggles as he spent nearly a dozen hours skiing and hiking all over creation – much of it in backcountry territory.  It's cool to see the map of there as well, especially relative to where the ski area was (black line his route, including hiking, other lines ski runs/lifts):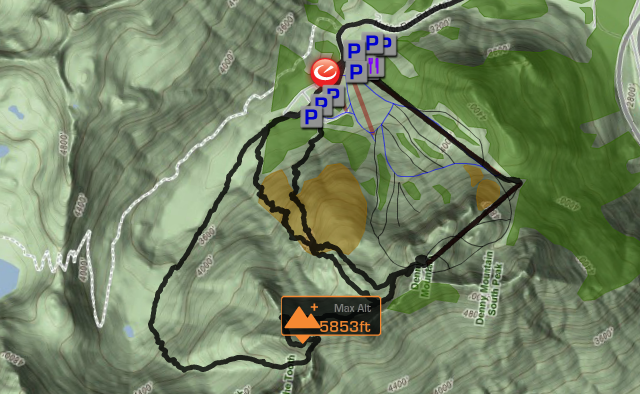 And while the goggles battery died well before his (only about 6-7 hours), I've gotta share one quick capture from GoPro footage that day, since it was pretty sweet: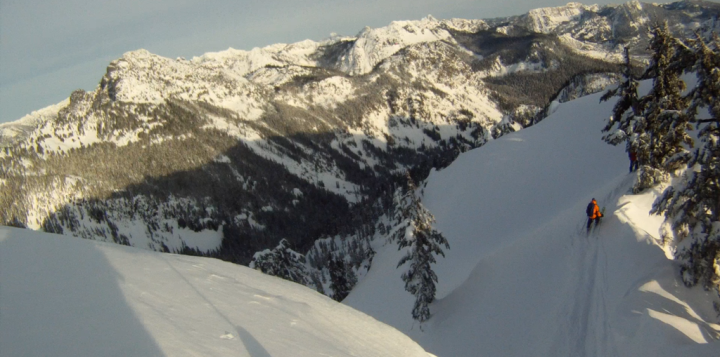 Later on when review the unit in full I'll show some of the GoPro videos of his, combined with the data from the goggles, since it can merge the match the display.
Though, the primary purpose of the goggle is to give you data in the goggle in real-time.  It can also sync text and phone notifications with Android cell phones (iPhone 4S support coming next year), and can control music too.  Cool stuff.
At any rate, soon, it was time to head out.  Next time skiing, next time!  Before heading back to DC, we swung home and I had a great home cooked meal.  Inclusive of course, of some Spatzle – which served as a clear reminder that I need to make some more again soon: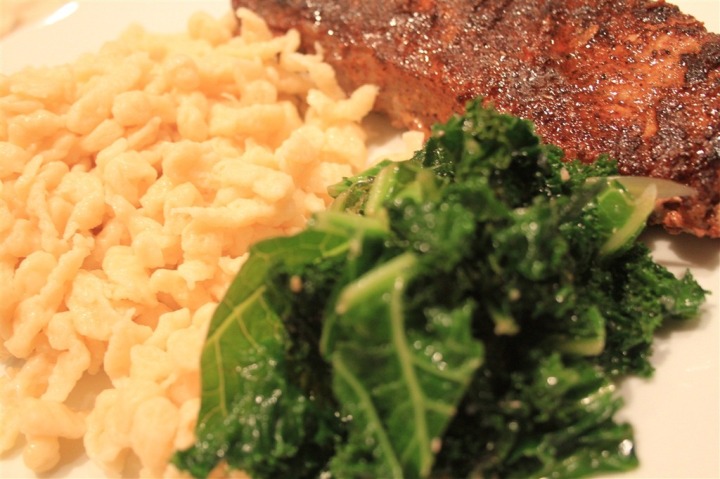 With that, I jumped on a plane and zipped across the night sky on a lovely redeye back to Washington DC.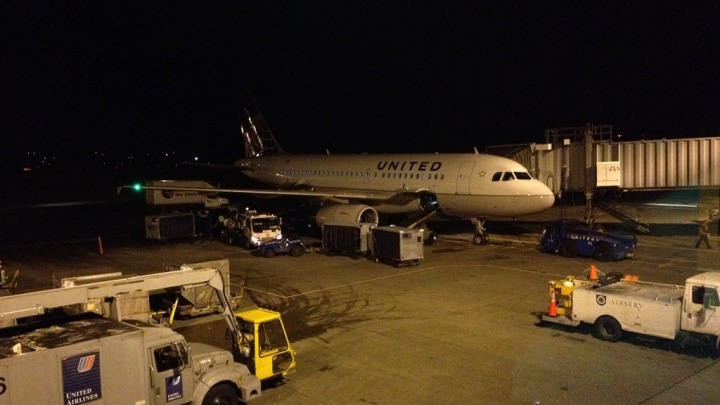 Upon arriving at Washington Dulles early Sunday morning, I caught up on my sleep.  But later on Sunday I went ahead and did a nice 10 mile run.  I was excited to find that the heart rate strap gel that I had ordered had come in.  While the latest generation of straps is pretty good, I find that on these 40-50*F days where I'm in Z2 (long run effort), I don't often produce enough sweat initially to get good HR data in the first 10 minutes of the run.
I've previously posted on this stuff, but my previous bottle finally died.  It seems to have about a 14-18 month shelf life before it becomes kinda watery, and doesn't stay put.  But at about $6, I'm alright with that cost to product lifetime ratio.
Plus, the data was pretty close to flawless, so I was happy again.  And of course, the run was good too!
(Side note: If you have heart rate data spikes/dropouts, start with this post, and then this post, and more info on that gel here.)
When I returned home I went looking around the fridge for the required ingredients to make chocolate milk…namely, well, just chocolate and milk.  In my quest though – I found a far greater recovery food!  Chocolate Martini!  The Girl had made these while I was away, and I just assumed I'd never get to eat one since I figured that it would be the penalty for travelling.  Thankfully, I was wrong.  May very well be the best dessert item she's ever made.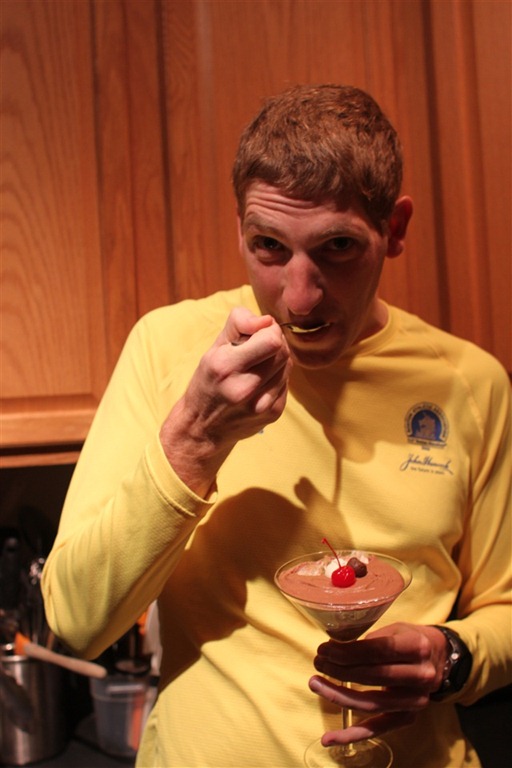 With that – my weekend is complete, time to enjoy the rest of the evening.
Thanks for reading, and hope your week ahead goes well!