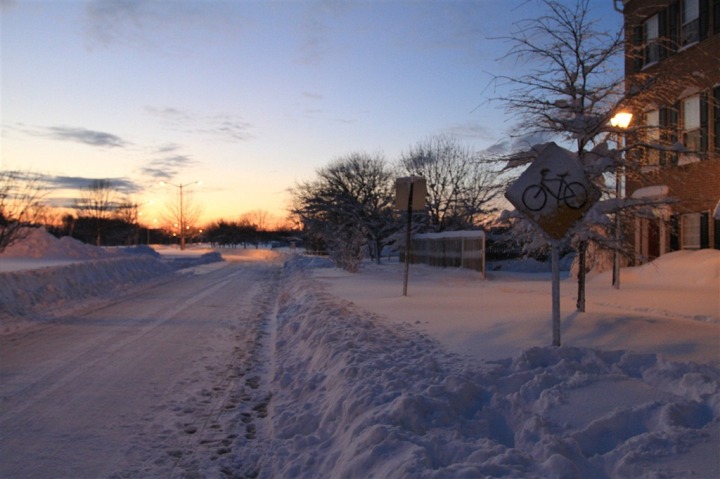 Back a bit ago I got a question as to what my cold weather running gear looks like – after all, I do pretty much run outside no matter how cold it is.
"Searched your blog but couldn't see much on this topic. Do you have any recommendations on running/riding (just training, not competing) in winter and staying warm but not sweating too much and getting cold. Clothes you wear or suggest? Gloves, beanies etc?

I just have so much trouble motivating myself in winter to get outside. I have a running machine and trainer, but oh so boring. And if I do rug up I heat up so quickly it is uncomfortable.  So I am sure there are items out there that do this properly.

So any options you would like to recommend or suggest to make the task of taking the first few steps out the door in winter a pleasure?"- Nathan S.
Here in DC, the weather fluctuates quite a bit in winter, with the temperatures generally being between 30°F and 50°F for most days, but it occasionally will dip as low as 0°F – all without any funky wind-chill factors.
So over time I've kinda put together a simple mental chart of what I wear at given temperatures.  Of course, as with most things, it tends to be a bit of a personal preference with how your body reacts to colder temperatures and retains heat.  Or, at the opposite end, how well it performs in heat.  Myself, for example, I hate overheating – so I'll usually err on the side of being a bit chilly rather than being too warm. Though, in all the below scenarios I usually manage to nail the heating aspect and stay warm without getting too hot.
Let's start off with some moderate stuff, and then work our way down.  I'm going to do it in Fahrenheit – merely because that's how I have my mental chart laid out.  And of course, I reserve the right to change it on a completely ad-hoc basis, simply because I feel warmer or cooler on a given day.
55°F/13°C: Shorts and T-Shirt
Shorts and t-shirt, no doubt about it.  And really, in general if it's over 50°F, I'm likely wearing just a pair of shorts and a t-shirt.  Sometimes though if it's really blowing, I'll dip into the long-sleeve below 55°F, but mostly the above range could read 50°F+.  And anything above 55°F is definitely no-go for long-sleeves.  I'd likely burn up, unless I was below long-run pace (i.e. running slower than normal).
45ish-55°F (7-13°C): Shorts and Long-Sleeve Shirt
This is where I start to add something up top.  Usually I'll grab one of the handful of long-sleeve technical fabric (quick-dry) shirts that I have from some random race.  In the DC area, that random race tends to be the Army 10-Miler, since they give out virtually the same shirt each year – thus, I have a number of those shirts.  Sometimes, as in the case of last week in Seattle where I forgot a long-sleeve shirt, I'll simply use the t-shirt and fleece method I note below: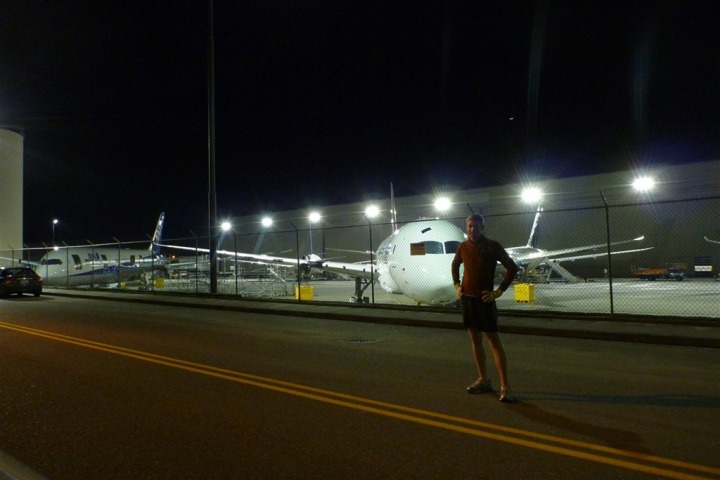 Speaking of travel, sometimes I plan something completely wrong – like this run in Zurich from last January.  But I still ran…even in the snow…with my getup designed for warmer temperatures.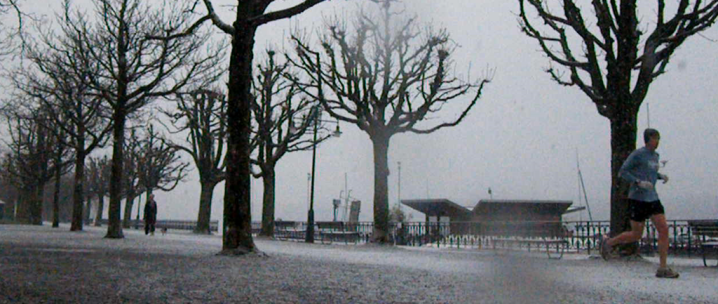 I use shorts here mostly because I like the freedom of shorts, but there are times that at the lower range of this, or if the wind is pushing a bit – that I'll go ahead and go with running tights.  But in general, this is shorts weather – especially if running in the sun.
I should note that from a socks standpoint they stay the same across the board.  I use Balega running socks…cause I love them.
35°-45°F (2-7°C): Running Tights and Long-Sleeve Shirt:
At this stage, I've transitioned from shorts to running tights.  I know that some of you may be afraid of the running tights – but it's really the way to go.  I've used the Sugoi Midzero tights, merely because it happened to be the first pair of tights I picked up at my local running store.  I like them, they last quite a while, and they work for me.  Unlike GPS devices though, I really know very little about sports clothing other than what works for me.  I do know they have different tights for different temperatures, but I find the Midzero works across the spectrum of weather I'm running in.  You crazy folk out in the midwest who run in –30°F weather…you'll have to sort out the colder weather varieties and report back.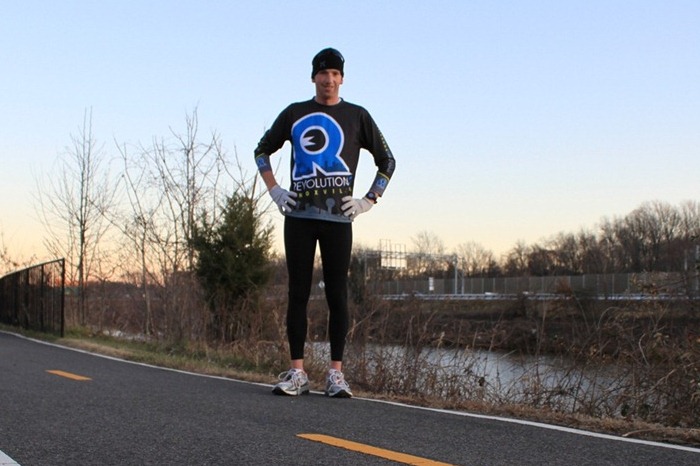 Usually at this point, I'll be adding both a hat and gloves, since I want to keep my noggin and hands warm.  And as silly as this may sound – I actually just use those cheap $1 gloves that you buy at the running expos before a race.  Even more so, I always feel bad about throwing them away…so I kinda still have even my very first pair from years ago.
20°-35°F (-7-2°C): Running Tights, T/Long-Sleeve shirt and Thin Fleece
At this stage, I'm simply layering a thin fleece jacket over my running gear.  I bought it years ago at REI, and it's my go-to running fleece.  While lightweight, and though not exactly breathable – it works perfectly for me.  All I do is simply put a t-shirt or long-sleeve shirt under it (depending on which end of the spectrum we're talking about), and I'm good to go.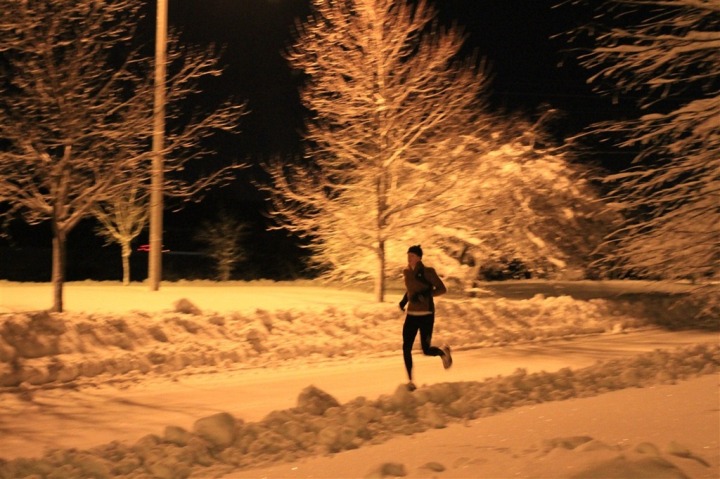 0°-20°F (-18 – -7°C): Running Tights, Long-Sleeve Shirt, Running Jacket
This is fairly similar to above, except I'm simply swapping out the fleece for a legit running jacket.  Mine isn't anything special from a brand/vendor standpoint, just whatever they sold at the Boston Marathon.  If it's on the colder edge of that, I might also wear the fleece – but generally I'd be far too hot unless it was a long run at a slower than normal pace.
I also tend to wear warmer gloves here.  Usually mittens, but again, your body really does a good job at keeping warm while running, so be sure not to go overboard here.  You can usually find a nice pair of gloves/mittens relatively cheaply that will do the trick.
And realistically, I wouldn't be doing too long of a run in 0°F weather.  I think the longest run I did at 0°F was about 10-15 miles.  I was trying to find the old post, it was in Rock Creek somewhere – but alas, my post searching skills of my own site appear to be non-functional.
Now, I should note that I do often run in these temps with just my fleece if I'm running intervals or other heat inducing run activity.  So keep that in mind.  It's surprisingly easy to keep warm once running.
Snow and Ice:
Finally, a note about snow and ice.  For icy conditions, I use Yaktrax.  They cost about $20-$35 (for running 'Pro' model), and completely and totally rock.  And while they work well in snow, they don't quite work as well in deeper snow.  Meaning that while it doesn't hurt to have them on, I actually don't find them necessary since fluffy snow has pretty good traction.  Their forte is really icy conditions that you can't get a good grip on.
I've run countless runs on otherwise nasty icy roads with them and wouldn't trade them for anything.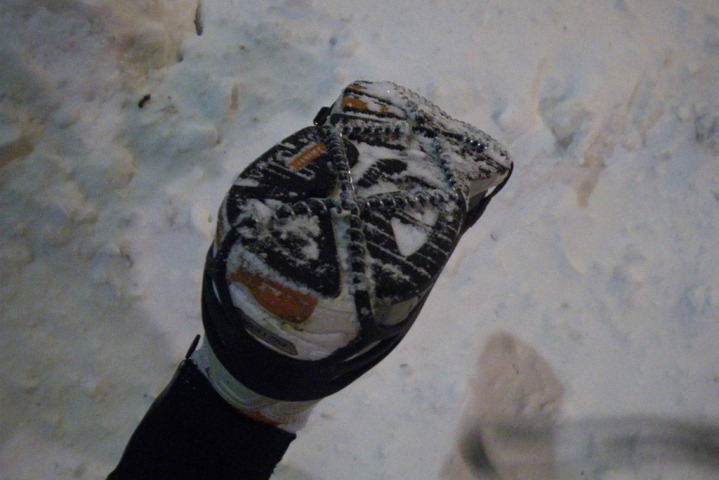 Here's some blizzard and snow running posts that I've done.
Alternate Clothing Options:
Finally, I should mention there are a few scenarios which result in clothing that doesn't match the above brackets.  First, for the Cupid Undies Run, which requires…well…less clothing: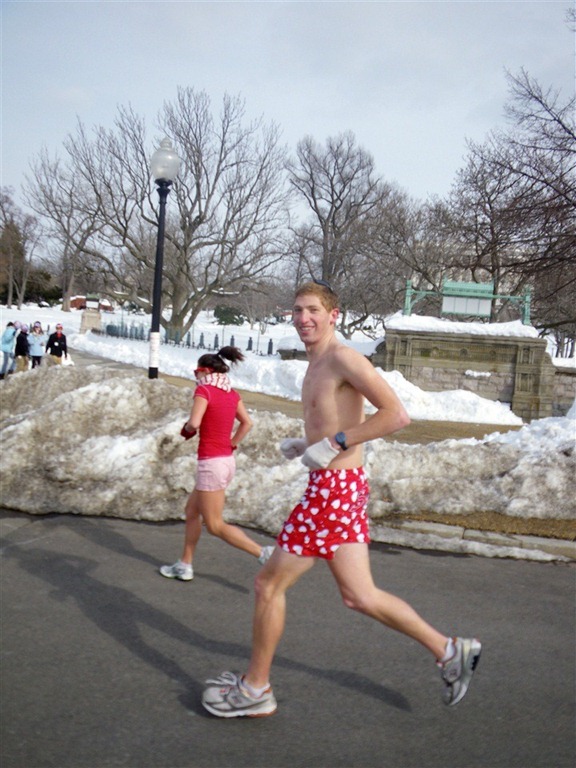 Then we have the Polar Bear Plunge, which, as you can see – starts off as a run…but ended up turning into a swim.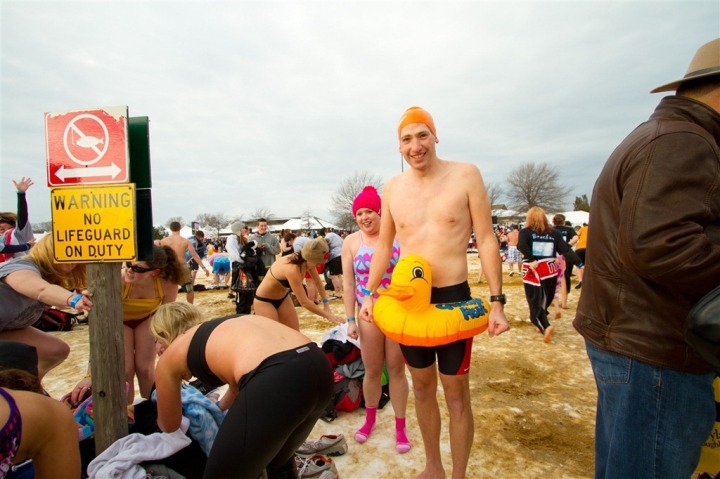 Nonetheless, I feel it's important to correctly classify it within the running section.  You can read about both years here.  And, of course, the video of the below is there as well.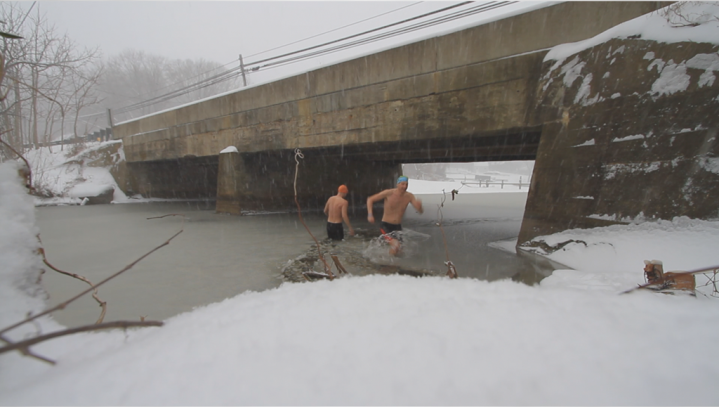 With that, hope you found this useful – and enjoy running in the cold. It certainly beats 100°F+ weather…well…at least in my book!
Thanks for reading!