It's cold. Really really damn cold.
It's now Wednesday evening, and the weather has settled down a bit (though, not above 0*F).  But, it wasn't always that way.

(Regan National airport in DC, as I left Sunday night…my little plane is there in the window)
I left the already frozen weather of Washington DC and arrived into the college town of Lincoln, Nebraska late Sunday night.  Though, the mere act of arrival was pretty much in question up until the last minute.  They warned us as we left Chicago that we may not actually make it to Lincoln, but instead might end up in any number of other cities within a few hundred mile radius – or we may simply have to mosey on back to Chicago.
Anyway, once I arrived, the weekend's worth of snow was drifting across the tarmac in a pretty eerie way.  Almost like watching desert sands of Dubai…but with snow instead of sand.
Monday was fairly normal from a weather standpoint.  Just light continuous snow and cold.  Generally about 10*F.  From a work standpoint I worked 17 hours, well past midnight.  So that ex-nayed any hope of getting in a workout.  But the weather forecast was starting to get interesting, here's where it stood Monday evening: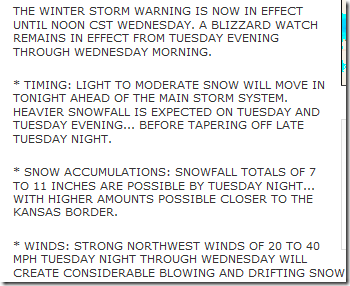 After about 4-5 hours of sleep, Tuesday morning came around and more work ensued. As did some new information at the top of the Weather.com page:

Yes, that'd be a 'Blizzard Watch'.  While I've been in snowstorms, a true bona fide blizzard is a whole different ball game.  Kinda like comparing a typical thunderstorm with a high category hurricane.  Even the local's were saying it was gonna be big: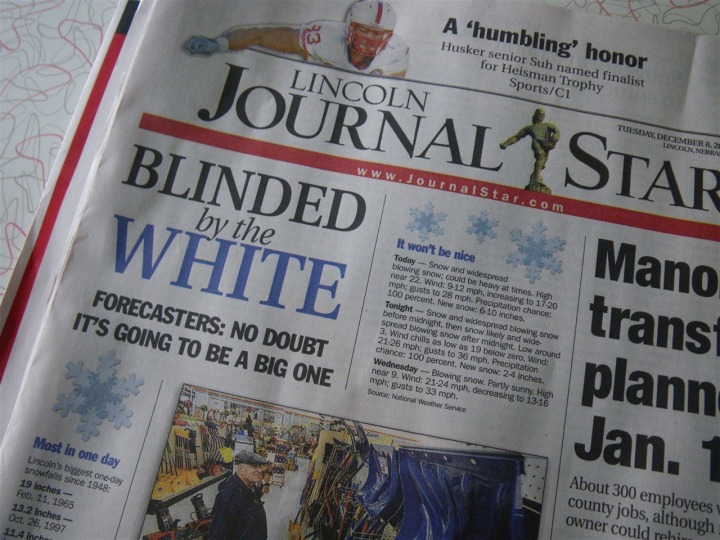 By mid-day, the weather wasn't too bad really.  The snow was starting to come down, but fairly light.  This is the view from my hotel room – interestingly, those windows down below in that building to the right is a YMCA 25y pool.  I can actually see folks swimming laps from my room.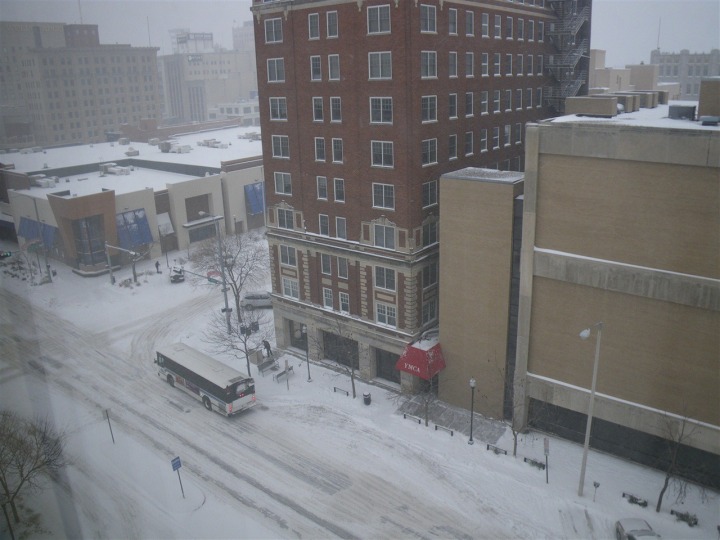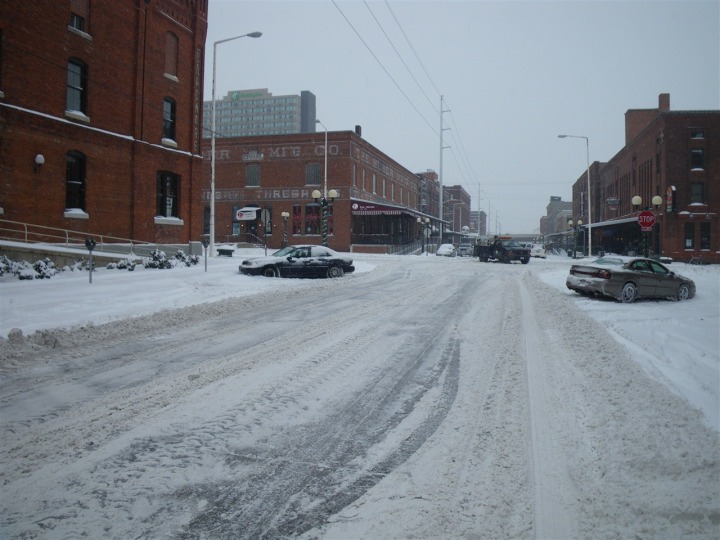 So, we continued to work away.  Given I was in a part of the building without windows – I really had no idea what it was like outside.  Fast forward towards around a late dinner time, and we started to get a better picture.  By then the forecast had been updated yet again: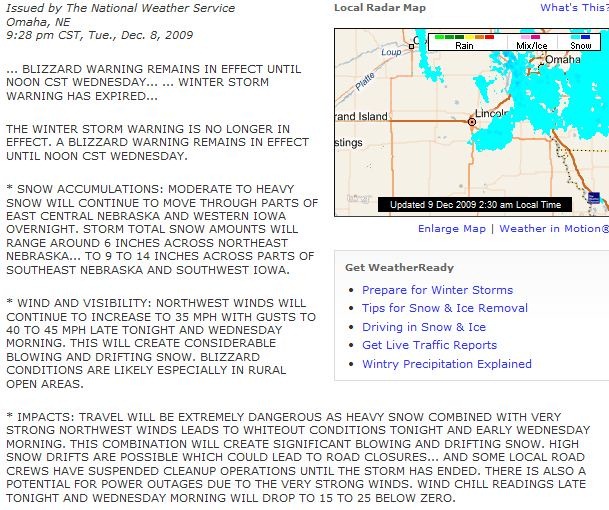 We were now in an official Blizzard Warning.  Which – is what you get when you have an actual blizzard.  You'll note the typical 'winter storm warning' is gone.  And now we have upwards of 14 inches of snow a comin' – with winds at 45 mph.
When we got dinner, you can see the snow starting to come down.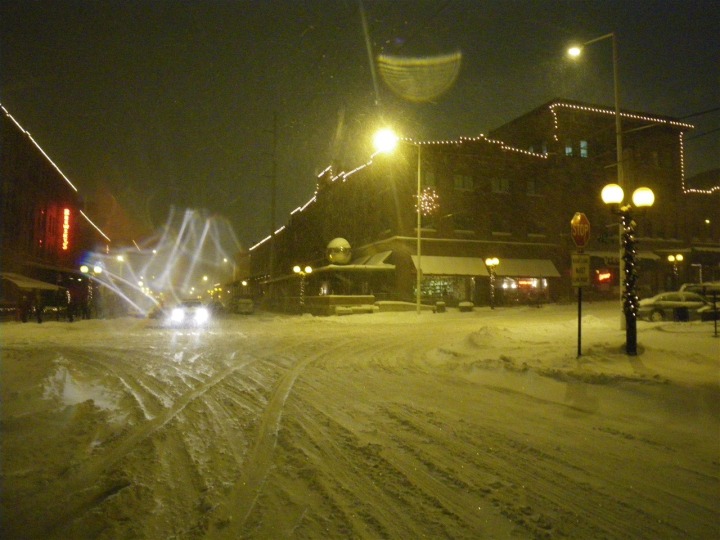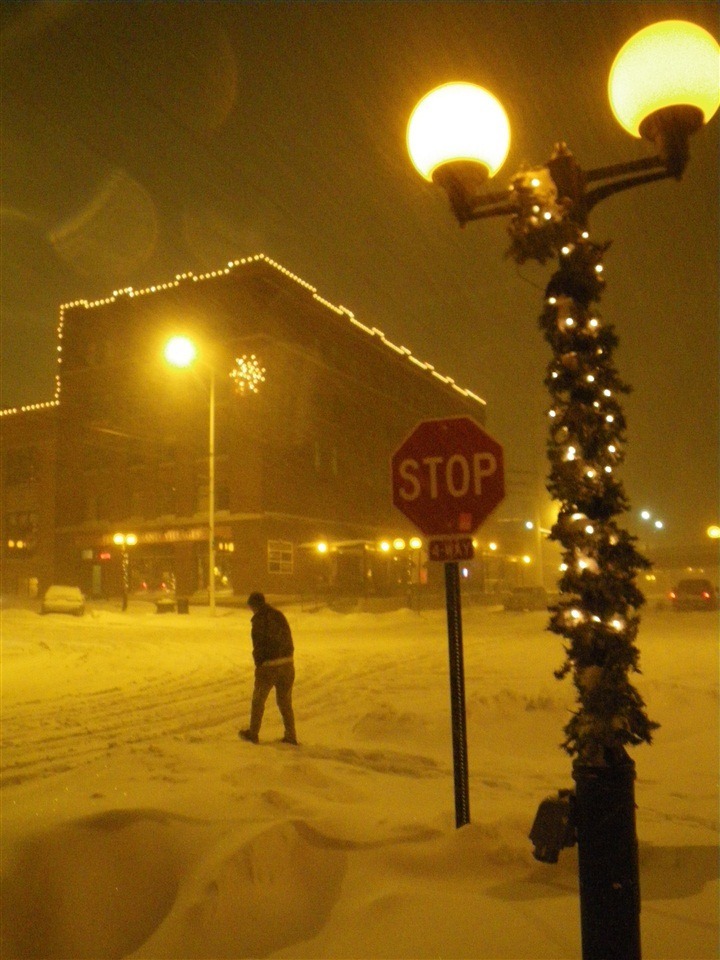 Now fast forward another 6 hours to 2AM, when we finish up for the day (that'd be 18 hours after we started btw…).  Without really knowing what's going on weather wise due to our lack of windows, we walk outside to see what our fate is.  And here's what it looked like (short blizzard video clip):
Now, the first thing you'll notice is the wind on the flag pole.  Absolutely haulin'.  But, you'll also notice the snow doesn't appear too deep.  That's because we're now at the point of 'snow drifts', which means in some areas it's an inch deep – and others it's three feet deep.  This is just as the winds shift the snow around.
It then takes us an HOUR to get out of the parking lot.  We got out of the parking stall relatively quickly.  But we have to make our way slowly across the massive expanse of a parking lot and shovel various snow drift piles too deep to cross.  There was a lot of going back and forth, a lot of backtracking and going as fast as possible in an attempt to simply use speed over resistance.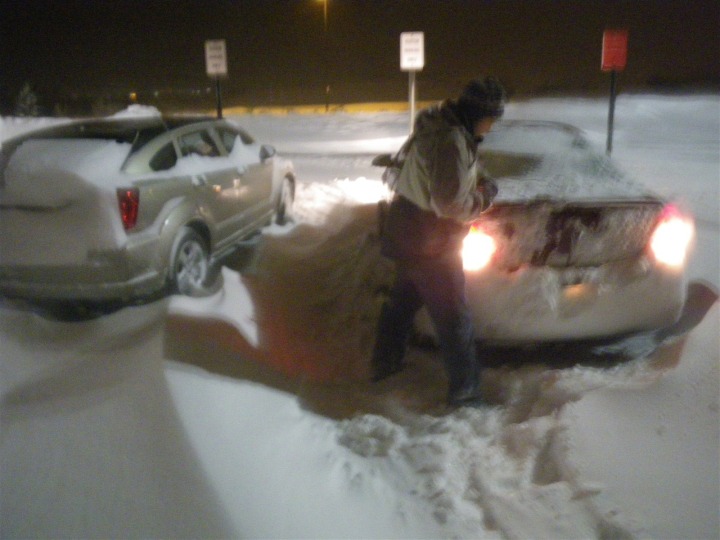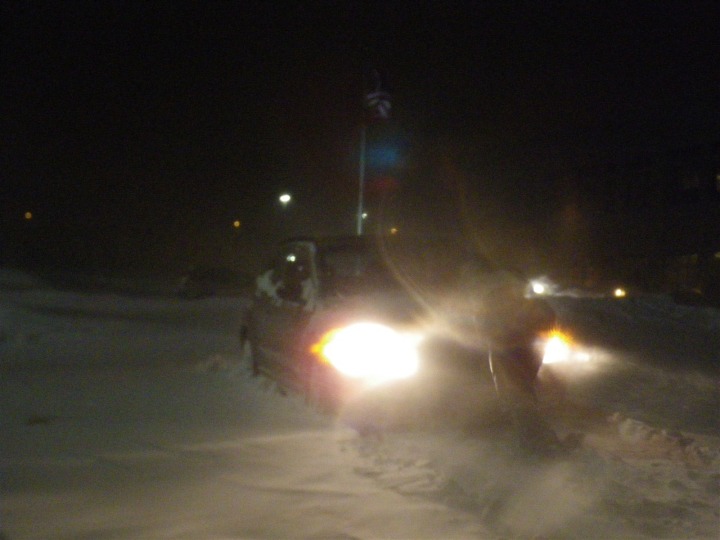 That's me below…shoveling our way out of the parking space.  Note out deep the snow is behind the car's bumper to the car's right.  It's pretty much above the level of the bumper.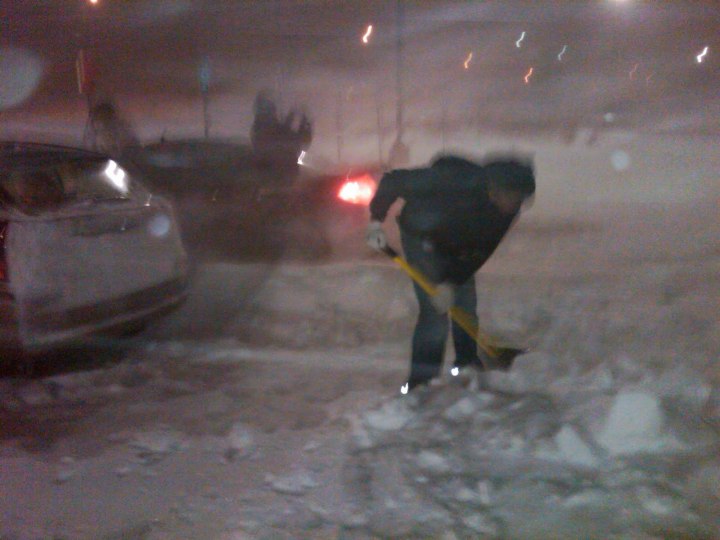 So clearly no 'defined' workout for Tuesday occured.  But I spent considerable time running hundreds of yards across the Costco sized parking lot back and forth trying to scout out the best route with the least shoveling.  Then I spent a LOT of time shoveling snow.  All with HOWLING winds of 40+MPH. So, yes, I completed my run workout in a blizzard.  After getting out of the lot, we actually made good time back to the hotel…just in time to sleep for a few hours, and get back to work.
Wednesday we were able to finish up and get done by 7PM, so I was able to get out and go for a bit of a run.  Wasn't exactly too warm out though: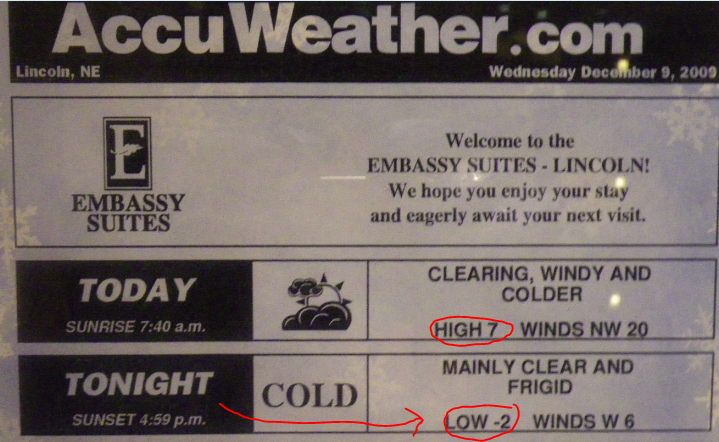 I like how they put the 'COLD' in there.  Just in case there was any question as to whether or not –2*F was cold.
Anyways, I donned by Yak Trax and off I went: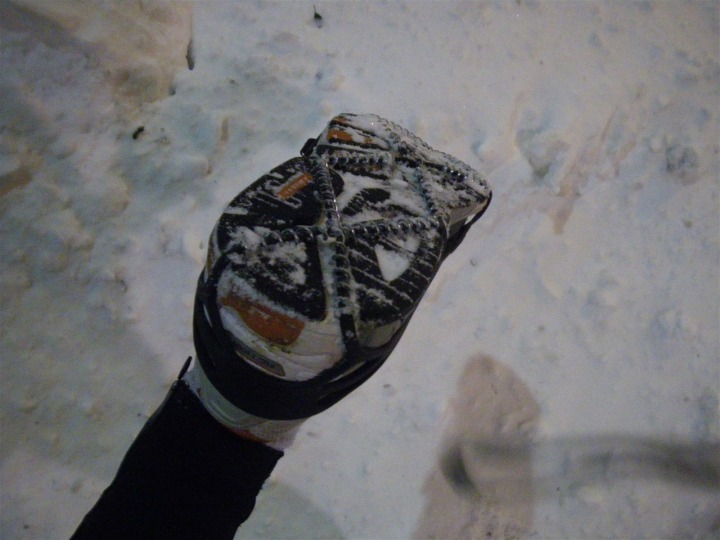 I first swung by the football stadium.  Which is MASSIVE.  And very…very…impressive.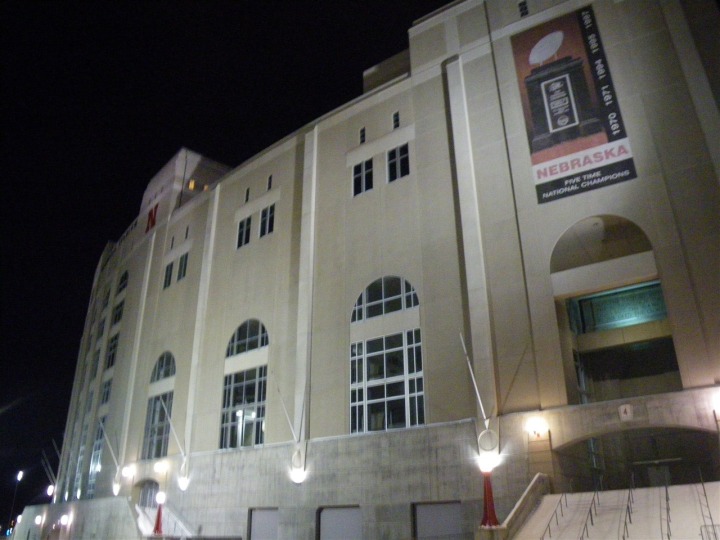 The picture's kinda blurry below – I really wasn't too thrilled about stopping at this point since my body hadn't quite warmed up.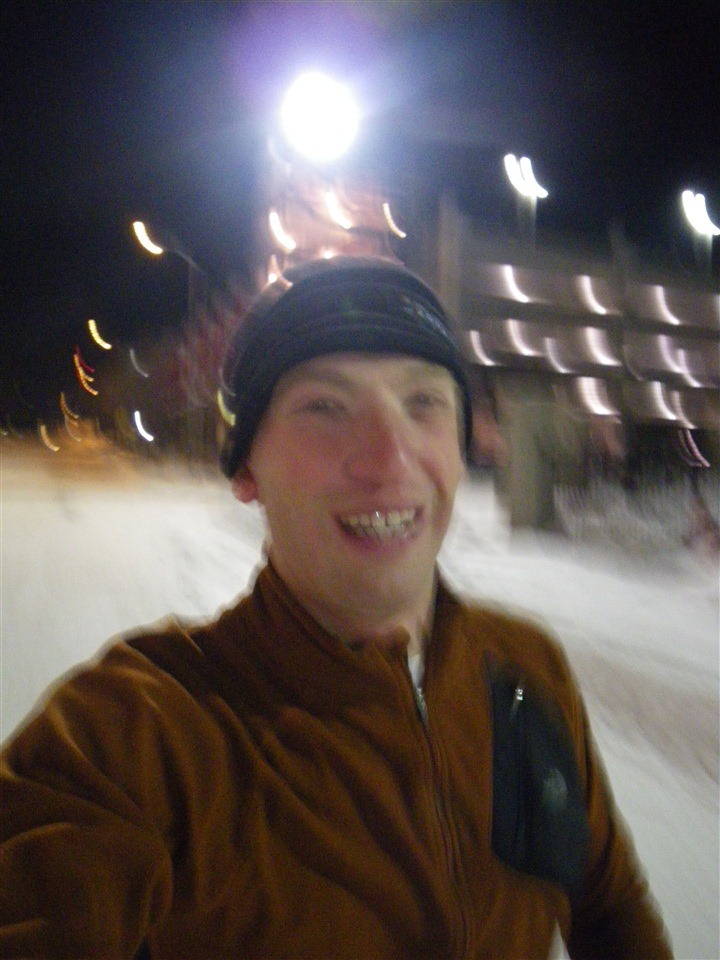 I then hit up some local neighborhoods for a bit.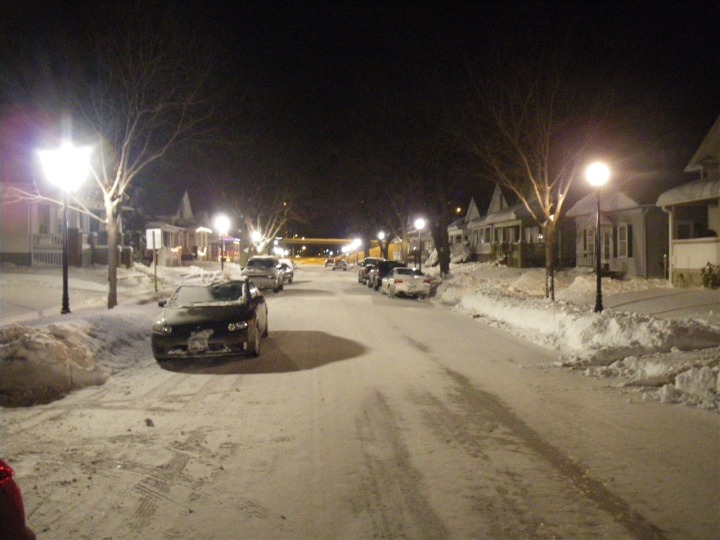 From there I found a nice little running/bike trail and followed it.  Though, on occasion it was simply too deep for passage.  Perhaps the half-covered sign should have been my hint.  Though, I didn't realize that until I was pretty deep.
The Yak Trax actually work best in ice and thin snow layers.  Unlike a snow show, they'll still sink it.  But on ice – you can't beat em'.  The best part is you don't have to change your running stride at all.  Just simply run, that's it!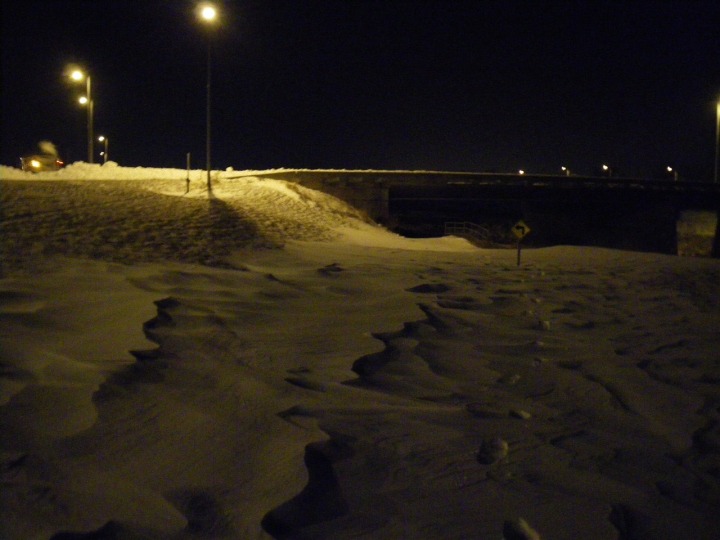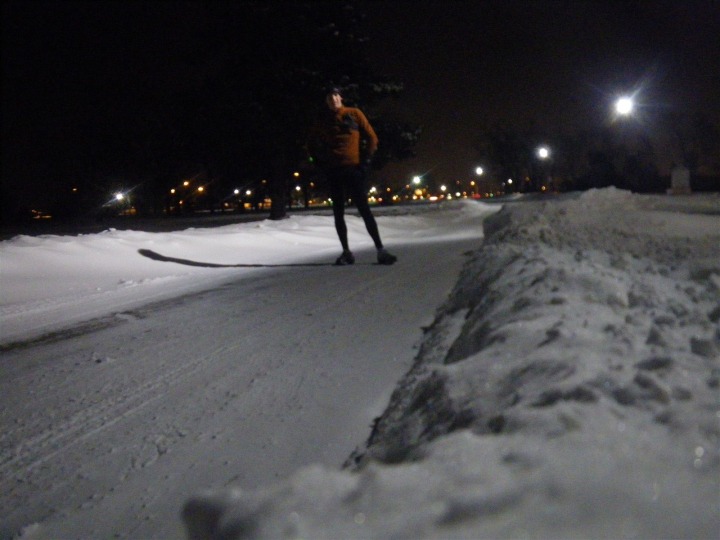 Along the way I stopped to drop off the Edge 500.  I was trying to see how well the thermometer was working in it.  When I was holding it it was recording too high of readings.  So I found a little cubby hole near a sign (nobody else was dumb enough to be out there) and left it behind – curious if the temperature would even out.
Well, not soo much.  It was still reporting too high (based on other thermometers and the known high for the day).  Gotta look into that a bit.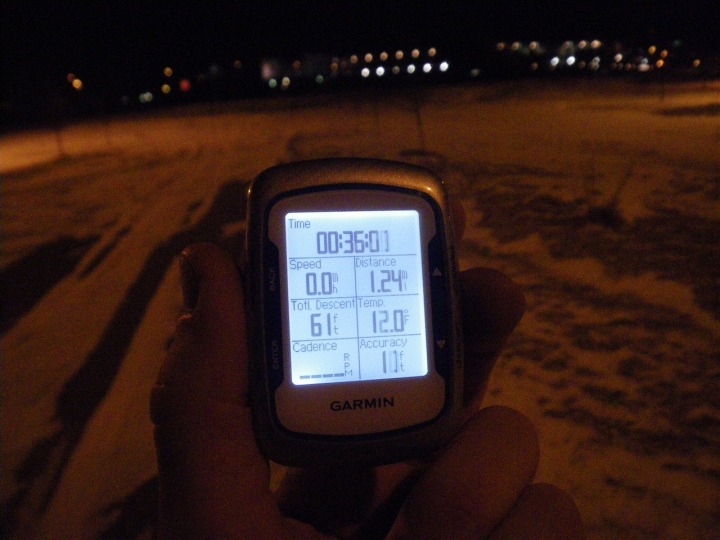 I finished up my 6-mile run with a nice trot down through the main drag in downtown Lincoln, Nebraska.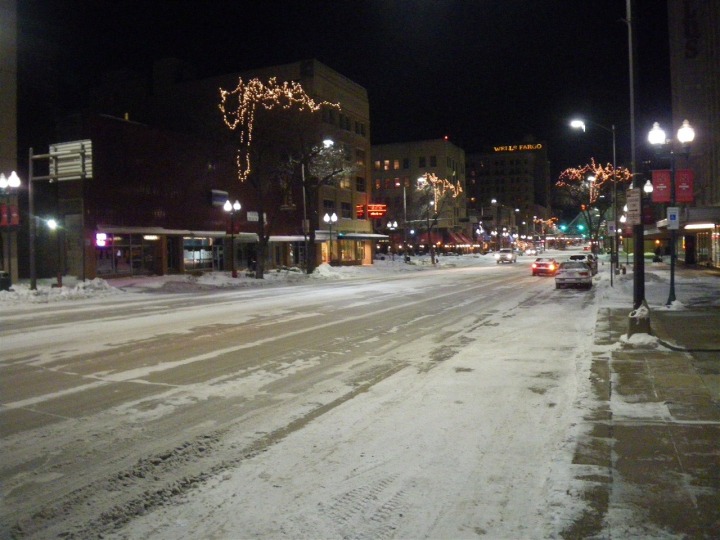 All in all quite a nice run for basically 0*F out.  And it's really not that bad once you get past the first 5-10 minutes.  The wind chill sucked at times, but most time it was calm.  Only when you got the gusts that you were muttering a lot of four letter words.
So with that, I'm back to DC on an early-ass flight tomorrow morning – in time for a nice weekend – OUT of the snow.  Just thankful my plane doesn't look like these bikes: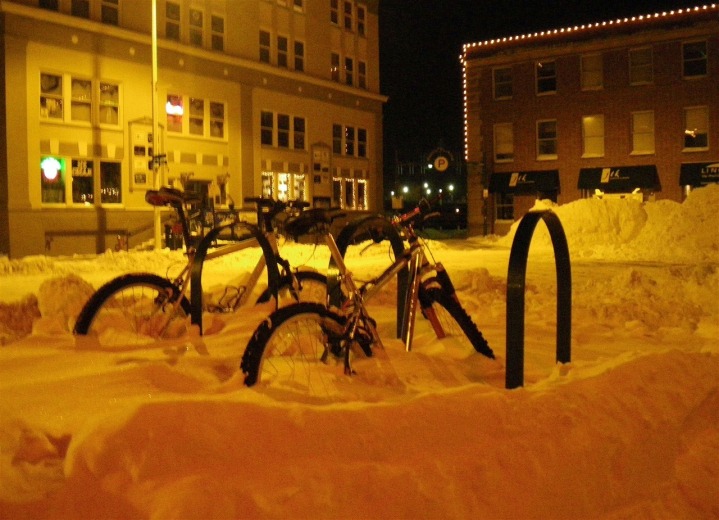 See ya!