I arrived back in the United States from India on Saturday morning at 5:14AM…which I was pretty excited about.  Mostly because it was over an hour prior to our scheduled time.  Secondly, because I had run out of movies to watch on the plane.  I discovered over the past few months that the airlines of the Star Alliance must have some deal with the movie studies to all show the same movies.  So no matter which carrier I fly – it's all the same stuff.  With 133 hours of butt in seat flying time on Star Alliance carriers in the past 40 days…I've watched everything…everything.
But onto more important things…
After another handful of hours sleeping Saturday morning I got all productive and started taking caring of things around the house.  Eventually that led to a late night trainer ride.  So, I took the Joule and PowerTap wheelset out of the box and got to work getting it all setup.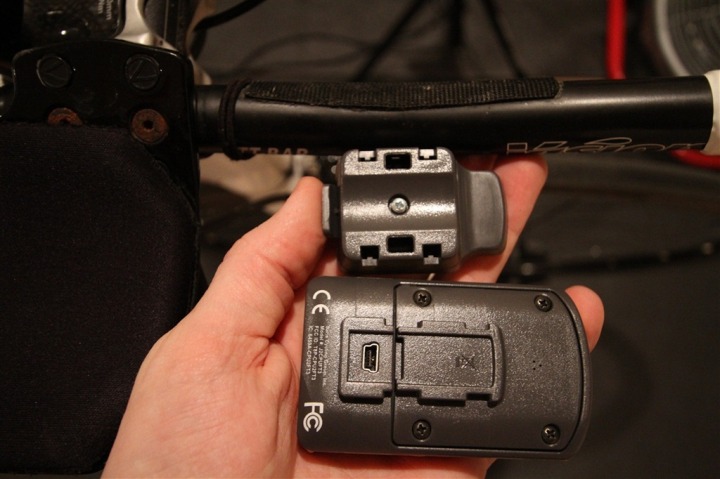 Though, I did learn a few things along the way.  First, in order for the Joule to work with generic ANT+ Speed/Cadence sensors (such as the GSC-10), you need to update the firmware to version 14.061 or higher – which was released way back on 5/20/2010.  Without it, it'll just put its hands over its ears and eyes and pretend not to hear or see the non-Saris sensors.  But, once that was updated, I was good to go.
Secondly, the PowerAgent software is actually pretty cool once you get it installed.  It failed two load on two different PC's, but eventually got all happy on the Mini-Mac.  After loading, I found it does have far more detail with respect to power analysis than any vendor provided software that I've used thus far.  Well, to be fair – the iBike software goes pretty in depth as well.  Garmin's not even really on the radar in this category – though I have to believe that will change with Vector.  Of course, I'm not comparing it yet to things like WKO+ or Golden Cheetah.  That'll come.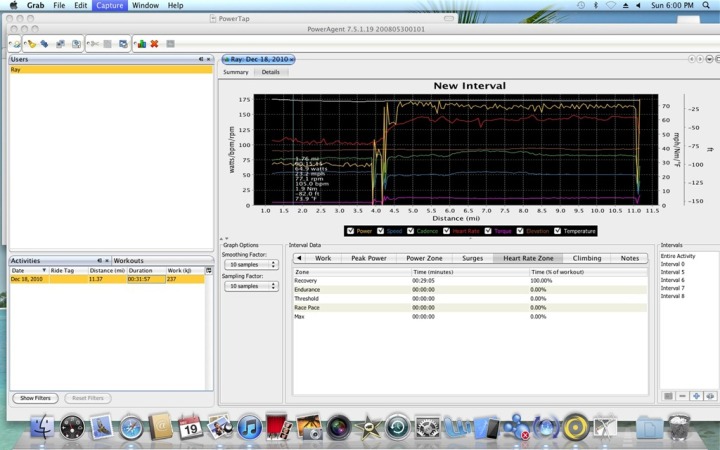 Finally, I'm not sure if this was just because I was got a media loaner unit, or if it's standard (it doesn't say on the site) – but I had to pickup another tire & tube for the wheelset.  The rear wheel came with a tire/tube, but the front didn't.  I'll have to double check, as again, this may just have been a minor oversight on the shipping of the media kit – but I'd expect that a retail customer should at least get a simple tire/tube with the wheelset for $2,000.  While traditionally wheelsets aren't sold with tires/tubes – they're also not traditionally sold integrated with a power meter.  The purpose of said offering is to essentially have a 'buy and ride' type package with no additional effort needed.  All that said – the wheels themselves are a thing of beauty.  Just love how pretty they look.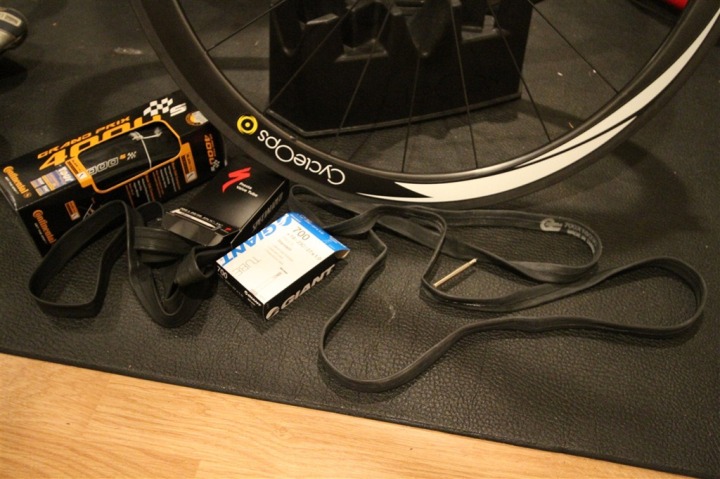 The Joule itself contains a wealth of information with a little yellow button push away – pretty cool how many different ways I can view data…while riding.  I had the Garmin Edge 500 running alongside – though each one homed to a different power meter unit.  I've gotta find someone that can write a quick app for the Wahoo Fitness ANT+ dongle to pull in multiple ANT+ power meter data streams concurrently.  Any takers?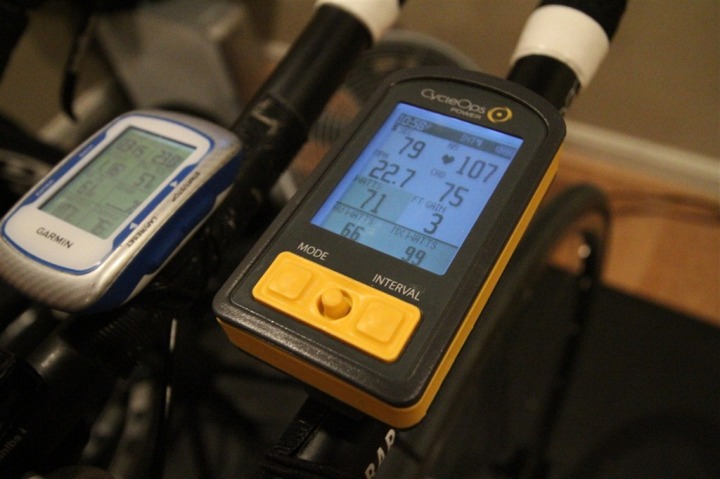 I'll touch back more on the Joule as I get more time with it.  Look for a full in depth review on the Joule/PowerTap/Wheelset in January.  Ok, enough on power…onto my run.
This was officially my first cold-weather run, and like getting your sea-legs, you kinda have  to get your snow and ice legs again.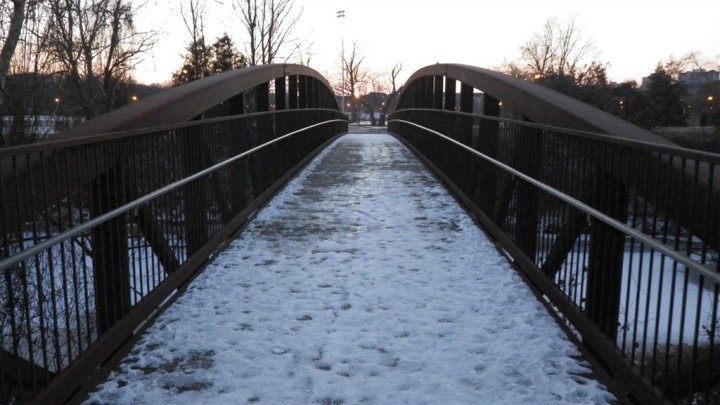 But, once I got used to staying vertical – all went well on my run.  I used the Garmin FR410 exclusively, wanting to see how the updated touch bezel dealt with gloves.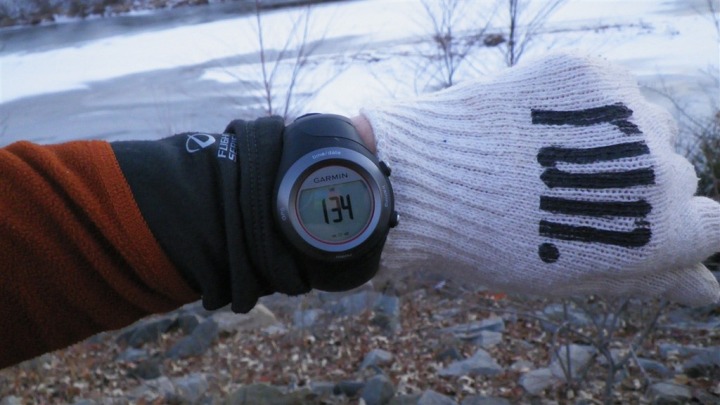 I had no problems at all navigating it with my cheap $1.00 marathon-expo gloves, and I was also happy to see that my lightweight jacket rubbing on the unlocked touch bezel didn't cause the display to rotate or change.  All good there!
For the most part, I just ran though.  Nice and easy, simply getting back into the swing of things…well…for a few days anyway.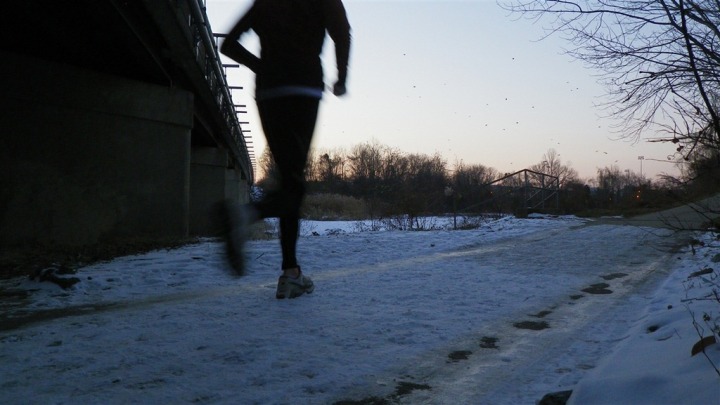 With that, I'm back to finishing up the Zeo In Depth Review for the morning, and then maybe enjoy a bit more Mythbusters before calling it a night.  Have a good week all!