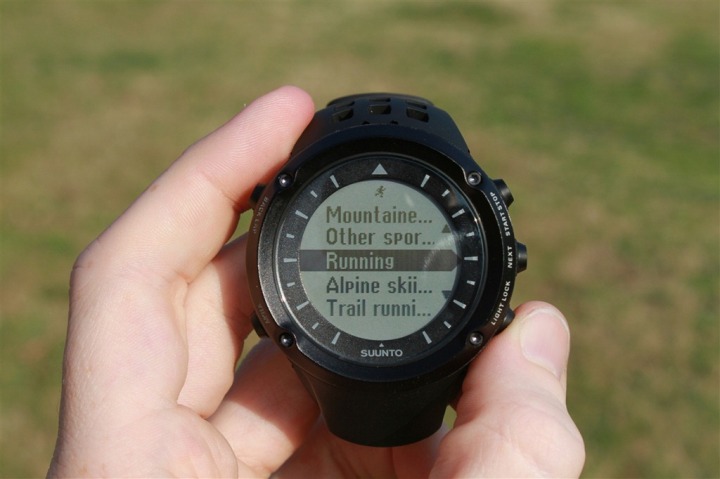 There's some pretty significant news coming out of the Suunto camp around the Suunto Ambit – their GPS integrated watch focused towards ultramarathon and hikers that they released back this past spring. The unit is unique in its 50+ hour battery life with GPS enabled. As previously announced, Suunto had planned a May 2012 update (which they came pretty close on delivering, only a few weeks late), and a September 2012 update.  However, they've now added a November 2012 update as well.  I'd guess that they've simply moved features from September to November – but nonetheless, it's features I actually care about – so I'm happy that they're simply committing to them.
Without question – the biggest one in here in my opinion is the addition of ANT+ functionality/compatibility.  This instantly takes the watch from being an industry loner (previously they used their own closed variant of ANT, not ANT+) to being totally compatible with a metric crapton of ANT+ accessories. I have confirmed with the Suunto team that initially they'll support ANT+ footpods (running), HR straps, and bike speed/cadence sensors.
It's very clear that many of these changes are in response to the Garmin Fenix unit – which from a functionality standpoint far eclipsed Suunto Ambit – as well as undercut it in price.  The addition of the below features put the two watches pretty close to each other from a functionality standpoint.
However, as is always the case – we'll have to wait and see how both the final Fenix firmware and the final Ambit November firmware functionality looks.  As is often the case in sports watches and functionality, the devil is in the details.  But for now – these details look pretty sweet!
Here's the information sent to me by the Suunto Ambit team:
September Updates:
– "With the September 2012 software update you can download routes to your Ambit from Movescount. Select from thousands of routes made by others and share  your own. Use the new on-screen route navigation to view your progress and the detailed path to your next destination."

– "The new local grids in the September 2012 software update include among others the
American (UTM/ NAD27 & 83), British (BNG), Swiss (CH1903) and common European (ETRS89) grids. With local grids  Ambit will match the GPS coordinates with those of your local hiking map."
November Updates:
– "In addition to the already existing training features – such as Peak Training Effect and Recovery time – the November 2012 software update brings new training features such as chrono, countdown timer, interval timer, ANT+ compatibility and Foot POD support."
– "The November 2012 software update will take your Ambit to a totally new and unexpected level of functionality and customization. You can create your own features or select from hundreds of community-created applications/features and download those to your Ambit. For example: Do want to know your speed in knots? The gradient of the slope? Your arrival time on your run? Your imagination is the limit!"

– "This was only the beginning…More to come in Fall 2012"
One interesting note I picked up on with the various Outdoor Retailer press pieces that have floated around is the messaging Suunto is repeating to the media that they will be continuing to improve the Ambit 'at least annually' adding new features.  While it's often considered normal and expected to see firmware updates in watches, it's rare that a company comes out and says they will absolutely be adding new features each year to a given watch already in market.  That's positive – I wish others would do the same.  Both Motorola and Suunto appear to be the only ones able to set a firmware release schedule and nail it.  I'd personally love to see Timex and Garmin also switch to something like a quarterly firmware update schedule – rather than adhoc.  Known and consistent updates are appreciated by all.
That's all folks, thanks for reading!  Go forth and discuss!