Since leaving London and the Olympics on Tuesday evening, I've been in Nuremberg, Germany for work (though in German it's spelled Nürnberg) .  It's a relatively small little town, but it's plenty cute and old world.  The whole center of the town is surrounded by a wall on virtually all sides, which you can easily see on maps online:

In order to really check out the town though, I decided to do what I usually do: Go for a run.
Lacking a specific plan or route, I simply reached out to the world of Twitter with suggestions.  In a few minutes, I was flooded with ideas – all of which were essentially the same: Run along the river/pond/lake that cuts through the center of town.
So that I did.
It would take me a little over a mile to reach the river from my little hotel.  However, the main wall around the city has a nice bike/run path surrounding it, so I just followed that.  In fact, the below photo was taken almost exactly at the center of the above aerial image.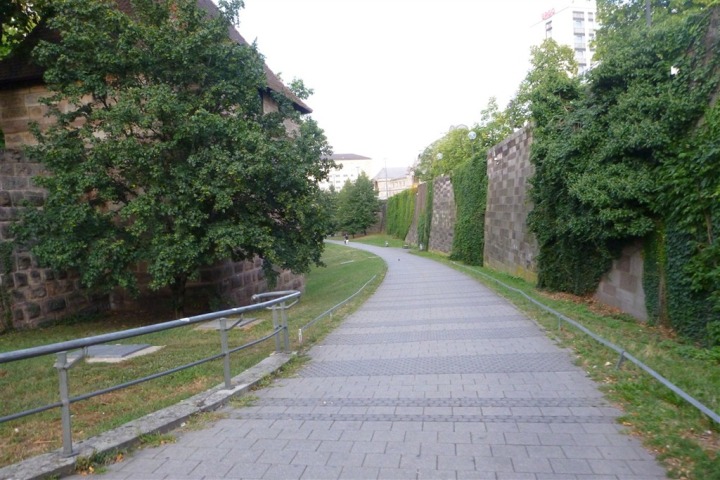 Once down along the river/lake/pond (it was sorta all three), I jumped on a different trail – which was quite busy with walkers, runners and cyclists.  Off to the sides the fields were filled with folks playing various sports.  Just a nice weekday evening.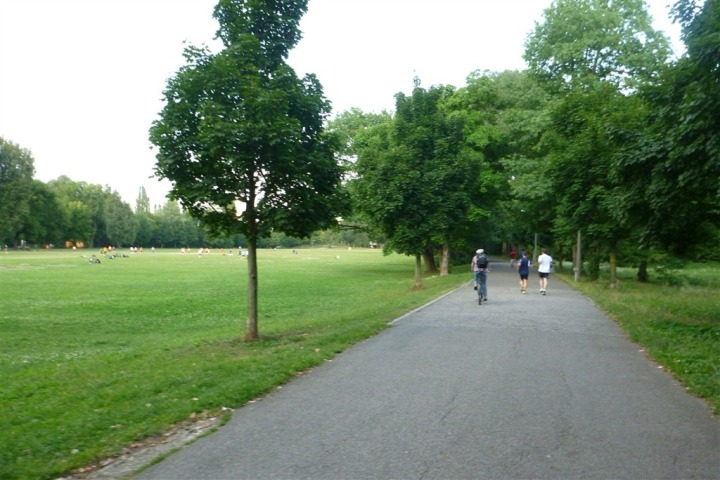 About a kilometer later, I passed a giant…aerobics…session?  It wasn't super-clear what they were doing, but it did look fun.  And I was impressed with just how fit almost everybody was: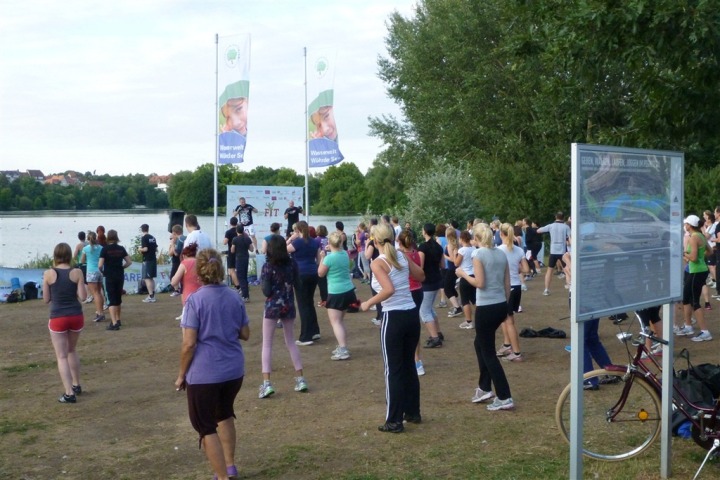 Onwards I went though – determined to find the end of the river/lake/pond thing.  The path was mostly in the shade, which would have made it ideal on hot summer days.  But at 7PM on a rather mild day, it was almost like fall running…which I love.
As I checked one trail sign near what I thought was end of the water feature (and thus the path would loop around) – an odd smell caught my nose.  That of farm animals.  Sure enough, just off in the distance as the running path changed to dirt and then to single track – there was a vast allotment of sheep: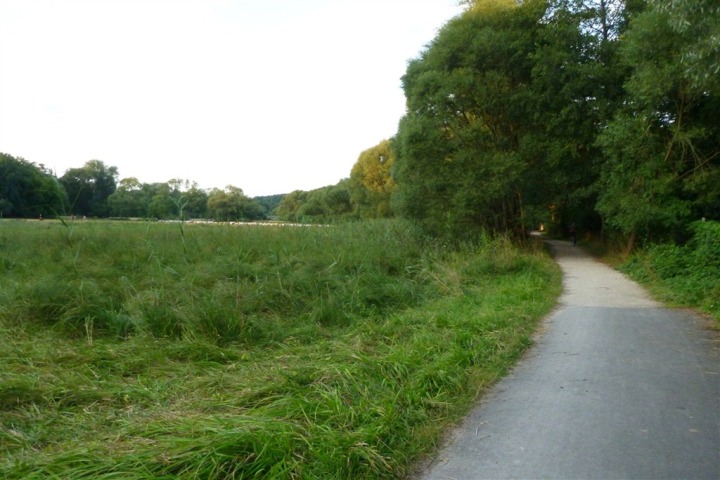 Clearly, I couldn't have run this far and not gone and checked out the sheep.  I figured they were fenced off in a field or something.  Turns out – not so much.  In fact, they were just hanging out on the running path.  Check out this woman who was running, trying to get through the flock (btw, it's technically correct to call it either a flock or herd…but using the word flock is more fun):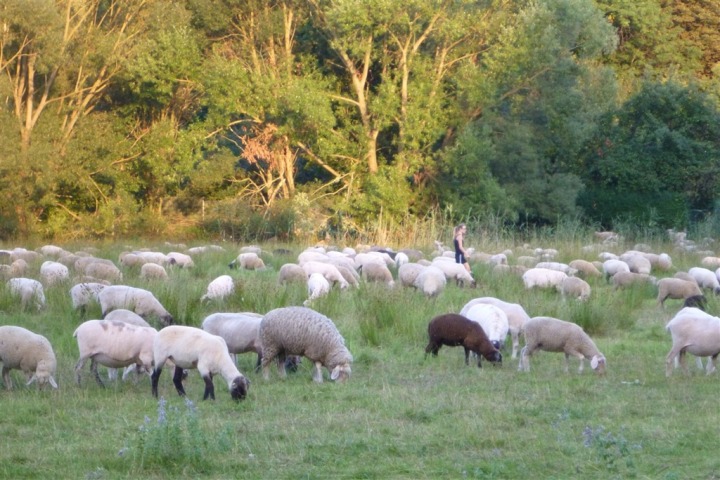 Or this bike commuter pushing aside a little baby sheep: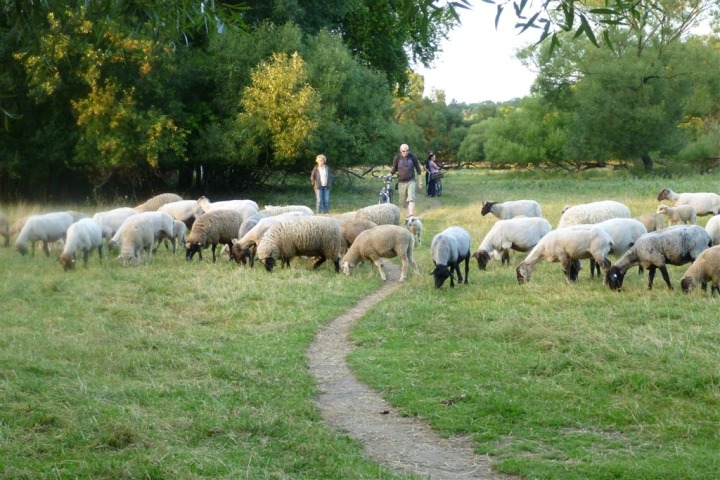 And then there's me…yup, me: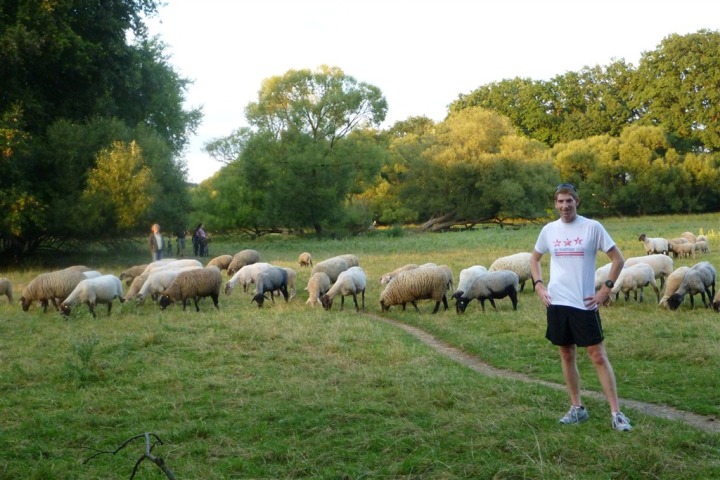 Really, I can't make this stuff up.  I just sorta run into things like this on my workouts.  Be it sheep, camels, donkeys, giant pigs or submerged WWII tanks.  It just happens. Thankfully there wasn't anywhere near as many sheep as was back in January in New Zealand – that would have been a tough flock to cross.
All in all, about a 8.2 mile run.  Perfect hour length before grabbing dinner.
With that, back to Paris I go – ready to enjoy a week at home!  Thanks for reading all, and have a great weekend ahead!