We continue our exploration of New Zealand roughly in the same southerly region that we left off at, departing from Queenstown.
From there we drove a couple hours deeper into the mountains towards the Milford Sound region, staying in Te Anau (pronounced tea ah new).  This is a tiny little town on a lake with easy access to everything in the region (well, except late night food).
A Little Boat Ride
Our first morning there we headed up super-early, well ahead of most tourists, into the massive national park.  Our goal was to drive the few hours deep into the park and catch the first boat of the day at 8:50AM.
The drive was through stunning scenery, but for most of it, the weather was clouded and rainy.  Perhaps one of the more memorable (visible) pieces was the tunnel – which wasn't like a typical tunnel where the starting and ending elevation are the same.  Nope, this one descended downwards – and quite steeply at that…and with road quality that might qualify as 'off road'.  Oh, and it was only 1.5 lanes wide.  And since we were prior to 9AM…it was a free-for-all.
At either end of the tunnel were these large birds which simply hung out, waiting to toy with tourists.  Except, in this case The Girl got to take a long stream of photos as one of the birds played with a beer bottle that someone else had left behind.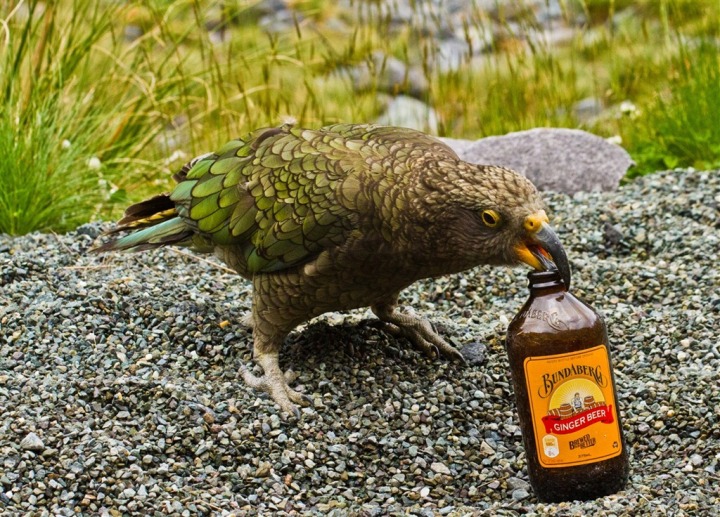 But…back to our planned boat ride.  You board one of many available boats for a couple hour cruise around the sound, which on a sunny day would allow you to see the 5,000+ foot peak that's not entirely visible in the picture below.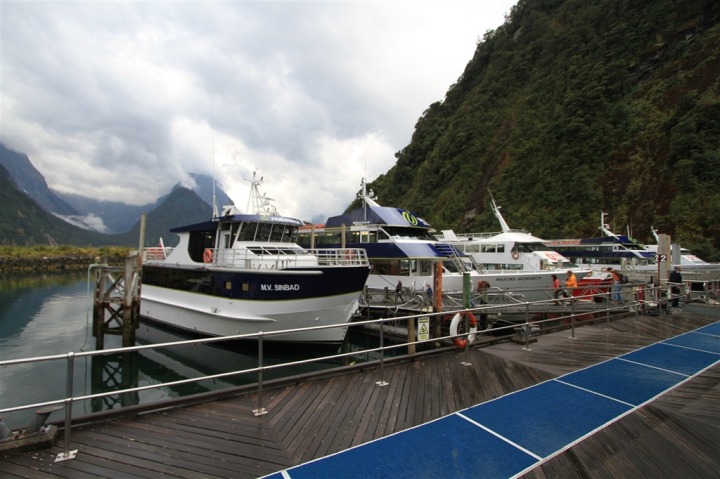 So instead, we focused on things closer to the ground…like the water.  Which, as you can see, is astonishingly clear: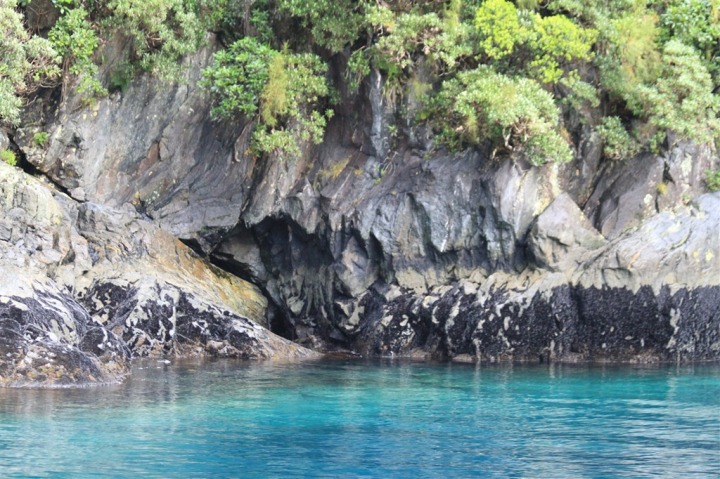 And the green moss is also incredibly bright: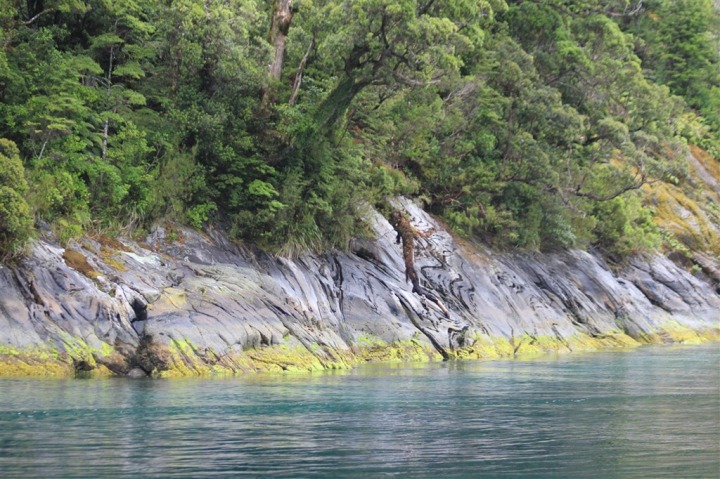 A number of times we got escorted by Flipper and his friends: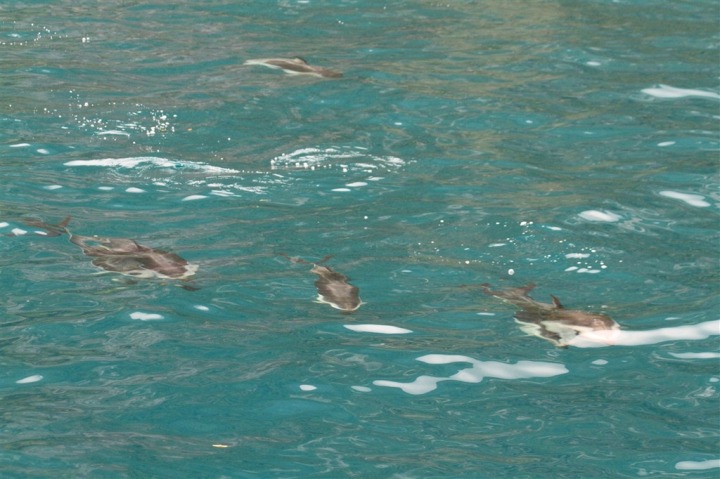 And I certainly can't forget the seals either.  They pretty much just barked and jumped around, entertaining themselves just as much as us.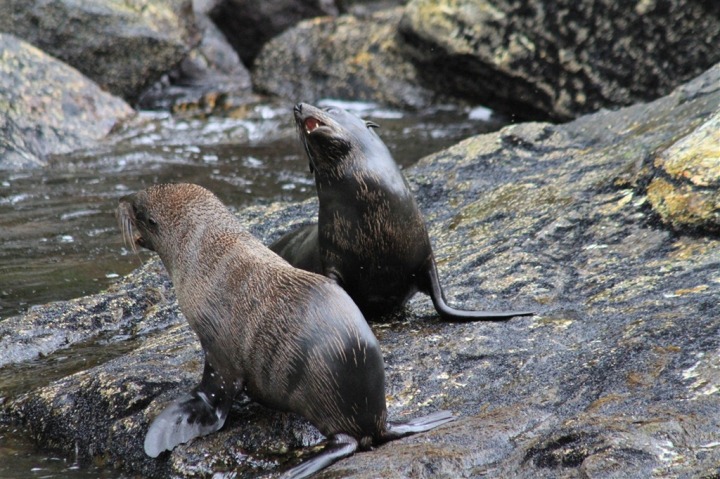 The boat also got us rather close to a number of very high waterfalls, like the one below.  And by 'close', I mean, directly under.  A few seconds later, we were in the waterfall.
After getting back on dry-ish land (still raining off and on), we made our way back out of the park, stopping to take in a few short hikes, as well as anything else that looked pretty.  Examples being the river below, and the wild flowers.  This was a brief moment of random sun:
After getting back into town that evening, we went out for a run…at 9PM at night.  The totally awesome thing here is that it doesn't get dark out until 10:30PM.  It's amazing.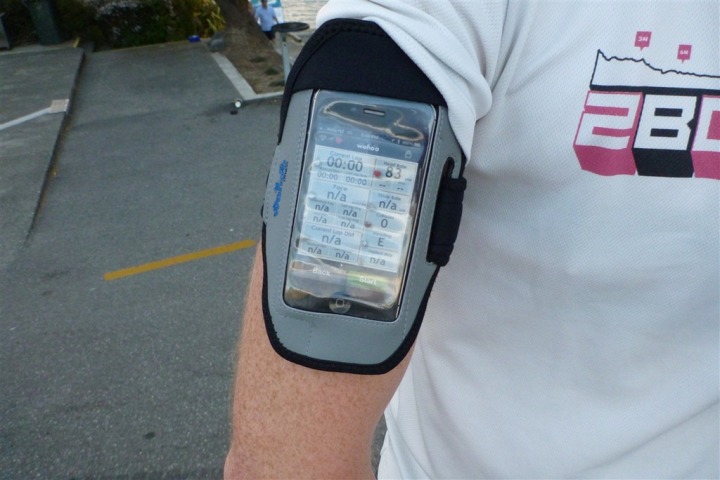 A Long Hike
The next morning we woke up again early (seems to be the pattern as of late) to catch a water taxi off to a remote beach across the lake.  From there we'd hike about 7-7.5 miles up to the top of a 5,000-6,000ft tall mountain (Mt. Luxmore), and come back down again – all in about 14 or so miles.
The first couple miles of the hike is basically just through deep forest, like the below.  For fun, we took along a few Garmin Rhino's that we'd been lent, and had loaded up some of the GPS tracks of the hike on them, though, with the path as well marked as it was – getting lost wasn't really going to happen.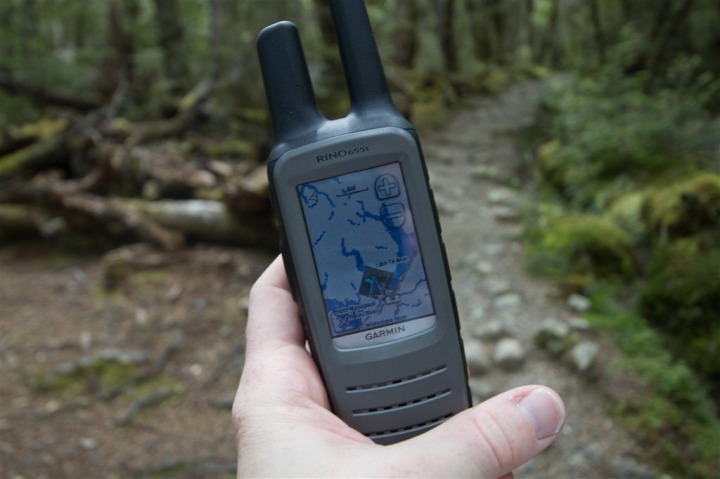 At this point in the journey, everything is warm, relatively dry, and smiley: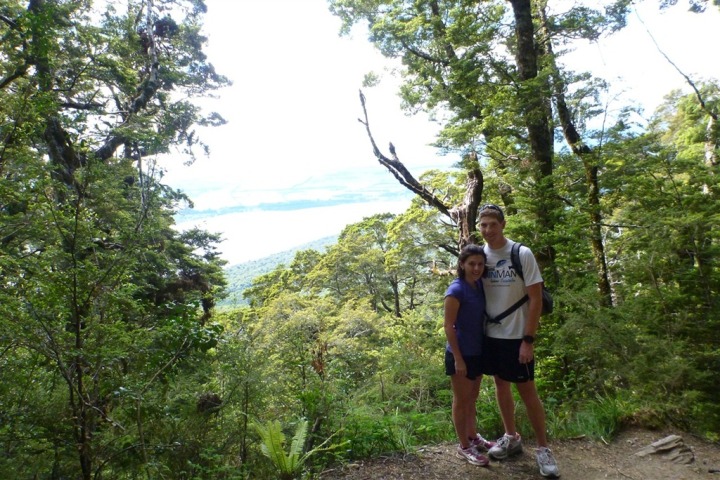 Eventually we broke out of the trees and across some high meadows, about half-way across this picture we added some clothing layers, as the winds were pretty nasty (at least 20-30MPH):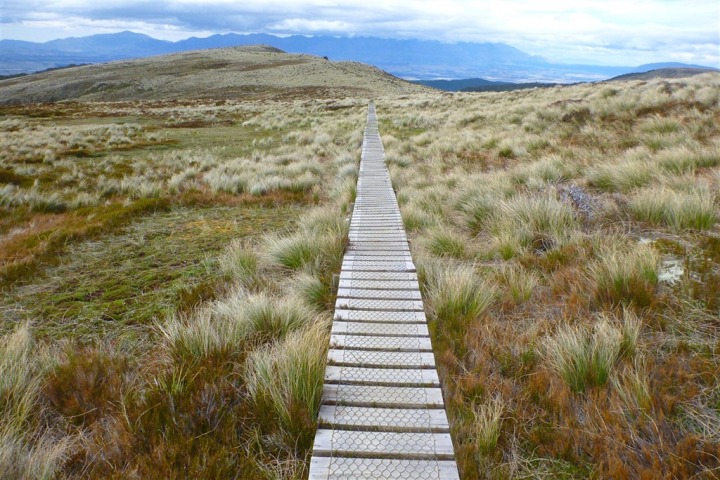 About 30 minutes later we came across a really well maintained hut, where campers could stay over for the night.  Also of note, is that we started down at the lake in the back of the picture.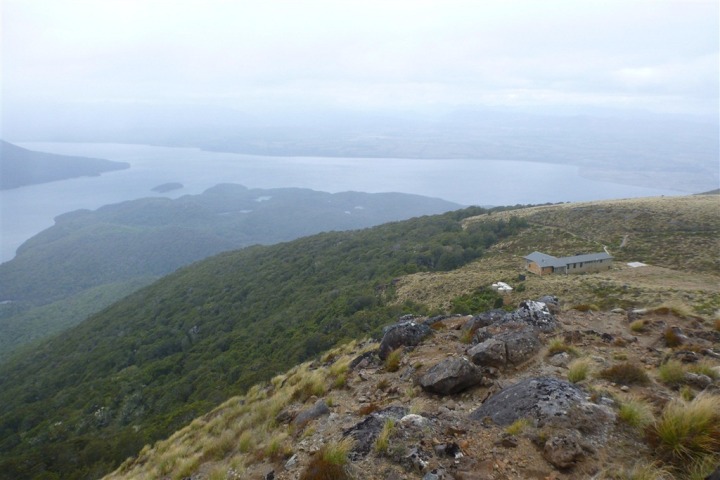 Here's us…using the camera timer technique…with the camera just being a bit too close for my height: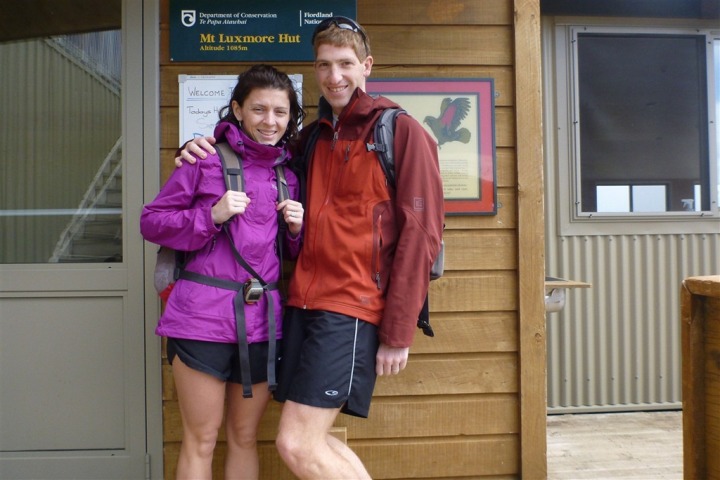 Around these parts, things started to get a bit more cloudy, wet, and windy:
And…some snow was thrown in for good measure: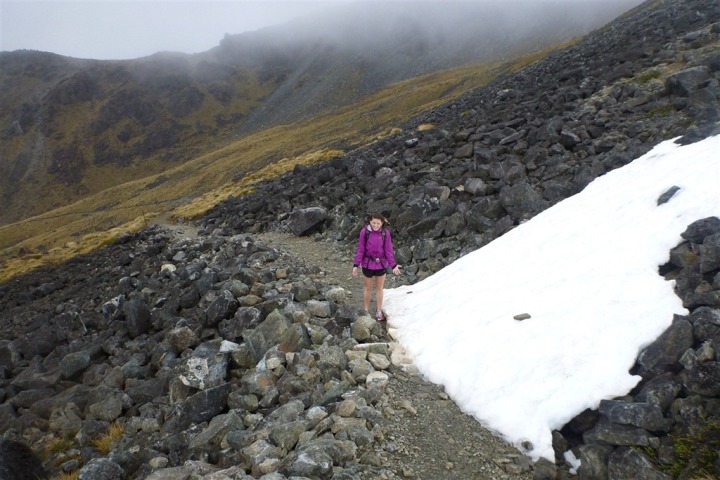 About an hour after we left the shack, we finally hit the top of the mountain.  Though, with the winds and rains howling – we certainly didn't stay long.  Here's proof of the top though:
We were both pretty hungry by then, and found a little couple yard section that was sheltered from the wind by some rocks.  In that section we enjoyed yet another peanut butter and jelly sandwich.  I can't really keep track of how many of these we've had this trip – but we're on our second loaf of bread.  It's a little concerning.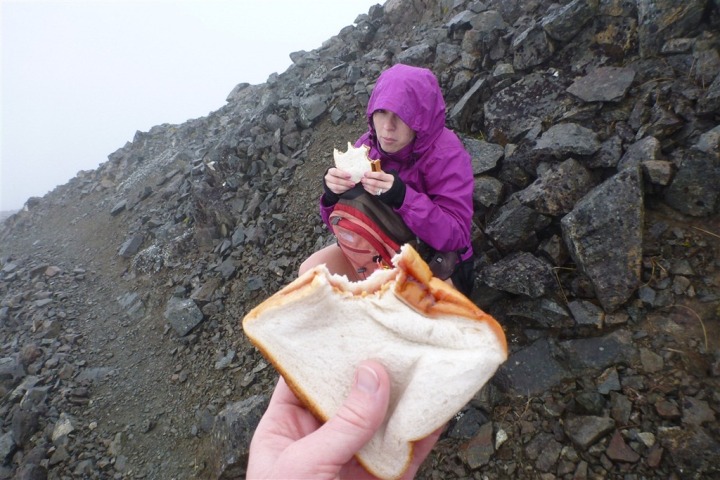 After we got to the top we quickly retreated back down.  In pretty good time in fact.  There may have been some solid trail running the last few miles.  In fact, this route is used as part of a 60KM trail run race each year (in December).  All in it took us about 6hr and 15m including about an hour of stoppage time for pics/food/etc… With the total mileage being 14.3ish miles.  I think it was a bit longer than that though, since I think this cut a few corners deep in the trees compared to a Garmin unit The Girl was carrying (which was showing about .3-.5 longer, before it ran out of juice).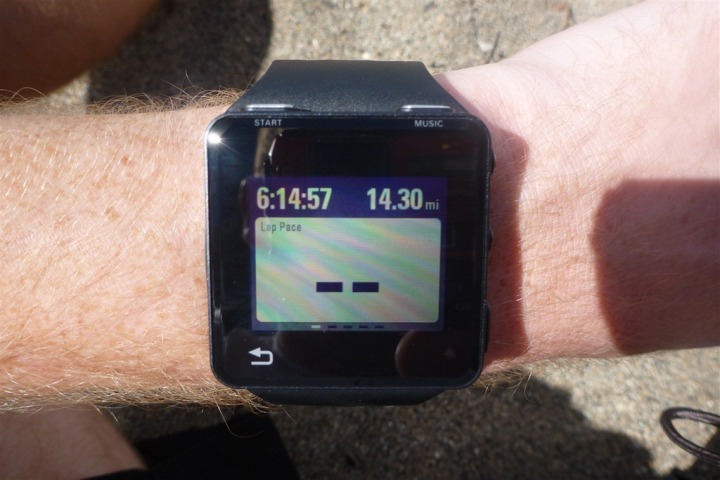 And finally… the (warm, sandy) beach, and boat back home: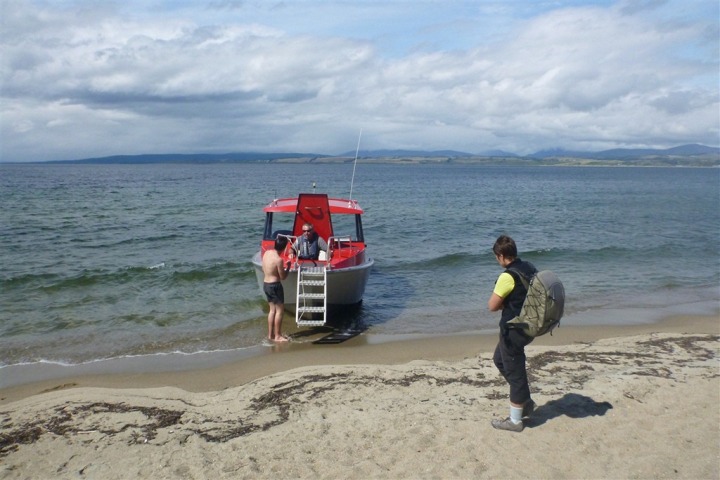 More sheep, wanderings around Wanaka:
Last but not least, a collection of photos from today, as we wandered around the Wanaka area, mostly just exploring a 35km dirt road out to the middle of nowhere (apparently where they filmed Lord of The Rings, but I actually haven't seen that yet).
I continue to find it interesting that they farm deer here.  Nothing wrong with that at all (Venison!), just one of those things I'm not used to seeing.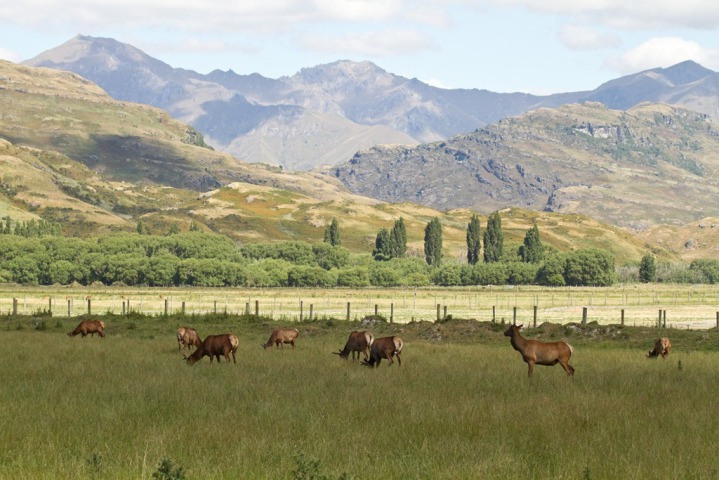 Also not at all used to seeing this many sheep:
The road twisted and turned through the farmland – so cows, sheep and everything else routinely wandered across the road.  This cow as just chillin' by the side of the road: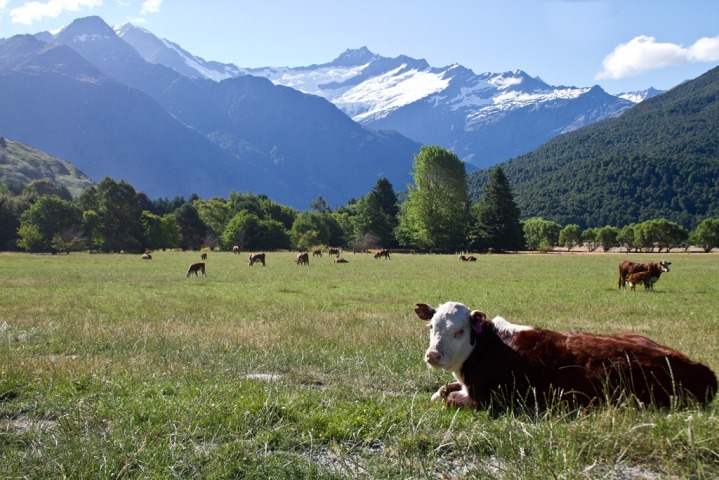 And finally…
Dear Avis – I can't yet at this stage apologize for (all) the things your trusty little car has pushed through/over/under/around…mostly because I still have two more days left, both of which involve canyons.  But I can say that I haven't hit any sheep, cows or goats…yet.  Which, given everything – you should be happy with.  And on the bright side, the car is looking pretty clean after today…

Signed,
Me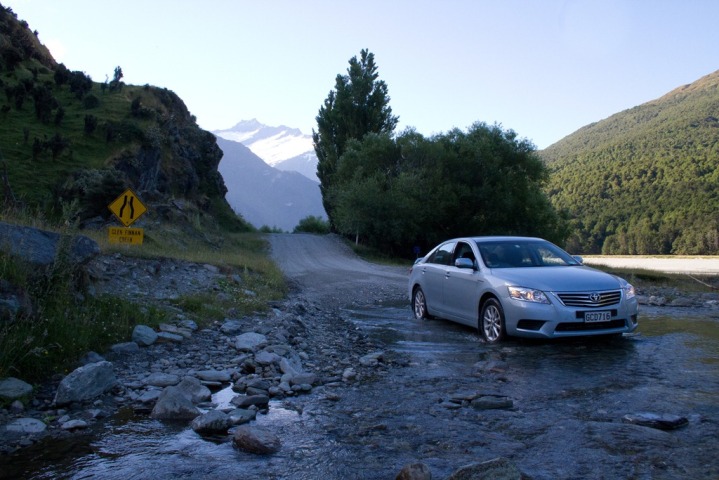 Thanks for reading all, and hope your enjoying some of the travel posts!  I'll keep mixing in regular sport stuff, but since this blog has always been about my little corner of the world, and this happens to be what's going on in my world…it's what I end up posting about.
And fear not, I still have more to come.  Aside from the aforementioned days in New Zealand, we'll actually be celebrating New Years day twice…both as one of the first, and last, places on earth.  Crazy!  Any guesses where?
Have a great weekend!