Most conventional itineraries to New Zealand from the United States usually fly across the Pacific from either LA or San Francisco, with a relatively short 11-13 hour flight straight to Auckland.  But, as you've probably guessed by now, I usually don't do anything the conventional way.  Since we was using award tickets, and booking at the busiest time of the year, our options were somewhat limited.  So instead we took a rather circular route from Washington DC to Frankfurt (Germany), Frankfurt to Singapore, and then Singapore to Auckland.  Yup, three 9-12 hour flights.  Good times!
Upon arrival in Auckland it was two days later and just prior to Santa's arrival, at 11PM on the 24th.  Luckily I found an awesome rate at the airport hotel so we literally walked all of 50 yards from the baggage claim to our hotel room (I highly recommend the Novatel there if you transit Auckland, while the official rate is something crazy, Expedia seems to have it for $108US most nights).
The next morning we grabbed our rental car – complete with the steering wheel on the 'wrong side of the car', and headed out on.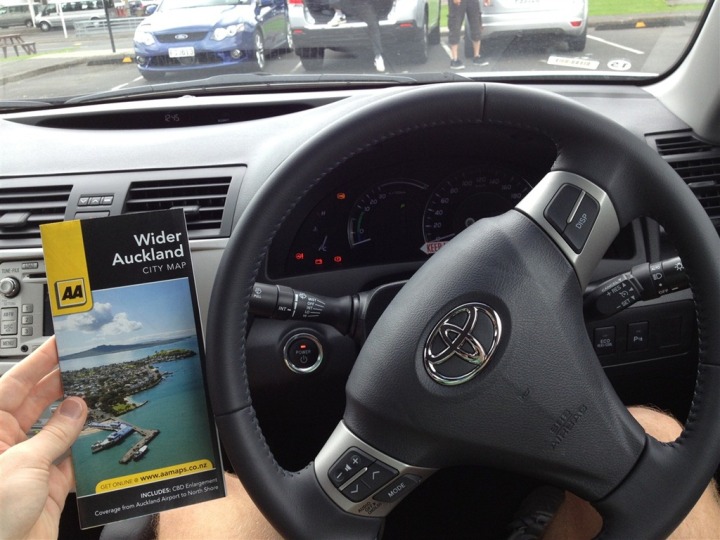 We'd end up doing quite a bit of physical map navigation, since phone service (at least for me) has been rather spotty.  I think this is the first place in the world where my phone has had a tough time finding a partner cell company with good signal.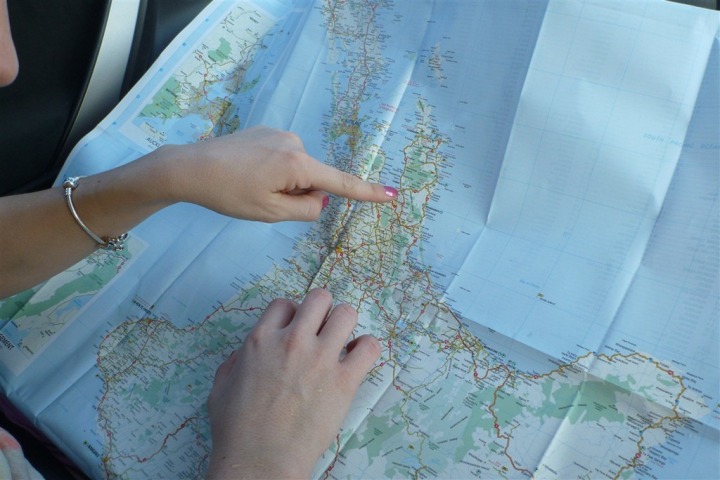 The first day we drove about 300 miles.  Seriously.  We ended up doing a gigantic tour of the northern portion of the north island.  With it being Christmas day, virtually nothing as open except public spaces like national parks (and even then, nobody was there).  Plus, with virtually no cars out on the road, we got around quickly.
Well, except when we found ourselves on a 40-kilometer long mountain pass single-lane dirt road.  There as nothing quick about that 'major road' (as per the map).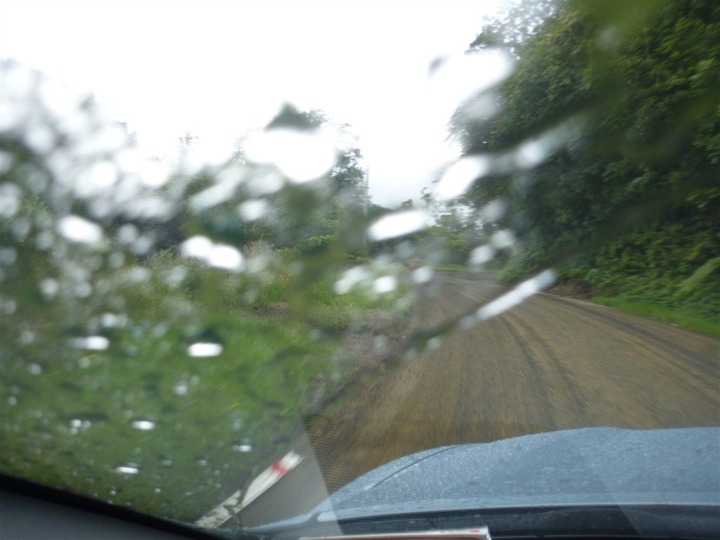 We both made note of the significant number of road signs on the Northern Island warning drivers about the pitfalls of dangerous driving – such as speeding.  This was only noteworthy in the respect that we found the posted speeds of most roadways to be much higher than we would have expected giving the twisting/turning nature (and occasionally single-lane).  Even a number of times were there was just simply no way we were going to go the posted speed limits on some sections of roadway, just too fast to be safe (and this coming from one who's not usually concerned with such things).
Anyway, eventually we did arrive at the beach.  We were headed towards Hot Water Beach, which has natural hot springs that feed up to near the waters edge, allowing you to dig a hole and create a hot tub.  This only works though +/- 2hrs from low tide, and with our unanticipated mountain pass single-track adventure taking as long as it did, it somewhat delayed our arrival.  Nonetheless, the beach was great.
From there we headed south down to Waitomo, where we'd overnight before going caving in the morning.
I should point out at this juncture that pretty much all we ate that day was Peanut Butter and Jelly sandwiches.  Being Christmas day – absolutely nothing in the countryside was open, except for a single convienance store we found.  So our first Christmas together as newlyweds had both a PB&J lunch and dinner.  We make it high class! (Ok, I suppose we could have elevated it another level by adding Vegemite, but decided against it).
You get 5 points if you can correctly pronounce all four location names listed below…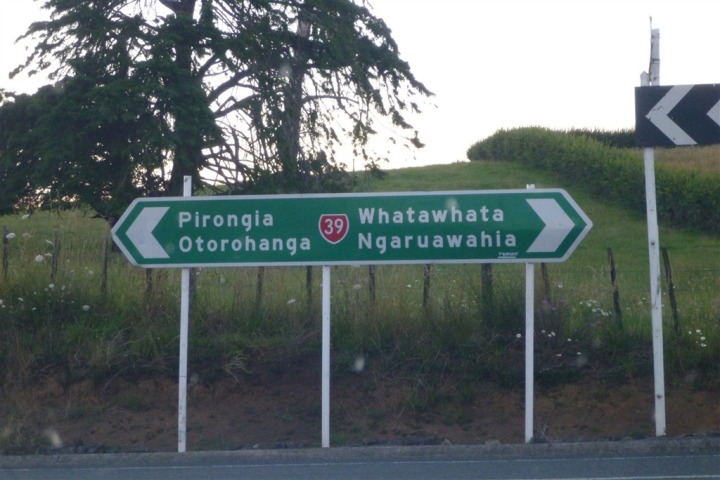 Early the next morning we geared up for a 5+ hour underground adventure.  It would include rappelling over 100ft into the cave, then working our way through flooded passageways via either swimming or tubes, descending quite a bit further into the cave.  The ultimate goal was to check out the awesome inner workings of the cave, as well as the 'glow worms', which are little maggots that glow a neon green color in an otherwise pitch black location.  Really cool, like a starry night, but inside.
The whole caving trip was awesome, and I definitely would encourage selecting the longer (5hr) trip over the shorter trips.  While the water was chilly (hence the bulky 5mm wetsuits), and we were certainly rather cold at times, it was still a blast.
After our caving, we stumbled into a small petting farm – complete with all sorts of miniature farm animals.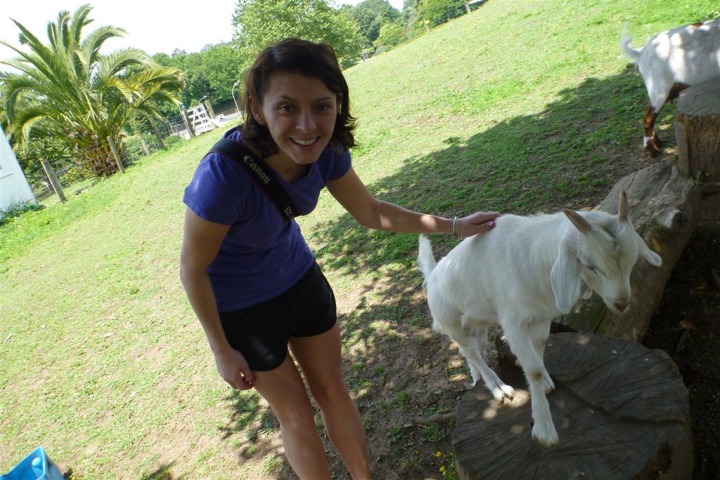 Our trip to the North Island was pretty short.  We had initially planned to split the time more evenly between the North Island and the South Island, and drive across the two – but after looking at the activities we wanted to do, most were in the South Island.  So after two full days on the northern part of the North Island, we jumped a plane south to Queenstown – which is pretty much the outdoor adventure capital of New Zealand.  Sorta like Boulder in the United States, or Whistler in Canada.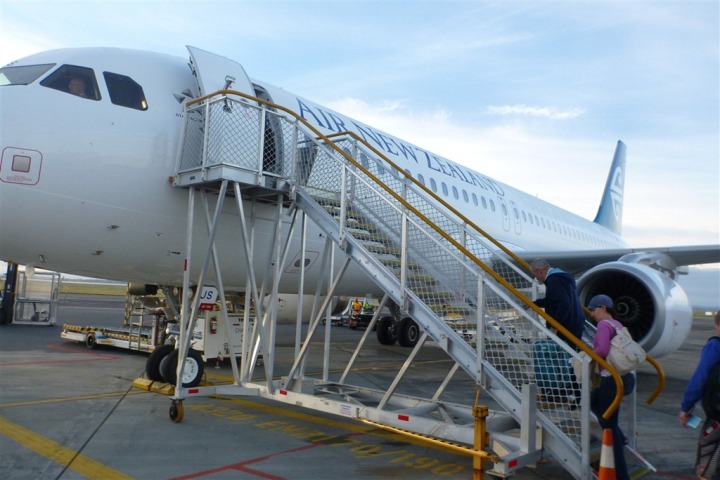 The very first thing we found in Queenstown was Cookie Time.  We'd seen this shop a few places along the way, but since the first two days were both Christmas Day and Boxing Day, we weren't able to visit it.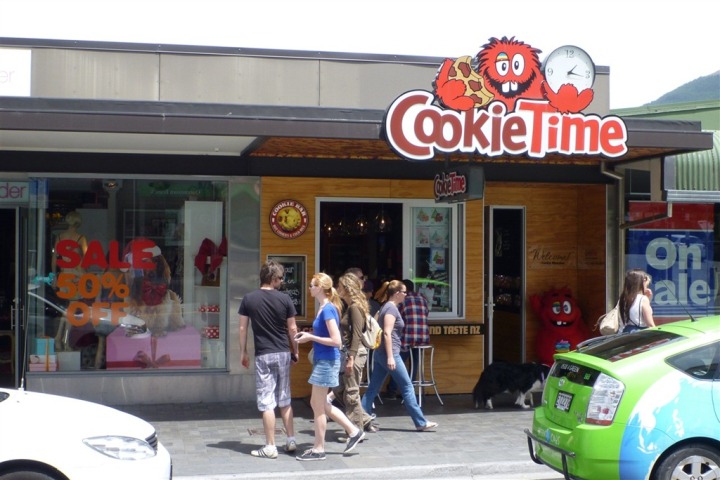 Inside the whole store is dedicated to the cookie, which is brilliant.  Though, the cookies did seem a bit drier than my personal preference (I like warm, soft chocolate chip cookies) – but nonetheless – I warmly applaud the concept.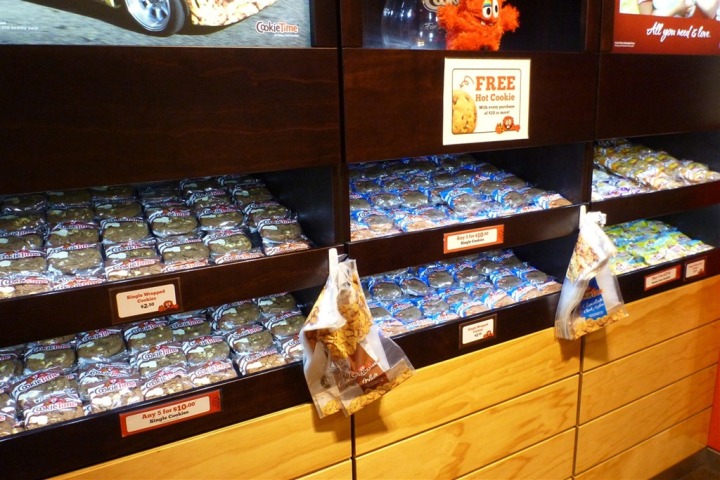 After wandering around the pretty cool town of Queenstown, we went out for a mountain bike tour of a nearby canyon.  The tour was all downhill mountain biking, which if you're not familiar with the concept means that you avoid doing any and all work, as you're transported from the bottom to the top, where you get to ride down (again and again).  It's pretty much identical to skiing, except without snow (and ironically enough, we were riding at the edge of a ski area).
You can see above the track that cuts across the canyon, that's where we were.  There's actually a mountain biker in that picture as well about a third of the way from the right side.  The scenery was awesome, the single track fun and very manageable – even for me, as a triathlete.
After we got back to town we noticed that there had been a sprint triathlon that morning, that unfortunately we didn't know about.  Serious bummer!  We definitely would have gone out and thrown down there.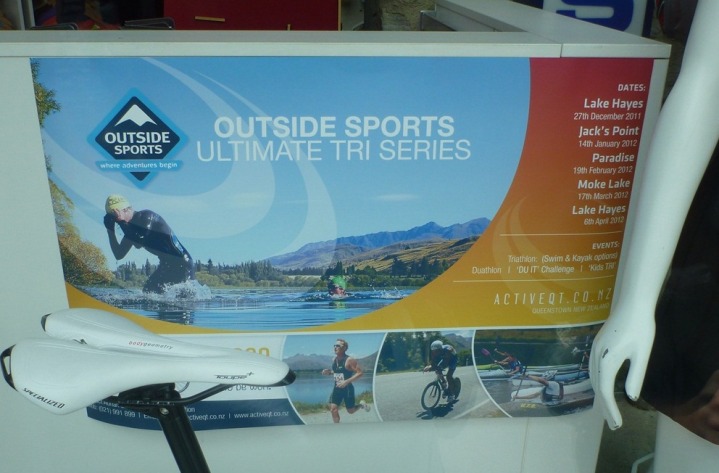 Finally, we wrapped up our day with a multi-hour drive out towards Milford Sound.  Along the way though we stopped to take pictures of the never ending sheep, cow and deer farmlands.  Somehow, it still hasn't gotten old yet.
Stay tuned, got lots more to come in a few days!