For our last couple of days in New Zealand we kept it busy, exploring the areas nearby Queenstown and Wanaka (both on the South Island).  On our last full day though, we really packed in it.  Of note were two particular activities, starting early in the morning with a short drive out to the tiny little airport nearby.
Open Cockpit Biplane Flight
The Girl had found and arranged this awesome flight for us, with Classic Flights – which fly vintage biplanes (Tiger Moth aircraft).  She did a ton of research and all the signs pointed at this being the place to go with.
After arriving the first order of business was to get us all suited up…in old school leather flight jackets, hats, and goggles – all styled as if from the early-mid 1900's.
They had two planes, a yellow one, and silver one.  The coolest part of the flight was that we were both going up at the same time…and flying in formation.  Within each aircraft there were two seats – one for our self, and one for our respective pilots.  We sat in the front seat of each plane.
The planes instrument panels differed slightly.  For example, The Girl's is first up, and mine below that:
After a couple minutes getting all set on the ground we were quickly off into the sky.  We even took off in formation, staggered slightly on the runway.  Here we are just after leaving the airport and beginning a lazy turn back towards the lake: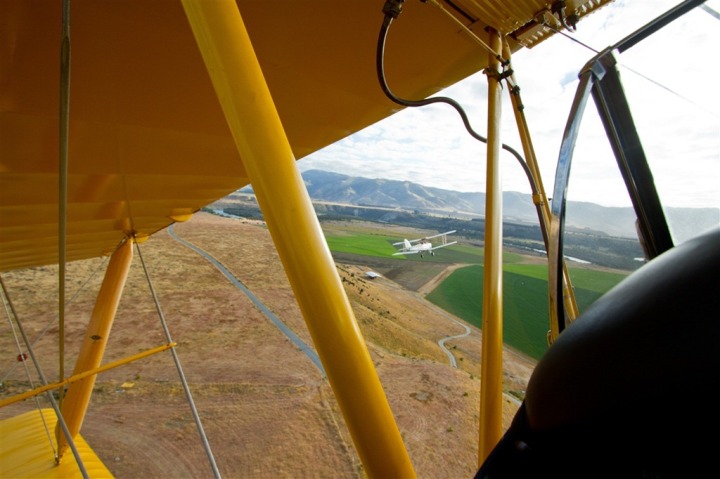 Of course, the coolest part was just getting to fly in formation.  That afforded us both with tons of time to take air-to-air photos of each other.  Again, I'm in the yellow plane – so pics of that are from her, and she's in the silver plane, and thus, pics of that are from me.  And unlike some touristy companies, they were happy to let us take photos – didn't have to purchase any overpriced photo packages (one of my pet peeves!).  Actually, in general, in New Zealand – they were really good about that.
The first portion of the flight had us flying over farmland, en route towards the lake – just quiet pretty scenery: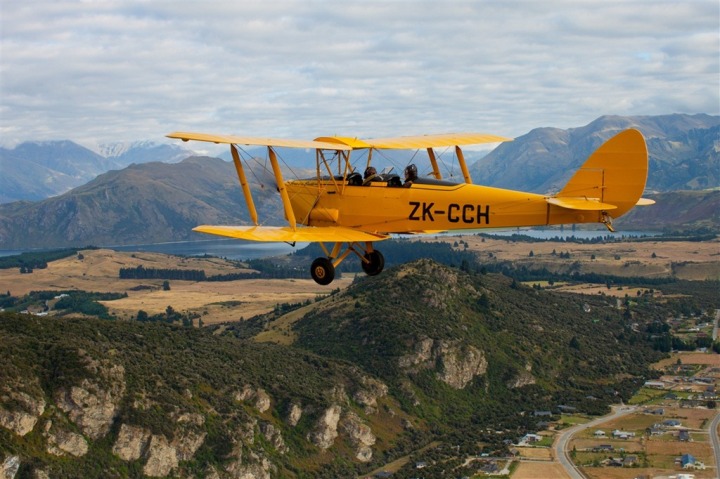 One of things we both commented on that we loved about the flight is that the pilots were constantly changing formation – so we could get all sorts of different perspectives of each others planes:
…or, different perspectives of ourselves: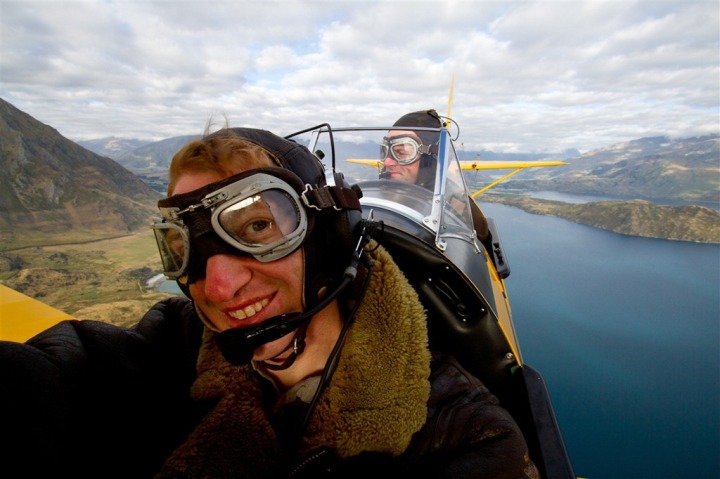 The above photo illustrates two points.  First, that I should have actually looked at the photo I took before I got back to the ground, so I could have fixed my hat and retaken the photo.  And secondly, that I also should have actually re-attached the camera strap to my DSLR camera, since I essentially was hand-holding it out the aircraft with nothing to protect it from taking a dip in the pool.
Speaking of that open-air cockpit…it was awesome: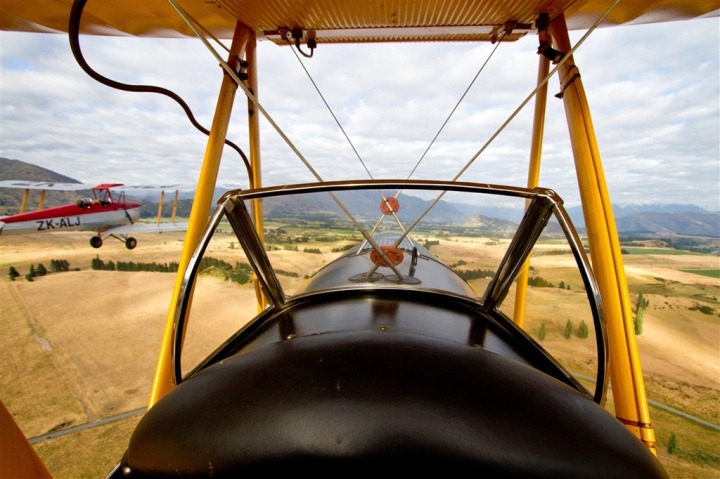 Due to the little windshield, the wind wasn't actually that strong – which was nice.  Similar to driving a convertible where you still have the wind there, but not at full speed in your face.
Note the below…we've got her plane directly in my sights!
Eventually, our trip had to come to an end – after about 30 minutes of flying all around the lake area.  Without question, one of the coolest – if not the coolest plane rides I've ever taken (and I've taken a lot of plane rides).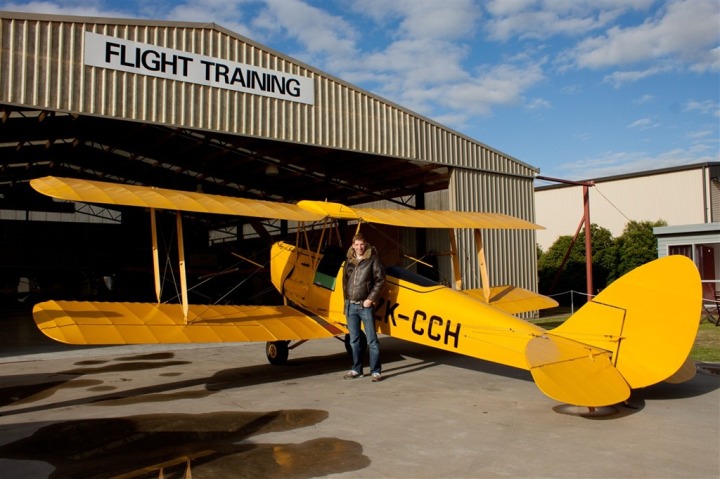 Canyoning:
Immediately after landing, we rushed back to town to go Canyoning.  Which actually meant that we got in a jeep and headed out 40 minutes towards the mountains, ironically enough, right back into the same sheep we took photos of the day before.
There, we did what all normal people triathletes do when getting ready to begin an activity: Prepare their wetsuit.
Yup, seriously, we were going hiking with wetsuits.
Only for about 30 minutes though, and then we'd stop hiking, put on our wetsuits and some rope, and jump into a raging canyon.  The itself though hiking felt like the great migration.  The path was incredibly steep, with few switchbacks.  I simply kept my face looking at the ass in front of me – trusting that they'd go the right way.  Regrettably, that ass was not female.
Once at the top of our hike, in the middle of a mountain with sheep wandering around us on a hot day – we did the only natural thing: Put on thick 5mm wetsuits, neoprene socks, hoods, thermals, rash guards, tennis shoes, and a bunch of climbing gear.  Oh, and our GoPro's.
Canyoning is the crazy sport of combining rappelling (using ropes and rock climbing gear to drop down the side of a rock cliff) inside naturally forming water slides, all within the confines of a (at times) rushing torrent of water in a very slim rock canyon.  The reason for the wetsuits is that the water is really damn cold, largely glacial water…and not terribly far downstream from said glacier – which was quite visible above.
The rappelling piece requires you to ever carefully lower yourself down vertical rock wall cliffs – rather tall ones, with water that occasionally rushed straight over you, and directly into your face.  In the below photo of The Girl, she's just another meter away from being directly in the middle of that waterfall – with icy cold water pouring onto her face.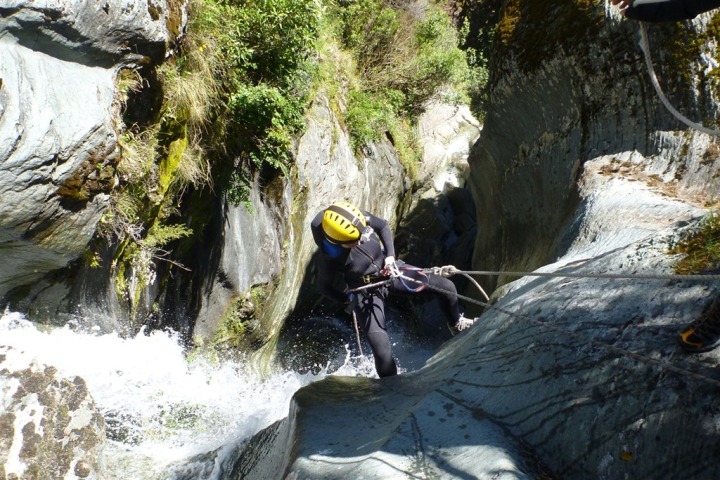 To give some context of size, here's the same waterfall, when viewed from the bottom.  Note that the person at the top is the same height as the one in the middle – thus, it looks shorter than it really is.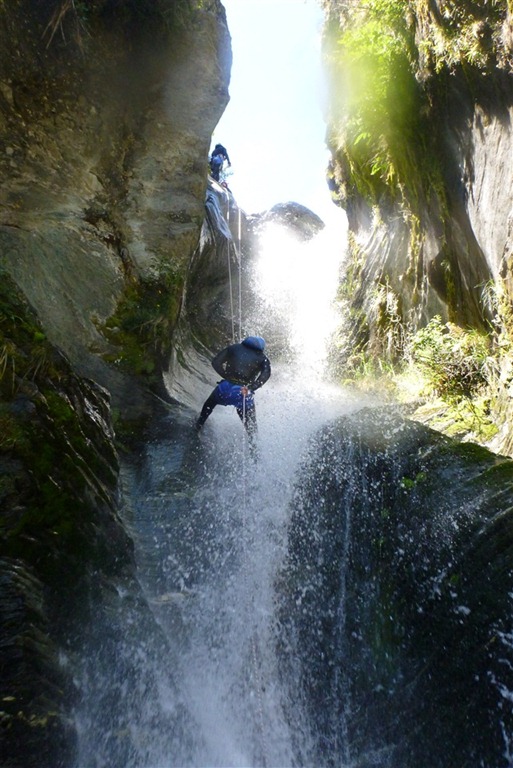 Much of the trickiness came from not really knowing what came next.  Meaning, did the rock invert back into the wall (thus giving leaving you hanging in mid-air), or did another piece jab out? Additionally, the downpour of water certainly added to the challenge.
In the below GoPro shot with me looking down, I'm rappelling down with my back against the wall – while you can see the two little people far below me.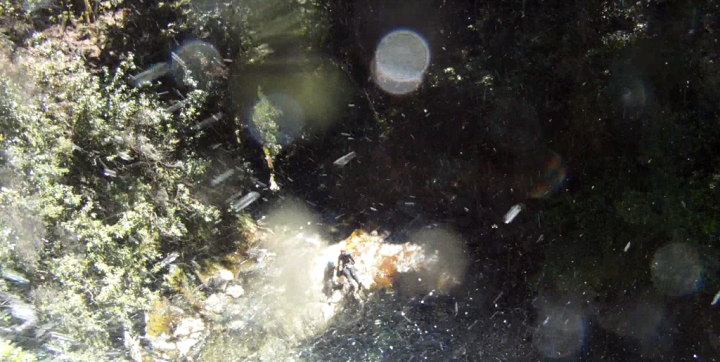 But the 'mere' act of rappelling wasn't enough.  No, we had to also jump, slide and otherwise launch ourselves large distances through the air – sometimes up to 10 meters high.
At this point, we'll switch over to a quick video of one of the biggest non-tied off by ropes drops: A massive 10 meters (Hey! That's a long way to fall with rock cliffs on all sides!), that was virtually completely vertical.  Kerplop.
(Ok…scratch that…the video upload says 212 minutes remaining…the Internet is definitely not Comcastic where I'm at currently…here's a screen grab instead.)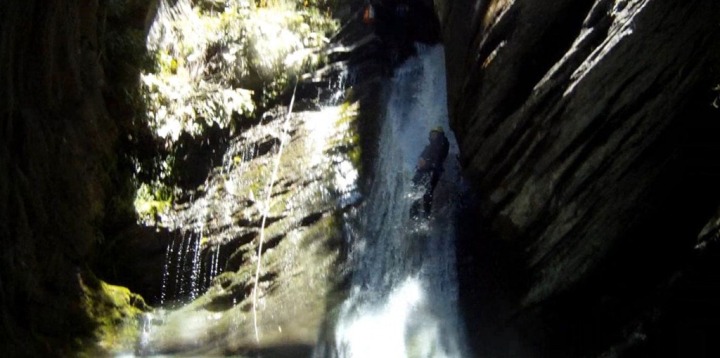 The whole adventure took almost 4 hours of kerplopping, climbing, dropping, sliding, zip-lining and everything else that you could possibly do in a massive natural waterpark.
By time we were back in town, it was after 5PM – crazy!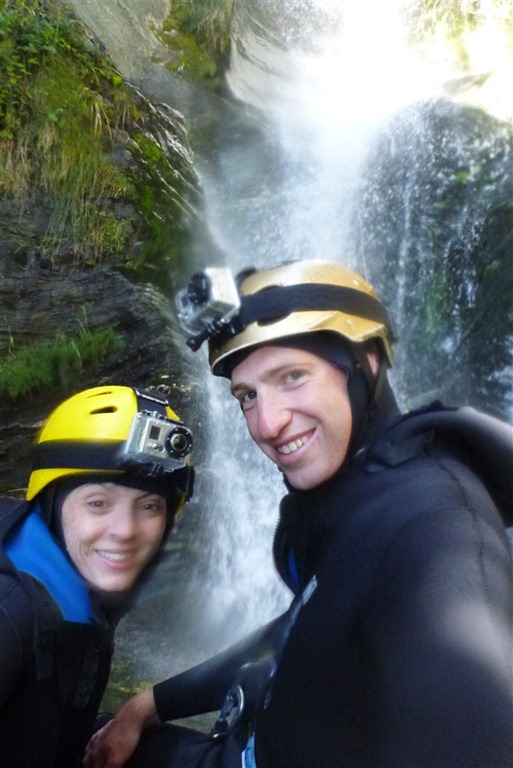 And with the conclusion of our canyoning, it meant the conclusion of our trip to New Zealand.  That night (New Years Eve) we spent simply relaxing in Queenstown – since we were both exhausted.  Fear not though, we'd get to repeat NYE again the next night, just after crossing the international date line for our next destination.
We both had an awesome time in New Zealand and can't wait to come back – there's so much left to explore, and so many things we couldn't get to given the 8 or so days that we were there.  But, that means there's tons of great things for next time…and trust us – there will definitely be a next time.
Thanks for reading, and get ready for the next leg of the adventure!