I arrived into a dark, cold, windy – and snow filled – Warsaw, Poland late Sunday night.  But shortly after getting to my hotel room fourteen stories up I was already plotting my morning run the next morning.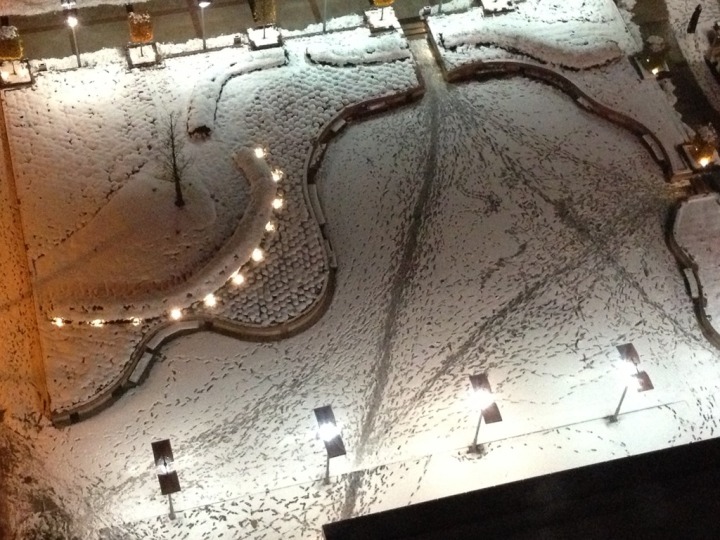 Luckily (well, depending on how you look at it), my meeting schedule had me presenting from 1PM until 9PM.  That meant that while I was working late, I'd have the morning to explore a bit.  Or in my case, run a bit.
Because my hotel wasn't exactly in the epicenter of downtown, I wanted to avoid getting lost.  I suppose I didn't mind if I got lost, I just wanted to get back.  So I ended up plotting a route with Garmin Connect ahead of time, and then using the courses feature to download it to the Fenix.  This would give me both directional support as well as super-basic route mapping.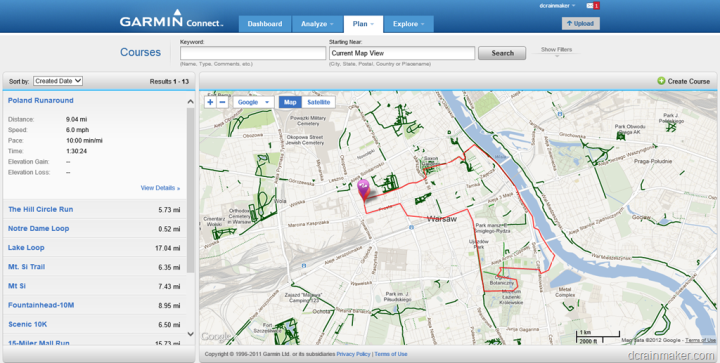 My course was mostly a game of connect the dots – attempting to to piece together something that connected the major monuments and buildings that I could easily identify on the satellite map.  I suppose I could have spent more time and optimized the route to add in more stops – but I kept it simple.
With everything set, I bundled up.  It was just barely 20*F when I started.  Not super-cold by mid-winter standards, but certainly cold enough for my first sub-freezing run of the season.  I followed my previously established rules on cold-weather running, which worked well.
Leaving the hotel, the view wasn't terribly scenic – but that's alright – it was relatively open and free of crowds while I got warmed up.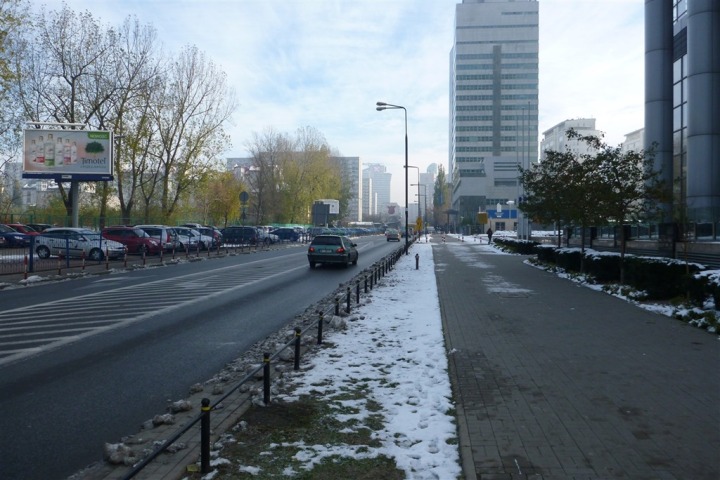 It didn't take long to find my first bike-share station.  Like many cities in Europe, these are common and everywhere.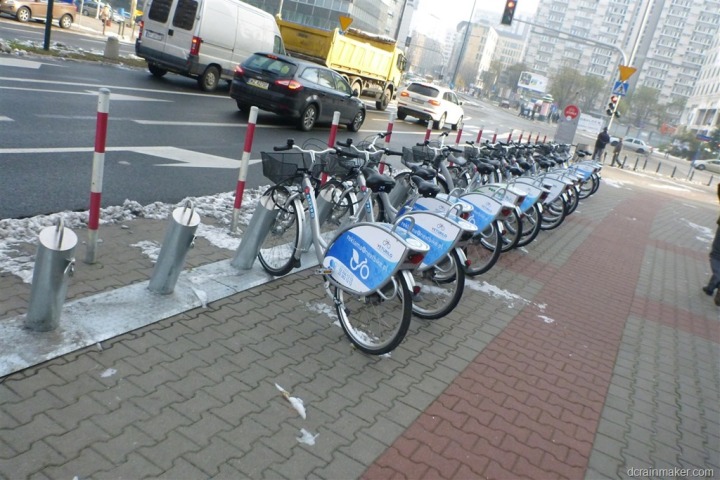 At roughly the one-mile marker, I made a turn into a large park that was backed up against the Tomb of the Unknown Soldier.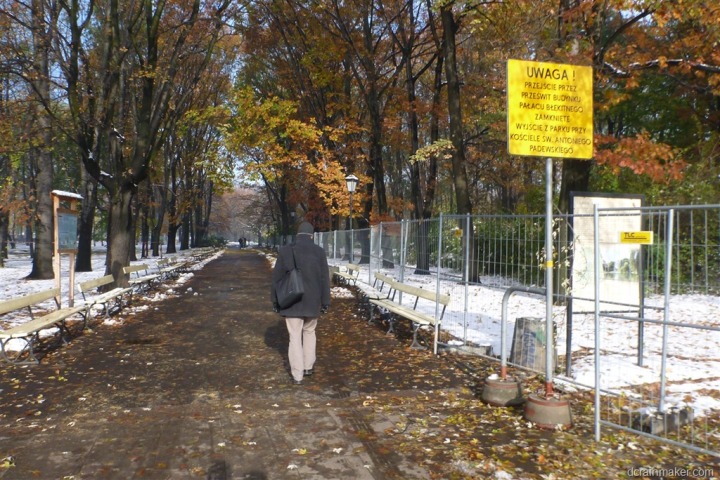 Inside the park it was as peaceful, quiet and tranquil as you could have imagined for a location that shared its grounds with the Tomb.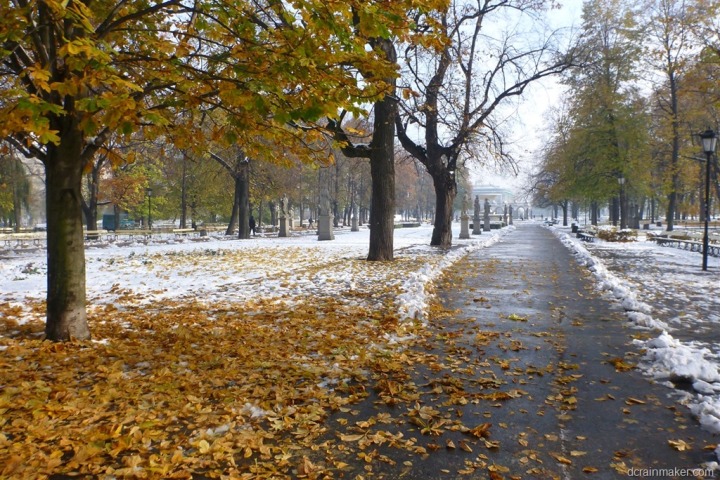 Inside, one of the fountains had frozen over, and workers were busy trying to fix something inside it at the base – working away in the rather frigid waters.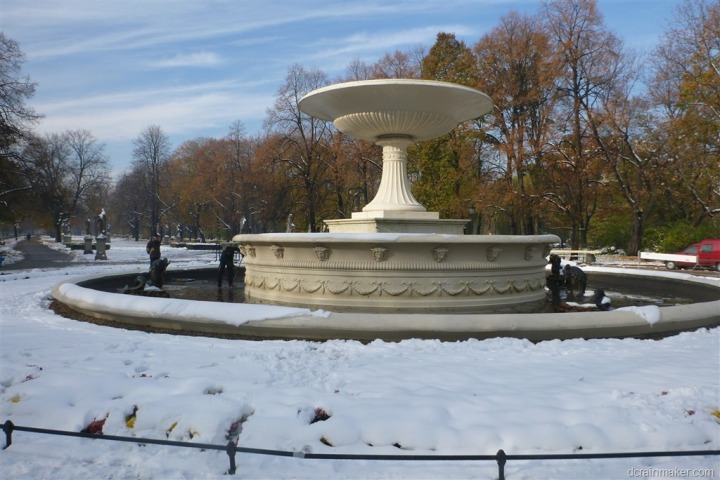 In front of the fountain stood the Tomb, which had two guards present – not terribly unlike that of the Tomb of the Unknown Soldier in Arlington Cemetery.
As I left the Tomb behind, I crossed a vast plaza in front of it – easily a few hundred yards long and nearly as wide.  In doing so I ran past three soldiers marching out towards the Tomb, likely for a guard change.  Nobody else was on the plaza at this hour (or this weather).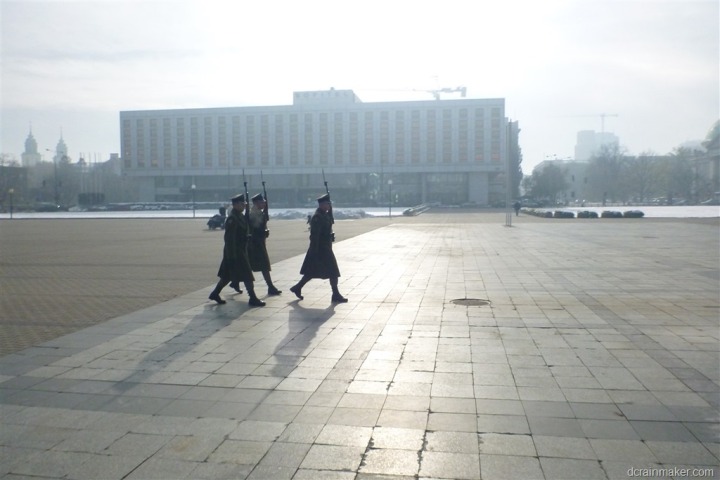 From here I followed the squiggles on the Fenix and continued to work my way down towards the water.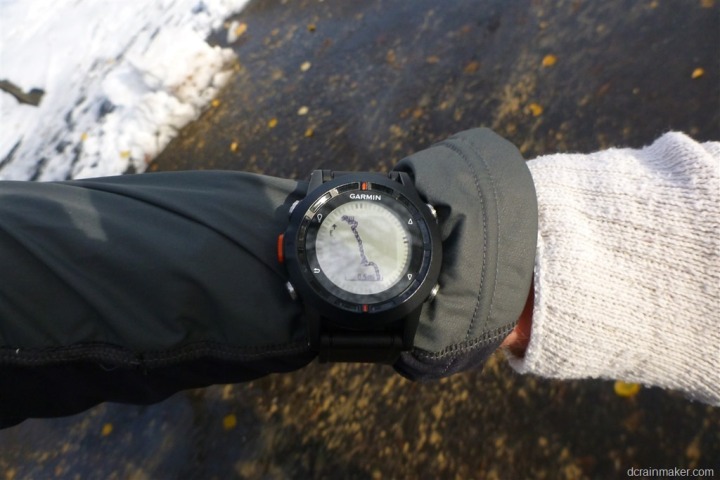 As I made my way there, I ran through a bit of an outdoor art/photography gallery, that was put on by one of the Historical Museums just to the left.  They also appeared to have another photography exhibit inside as well they were promoting.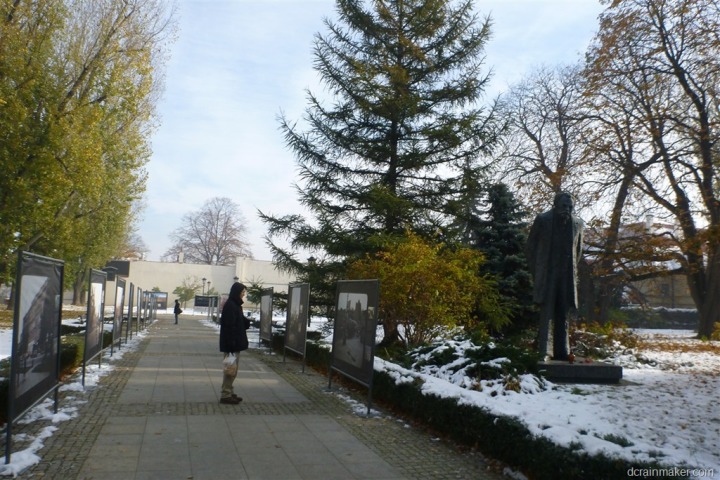 Soon, I found the water.  And thankfully, a running/cycling path next to it.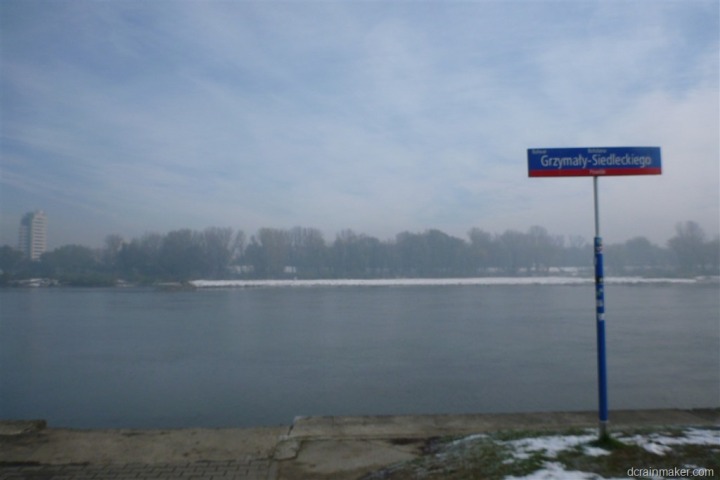 As I followed the path I ran past what appeared to be a Science Museum, and with it, a pair of parabolic microphones.  Regrettably with only me and myself present, there wasn't too much I was going to do here with them.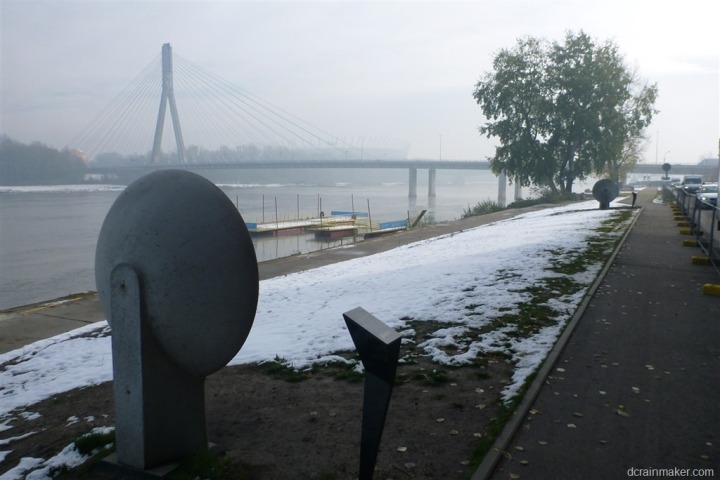 I continued along the river for a few miles.  While it's hard to see in this picture, there's small chunks of ice floating down the center of it.  I'm sure in due time it'll probably freeze over – but this was just the first snow of the season.
For those wondering, I saw precisely two other runners my entire 10-mile run.  One woman and one man.  Upon waving, only the woman smiled/waved back.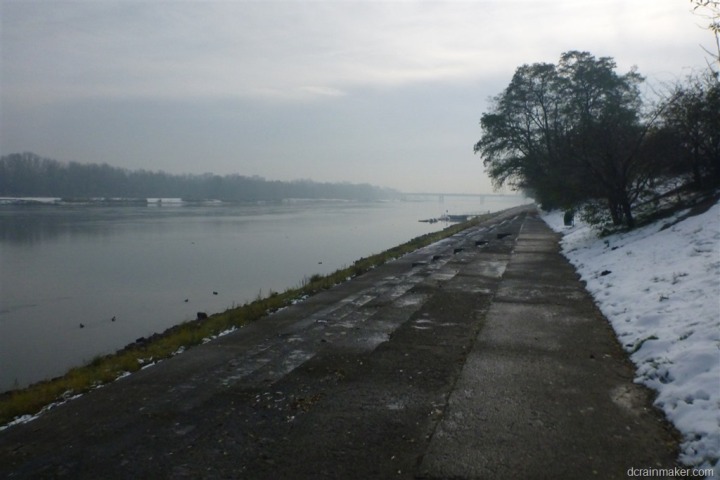 Though, you can add one other person with their dog to that list.  Walking, not running.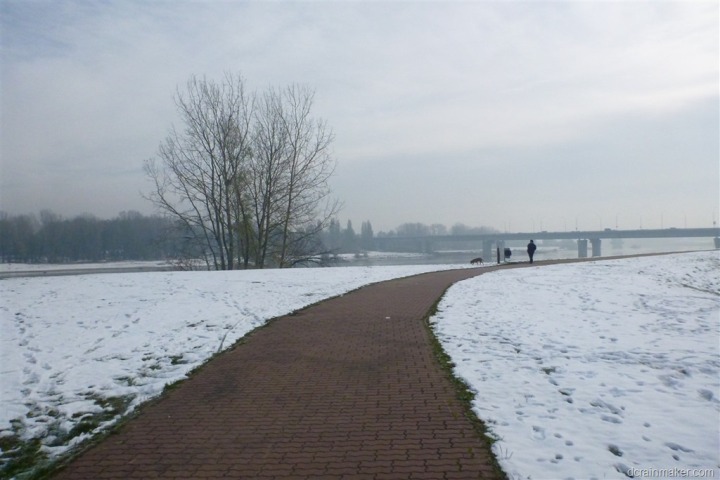 After a few miles, the watch told me to turn.  When I plotted this route, I was under the impression this particular turn might be a little more 'refined'.  In reality, mud and snow mixed was the name of the game.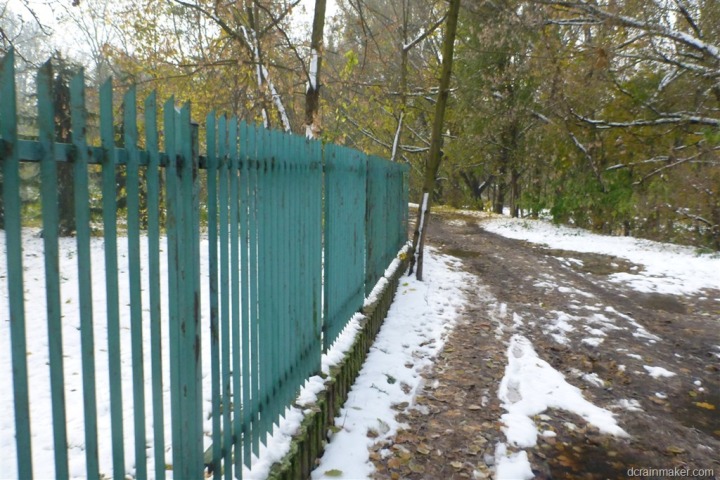 Well, along with the mud and snow was a couple doing the Romance Dance in the car as I ran past it.  I'd agree with them – if it wasn't for me running buy, this would definitely have been a quiet spot on a cold and snowy morning.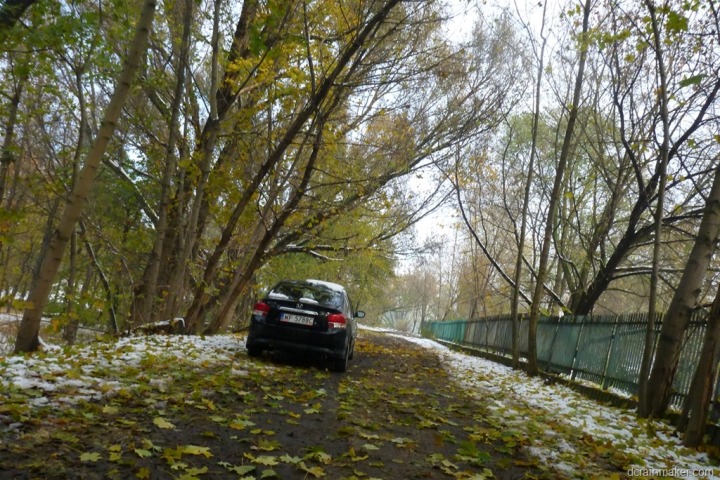 In reality this was simply part of the path, it's just harder to see that in the snow/mud.  Once I got back out to the pavement portion, it was back to normal.  And normal was black ice.  In fact, it was everywhere on the run and I was constantly on the lookout for either black ice or straight up regular ice.  Thankfully, no flights occurred.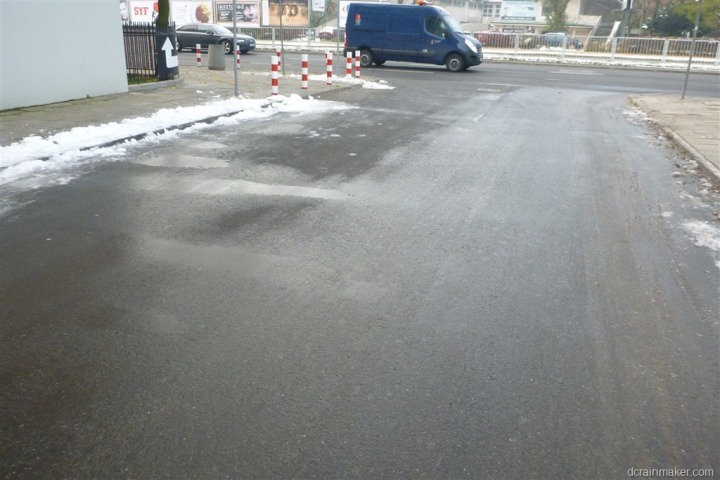 I crossed over the roadway above, using the bridge below.  I thought it was interesting that the bridge had little rails on the stairs for your bike tires to ride in so you could walk it over easily.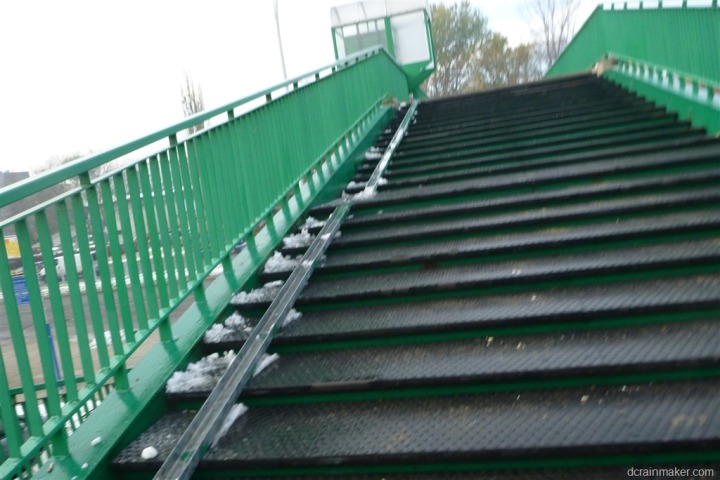 After the bridge, I started heading through the park towards one of a number of monuments.  The sides of this park were lined with some Embassy's, including the British and French Embassy's.
Above, the Ujazdow Castle.
From there, I made a turn towards The White House.  In doing so, I ran past this soccer court setup.  I thought a few things interesting:
1) They were playing in shorts (again, 20*F out)
2) In the middle of the game, a man was plowing/shoveling the field – mid-play.  They just ran around him as if he were a ref.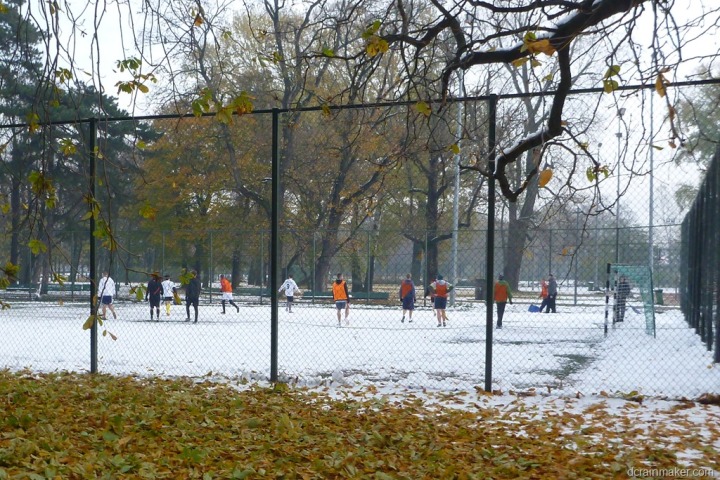 Anyway, onto the White House.
Well, while the below house is white – it's not the correct White House.  This is called Palace on the Isle, as it sits in between two lakes/ponds, which you can see the following pictures.
Outside and in front, for reasons that are unclear to me, peacocks were wandering around.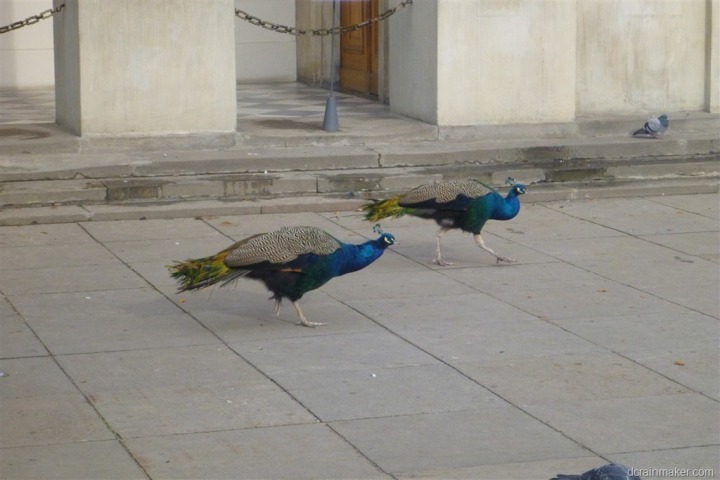 I meanwhile, stepped away from the bigger birds and hung out with the pigeons.  A large crowd of them actually followed me after this.
Nearby though, a few hundred meters away is the correct White House.  Seriously, it's called The White House.  For obvious reasons: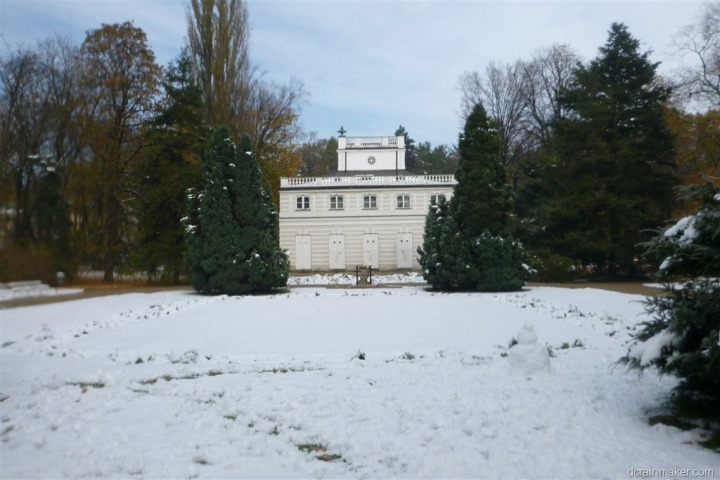 From there I kept wandering through the vast park.  Here's a little tourist map to put it in perspective.  You could probably run a 5-8K loop around the perimeter (back of the napkin math), if you wanted.
Meanwhile, I stayed inside as I made my way across it.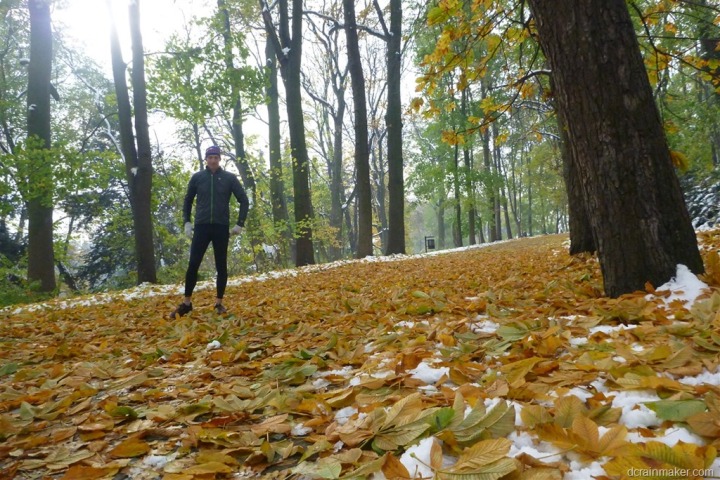 Once I popped out the other side I checked out this building.  It wasn't labeled on the map, but turned out to be the Belweder Palace, which is where the President hangs out (though he primarily lives a few kilometers away downtown in the city center). Which, might explain the high security cameras…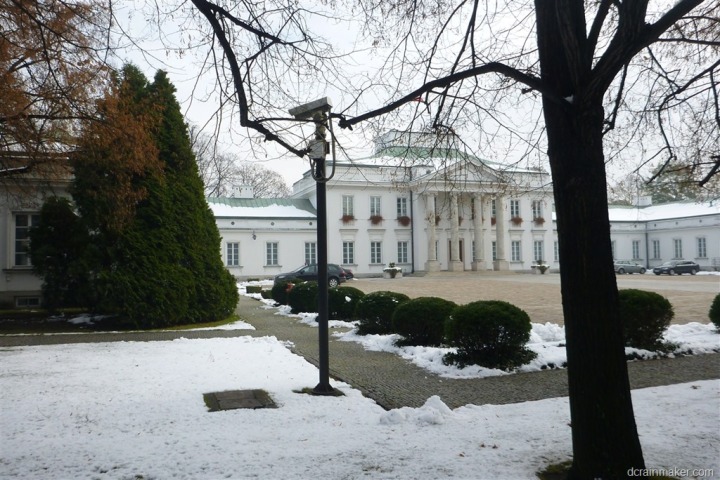 At roughly the same place was a statue known as Chopin's statue, but the area was under construction, so I couldn't get a good look at it.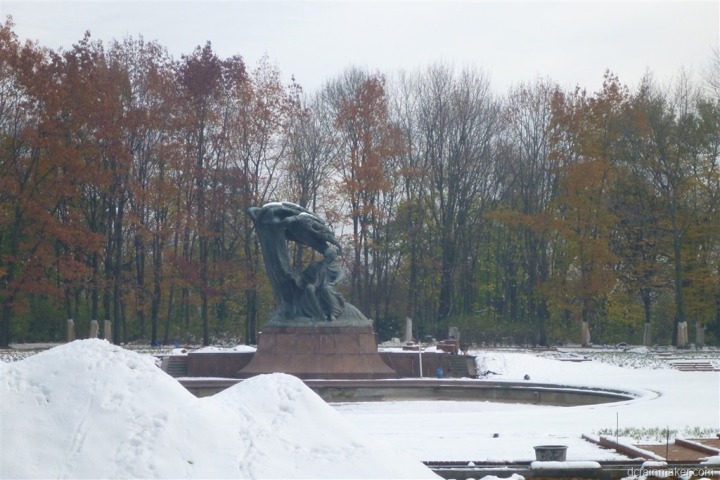 I then made a turn and ran for another mile or two down a long boulevard.  Really rather pretty.  Complete with grade separated bike lanes, wide walking/running paths, and big fancy buildings on all sides.  Even a statue of Ronald Reagan across the street from the US Embassy.
Finally I hit the center of town, filled with streetcars and people.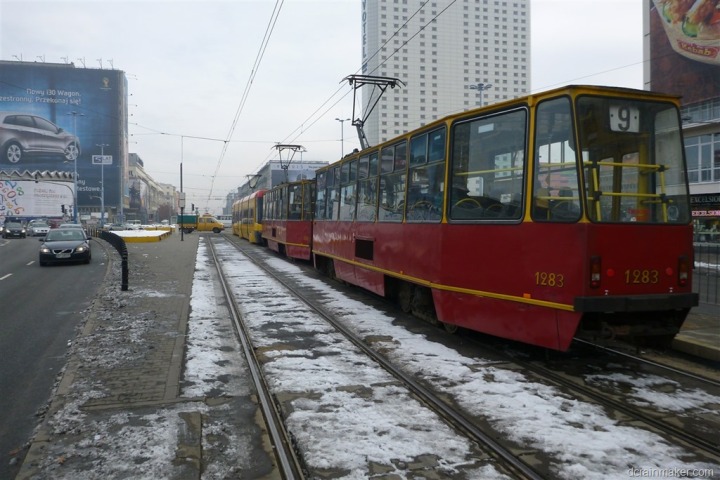 I ran past the Palace of Culture and Science building (below).  While it looks pretty to me (very impressive at night), I found out from some local co-workers that it's not terribly well liked here.  It's a remnant of Stalin, and thus serves as a constant reminder to the people of the city of a period of history they'd like to forget.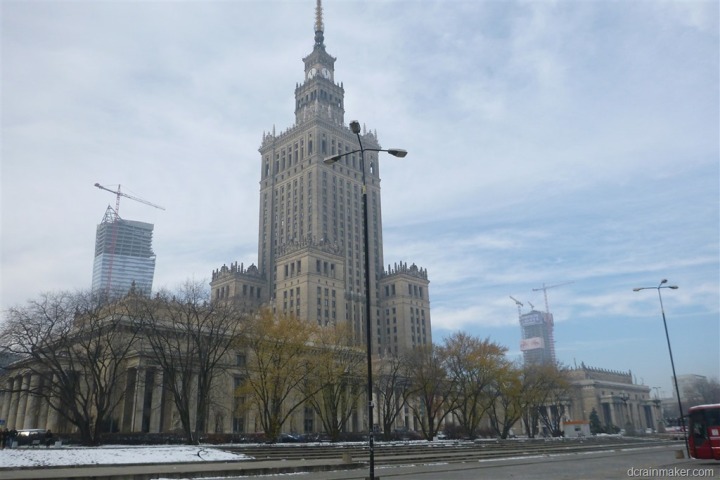 At the base are a cluster of theaters and performance halls, which looked pretty fancy from the outside.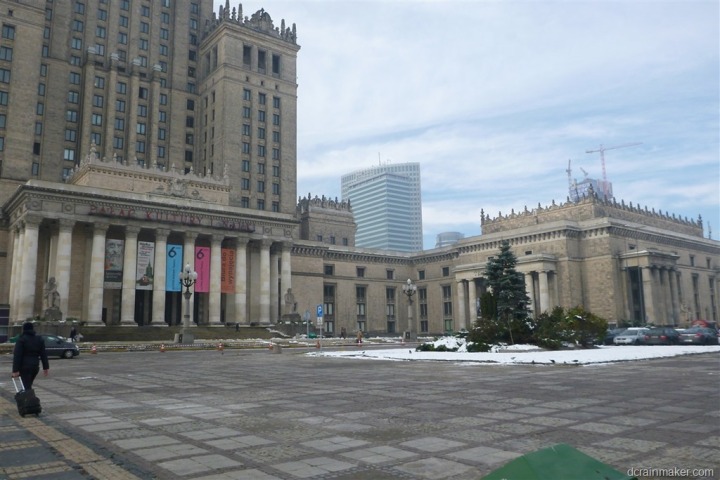 As well there was this soccer statue thing they were setting up.  I suspect someone here will be able to chime in and explain this piece.  But yup, those are legit soccer balls being held up there.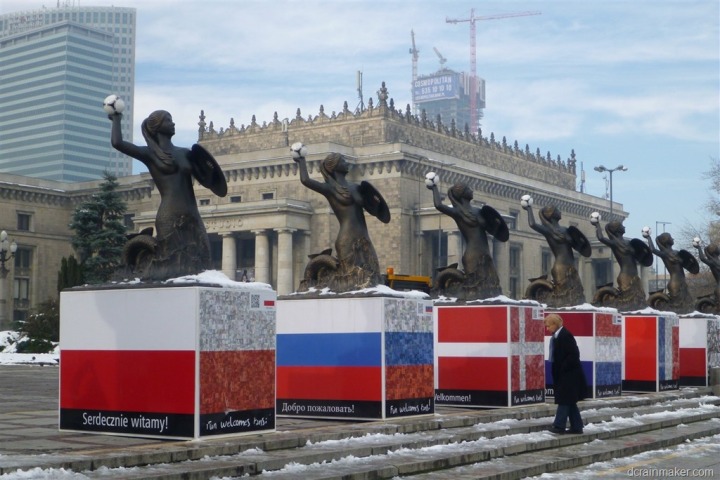 I then made my final turn towards the hotel.  I had to navigate around quite a bit of construction for a new underground train line being built.  Made even more tricky with the snow and ice.  Note the mountain biker trying to make his way over the slick make-shift bridge as well.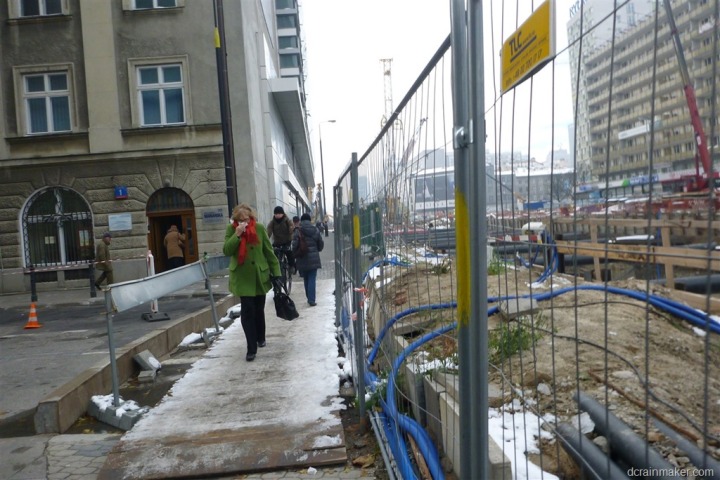 I ended my run just a little over 1 hour and 15 minutes later – not too shabby for 10 miles on mixed snow and ice.  And a great way to start off the day.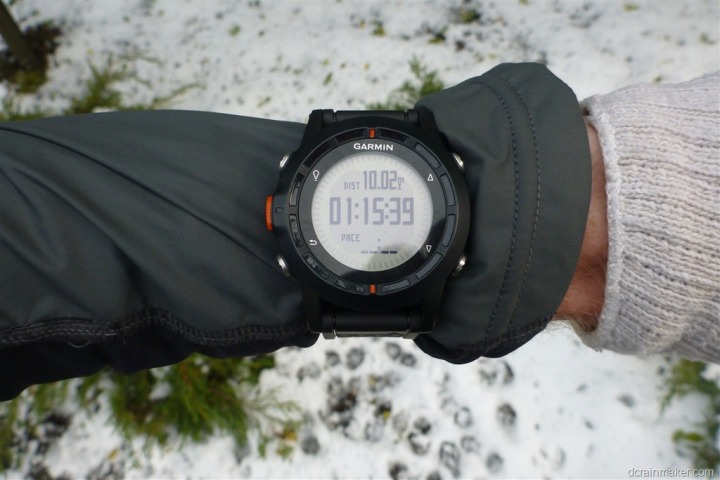 With that – my time in Poland wrapped up Tuesday night and I was back in Paris for a Parisian timed dinner (i.e. 10PM).
Thanks for reading!