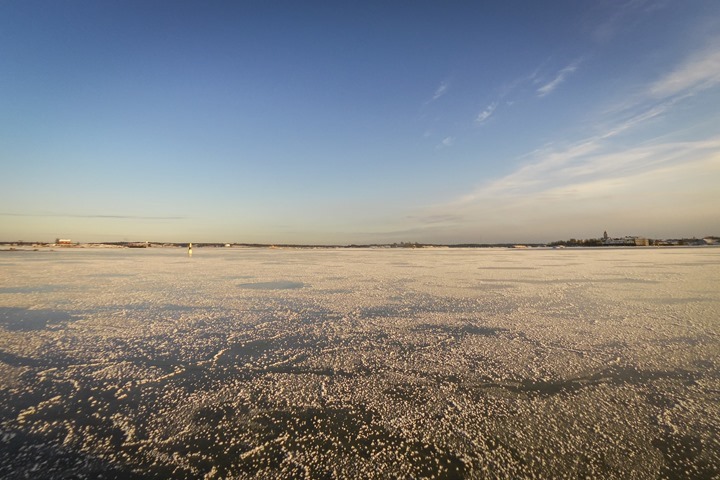 I left the lovely British countryside behind (and by lovely, I mean cold and raining) and boarded a nearly three hour flight from London Heathrow to Helsinki, Finland.  I always forget just how far that is from the rest of continental Europe.  For Americans, it's almost identical to the distance from NYC to Miami.  Both of my destinations were for meetings for work.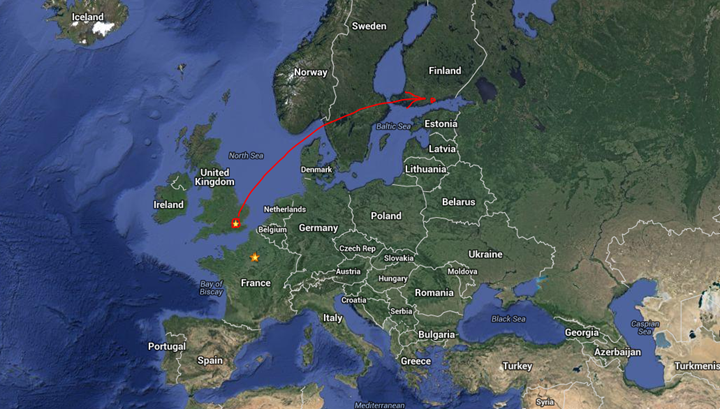 Upon arrival I found it was 5ºF.  It would drop in temperature.
I also found upon arrival that the taxi line is outdoors, and that it was not a short line.  Thankfully, I had dressed for the weather, or at least, for one taxi-line-length of it.
Interestingly, along the taxi ride to the hotel you pass directly by Suunto's corporate headquarters, just off the highway a few minutes away from the airport.  Polar, is also headquartered here in Finland, though it's about 300 miles north of Helsinki.
In any case, the next day I had a run to accomplish.  My meetings here in Finland are on Thursday/Friday, so I more or less had Wednesday to play catch-up from the hotel room.  I did head out for a bit of a run though, which was on my schedule.
The Hilton hotel sits right on the water, so it made for an easy place to start from.  I just walked out the front door – cursed a bunch at the cold, and then set on out.  You'll notice some people out on the ice.  I'll get back to them later on in the post.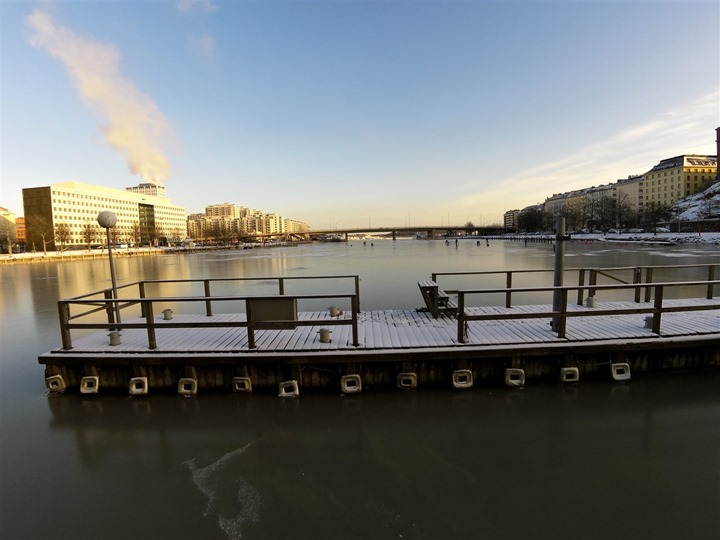 My route would take me around the edge of the city from a trail/seawall standpoint.  The first thing I noticed was that everyone else had on a heck of a lot more clothing than I did.
While I have winter running gear, my airline friends have temporarily misplaced that gear when I came back from my DC/Vegas trip.  At some point, that gear may be re-united with me.  So instead, while I was in the UK I picked up some replacement gear.  Except, the selection was slim, so I was stuck with the house brand which I suspect isn't designed for temperatures in the 5-10ºF (-15 to -12ºC) range.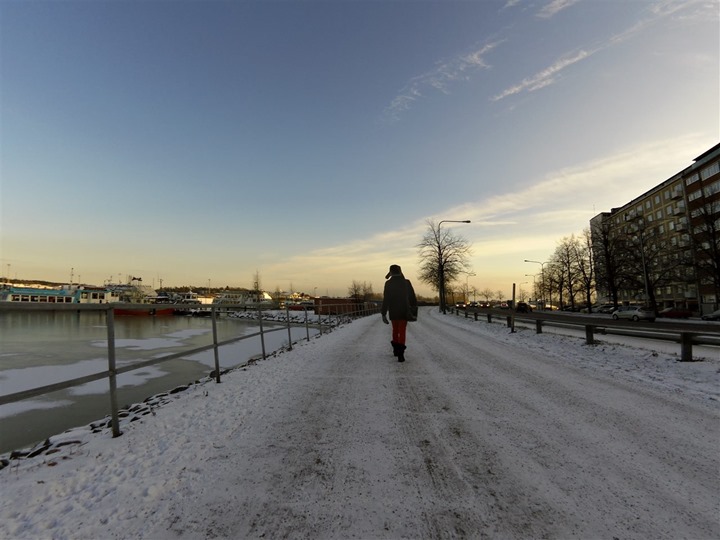 The only thing that did help though was a bit of sun.  It's surprising what the sun can do in terms of warmth, even when everything else is so cold.
I made a short detour out onto a park (Tervasaaren Koirapuisto) that juts out into the harbor like a lollipop.  On it, is a dog park.  And on the way to it is more people dressed warmer than I.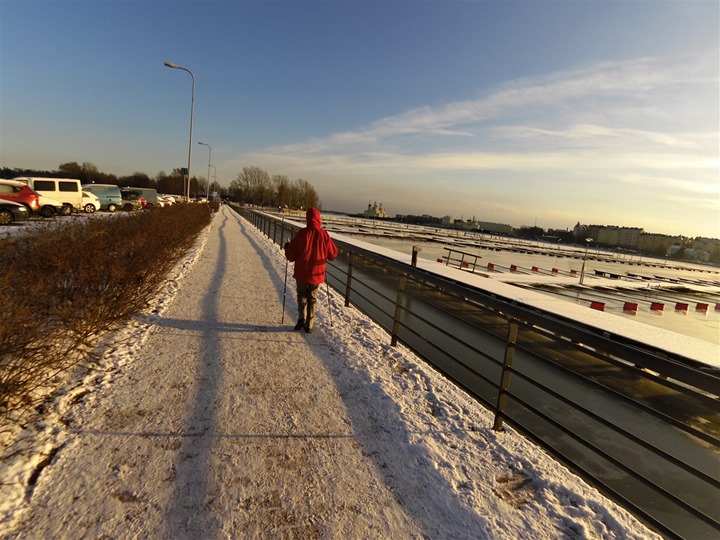 The view from out in the park looking back over the frozen harbor to the sun setting over the city is rather pretty.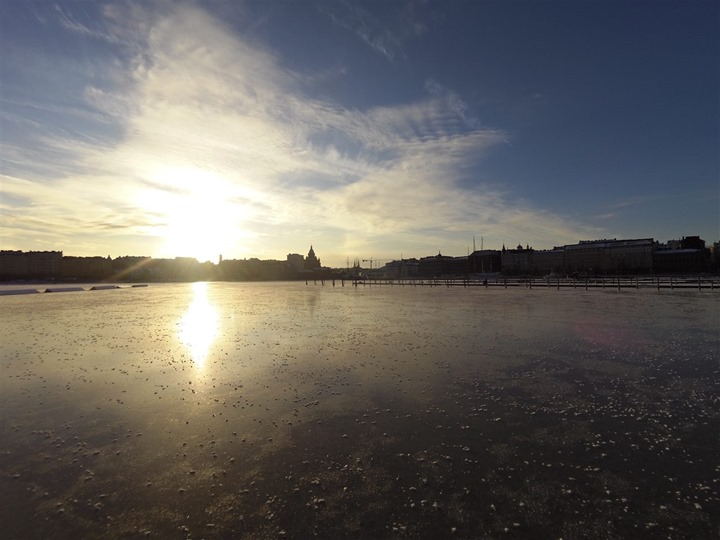 And here's me, in said park, looking rather frozen: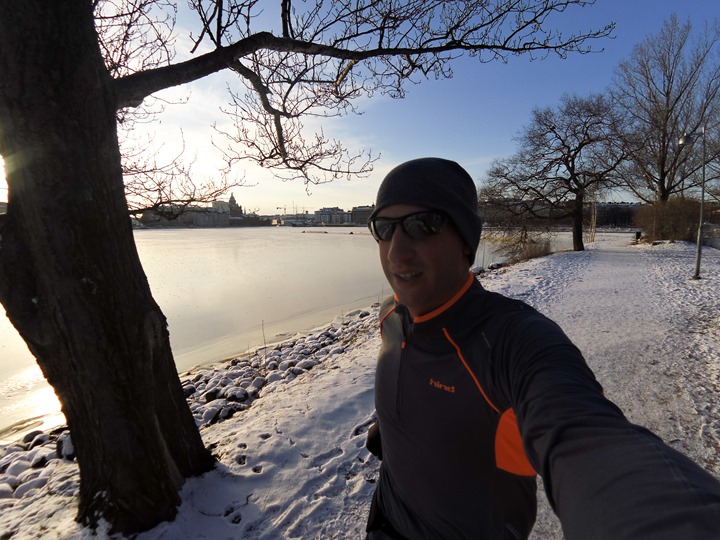 Actually, my upper body was pretty much just fine.  It was my legs that were cold, which makes sense because that was the part of the clothing pickup I was least excited about.
Out across the way were a number of big ships, what presumably looked like ice breakers to me: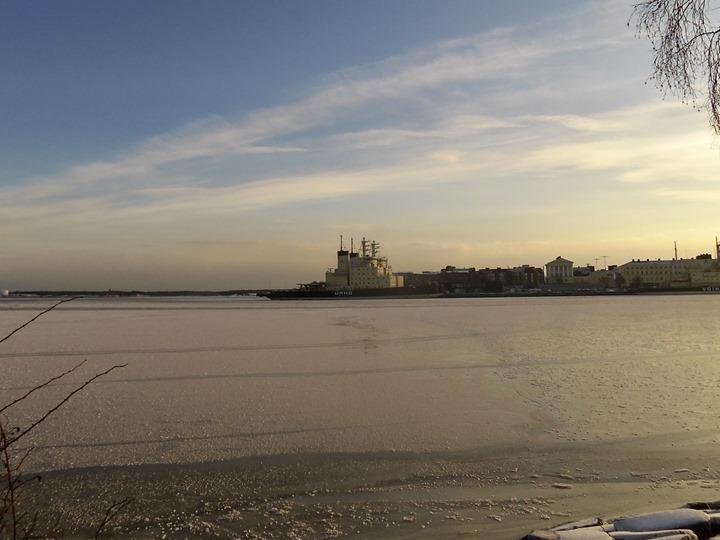 I continued back into the harbor area, along the lineup of smaller boats – almost all encased in ice.  It actually had only gotten really cold in the last week.  So the ice in some places isn't terribly deep yet compared to where it normally would be.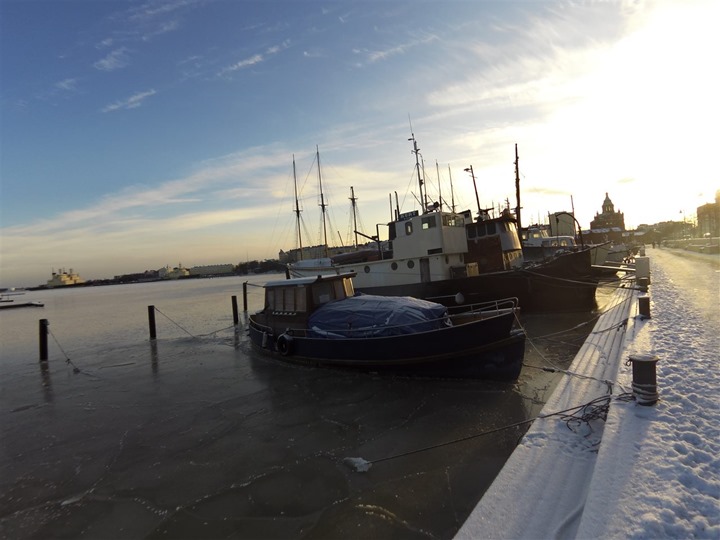 When in Nordic countries I'm always impressed at how many people are out with baby strollers with their kids in them – despite the cold temperatures.  Throughout my run I saw at least a dozen moms out with strollers.  Similar to what I saw last winter in Stockholm, Sweden.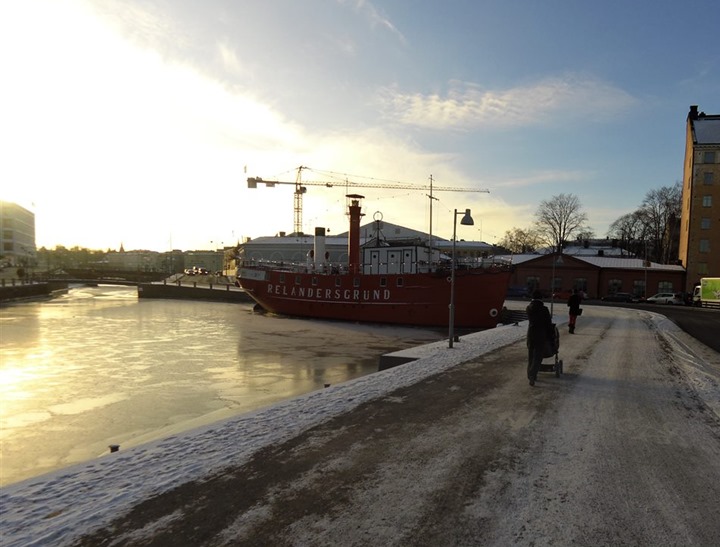 Also like many Northern European countries, the number of people who bicycle commute is quite impressive, despite the weather.  While this bicycle is in a rather interesting parking position, there were (and are) many cyclists commuting.  Even as I sit here at 11:30PM watching the sideways snow fall from my hotel window, I'm seeing a constant stream of bike commuters of all ages riding home.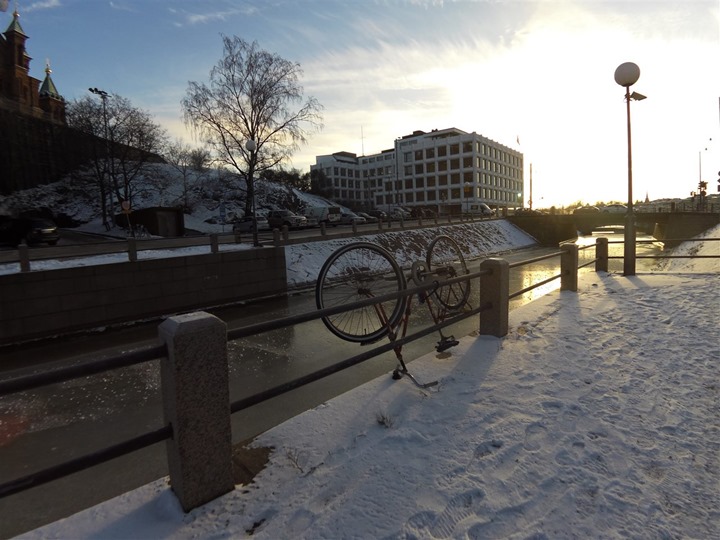 One of the more popular tourist attractions is to head out to a small island fort via this little boat seen below.  The boat runs every day, ice or otherwise, and actually breaks its own ice path out to the island.  It's interesting in that it's moving so much that the area +/- 100m around it is fairly free and clear of ice, but just beyond that it's all chunked up.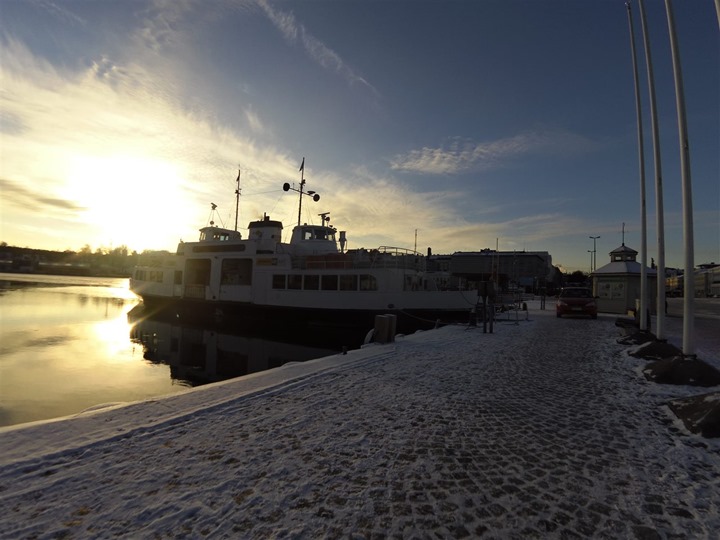 Meanwhile, if you're looking for a bit of a bigger boat – the cruise terminal is right next door.  Two cruise ships were in port.  You can see the smaller one in the background.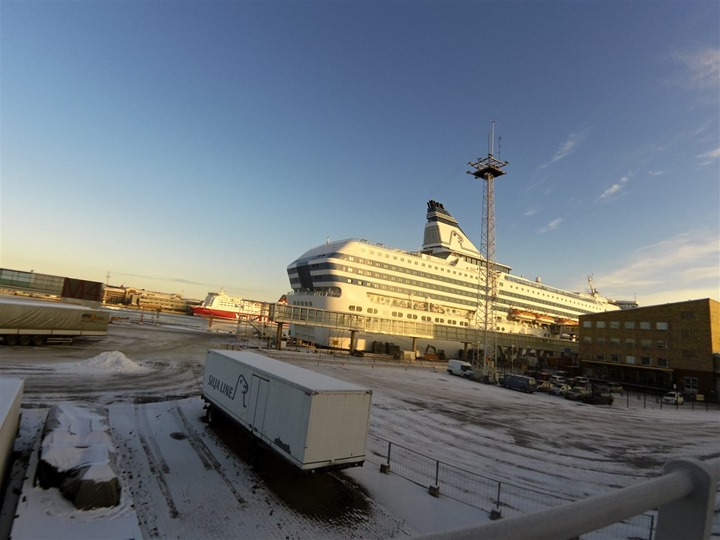 I left the harbor and much of the business of the city behind and continued out around the point.  Just a handful of people out there, and a lot of ice.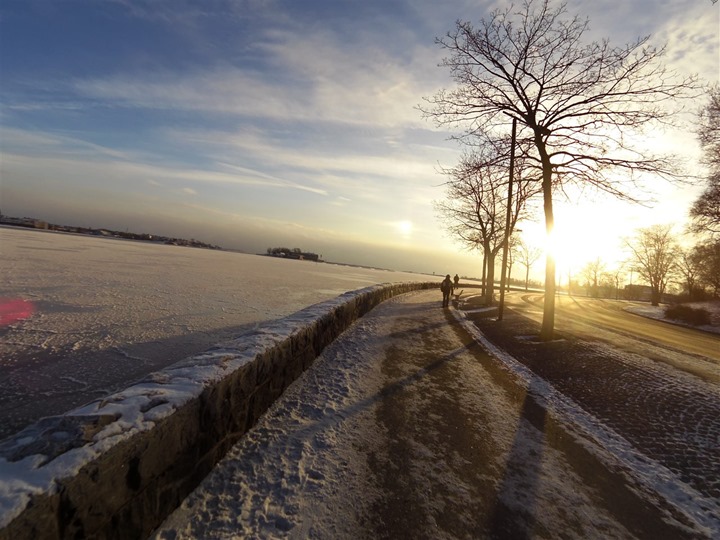 In case you were curious, I was running with YakTrax.  These were ones that were due for retirement and needed some repair though when The Girl ran with them for 2+ hours in the mountains of Zermatt.  She used dental floss to fix them.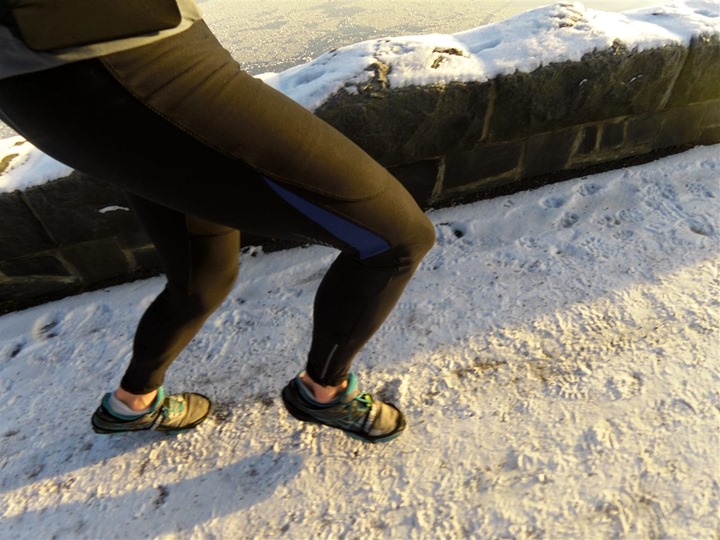 No, really, she did.  Yes, you can be impressed.  I was.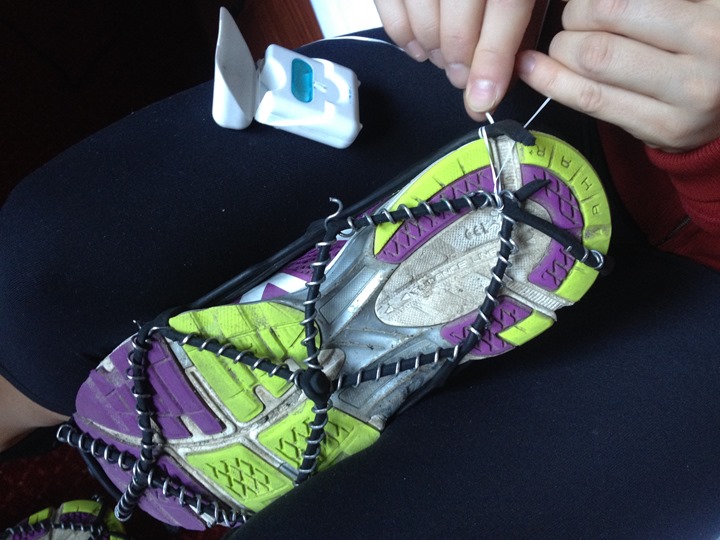 The trail along the seaside was quite pretty, especially since the wind was largely to my back.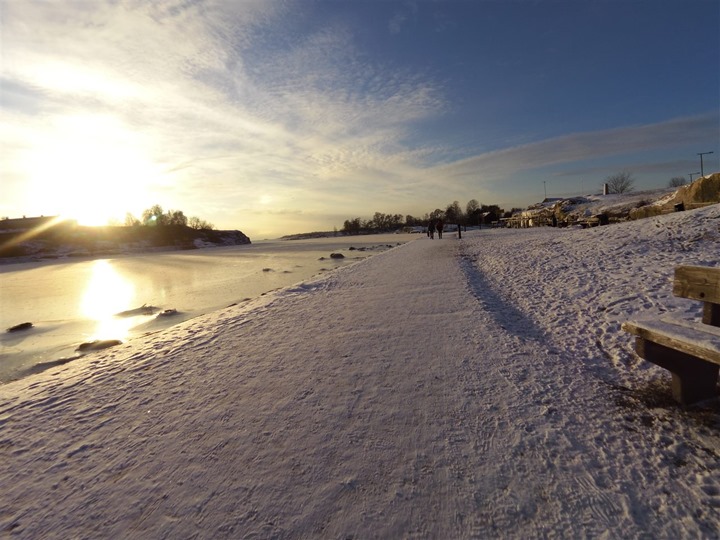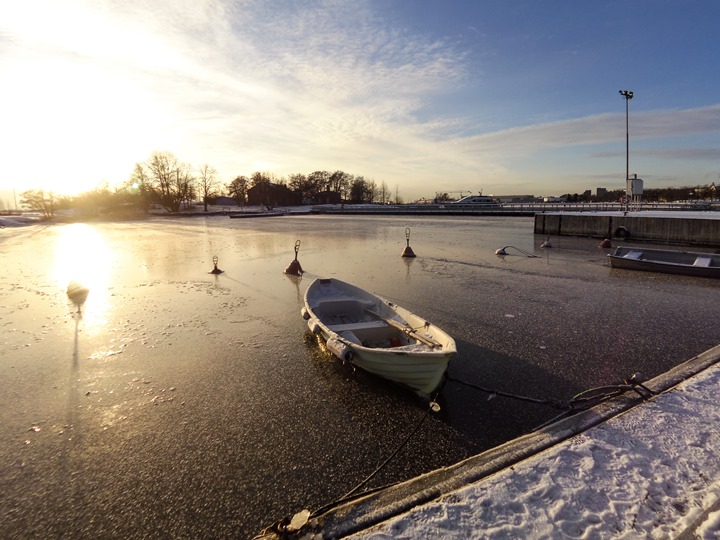 I soon started working my way back across the city, making a bit of a cut-through to make the route a bit more direct.  Along the way I saw a handful of notable buildings, including this church.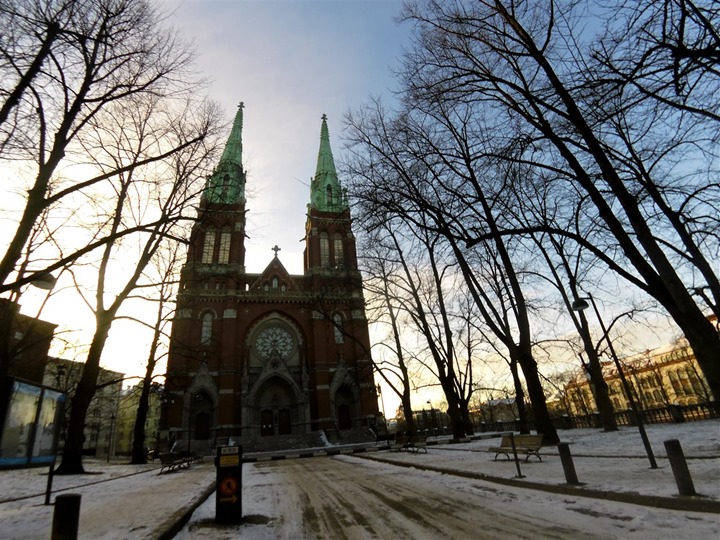 I'd eventually merge onto a main boulevard with plenty of shopping and quite a few people.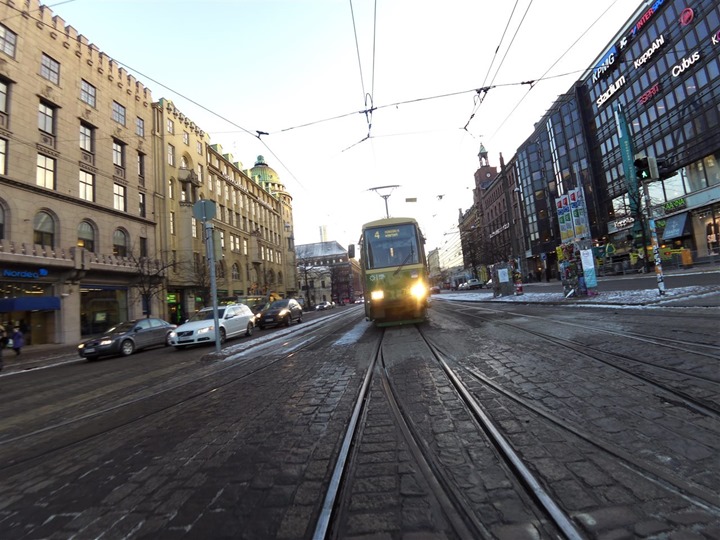 Towards the end of it, near the main train station there was also an ice skating rink.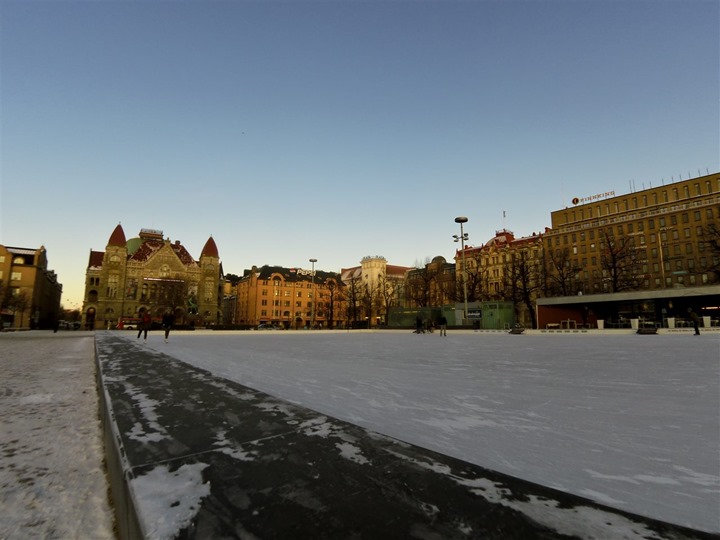 In fact, there were two other 'rinks' that I ran past along the way.  One was next to the church seen earlier, and another in a park near the hotel.  What was interesting about both however was I'm reasonably sure both are simply football fields with water frozen on top.  Hey…whatever works!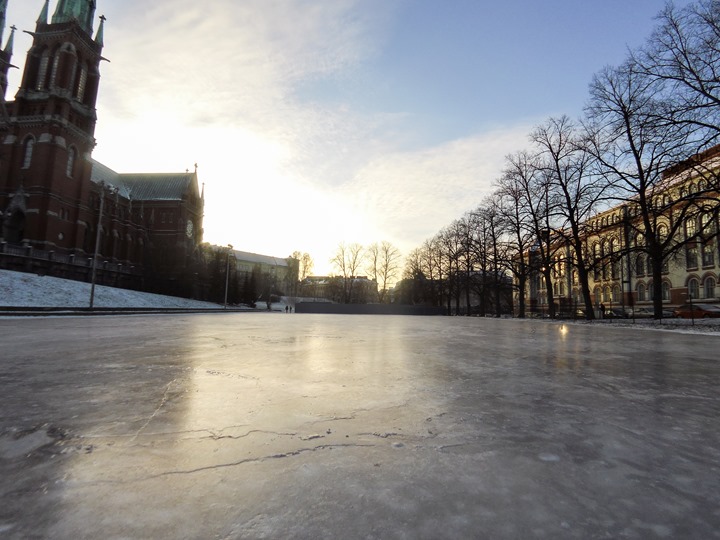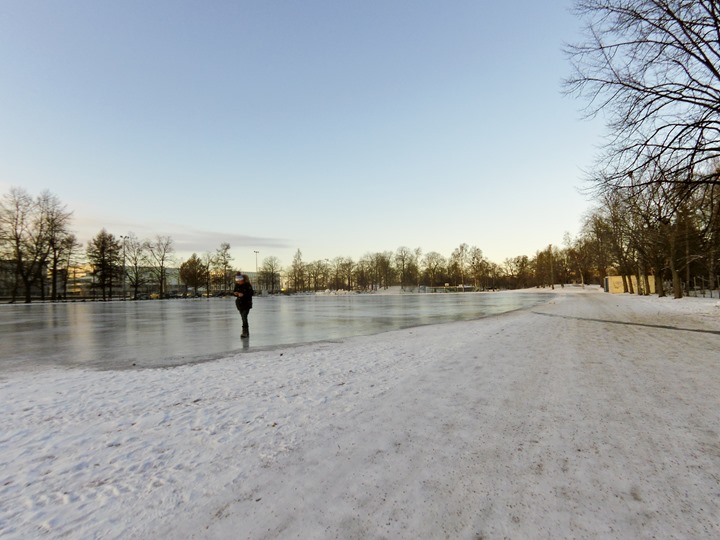 Soon, I was back at my hotel and the inlet area near it.  It's here that you'll find a number of guys out ice fishing.  They'd drill a hole in the ice (you can see the ice drill closest to you behind the man sitting), and then dip in and catch a fish.  I actually saw yellow-hat man catch a few small fish.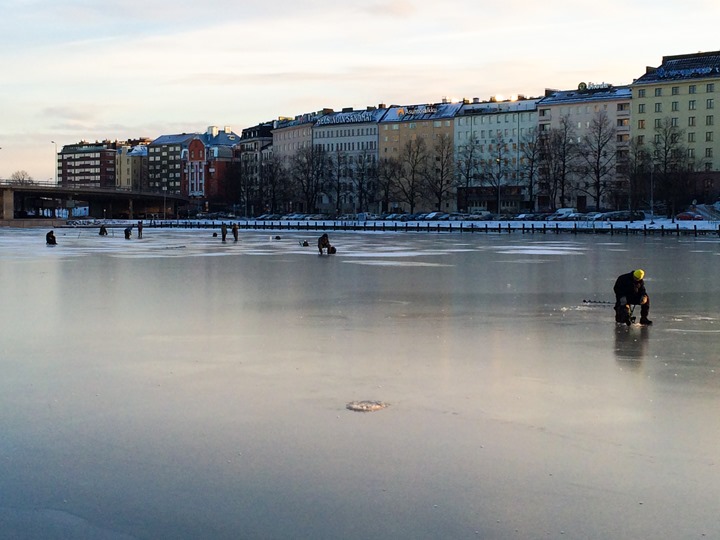 After watching them transit to and from the ice to the shoreside for a little bit, and then watching a few other people wander out – all of which were decidedly much more Santa-like than I, I gave it a quick wander.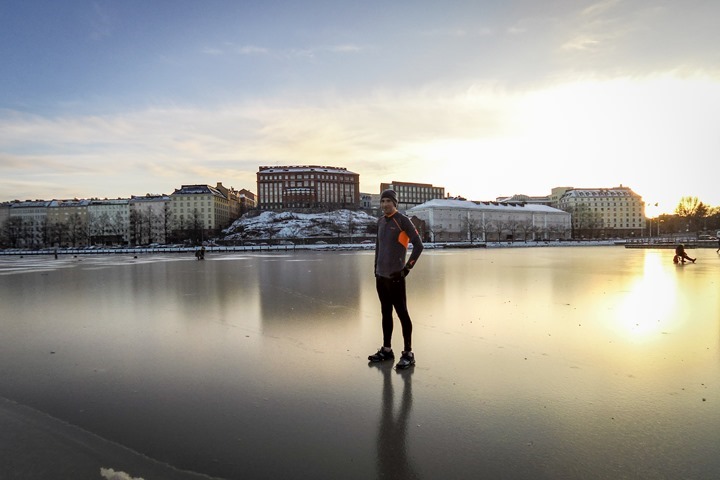 It's funny, I never would have thought the ice was as thick as it was from looking at it from the seashore.  And of course, you never want to be either alone, or the first one to test out the ice.  Given I was neither, I felt pretty comfortable going the 10ft or so from the rock ledge.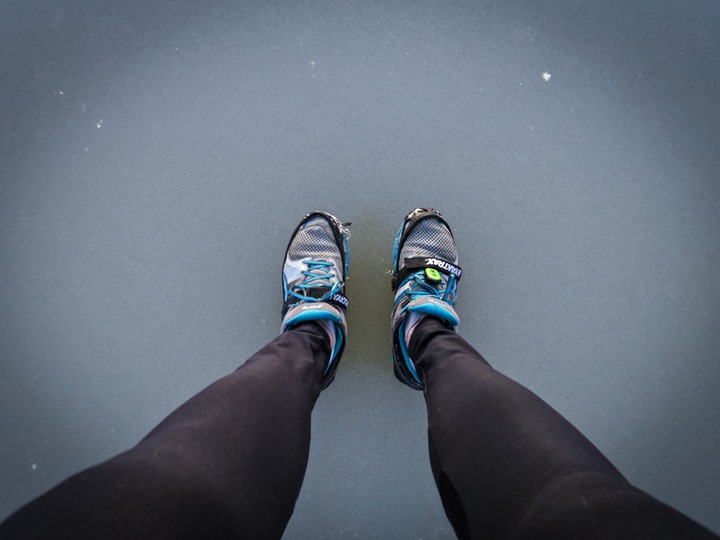 With that – I'll sit here and simply watch snow fall, late into the night – ready to dive back into meetings in the morning.  It'll of course be dark when the meetings start – the sun doesn't rise till around 9:30AM, and…it'll be dark when I finish, as the sun sets around 3:15PM or so.  But that's OK, the snow is still fun to watch at night.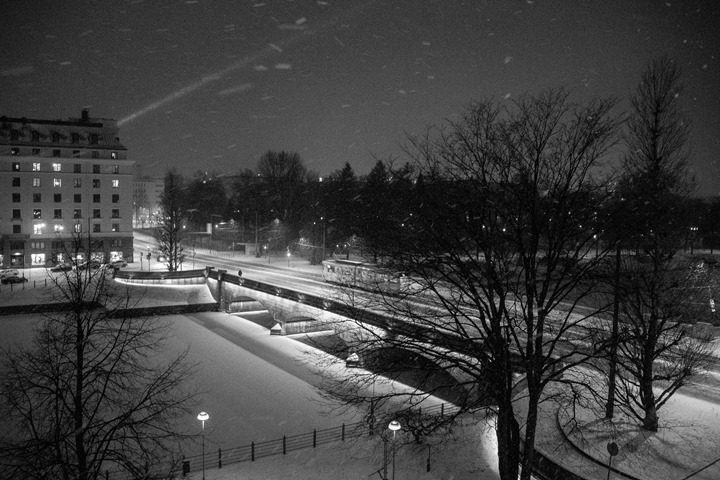 Thanks for reading!