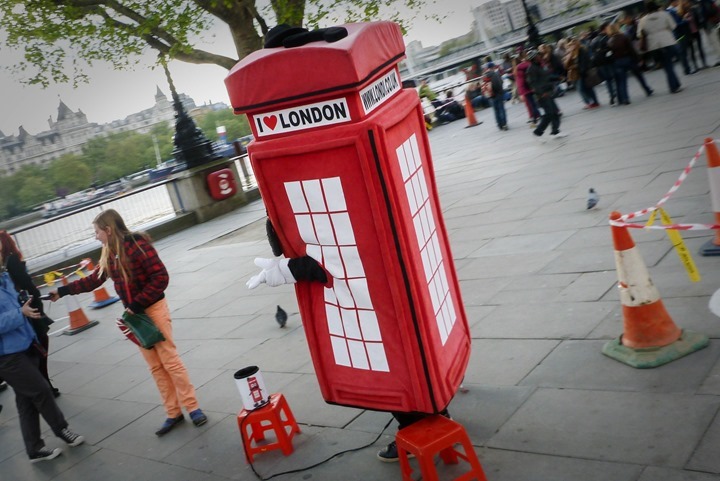 After finishing up a day of meetings a little after 6PM, I zipped back to the hotel via two different trains in the London Underground (subway system).  While light was slowly fading, I was able to make record time in changing into my running stuff and heading back out the door again.  Thankfully, it was all of 100 yards from the door of the hotel to the entrance to the park.
Welcome to The Green Park: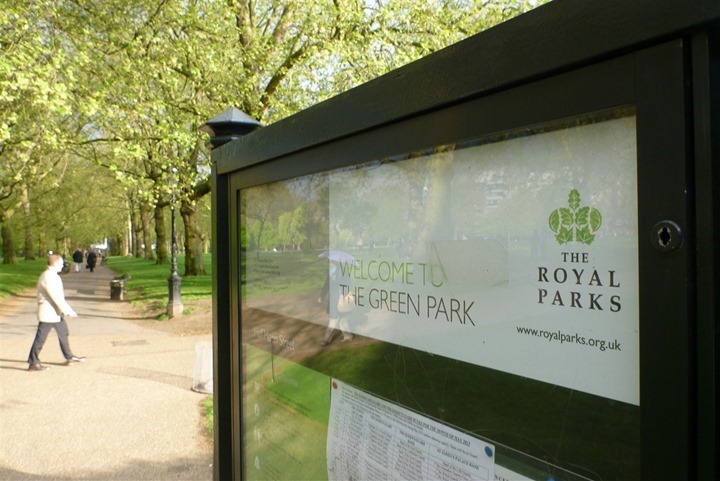 Upon my arrival I found plenty of folks out doing various fitness things on the grassy areas.  From boxing to running to sprints to core exercises, lots of folks keeping busy.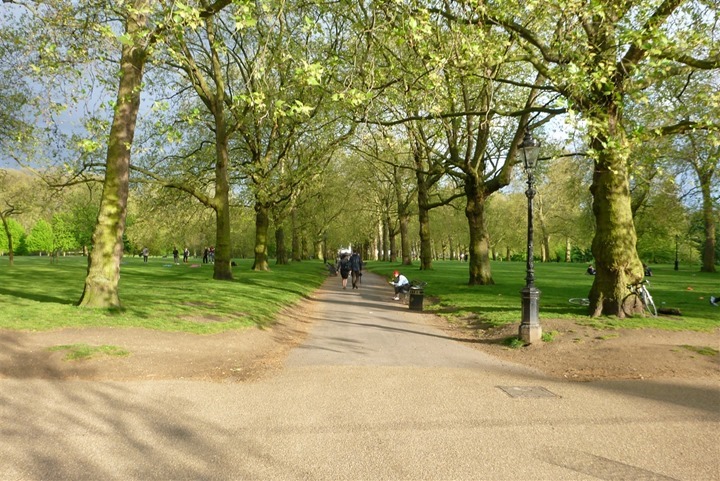 I meanwhile started here on my relatively short 40 minute run.  I figured I'd run around the perimeter of the park first.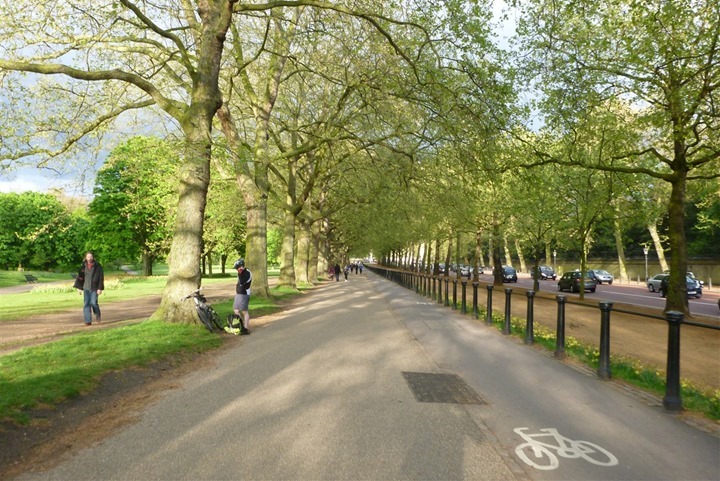 All of about 3-4 minutes later I found myself at a giant traffic circle in front of Buckingham Palace.  Thankfully, those storm clouds were headed away from me (and it only briefly sprinkled on me as I was walking from the hotel to start of run):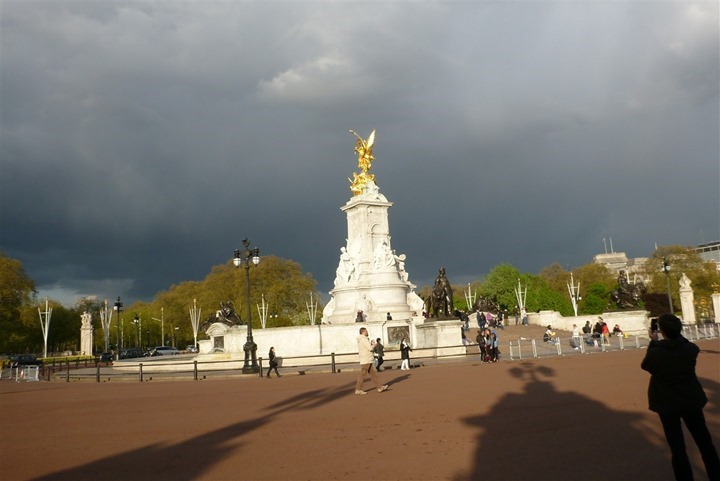 To my right, would be the famous Buckingham Palace, complete with the guards standing out front: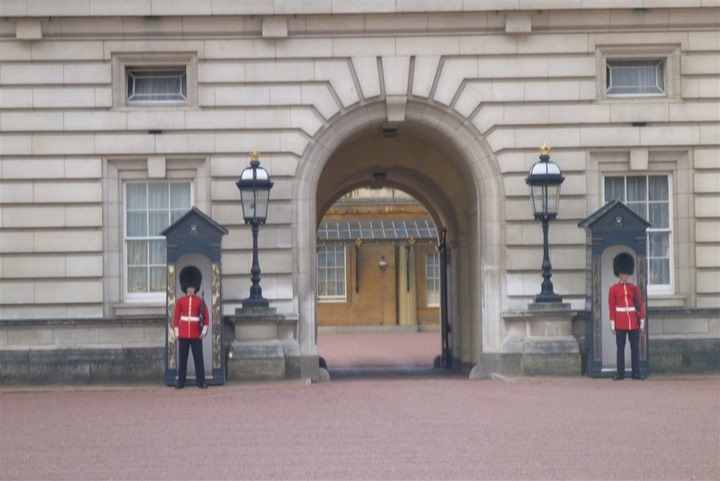 And even more tourists at the gate gazing inside.  Perhaps all hoping for a brief glimpse of the Queen, should she be inside.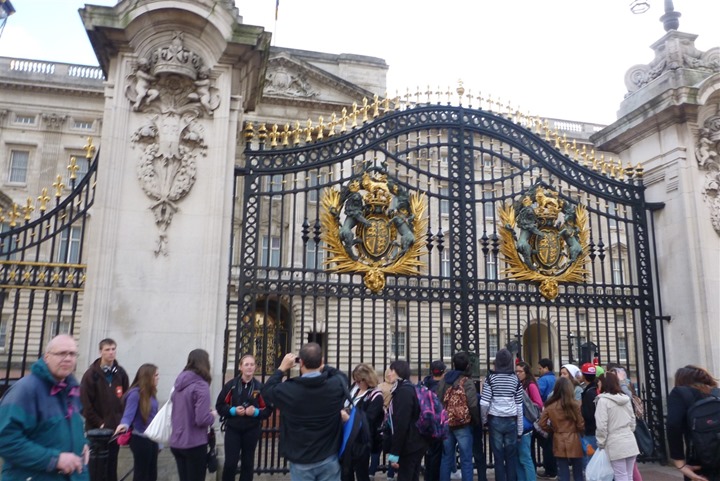 I left the Queen and all her men behind and rounded the corner down a road called 'Birdcage Walk'.  This is only interesting in the fact that it's where The Girl and I spent a fair bit of time during the London Olympics this past summer watching the women's marathon.  In fact, this very spot below was where we stood.  It's crazy to look at those photos then compared to now.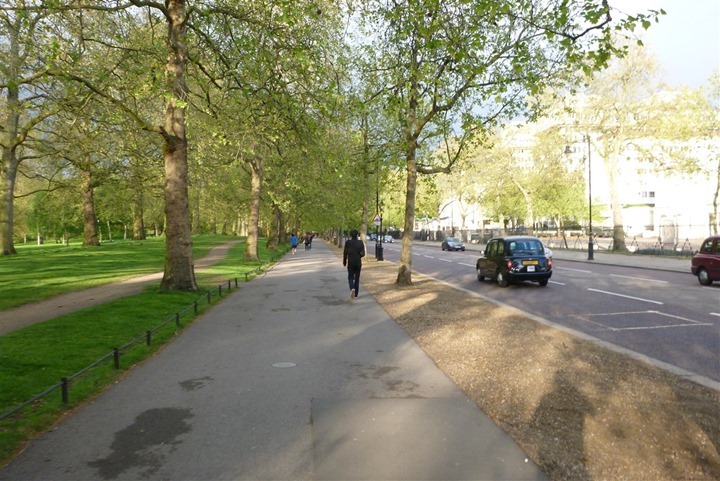 I continued down the road and then made a brief dip through the edges of St. James Park.  This run was becoming a bit of a 'park to park to park' run.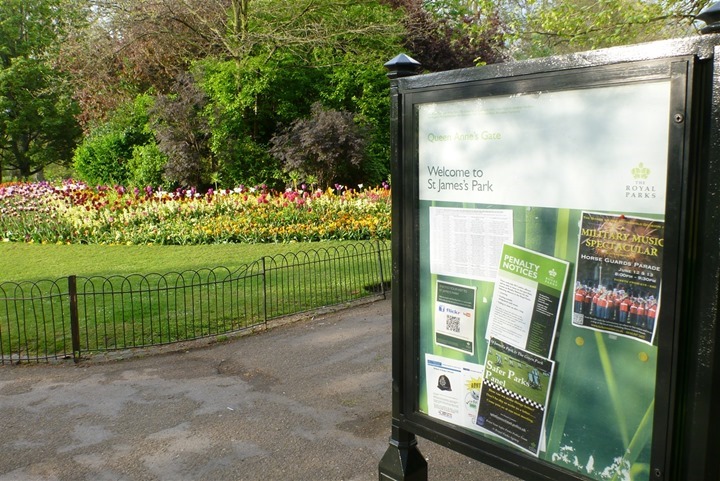 After leaving St. James Park behind I was only a few hundred meters away from probably the most famous cluster of sights in London.  Starting off with St. Margaret's Church: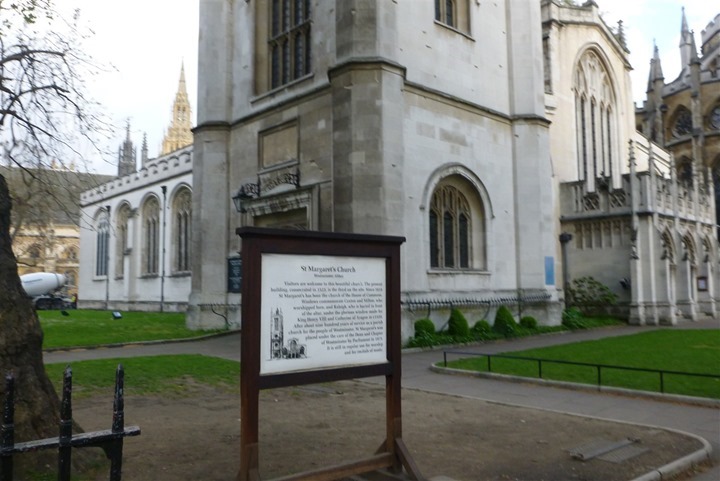 (Sorry for the fuzzie's, mid-run and dusk ends up like that sometimes)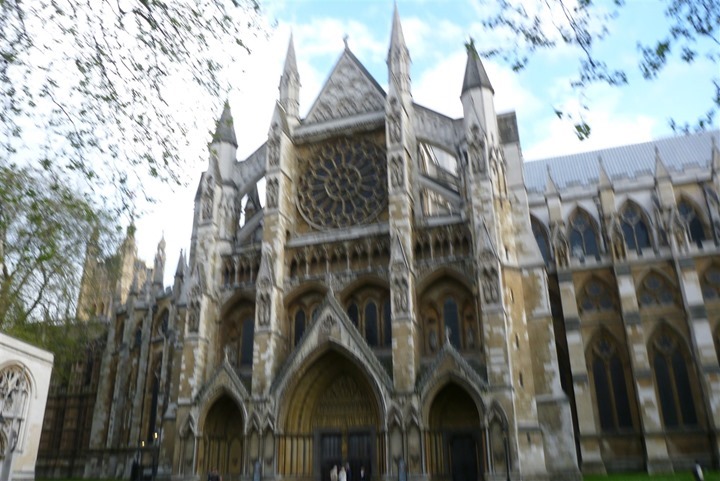 Which is part of Westminster Abbey.  That being the place where Kate and Will got hitched just over two years ago.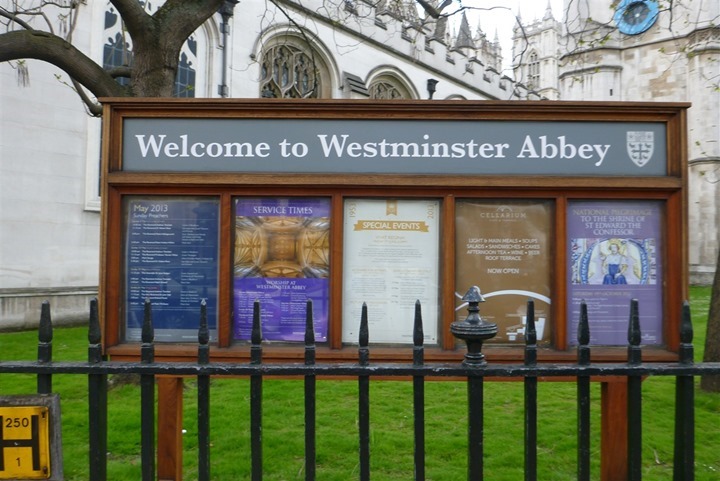 As I continue around the traffic circle, we've got the most famous sight of all – Big Ben: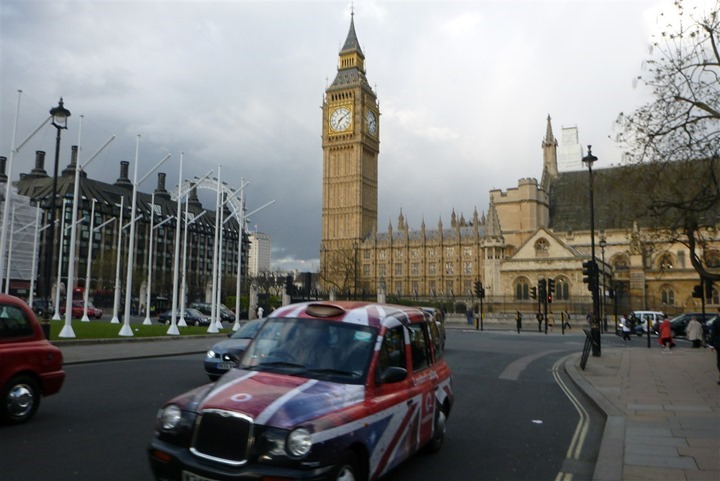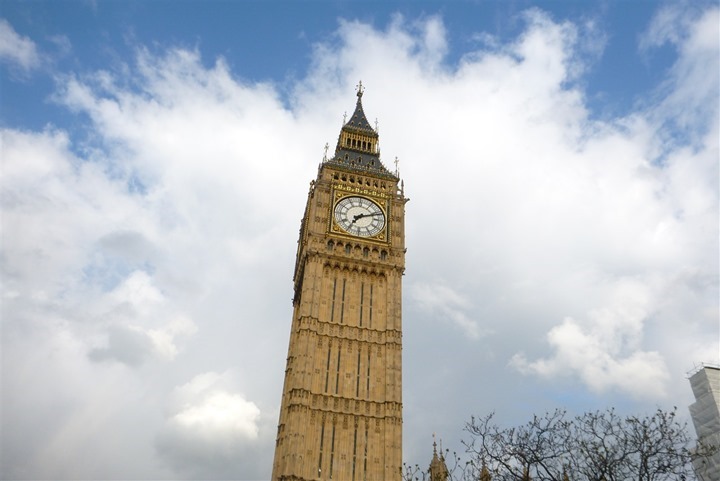 Behind him you can see the London Eye wheel sticking up: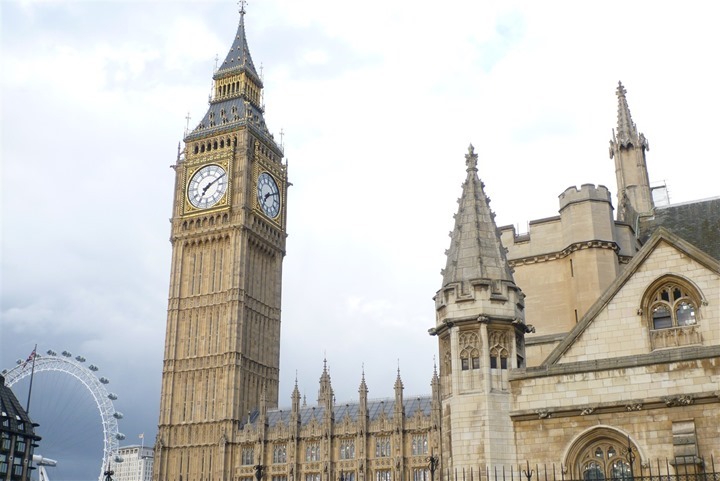 As I ran under the shadow of him I quickly ended up down along the River Thames, across from the London Eye: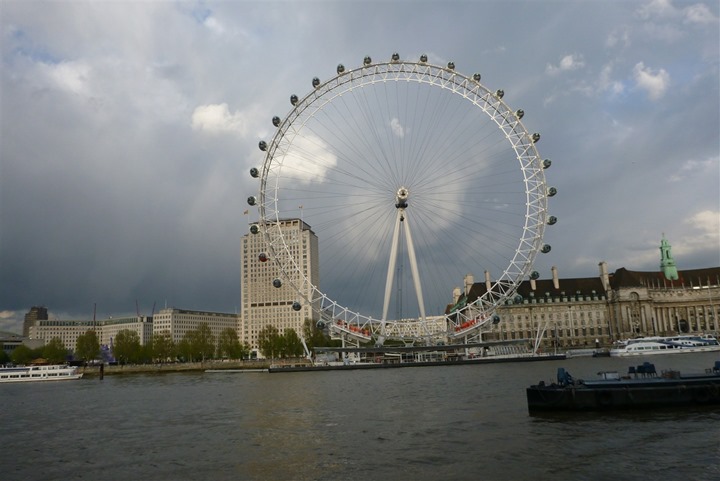 While running along I saw what would be the probably the 1,328th cyclist that afternoon.  These ones on the city's bike-sharing program's bikes.  But, beyond that (as you can see in the photo), there were just tons of cyclists.  Easily putting Paris to shame, where I see what I thought was tons of cyclists there.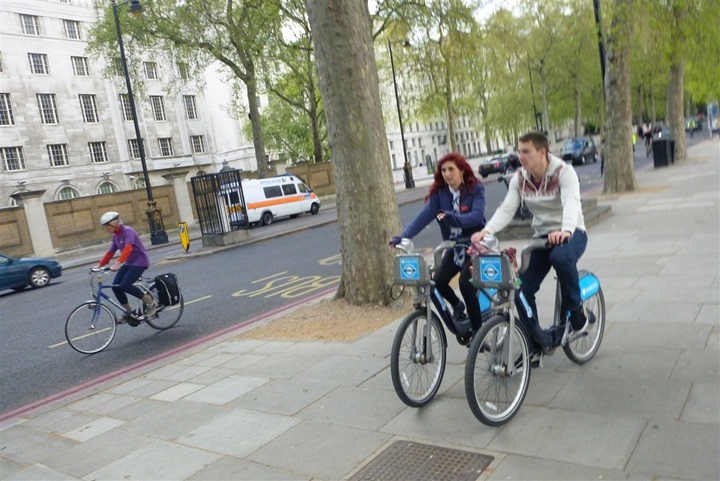 I decided to go ahead and cross over the river: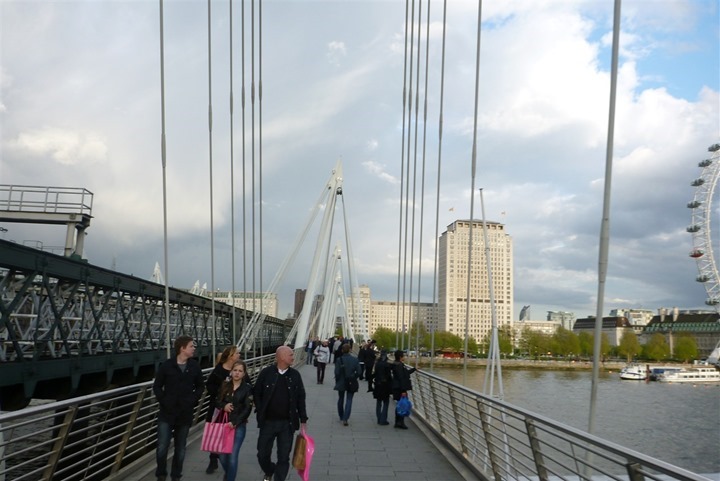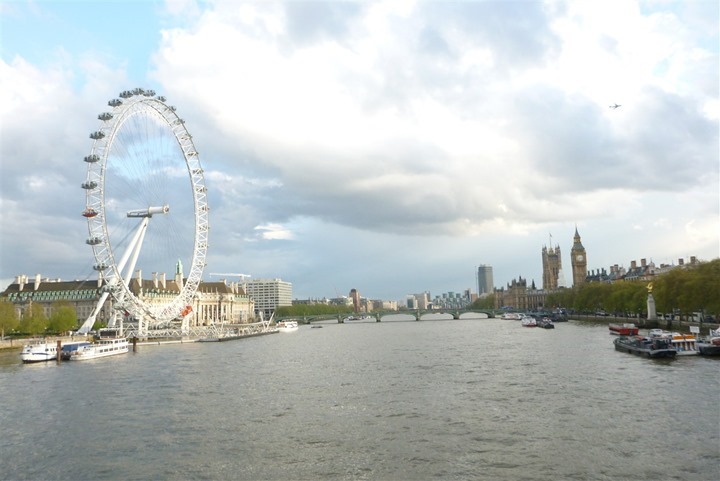 From there I worked my way back down to the other side past a bit of some sort of event going on near the Eye.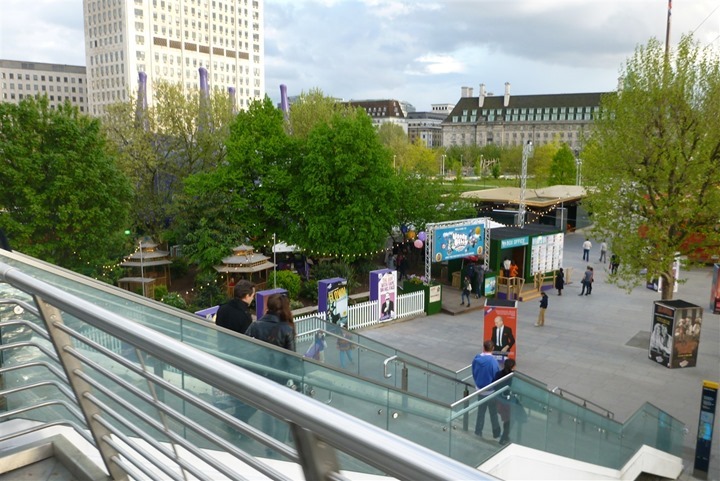 Of course, while running past that area I saw one of the famous red telephone booths.  Albeit this one with legs, and arms.  I'd watch out for those ones – nothing good comes of a telephone booth that can run after and tackle you.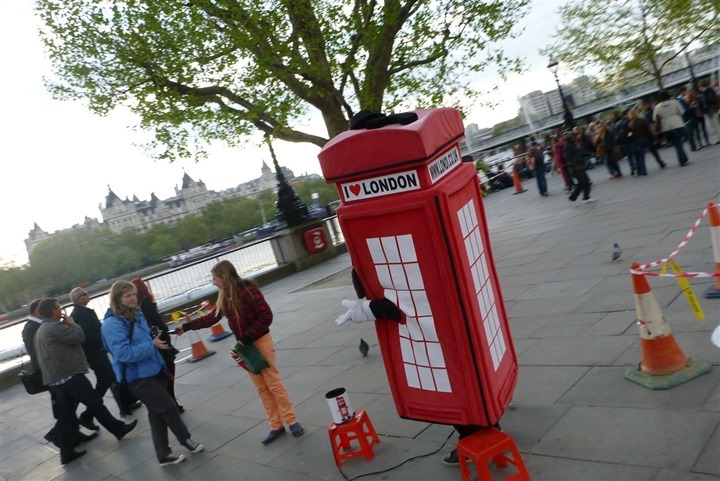 Given my options of bridges to cross back over, I picked Westminster Bridge and wandered back across towards Westminster Abbey: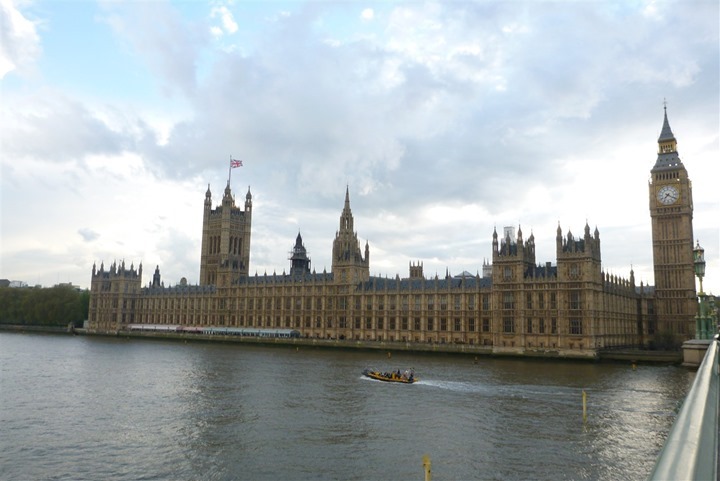 From there I made a bee-line across St. James Park again, this time swinging past the pelicans.  They're on the rocks out in the water, and those buggers are really rather big!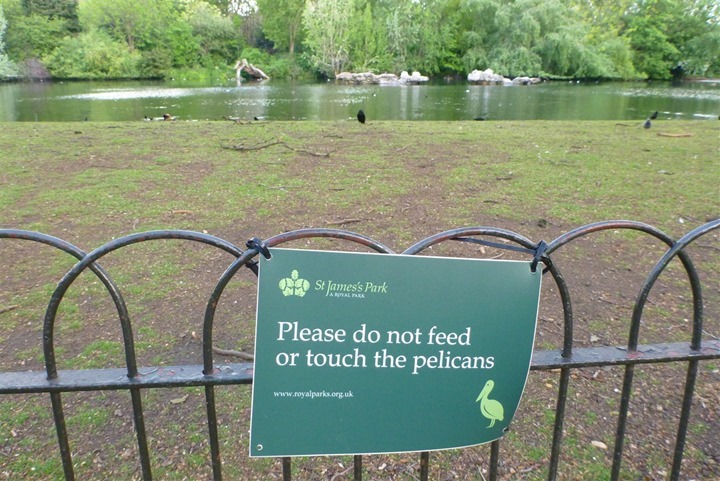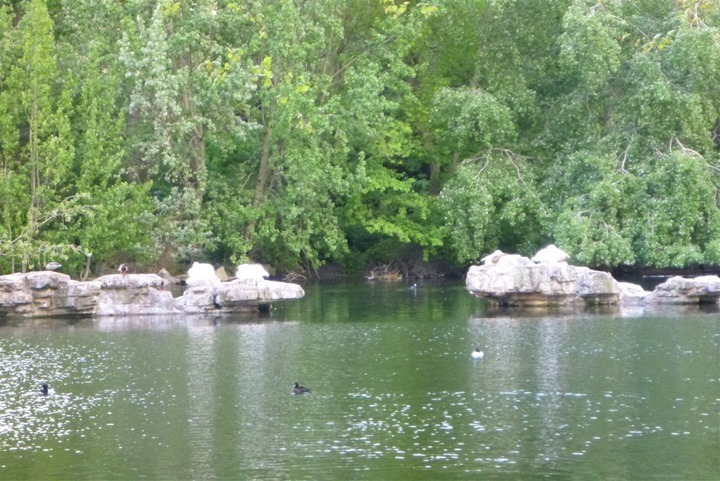 Definitely would not want to have an angry pelican after me.
Back across in front of Buckingham Palace I went: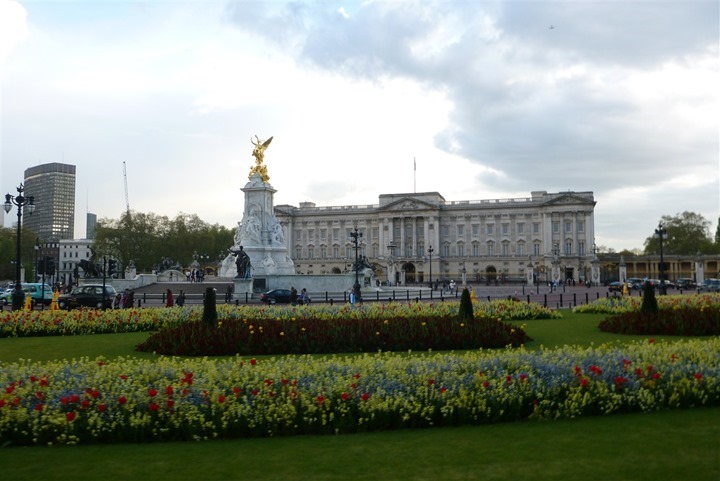 And then up alongside Green Park again.  As was the case all night, massive numbers of running groups out.  You don't really see much of that in Paris on a normal weekday.  There are some weekend-type clubs you see, but nothing approaching the sheer volume of people and organized groups I saw here.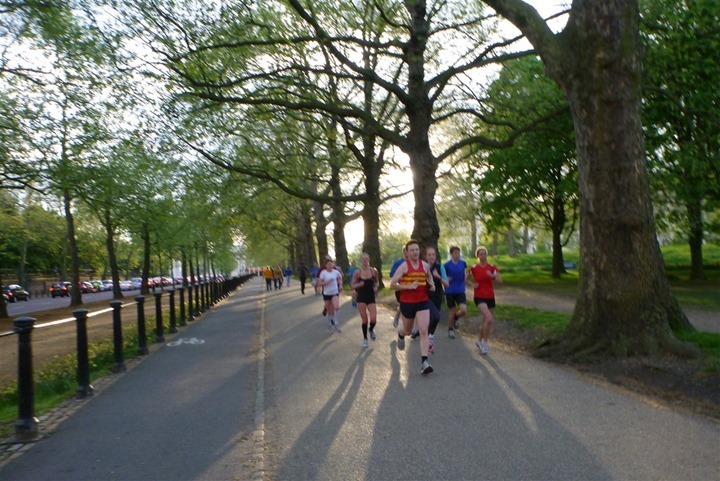 Next it was past Wellington Arch and over towards Hyde's Park.  This is where the men's and women's triathlon zipped through during the middle of the bike course.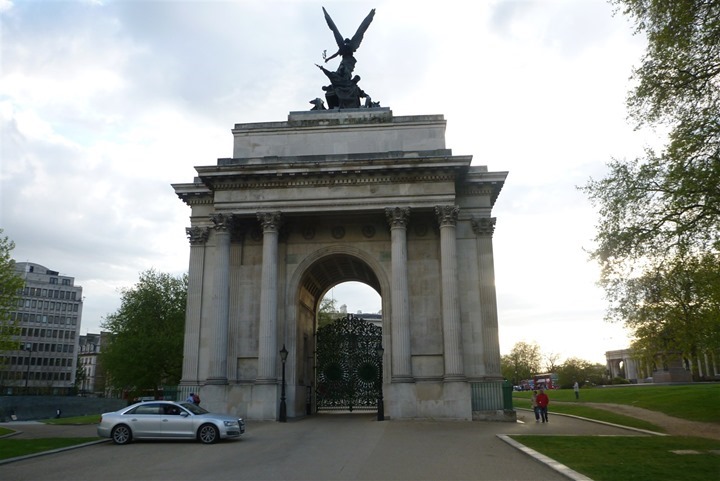 A short bit later I found myself running along the Serpentine.  It's a little pond (mini-lake I suppose).  Where I was running was exactly where the triathlon run portion was held.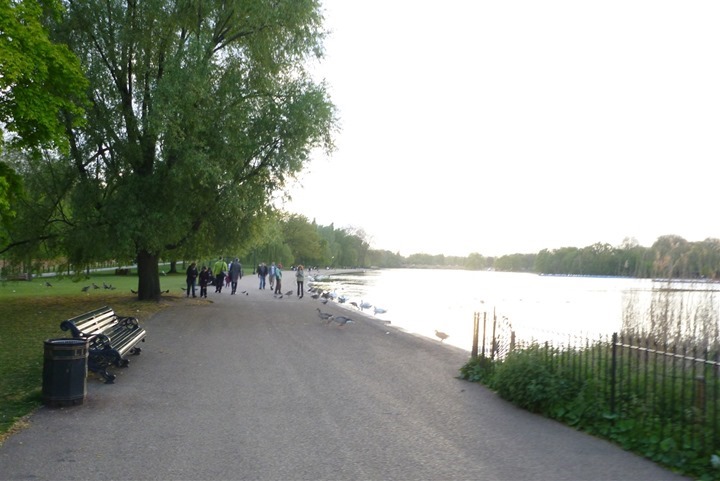 And the swim, was held here in the waters in front of it: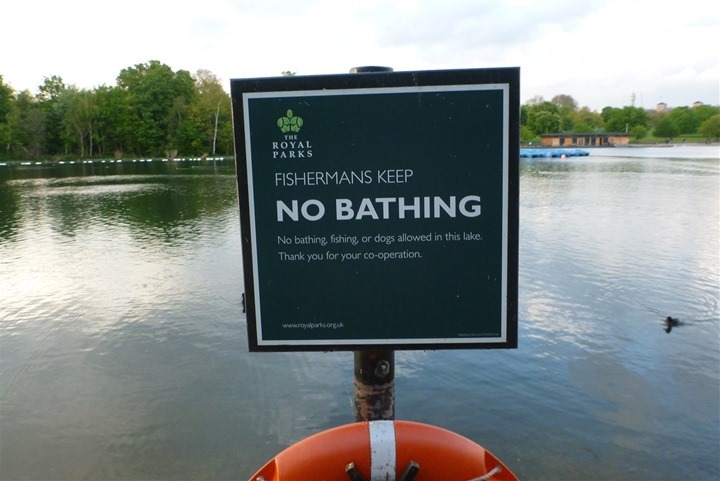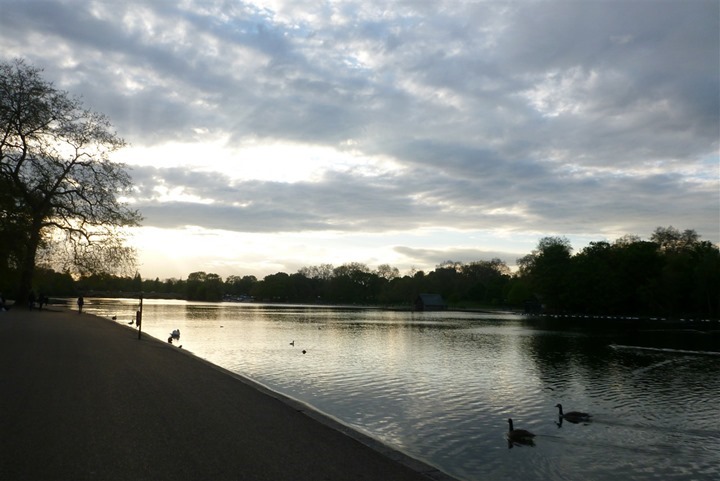 In fact, just across the other side of this photo (on the other side of the pond) was where I sat and stood watching both the men's and women's triathlon last August.  Here's my spectator report for the Men's Triathlon, and here's the Women's Triathlon.  I got a lot of really fun photos in there.  It's kinda neat to look back through them.
With my visit to those grounds complete, I worked my way back towards the hotel.  Obviously, a self-shot was in order: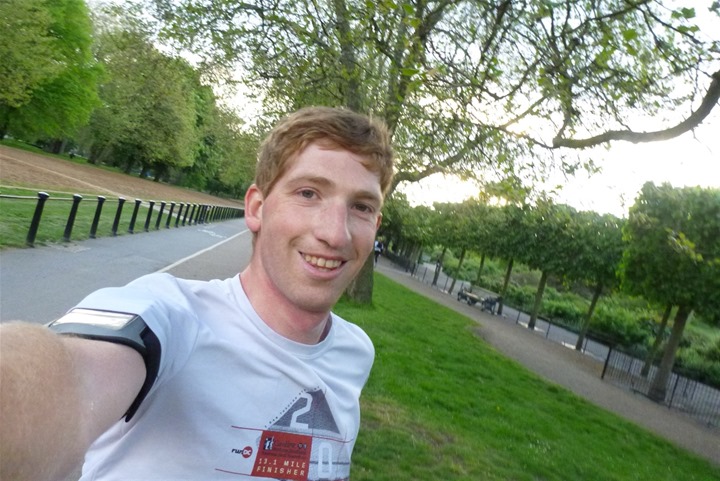 As I made my way back to the hotel in those last few minutes I got the final two shots needed to properly finish off the post (since apparently neither the Queen nor Kate was going to make an appearance).
First, no London Runaround would be complete unless I had a red double-decker bus in there.  And since there was this old-school red buggy in front of the buses in the background, it was like two for the price of one!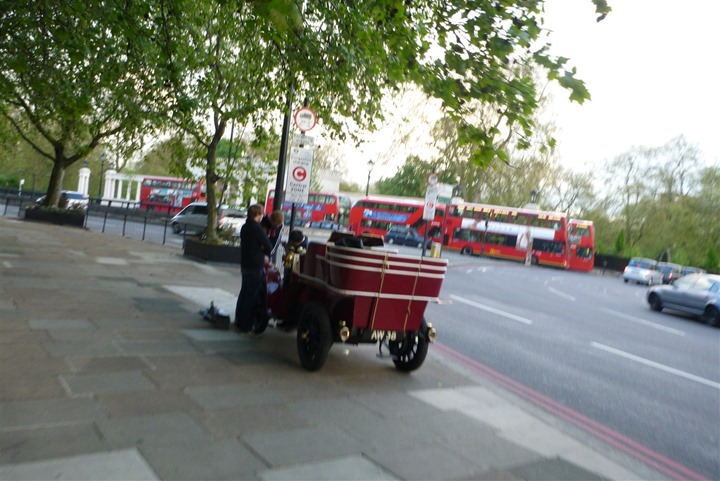 And lastly of course there's the legit red telephone booth.  In front of the Hard Rock Café no less.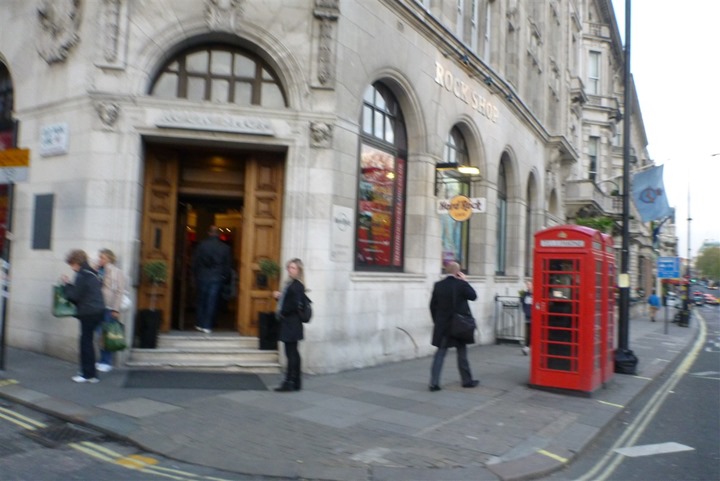 With that, I stopped at the below wall, just next door to the hotel.  Seemed fitting if you asked me!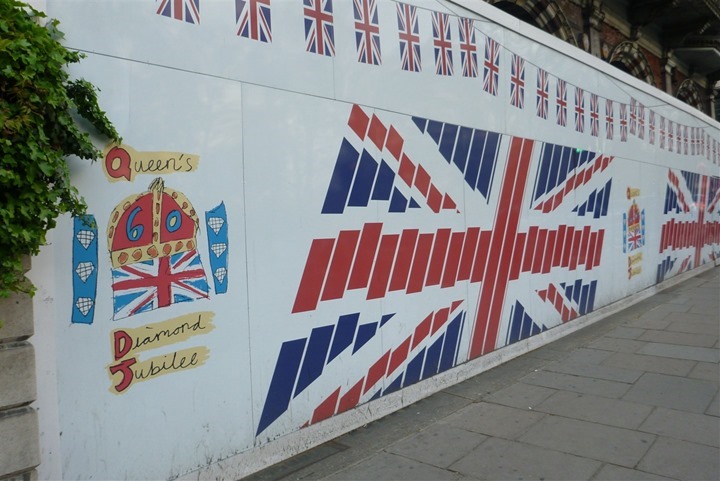 Here's my total route picture, or the link if you want to poke around at it and zoom in/out.

With that, I'm already back on the high-speed train home to Paris – it was just a quick trip for some meetings.  Fear not, I'll be back again!  As always, thanks for reading!
–
Oh, P.S. – For those interested in all my London Olympic 2012 photo-filled posts from last summer, here they are:
My Spectator Report: London 2012 Olympics – Women's Triathlon
My Spectator Report: London 2012 Olympics–Women's Marathon
My Spectator Report: London 2012 Olympics – Men's Triathlon
London 2012 Olympics odds, ends, and fun leftovers
And if you still have more time to burn, start here with my previous Olympics posts…
Enjoy!