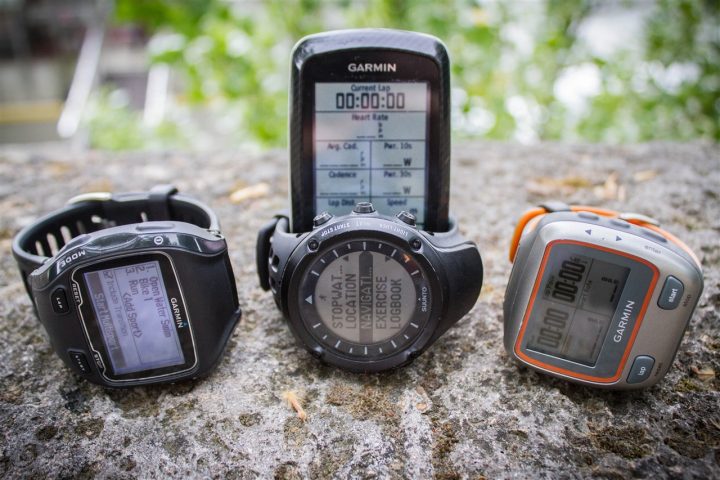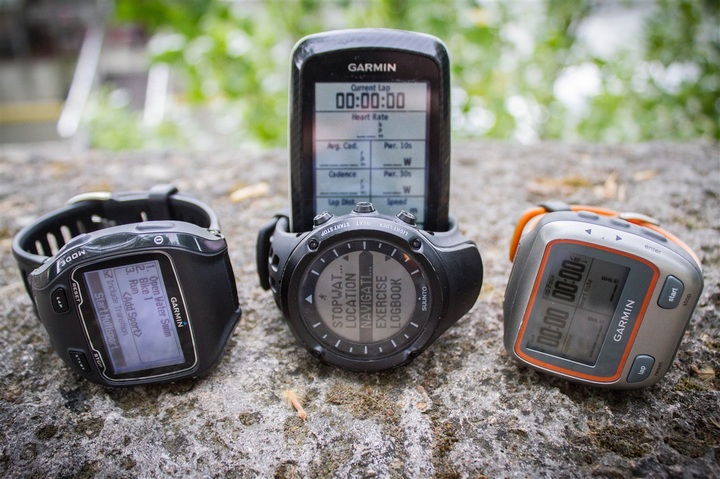 Let me just put this out up front: This is without question the most significant sports technology gadget sale I've seen since starting the blog some 5-6 years ago.  No Thanksgiving Black Friday, Christmas, or Festivus deals even comes close to this.
[Update: July 19th, 2013: Please note these deals have EXPIRED!]
Let's dive right into it, and then I'll give some analysis and recommendations:
Also of note, but honestly a bit less exciting are two other deals:
Saris Bones 3 Bike Rack for Car Trunk:  $127 (originally $143)
Saris Axis Steel 2 Bike Rack for Car Hitch:  $159 (originally $179)
I haven't reviewed or ever touched those two racks, but they came along in the sale bundle, so I figured I'd at least mention them. [Update: These prices were updated due to an error.]
Phew…ok…with that out of the way, let's talk about what's going on, and what to do.
Why things are on sale
First up is the Suunto original Ambit (hiking/running watch). This is the easiest of the bunch. With the new Suunto Ambit2 and Ambit2S out, Suunto has removed the pricing restrictions on these products until May 31st.  Allowing companies to price them as they see fit during this time period.  That one is straight-forward given the new Ambit2/2S.
Next is the Garmin Edge 800 cycling unit.  Like the original Ambit, it too was replaced back in January with the newer Garmin Edge 810 unit.  In this case Garmin has removed the minimum advertised price restrictions for the Edge 800, causing the price to drop.  In conjunction with that, they're also offering an $100 rebate for another 13 days.  It's like a perfect storm for a massive drop down to effectively $229.
Then we've got the Garmin FR310XT multisport/triathlon watch.  This isn't a huge discount off of the previous price of $195, but it's the lowest the watch has ever been (and the lowest it ever was until last week when it hit $195).  Obviously with the Garmin FR910XT replacing it over a year ago, it's not the newest kid on the block.  This is a short-term sale until only May 26th.
Finally, we've got the Garmin FR910XT multisport/triathlon watch.  This is a short term sale – and quite frankly what I view as the biggest.  There's no clarity on why the deep short-term discount, but I have to suspect it's due to the Ambit2/2S release, alongside with the Tom-Tom release pending this summer – both adding pressure on Garmin and the desire from them to likely 'lock-in' any customers on the fence.
Which device to get and why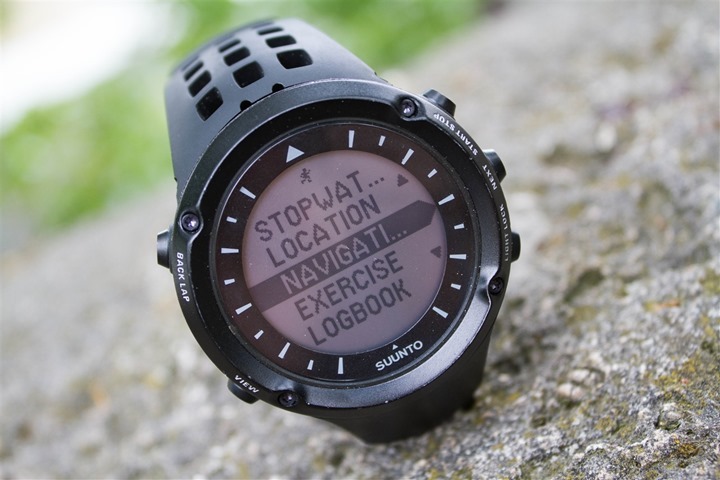 Let's get the easiest out of the way first – the Ambit.  While this is a 'good' deal, it's far from a great deal.  It's only $50 cheaper than what I believe is the maximum reasonable market price for the device.  Meaning, I don't see how this device can attract any buyers above $400 anyway, given competitive pressure from the Garmin Fenix.  Further, given Suunto's declaration of limited future support for the device, it's sorta headed into the retirement home.  There's no two ways about it unfortunately.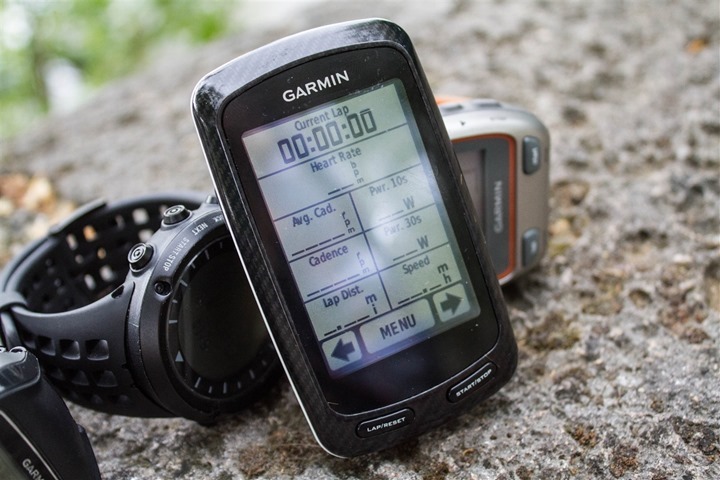 Then we've got the Edge 800.  This is an AWESOME deal if you're looking for mapping.  As I said in my Edge 810 review, Garmin has not made for a compelling reason to justify the price difference between the Edge 810 and the Edge 800.  The feature set of 'new' things on the Edge 810 is just too small to make sense.  A graphical user interface overhaul a new product does not make.  Until they increase the phone connected features and open up 3rd party support to sites like Strava, I remain in the camp that the Edge 810 is overpriced and unimpressive.  Thus, at $229, the Edge 800 is a  steal.  Especially if you download the free Openstreet maps for it – saving you the cost of buying Garmin's map service (for the how-to on that, see my Edge 810 review section on it, but it applies to the Edge 800 as well).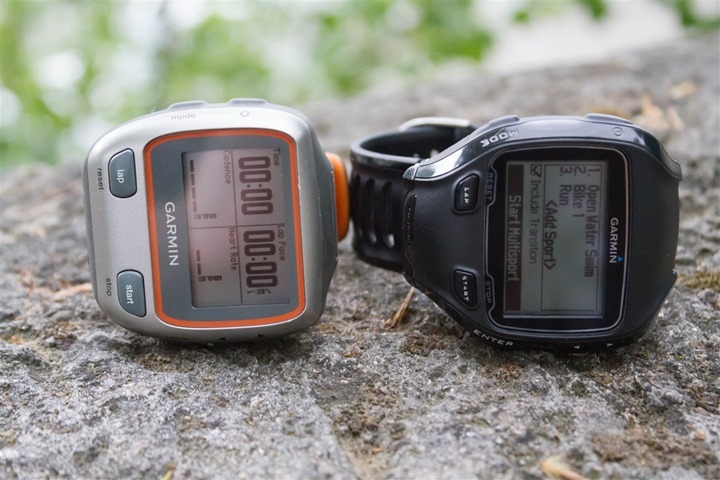 Next is the Garmin FR310XT and FR910XT and trying to decide which one to get.  If you're a runner, and don't do the swim/bike thing, then the FR310XT is the obvious choice.  The only thing you'd get out of the FR910XT is a tiny bit bigger battery and a barometric altimeter.  Both of those tend to only be applicable to ultra runners (trail runners in the mountains more specifically).  Beyond that, basically the same watch for runners.
Now, for triathletes/swimmers/cyclists – there's big differences.  Let's start with those that swim/run.  In this case, the FR910XT is definitely the better bet.  The FR310XT doesn't do indoor swimming, but does keep track of distance outdoor swimming.  Though, unlike the FR910XT, the 310XT can't measure stroke outdoors.  So here the clear winner is the FR910XT for swim tracking.
For cyclists, it comes down to two features: Advanced power meter metrics and the barometric altimeter.  The FR910XT supports the TrainingPeaks power meter metrics of TSS/NP/IF, as well as the left/right power balance features that some newer power meters have.  If you don't have a power meter, or don't plan a near-term purchase, then go with the FR310XT.  If you have a power meter, stay with the FR910XT.  Then we've got the barometric altimeter.  For cyclists in the mountains, this can be valuable.  However, for Florida-folks, don't bother.  Further, even for mountain folks the elevation data will get corrected afterwards in most online services anyway – so it's really only if you're truly using it in realtime that you'd want the barometric altimeter.
Finally – for triathletes just starting out.  For you, save your cash and go with the FR310XT for now.  There's simply no other triathlon watch anywhere near that price point, let alone one better than that (other than the FR910XT).  The closest non-Garmin competitor to the FR310XT is the Magellan Switch/Switch-Up, just over $250.
Oh, and I should point out – there's no FR910XT replacement coming this triathlon season. Simply not going to happen, it's far too late for any announcements for the season, and I assure you, I don't have one in testing either.  Remember the FR910XT really only hit the market in widespread quantities last March-April 2012 (despite being announced in October 2011).  A typical Garmin product cycle is a minimum of 2 years.
That all make sense?
If not, no worries, post questions below and I'll be happy to try and get everyone all straightened up.  For in-depth technical questions, I recommend you check out the product reviews (and subsequent comments on each one).  Also, there's the product comparison tool, which has every unit in it.  And finally, my general GPS recommendations post from a few months ago (still relevant)
Garmin FR910XT: $299 without HR strap, $337 with HR strap [Product Review] – And save another $50 with the mail-in rebate for older Garmin Forerunner users.
Garmin FR310XT: $169 without HR strap, $199 with HR strap [Product Review]
Garmin Edge 800: $229 without HR strap, including $100 mail-in rebate [Product Review]
Garmin Edge 800 Bundle: $379 with HR strap, Speed/Cadence Sensor, City Maps, including $100 mail-in rebate [Product Review]
Suunto Ambit1 (original Ambit): $348 without HR strap, with HR strap $373  [Product Review]
If you use the Clever Training links above (which I have a partnership with), then you'll help support the site.  It is somewhat important that you use those links, otherwise it doesn't exactly support the site as I don't get credit for it.
Also note that everything above qualifies for free US shipping with Clever Training.  Though, it doesn't qualify for the usual DCRainmaker Clever Training discount of 10% off your cart via coupon code DCR10BTF because they are deep-sale items (but any accessories you buy do get discounted).  Oh, and the Edge 800 rebate PDF form is here.  And the $50 Garmin Forerunner rebate is here.
Thanks for your support of the site, I appreciate it!  And have a great weekend!