A few hours ago Garmin released an update that enables the TrainingPeaks metrics of TSS/IF/NP, as well as adds a whole crapton of other items and fixes.  And yes, crapton is a technical term.  This brings the unit inline with the updates that the Edge 800 received last fall, and the Edge 500 received just a few short weeks ago.  Note that the FR310XT will still not be getting the updated metrics.
Within the larger list (included at bottom of post), the are ones I consider of particular note – or ones that either impact me or I've heard have impacted you:
– Fixed several problems causing shutdowns during biking and running activities.
– Fixed and improved several aspects of elevation calibration and calculations.
– Added new power metrics (Training Stress Score (TSS), Intensity Factor (IF), Normalized Power (NP), kJ).
– Added support for left right power balance. (READ: Vector and Quarq Cinqo)
– Added support for 3, 10, and 30s power smoothing.
– Changed average pace information for pool swim. Rests are no longer included in the average pace calculation.
– Multiple changes made to pool swim which help reduce chance of missed lengths. Changes made to also reduce chance of extra lengths.
– Added page to allow user to view/select ANT+ sensor ID they want to connect with
Of course, that's barely even a portion of the entire list.  But since I've been using the update for a bit of time before today, I figured I'd share what a few of the new fields look like.  First up, is the addition of the TrainingPeaks metrics.  These fields include TSS (Training Stress Score), NP (Normalized Power), IF (Intensity Factor), and kJ (Kilojoules, though not really exclusive to TP).  Additionally, you get left/right balance for the small number of power meters that support it.
You can add these data fields just like any other data fields (to cycling):
You can go for the quadfecta and all them all to one page: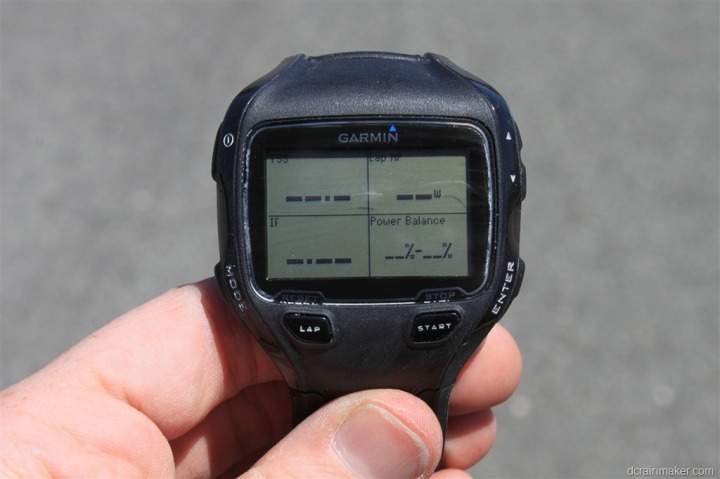 In many cases, I don't have a power meter any longer (the SRAM RED 2012 Quarq went back) that supports left/right power – so I can't test that.
I was able to validate the 3/10/30-second power smoothing, which is in my opinion critical to using any device for power meter pacing.
Also of note is that the unit now shows exact details of the power meter it's connected to.  Though, there's not really any handy table to decode this (Idea for Garmin: Publish a super-simple page/table on your site that allows us to decode this, stick it in the support section somwhere…anywhere).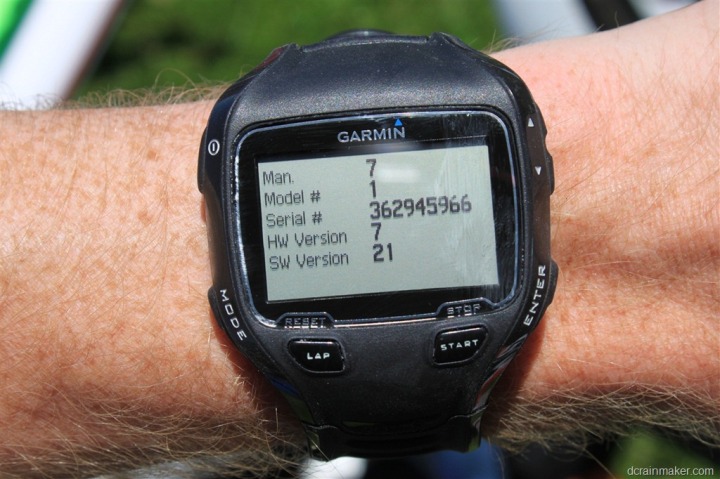 Looking at the elevation calibration and corrections – I figured the Escape from Alcatraz bike and run courses yesterday would be a good test (they are constant up and down).  Both elevation maps on both appeared odd in TrainingPeaks.  The run was flat-out missing elevation data. And the bike seemed to be bit odd.  First, is the original elevation information:

And then the corrected information:

Keep in mind the unit has a barometric altimeter, so in general it should be more accurate than a typical GPS altimeter.  But, depending on how accurate that initial altimeter fix is, that can affect the unit's overall accuracy.  It's plausible that water from the (openwater) swim somehow messed with the altimeter…but that's sorta the point of a triathlon swimming watch.
Speaking of odd, I can't quite get multi-sport workouts to import into Garmin Connect, though they do go into TrainingPeaks just fine.  Single-sport workouts import just fine.  This is also in the pile of items I sent over for feedback on.
One notable 'nice touch' feature that's been added is the inclusion of specifying ANT+ sensor ID's, similar to what the Edge 800 allows.  Slowly, the entire industry (beyond just Garmin) is now enabling this on devices.  This is huge for pairing in situations where you may be near others with ANT+ equipment.  Now only if I can get other companies to actually add the sensor ID to the back of their units (i.e. HR straps).  Quarq has done this with their newest power meters, but that's about it.  This functionality applicable to all supported ANT+ device accessories (power meters, footpods, speed/cadence sensors, etc…).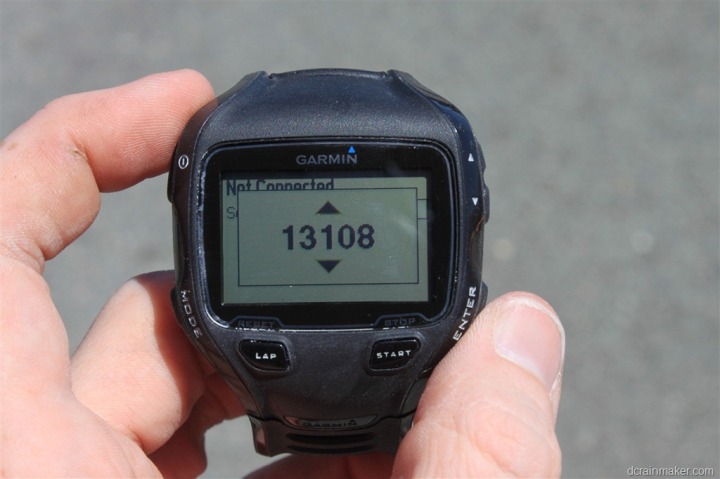 I used the new update with multisport mode last weekend and noticed no issues with the watch during the event.  I did notice one oddity with the swim map afterwards, where it re-drew a portion of the course as a direct line: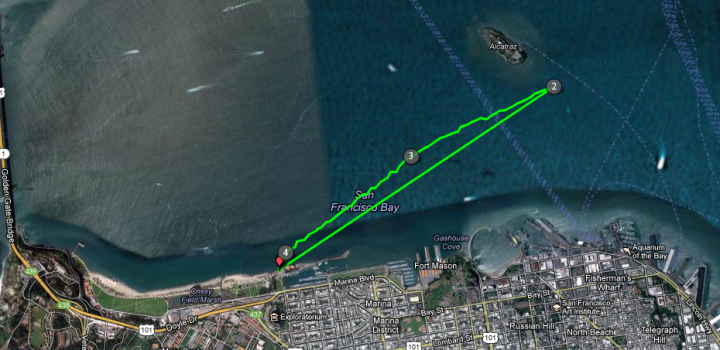 I've reached out to Garmin, but haven't got a concrete answer on why it's occurring.  Thus, it's entirely possible that all my issues stem from really just a single bad multi-sport file.  But it was a race, and that's when things like this count.
And finally, for those that may be suffering with the shut-off problems where the unit shuts off when mounted to aerobars in certain configurations, those are rumored to be fixed.  I haven't seen this problem since I largely don't ride with the unit on my aerobars – so if you are a frequent flier of that particular issue, I'd love to hear your feedback if this is truly fixed.  And, in general – I'd love to hear feedback from you after you've updated.
You can grab the update here:
In total, here's the full list of changes being implemented:
– Fixed several problems causing shutdowns during biking and running activities.
– Corrected several instantaneous pace calculation issues.
– Major modifications and additions to Bike Power functionality:
1. Improved support for power based workouts.
2. Added new power metrics (Training Stress Score (TSS), Intensity Factor (IF), Normalized Power (NP), kJ).
3. Automatically modify power zones when functional threshold power (FTP) changes.
4. Improvements to power sensor calibration process.
5. Added support for left right power balance.
6. Added support for 3, 10, and 30s power smoothing.
– Improved accuracy of distance calculations for pool swim.
– Rest times are no longer included in the average pace calculation for pool swim.
– Distance alerts for pool swim will now occur during the last length before completing the configured distance.
– Swim distance alert will now reset after pressing lap button.
– Corrected issues displaying history for open water swims.
– Improved calorie calculations during swim mode.
– Corrected issue with barometer calibration improving initial elevation readings.
– Corrected issue where sudden changes in the elevation could be observed on the watch.
– Fixed problem with auto-scroll that could potentially cause a device malfunction.
– Added ability for the user to enter ANT+ IDs for all sensor types.
– Added sensor details page for all ANT+ sensors.
– Prevented HR alerts from occurring when user was in the correct zone.
– Improved accuracy of battery charge information.
– Improved foreign language translations.
Enjoy!