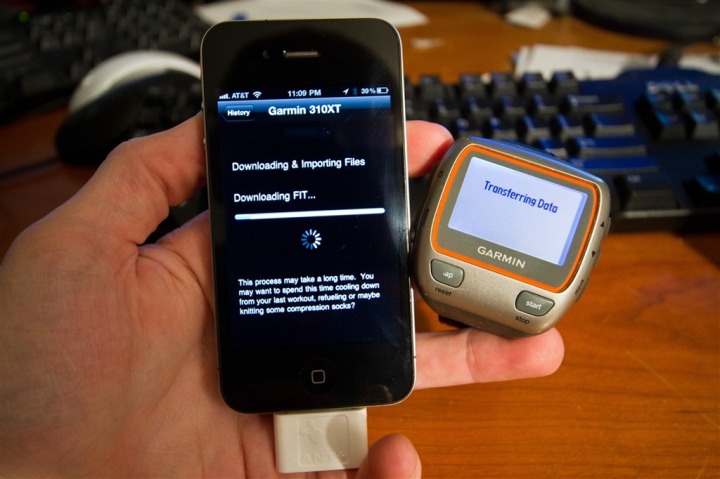 You may remember quite a while back I showed off the Wahoo Fitness iPhone dongle.  This handy dandy little white pod the size of a quarter plugs into the bottom of your iPhone/iPod and allows connections to ANT+ devices such as heart rate straps, power meters, speed/cadence sensors and more.
When I first wrote about it nearly a year ago, it was just prior to coming on the market – so the app selection was a bit slim.  Fast forward many months later and there are now more than 60 apps out there that take advantage of it and its ANT+ capabilities.  There's an incredible array of really cool apps.  Everything from the big dogs (Runkeeper and MapMyRide/MapyMyRun), to the smaller boutique apps (Joggy Coach and iSmoothRun) – all allowing you to do as you please with ANT+ connected devices – including live data ANT+ data transmission to web sites.
However, one area that hasn't been touched to date was the ability to connect to ANT+ enabled watches such as the FR310XT and download your workout directly from the watch, straight to the web.  This has been asked for by quite a few people – including myself, and it's quite possible I may have been secretly pushing a variety of folks to do the development work to add it to their apps.
Well, I'm happy to report it's now here!  The guys at Wahoo Fitness recently gave me access to some pre-release builds showing off the feature, and I figured I'd give y'all a walk through of how it works.
Overview
First up, you'll need three things:
A) A Garmin Forerunner 310XT (more on other devices later in the post)
B) A compatible iPhone/iPod/iPad
C) Wahoo Fitness Fisica Dongle or Wahoo Bike Case
Once you've got those things you'll grab the basic Wahoo Fitness app.  Now Wahoo's game in town is pretty much supplying the hardware and the development API's (interfaces) to allow everyone else to create cool apps.  They don't really care to sell their app (it's free), but instead look at it like a bit of a showcase for other to follow.  They make their money on the hardware, not the apps.  For example, this app not only adds the cool FR310XT downloading feature this post is about, but also integration with pumping your live ANT+ data straight to MapMyRun/MapMyRide's online tracking portal.  At any rate…
Once you've got the app downloaded, it'll look just like this: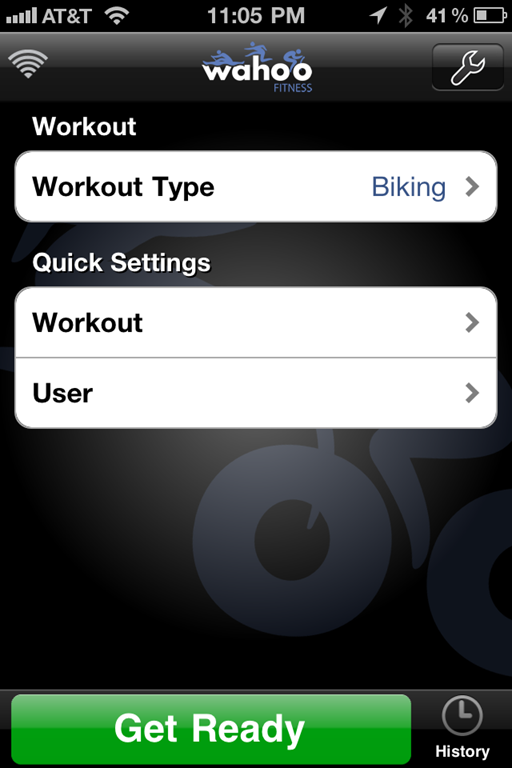 To get started you'll want to configure any number of different services that you can upload to, such as Training Peaks, MapMyRide, or even Nike+.  You can also just simply e-mail yourself the files (includes the bundle of .PWX, .TCX, .CSV, .WF and .FIT…basically – everything under the sun), so that you can import them into any numbers of applications that support the standard Garmin files.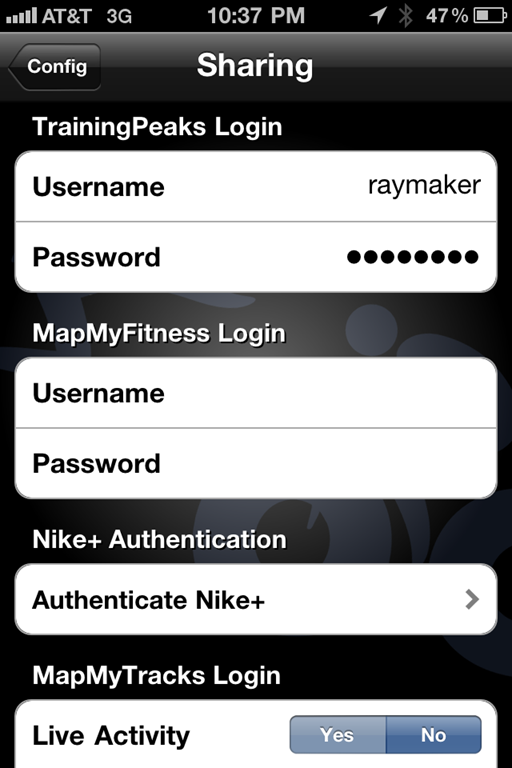 Once you've got your basic settings configured, it'll be time to retrieve the history from the device.  To do that, we'll just go ahead and click the 'History' button located two screen shots above.  That'll bring us to this page: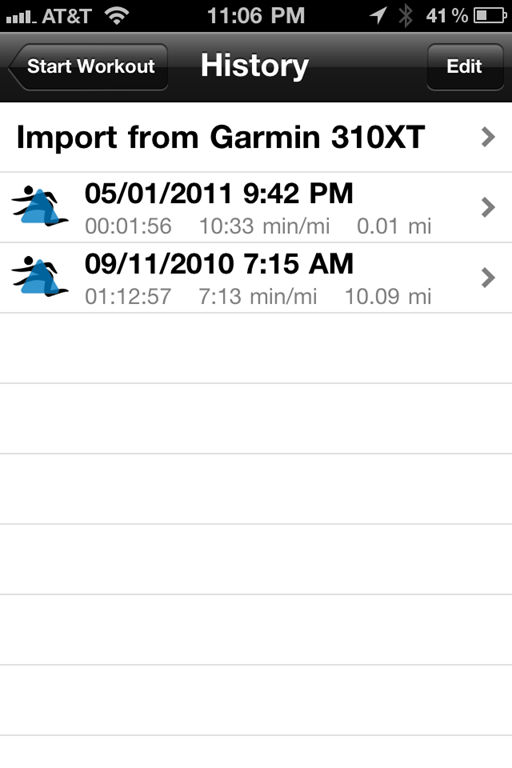 Here you'll go ahead and select to 'Import from Garmin 310XT'.  This will then start the process of trying to find your little orange FR310XT friend.  In order to do this you'll need to ensure that your FR310XT is initially in pairing mode.  Just like when you first paired it to your PC.  And just like then, you've only got to do that once.
Once the watch is paired, it'll go ahead and retrieve a list of files available on the unit.  You can see the bright green ones are those that are not yet downloaded.  Whereas the other ones are older files left on the unit.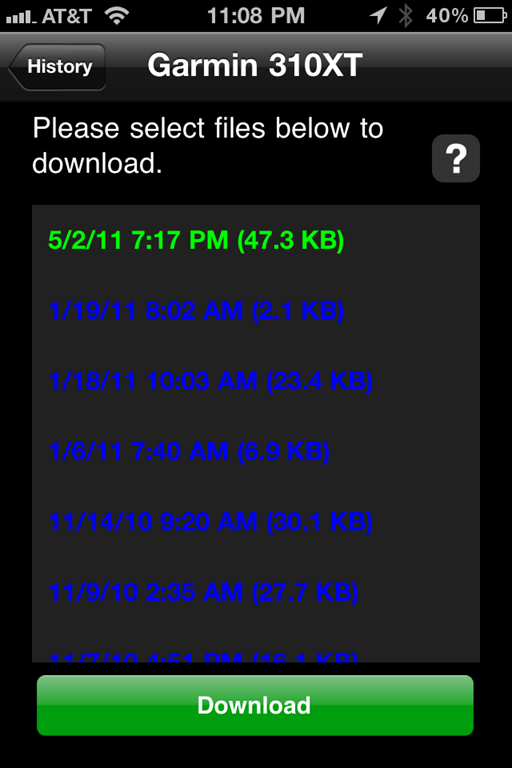 After you've figured out which file you want (Hint: It's probably the most recent one and in bright green), then you select it and click Download.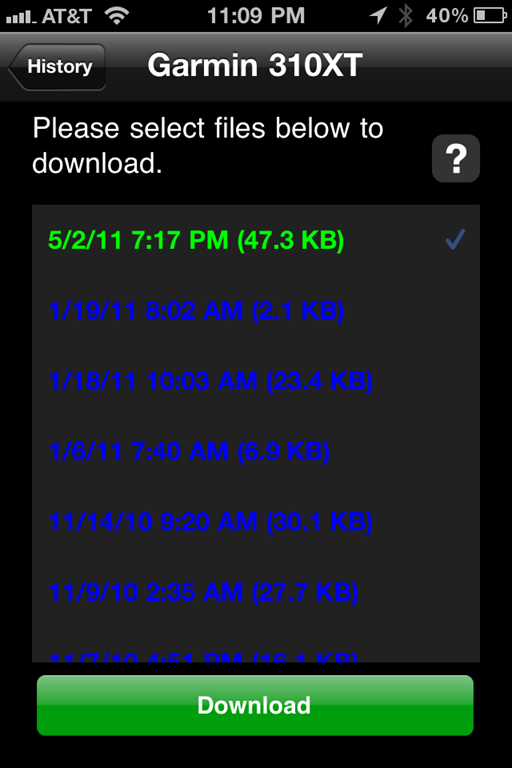 After which, the program will start to transfer it.  It takes a few seconds, but not too long.
When the transfer is complete the file will be hanging out locally to use in your history.  From there you simply select the file and then select to transfer it to the service of your choice.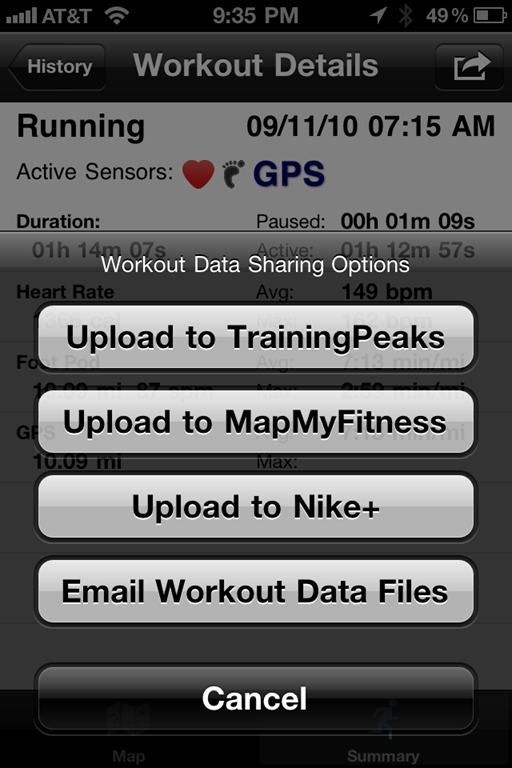 Raw Data Files
You can also e-mail the raw data files to yourself, which work in any number of different sports applications (Sport Tracks, WKO+, Garmin Connect, etc…).  If you've uploaded it to something like Training Peaks, then you'll simply find the workout up on your account, just like below: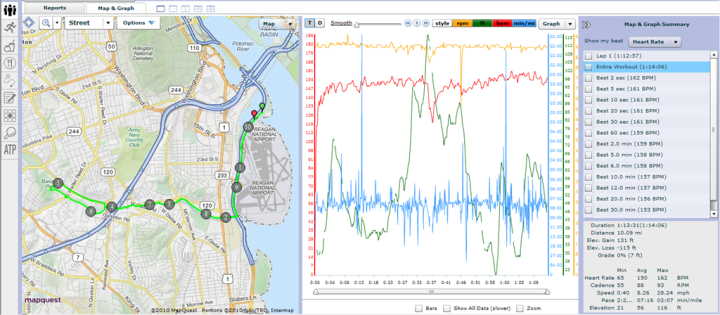 That's it, super easy to use!
In talking with the Wahoo Fitness guys, the app has been submitted to the Apple App Store, a should be available likely in the next week – perhaps even the next few days…as soon as Apple approves it.
Device Compatibility
They current support the other ANT+ enabled watches such as the FR405, FR60, FR410, and FR610, and FR910XT very shortly here in an update (Note: The FR405/FR410 series is not supported due to the slight difference Garmin used in that transfer mechanism.).  These are the watches that today support ANT+ transfers of workouts.  Devices such as the Edge 500 and Edge 800 don't support ANT+ transfers today.  Though, it's believed that Garmin could enable this in a firmware update.  I've asked Garmin for comment on the technical possibility of this and will update this post once that information comes in.
[Update from Garmin regarding Edge 500/705/800 series devices:] Garmin has confirmed that the hardware is in these units to be able to complete ANTFS workout file transfers via ANT+ wirelessly.  Today of course these are done via USB on the Edge devices.  However, the important part of the official response back is the following:
"As we continue forward, we take strong consideration from the voices of our users in regards to our current lineup as well as new and innovative products. We are excited about the future and the growth within the fitness segment."
DCR Translation: If you think that having Garmin add the ability to wirelessly transfer workouts from your otherwise USB and computer bound Edge series cycling computers would be useful to you – consider leaving a comment below, elaboration is helpful.
In the end I think this is a great win for both iPhone/iPad/iPod users but also Garmin users.  This allows you to upload your workout 'from the field', such as just after completing a run or bike ride.  This is especially useful if you're a long car ride away and want to get the data up to a coach or similar.  Or if you simply just prefer to avoid the PC altogether.
You can pickup the Wahoo iPhone/iPad/iPod adapter from either Amazon or Clever Training.  Both help support the site.  If you pickup from Clever Training then you'll get 10% off your cart upon checkout with DCR coupon code DCR10BTF.  Links there at the left.
Thanks for reading!