When the Forerunner 410 was introduced recently, the first question on everyone's mind was: Has the touch bezel been improved?  The second question was – how does this stack up against the current crop of GPS devices out there.  Well, I set out to find out.
Like all my reviews, they tend to be pretty in depth (perhaps overly so) – but that's just my trademark DC Rainmaker way of doing things.  Think of them more like reference guides than quick and easy summaries.  I try and cover every conceivable thing you might do with the device and then poke at it a bit more.  My goal is to leave no stone unturned – both the good and the bad.
Because I want to be transparent about my reviews, as I mentioned when I first got the device – Garmin sent me this FR410 for a period of 60 days as a trial unit.  Once that period has elapsed, I send the whole beaten box back to the folks in Kansas.  Simple as that.  Sorta like hiking in wilderness trails – leave only footprints.  If you find my review useful, you can use any of the Amazon links from this page to help support future reviews.
Lastly, at the end of the day keep in mind I'm just like any other regular triathlete out there.  I write these reviews because I'm inherently a curious person with a technology background (my day job), and thus I try and be as complete as I can.  But, if I've missed something or if you spot something that doesn't quite jive – just let me know and I'll be happy to get it all sorted out.  Also, because the technology world constantly changes, I try and go back and update these reviews as new features and functionality are added – or if bugs are fixed.
While Garmin Forerunner 410 is the latest version of the touch bezel lineup, how does it stand up to real world pounding? For that…onto the review…
Unboxing
When the FR410 first arrives in your hands – here's what it'll initially look like – before ya rip it all open:
From there, I pulled all the parts out and placed them on a flat surface.  You can choose a non-flat surface, but then it won't look pretty like my photo: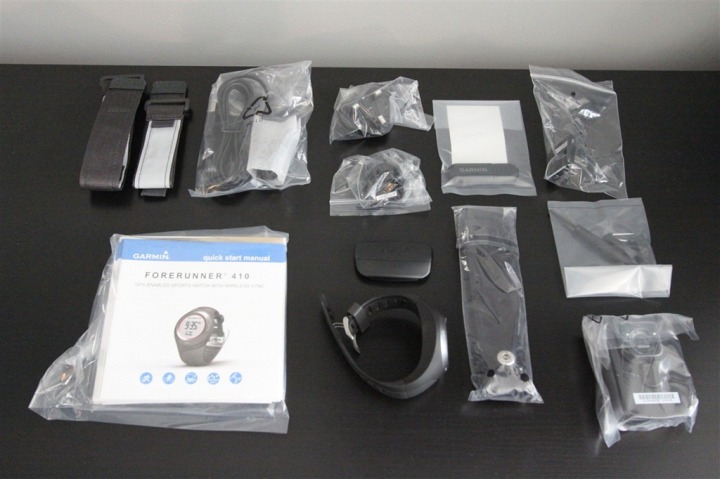 Of course, the little plastic baggies have to go – so here's what we've got left: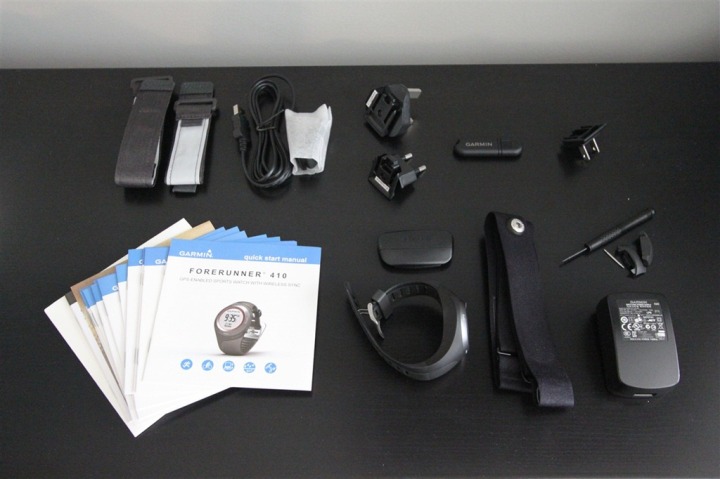 We'll go piece by piece in the box.  First up – the least exciting – the power adapters.  The box comes with ones that cover US, UK, and most European countries:
Next, we have a soft strap, which allows you to swap out the harder wrist strap for a softer version, and it includes a little handy tool to help you make the swap:
Now we have the new 2010 premium edition soft heart rate strap, but we'll get into this a bit more later on: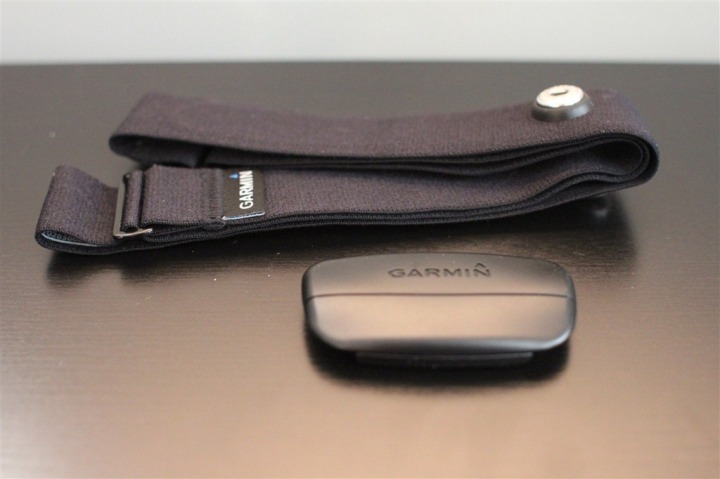 Then we've got the USB charging cable.  Note, this doesn't transfer data – just charges.  Also note, it'll actually work with the FR110 and FR210 if you need to charge those in a pinch (but not transfer data).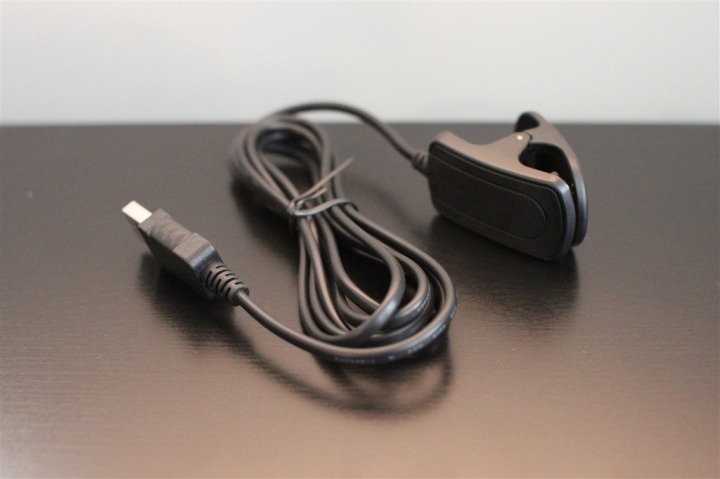 Next we've got the ANT+ USB stick.  This is where the magical wireless device downloading happens: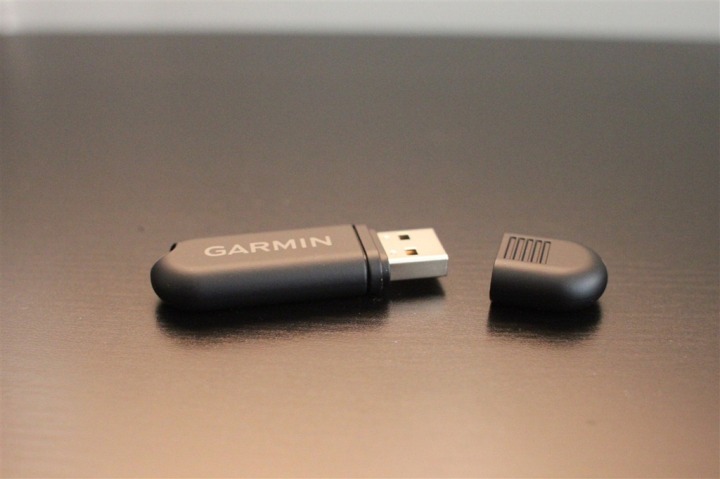 And finally, last but certainly not least – what you've all been waiting for – the actual watch itself – the Garmin FR410:
With that, let's see just how big this thing is.
Size Comparisons:
Of course, now that we've got it out of the packaging, let's compare it to some of the other common GPS watches on the market today.  We'll be using my tried and true kitchen rolling pin for this…oh – and yes, this did come along for the last two weeks of international travelling with me.  Why I didn't just take these shots prior to departing is beyond me…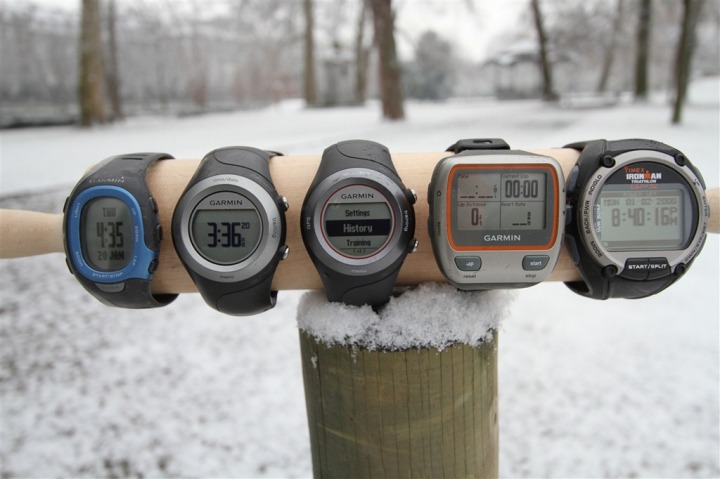 (Left to right: FR60, FR405, FR410, FR310XT, Timex Global Trainer)
And here's a top view: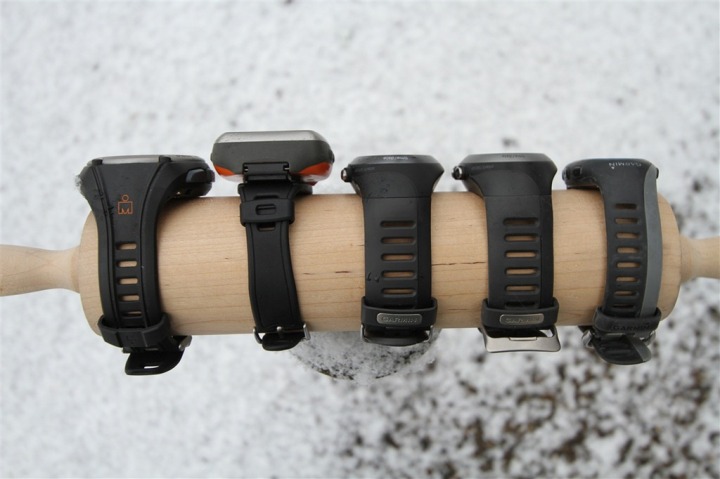 As you can see, it's a little bit larger than the FR60, and slightly smaller than the FR305/310XT and Timex Global Trainer.
Running
Let there be no mistake that running is the primary domain of the FR410.  While the watch is certainly 'multisport' in the generic sense that it can be used across any sport, its origins come from a runners standpoint, and as such, really excels in that arena – primarily due to its size.
When you first go to run with the device, you'll tap 'Start' to wake it up (upper right button).  Then it's as simple as holding down the 'Training' portion of the bezel for a brief moment.  This is akin to pressing power to turn on your computer, and tells the watch you want to do something other than look at the time/clock.  As you hold 'Training' down, it'll start to initiate a satellite acquisition process: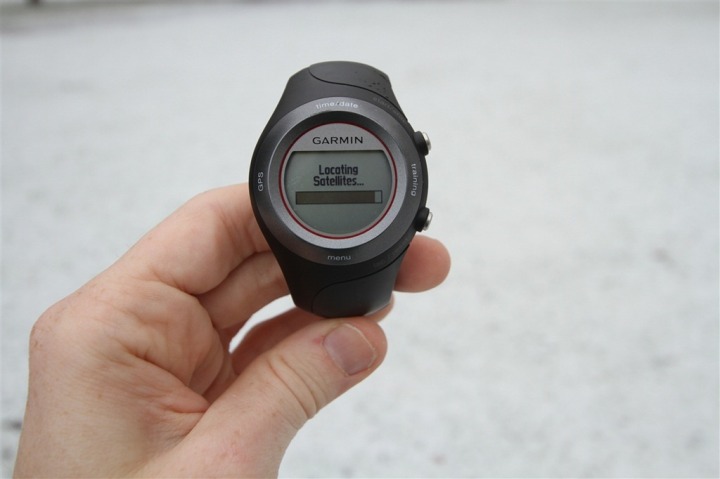 Typically I've found that this completes and finds its space friends in as little at 10-15 seconds for places you've been to frequently, or up to a minute if you've travelled a great distance.  The FR410 uses Hotfix technology, which basically means it remembers where you were last, and thus, which satellites it can contact and where they were.  If you wander too far (such as fly across the pond), it'll have to re-acquire those satellites.
After  the watch has acquired satellites you're ready to run.  To start the time, you'll use the Start/Stop button, which is not on the touch bezel, but rather a physical push button.  This is a good design decision, as otherwise it'd be too easy to start/stop the watch with accidental touches.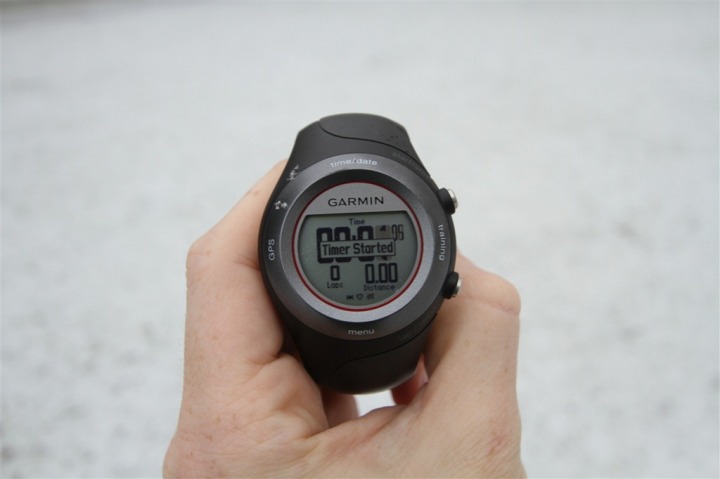 Once you've started the run, you'll be displaying your default training page.  We'll talk more about data pages in a moment, but first, let's just get to the running piece.
Like most GPS watches, once you start running you quickly forget it's attached to your wrist.  The goal of course being that you can focus on running, and it can assist you.  For me, that means that it does its job of recording data, and I utilize lap button presses to record the different portions of the workout I may want to later analyze.
When I'm running, I typically use heart rate, pace, lap distance, and lap time, spread over a few fields.  Each person will of course utilize different fields dependent on what they find most valuable.  But that's one of the cool things about a GPS watch like the FR410, complete customization of data fields.  That's why you pay more for the FR410, than the minimally customizable FR110 or FR210.
You can see how I customize my different training devices in this post, where I go into it in tremendous detail.
Looking at the customization of data fields, you can three 'Training Pages', plus as separate one that's dedicated to HR-related items (though, strangely, while it's labeled HR, it actually allows you to choose any data fields, thus effectively giving you four pages).  Each of those three/four pages allows you to customize up to 3 fields.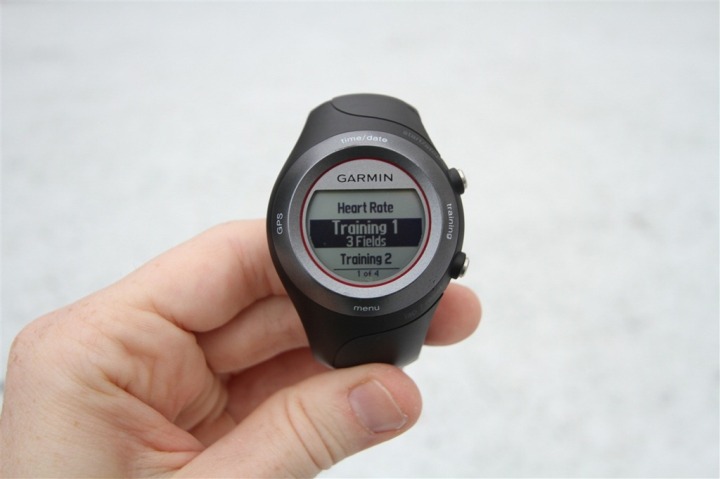 These fields allow you to choose dozens of different data parameters to be displayed in real-time.  Some of these are instant-type data fields, such as 'Pace', while others are averages or lap averages.  Here's the full data set of available fields you can choose as of Jan 20th, 2011.

You can also change your data fields mid-activity, should you need to.  It'll display your actual workout stats as you change the data fields, which is useful if you're trying to figure out what field you want: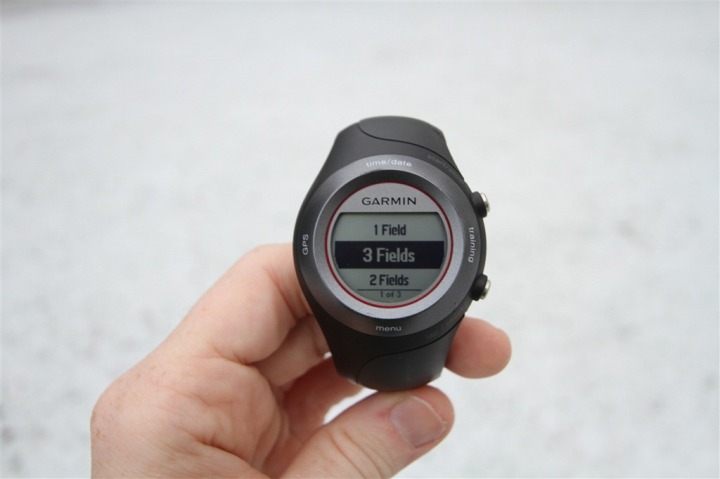 Once running, you can choose to manually change the data fields by tapping the 'Training' area of the bezel.  The watch will iterate through each page you've enabled sequentially.
Auto Scroll
Additionally, you can turn on Auto Scroll.  Auto Scroll will automatically scroll through the different training pages one after another.  You can select three different speeds – Slow, Medium and Fast, as well as simply 'Off'.
I tend to leave it off as I want to control which field I see, and what that field to be dependably there when I look down at my watch – but different strokes for different folks.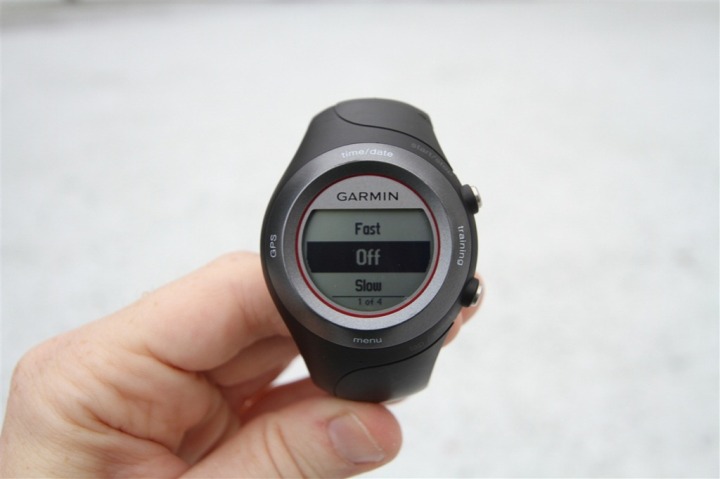 Auto Pause:
If you frequently run (or bike) in the city, or other places where you're stopping/starting often – you may want to enable Auto Pause.  Auto Pause will automatically pause the watch timer if you drop below a certain pace/speed.  This speed is customizable, should you find it produces false positives.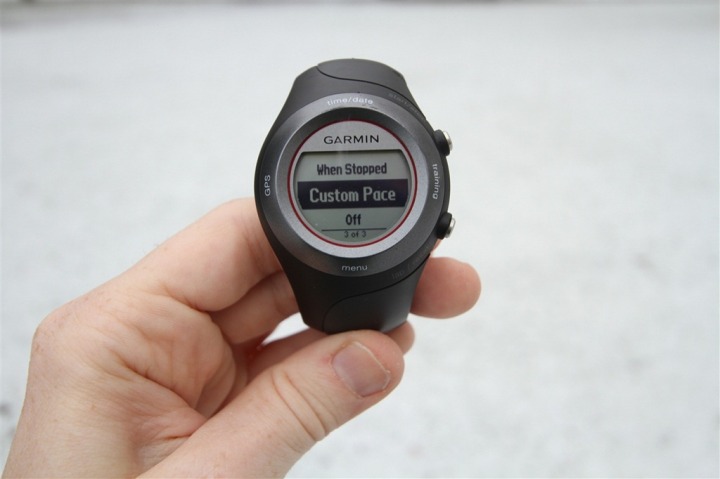 While I'm lucky in that many of my rides are generally uninterrupted except a rare stopsign/light, I do find that when I do city runs/rides, I enable it.  This allows me to completely forget about the watch and just run/stop/start as I see fit to avoid getting hit by busses.
Auto Lap:
For many, Auto Lap is one of the most favored features.  Auto Lap will automatically call out splits for you, based on a predefined distance or position.  By default, this will occur every 1 Mile, but you can both customize the distance length – as well as the metric (to kilometers).  For example, some folks want to record splits/laps every 5 miles if cycling, rather than every mile.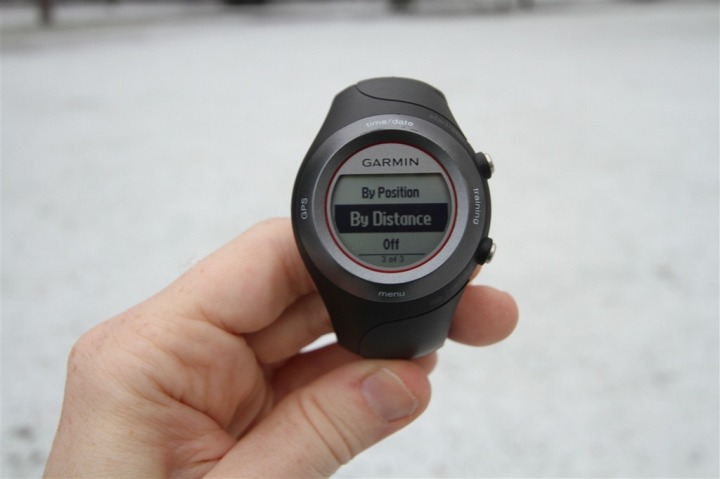 In addition to utilizing a pre-defined distance to trigger laps, you can also use a set position.  Say for example you run around a pond or lake that's 1.25 miles.  You may prefer that each lap be recorded as you pass a specific tree or point that you call your start line.  By using position triggers, you can tell it to mark a lap each time you pass your start point, or previous lap point.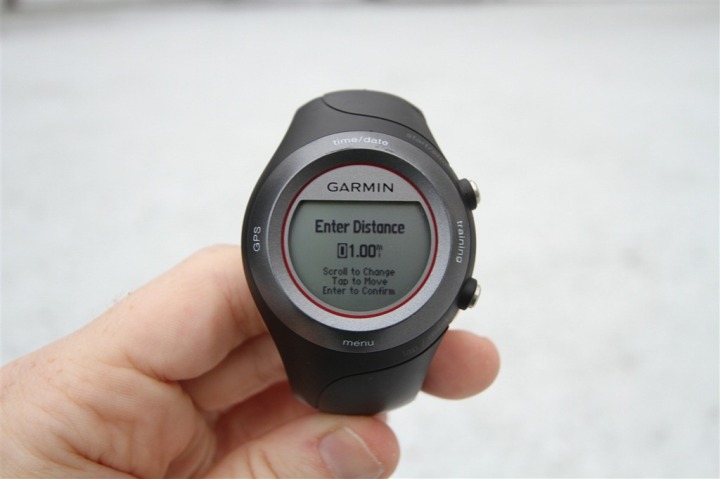 I personally prefer not to use auto lap, as I use the splits recorded for later analysis of my workout.  Because my workouts have specific chunks dedicated to various goals (i.e. heart rate zones, intervals, etc…), I like to be able to divide up my workout based on those components.  If I were to use auto lap, then it would be difficult to see, for example, what my average pace was for the 15 minute Z4A segment was.  Whereas by using manual splits, I can simply create a lap encompassing the entire 15 minute segment, and then it only takes a glance to see my average pace, cadence, etc…
But again, like many features of the watch – you're able to turn them on/off based on whether or not you want them enabled.  It's purely a personal preference thing.
Virtual Partner
Perhaps one of the most motivating features of the FR410 is the virtual partner function.  This feature allows you to set a specific pace – such as 8:10/mile – and then 'race' a little man shown on a display.  The little man will run a constant pace, meanwhile, you run yours.  It'll show you how far ahead/behind of him you are, both in distance, as well as time.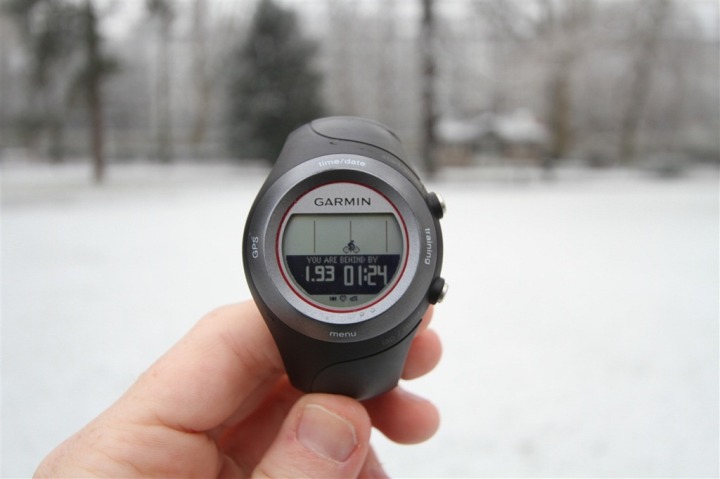 I find this really useful for races or pacing where I'm trying to hit a very specific pace over a longer period of time.  By utilizing this instead of lap splits, I'm able to focus on the pace I'm running – not the potentially inaccurate race splits that are posted along the side of the road.
Cycling
While the FR410 isn't really aimed at the cycling crowd, it does fit the bill for runners who occasionally cycle – or triathletes looking for a minimal watch with more features than the FR110/210.
The reason I say it's not aimed at the cycling crowd is that when you look at the data field size being displayed, the numbers can get rather small depending on where you mount it.  For some, that's not an issue.  For others, it can be.  Further, it doesn't support some of the more advanced cycling features or metrics – such as power meters, or barometric altimeters.
That said however, for the occasional cyclist, the FR410 makes a fine bike computer, and certainly far more advanced and capable than not having one at all.
The FR410 doesn't include a bike mounting kit, so you'd need to pick up one.  I have the generic Garmin Forerunner rubber mount, which works well.  This essentially wraps around your handlebar at a location of your choosing, and provides a 'fake wrist' for your FR410.  It also works with virtually every other watch ever created on the planet.  I originally bought it years ago for the FR405.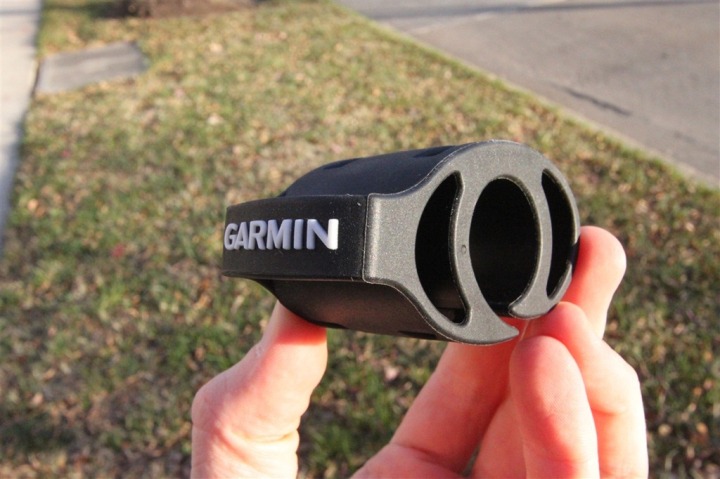 The FR410 supports switching to a speed-driven mode, where the pace/speed metric is shown in MPH (or KPH), instead of the usual running standard of 'minutes/mile'.
Once in this mode, the functions all related to speed, rather than pace.  Though, you're still able to choose all the data fields you'd like, per the previous section.
All of the normal functions, such as Auto Lap, Auto Scroll, Virtual Partner, etc… continue to work in this mode, and work identically as if in running mode.
It should be noted that you don't need to place the unit on your handlebars, as you can keep it just fine on your wrist if you want.  I just happen to use the handlebar mount because I find it easier to view than looking at my wrist – especially if I was mountain biking or cycling in an area where concentration was of high value.
In my case, I have a triathlon bike, but it works equally as well on a road bike, or a mountain bike, or really, any other type of bike.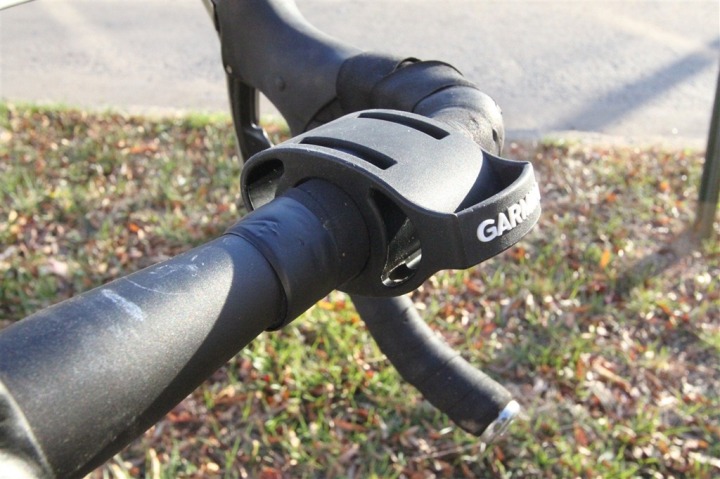 Finally, the FR410 supports the speed/cadence accessory kit.  This ANT+ enabled kit costs about $35, and allows you to measure speed and distance while indoors on a trainer, as well as cycling cadence.  Cadence is how often you rotate the cranks, and is measured in RPM – revolutions per minute.  Many folks monitor cadence as a way to meet specific objectives in racing or training, though, there's unending debate on whether high cadence, low cadence, or self-selected cadence is ideal.
We'll skip that biblical cadence discussion for now, and merely discuss the fact that the FR410 works with any ANT+ speed/cadence sensor.  It does not however appear to allow you to pair with speed-only, or cadence-only sensors.  Only the combo sensors, which are the most common today (though, that does tend to cause problems for folks with recumbent bikes).
Here's a look at a speed/cadence sensor on my bike indoors.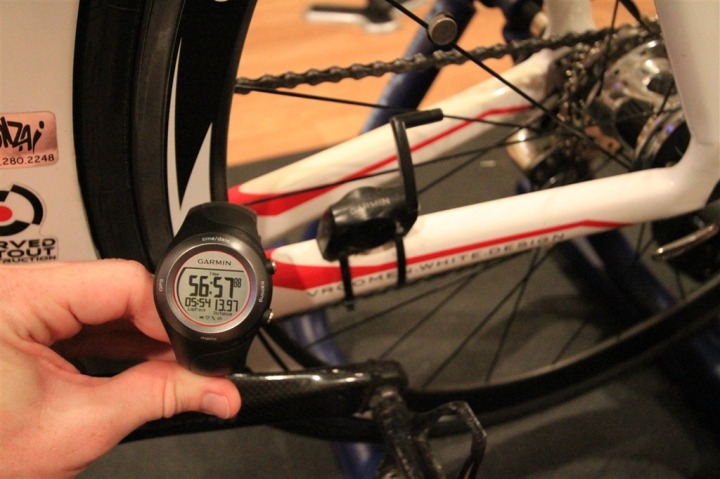 And you can see below how it displays my speed/distance indoors.  Note of course that speed and distance on a trainer are merely a function of gearing and resistance, and can be easily manipulated – so you should be wary of using them as your sole indoor metric (time is better).
Swimming
The FR410 is 'sorta waterproofed'.  By that, I mean that from a pure technicality standpoint it passes IPX7 waterproofing standards, which means that it'll support being kept at 1 meter for up to 30 minutes.  This does not however mean that it'll be happy about it.  Nor does it mean that it'll be happy about being strapped to your wrist for 30 minutes whacking the water every 1.2 seconds during the water entry portion of your stroke.
What it does mean though is that it's generally safe to have around water, and more than fine for rain.  Rain isn't a problem, as it isn't subjecting pressure on the components.  It's water depth that causes issues.  You can stay in the rain all day with it (as I have), just don't stay in the pool all day with it.  It's also fine in the shower, as I've been doing that every day for over a month now – no issues.
That said, you can indeed utilize the swim cap method for measuring distance outdoors while swimming (indoors wouldn't measure anything).  To do so, you'll want to follow my instructions here, which walk you through the steps.
I did this for a recent swim in the Seychelles, which lasted about half an hour, and crossed a bay.  In my case, I didn't place the watch in a plastic baggie, but rather just in my swimcap.  In general though, I'd recommend a plastic Ziploc bag under the swim cap just to be safe.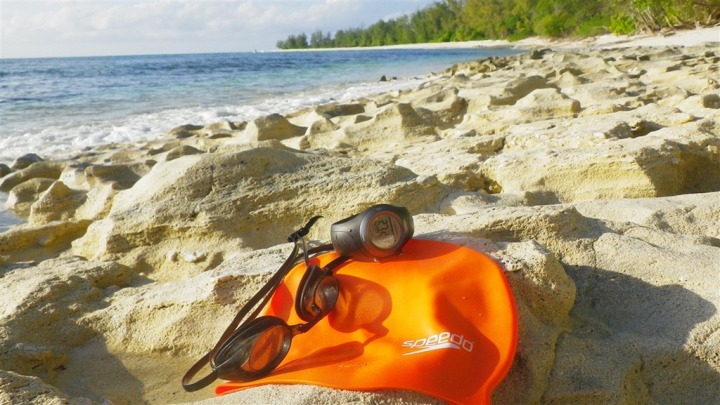 Once done, it recorded this little trek across the lagoon.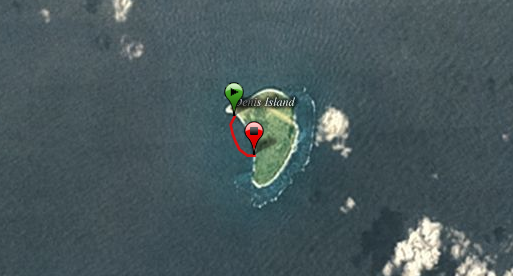 Regrettably, the satellite imagery in this area of the world from both Google and Bing Maps is slim, so it's not quite as cool as some of my other swims, such as this one:
In summary, with water submersion – just be cautious.  Rain and showers are not a problem (and you can far exceed the 30 minutes, as that only applies to submersion), it's swimming specifically that's a concern.
Calorie Based Metrics:
The Garmin Forerunner 410 will utilize one of three different calorie calculation methods, depending on how much information you provide to it.  The most accurate of the three requires external testing, however, the second most accurate requires nothing more than a heart rate strap.  And finally, the third method using simple speed/distance/weight provides rudimentary calorie calculations.

These three methods are outlined below:
1) New Leaf VO2 Test Profile: This method requires testing at one of a number of New Leaf testing centers around the country.  New Leaf is actually a 3rd party company that's developed a pretty comprehensive way to determine calorie burn based on VO2 tests that are done.  The tests are not terribly unlike your common VO2 max test, and involve you being hooked up to tubes and wires.  The tests though are sport-specific, meaning you complete a running test to allow the Forerunner to determine running activity calories.
2) Firstbeat Algorithm (Current – 2nd Generation): The Firstbeat algorithm is the most accurate Garmin device calorie measurement that can be done without external testing. The calculation uses  user inputted variables including gender, height, weight and fitness class.  It then combines this data with heart rate information from the ANT+ heart rate strap.  Specifically, it evaluates the time between heart beats (beat to beat) to determine estimated MET (Metabolic Equivalent), which in turn is used determine actual work expenditure.  Finally, this metric also 'learns' you as an athlete on a given device.  Meaning, over time it has a weighted algorithm to note changes in your fitness level and adjust calorie burn accordingly.
3) Speed/Distance Algorithm: This is the most basic method of determining calories, as it is only used when a heart rate strap is not enabled/used (default). Given the lack of heart rate data, the unit will simply use speed/distance, as well as the weight you entered in the device setup.  The reason this is less accurate (65-80% accurate) is that it can't differentiate how much effort you're expending to travel a given distance – which while less important for running, is quite important for cycling.  For example, if you're coasting down a 7 mile descent, you'll burn virtually no calories compared to ascending the same mountain.
I recently put together a fairly comprehensive look at the different calorie calculation methods that Garmin has made available on their fitness devices.  This post can be found here, and includes information directly from the Garmin engineering team during conference calls regarding the subject.
At Night/Backlight:
The Forerunner 410 includes a easily readable backlight, giving you a way to still see your watch in the dark.  The backlight can be activated via a two-finger touch on the bezel.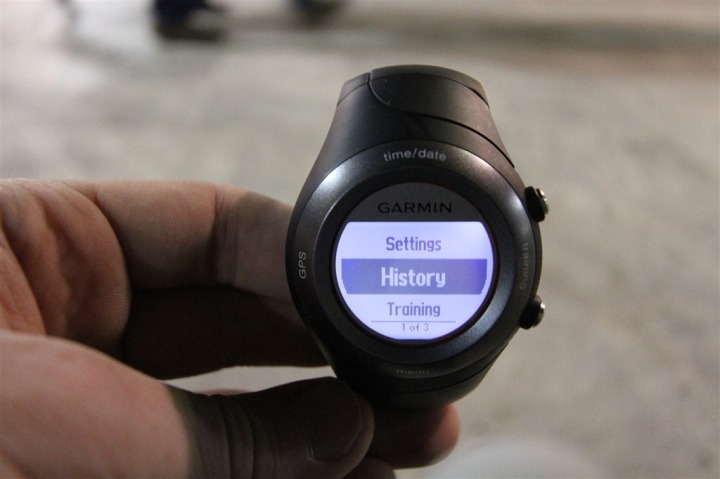 The light stays on for 10 seconds by default, before fading back to darkness.  However, you can configure how long you'd like the light to stay on for – including 'forever'.  This is useful if you're running at night and don't want to enable the light each time, but rather always want it visible if you look down at your wrist (like I prefer).
Device GPS Accuracy
I've had a lot of questions around sport device GPS accuracy – and how well they perform.  In my testing with the unit, it's been on par with the Forerunner 310XT – which was one of the units I recently did a comprehensive two part GPS test with.  During almost all of my FR410 day to day run and bike testing I had a FR310XT 'along for the ride', and they usually were within a few hundredths of a mile of each other.
To read more about those tests, and how GPS units designed for sports handle, check out the two parts:
Indoor Training (Running Treadmill & Bike Trainer):
Unlike the other two slim line Garmin GPS watches (the FR110/210), the FR410 supports both the foot pod and the speed/cadence sensor.  The FR210 only supports the foot pod. This enables you to a winter full of fun training in your basement or at the local gym.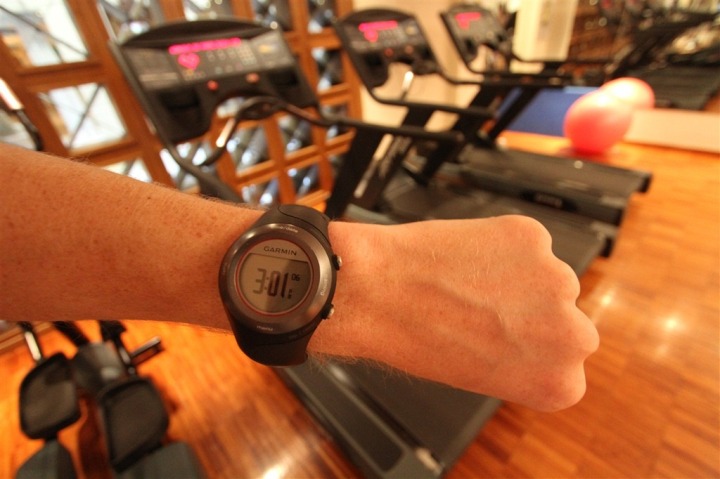 First up is the foot pod.  The foot pod is a small accelerometer device not much larger than a quarter, which attaches to your show and allows you to track pace, distance and foot cadence while indoors – or outdoors (if you want to disable GPS).  Additionally, it'll track cadence while outdoors using GPS.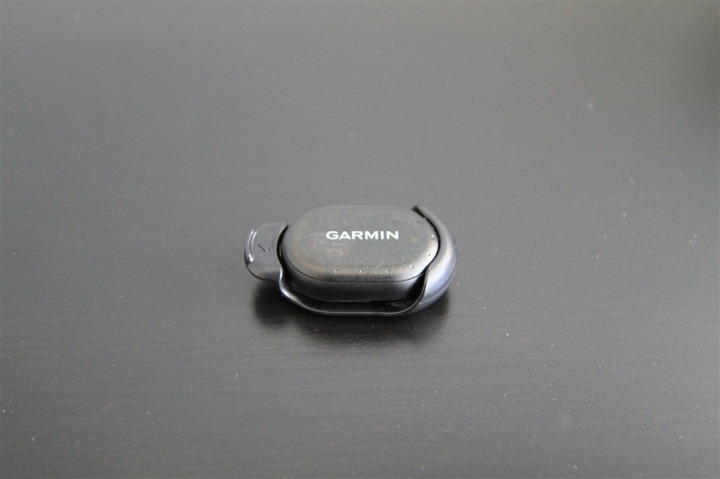 Indoors on a treadmill after uploading, you'll be able to see all the data you'd come to expect when outdoors with a GPS – including laps, distance, pace, etc… The only item you won't see is a map of where you went…mostly…because you went nowhere.  Below is an example of the cadence data it'll product, in particular – while on a treadmill.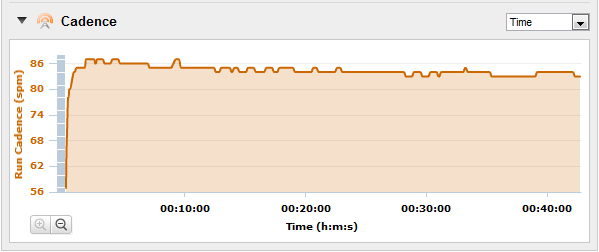 You can read more about the foot pod on my recent post that explains pretty much everything ever known to mankind about it.
Next up is the speed/cadence sensor.  This three part accessory contains two magnets which attach to your crank arm (near your pedal) and a spoke (on your rear wheel), where they pass by a small pod unit attached to your bike frame near the rear wheel.   This in turn wirelessly transmits speed and cadence data to your Garmin FR410, allowing it to compute distance.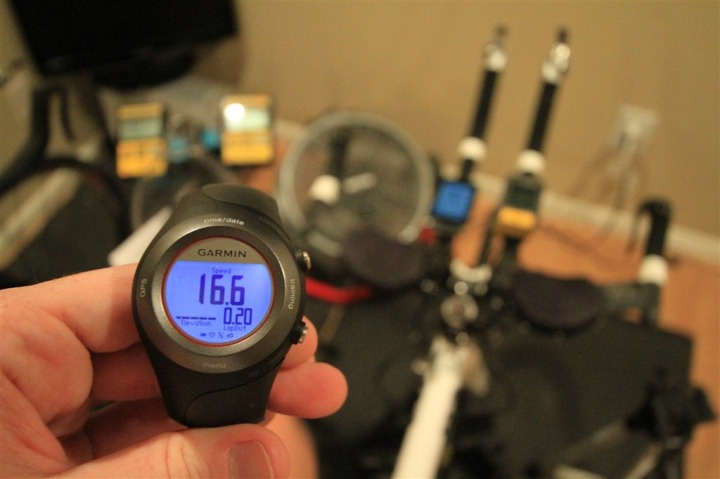 From there, you can use this information when indoors on a trainer to determine speed and distance.  Additionally, some folks use this in mountain bike scenarios to get more accurate distance on trails where GPS signal may be problematic.
The Touch Bezel
I covered the FR410 touch bezel in full detail in a separate post here.  I'd highly encourage you to visit that post to get the lowdown on what is arguably the most controversial and loved/hated feature of the FR410.
In summary however, it's important to note that the FR410 uses a touch bezel system that replaces traditional buttons for most functions.  Only Stop/Start and Lap/Reset have physical press buttons.  The remainder of the functions are activated or manipulated by swiping or tapping the outer edge of the watch.  The touch bezel in the FR410 has been improved over the previous generations.  This was accomplished by breaking the underlying technology that controls the bezel down into four separate quadrants, allowing it to better recognize false positives.
The below video I put together shows that that looks like for simple operations:
FR410–Generic Touch Bezel Test
However, the touch bezel isn't without its issues.  While I find it's generally about 90% accurate in simple dry summer conditions, I find that if you layer in other factors such as gloves – it gets ugly.
FR410–Winter Glove Test for Touch Bezel
During my touch bezel post I show what happens with glove usage, as the device becomes practically unusable except for the most basic of operations.  By the same token though – for most, once you start running, you really only need to press Stop/Start/Lap anyway – which are all physical buttons.  Changing training pages generally works, as it's just a simple one-touch operation
Finally, water related issues have been significantly improved in the FR410, compared to the previous FR405/FR405CX.  I found for example that I was able to easily use it in the rain, as well as simulated rain (a shower).  I demonstrate this in the following video:
Touch Bezel Water tests
So while there have been improvements made here, I find it still to be a major stumbling block for me being able to recommend this watch to more people.
Advanced Features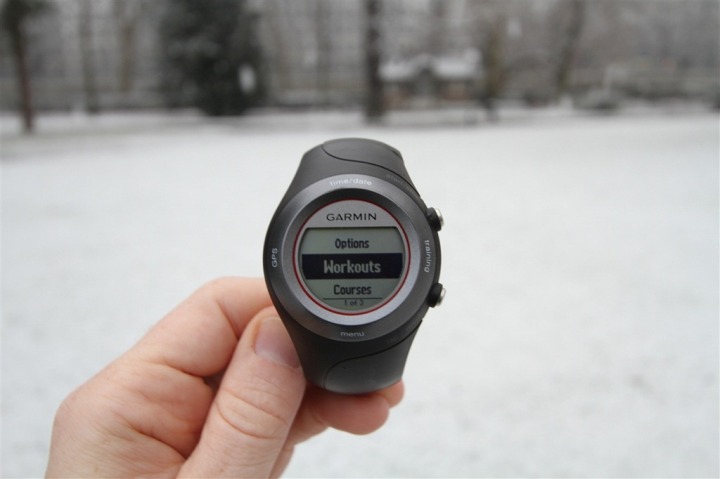 The major differentiator between the FR410, and the other slim watches such as the FR110 and FR210 (aside from the bezel), is the advanced feature set included in the FR410.  For example, the FR410 has highly customizable data fields, along with the ability to setup complex workouts with near unending iterations.  It also supports the ability to follow courses, and create on-watch intervals.
Workouts
The FR410 allows you to create workouts on your computer, and then download them to the device.  I've used workouts in the past to create complex training or race plans, where the watch then walks me through each component step by step.
Workouts can include components such as heart rate zones, speed, distance and time – all allowing you to create otherwise difficult to scribble down workout plans.
You can create workouts using Garmin Training Center (included), as well as Sport Tracks – and then download them to the watch.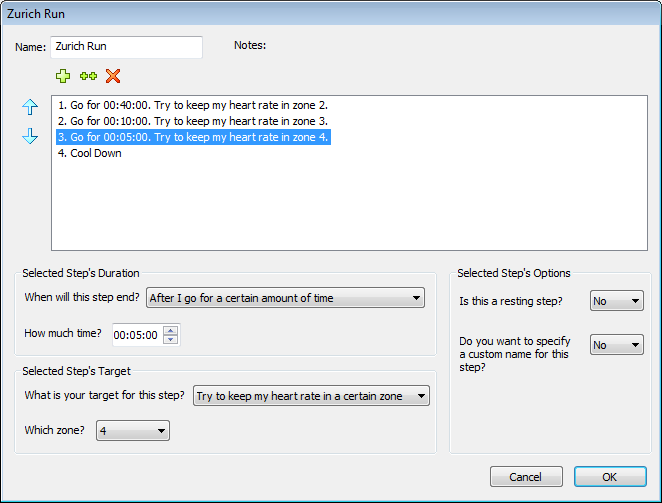 I talk more in depth about workouts in this post, as well as how to create them.
Courses
The FR410 supports the ability to create 'courses', allowing you to follow a breadcrumb trail of points that effectively make up a route.  You can download a course from Garmin Connect, or create your own via a variety of tools out there (including Garmin Training Center, or places like MapMyRun/MapMyRide).
It should be noted though that the running devices such as the FR410 don't understand or support the concepts of streets.  Meaning, they don't route on streets in the same way your car GPS would.  Instead, they follow a ton (hundreds or thousands) of predefined points, merely directing you to the next point.  Think of it more like following drips of paint coming from a leaky bucket on the back of a car, than a real routable system.
While this actually does work for most situations, in some cases it can lead to confusion if there are two similar choices.  In that case, the watch will tell you once you're off-track, and you can work to get back on track.
On-Watch Intervals
In addition to creating interval workouts via the Workouts function, you can also just great a quick interval workout on the watch itself – without any preprogramming required.  In this mode, you set basic information such as work and rest intervals (Time/Distance), as well as repetitions, warm-up and cool-down.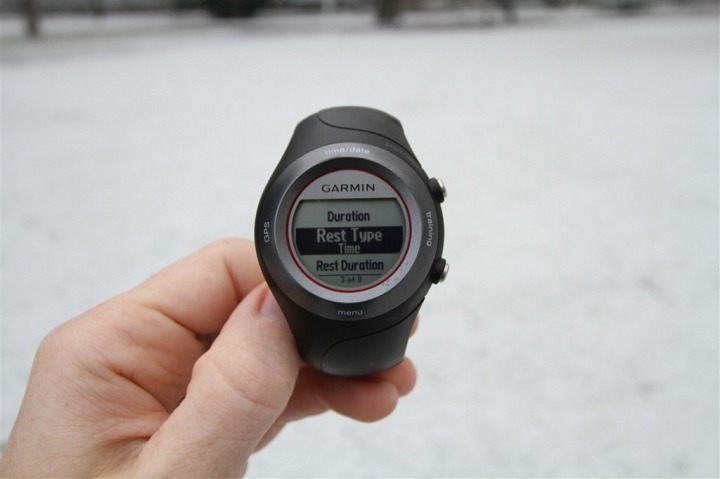 While I rarely use this feature, when I do need it, in a pinch it works pretty well.  Super simple to use with predictable results.
Other Uses:
I always make it a point to show off other features that GPS watches can accomplish in my review.  I do this because I want to make folks aware that perhaps the coolest feature of a GPS watch…is the GPS itself.  This may sound silly, but once you remember that you have a simple GPS recording device in the watch – you can record and track anything you can dream up – anywhere in the world.  Garmin supports exporting out simple GPX & KML files, which are effectively the international standards for exchanging GPS data.  As such, your activity doesn't have anything to do with typical Bike/Run activities at all.
For example, I used it to track where I was going on a recent safari in Africa, and then geotag the photos later: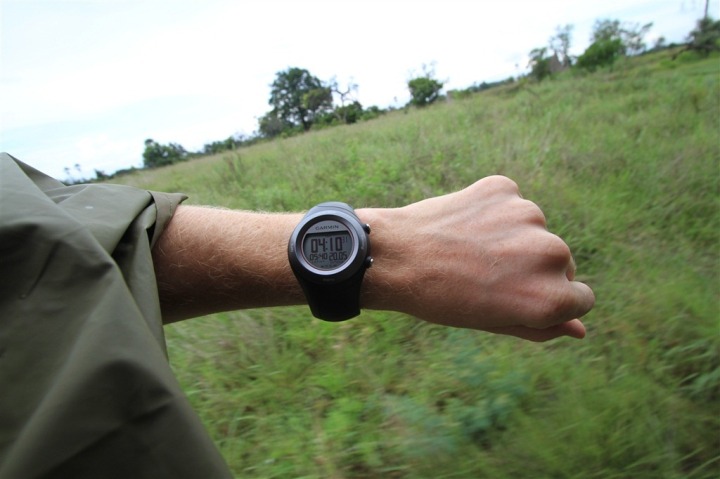 I've used it to see where I've flown, such as this recent flight from Istanbul to Athens: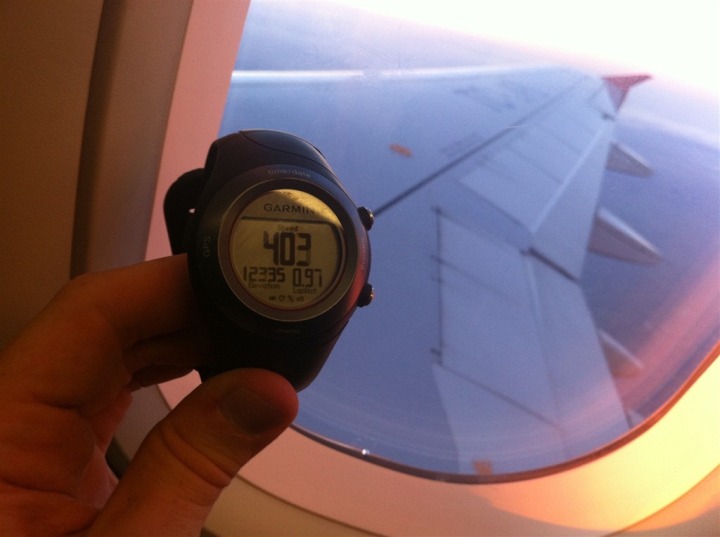 And here, you can see the exported track: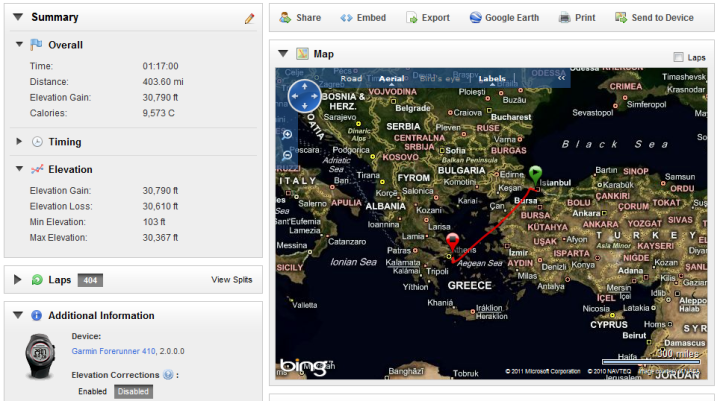 As you can see, the options are limited purely by your imagination.  I've personally used GPS fitness device to track hikes, runs, camel rides, parachuting, flights, kayaking across the South Pacific, and just plain figuring out where on earth I was (latitude/longitude).
History View:
While the majority of folks by a GPS enabled and computer-connectable watch in order to be able to download the data later to their computer, some also like to be able to check quick history stats on the watch itself.
The FR410 supports a basic history view that allows you to view summary data, as well as detailed information about each activity.  At the top, you can view total activity time and mileage: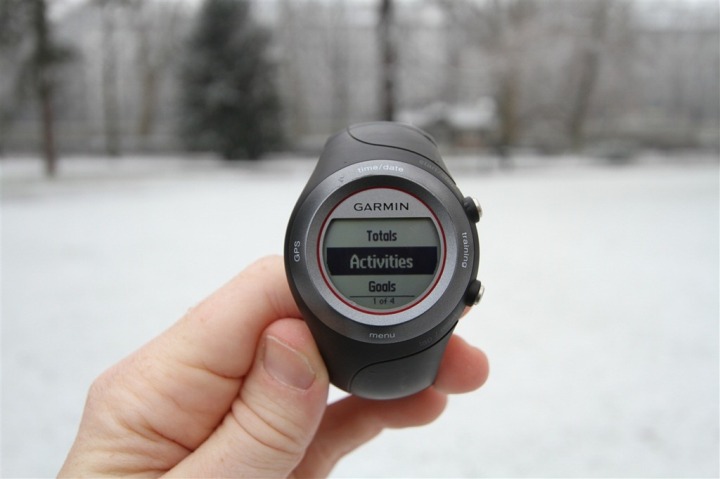 From there you can then dig into individual recorded activities: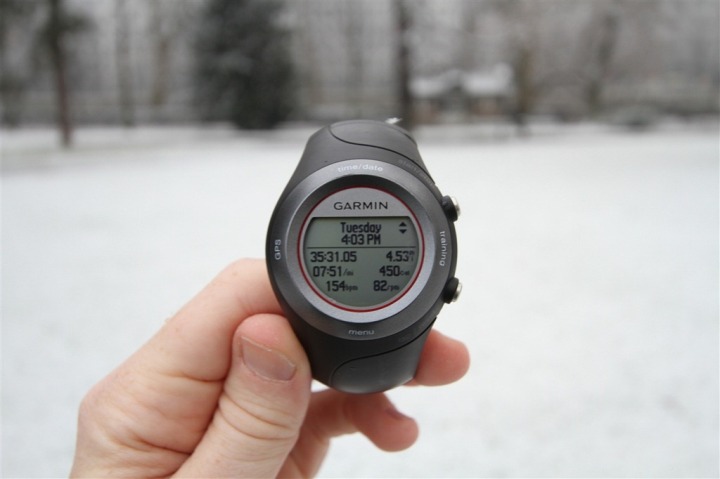 This enables you to also view laps and averages/paces per each lap.  It's a handy way to view your run total when you're sitting there at the Krispy Kreme shop after that long run…and to figure out exactly how many doughnuts you can eat based on calories burned.
Software:
The FR410 uses an ANT+ USB stick to wirelessly download workouts over the ANT+ protocol.  In addition to the USB stick, your computer will need to install the Garmin ANT Agent, which is the software that pulls the data from the FR410 and copies it to your computer (as well as uploads it to Garmin Connect).
When you're ready to download your workouts, you need only be in range of the USB stick for it to automatically start downloading completed works.  Typically anywhere within a room or two's distance will suffice.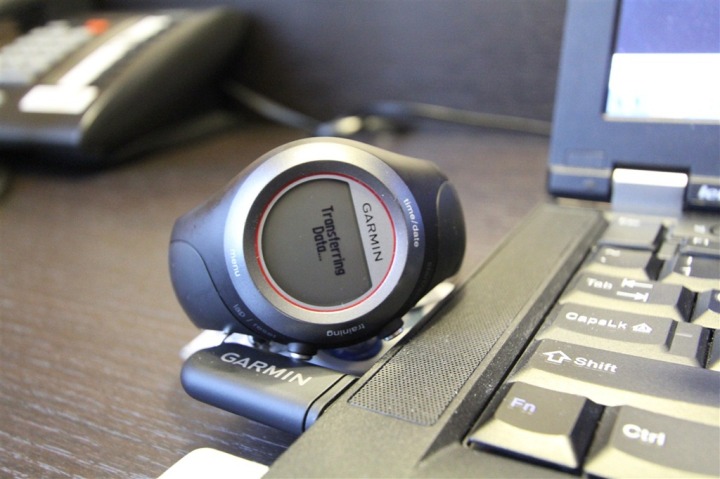 After the watch shows that it's downloading workouts, you'll see the ANT Agent copying the files to your computer: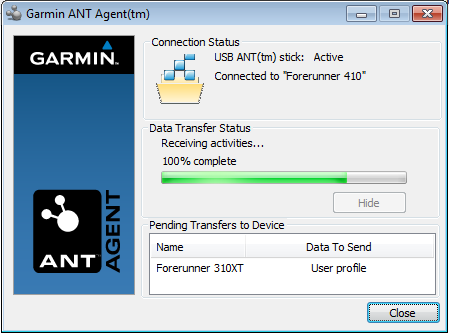 From there, the files are available locally in .TCX file format, as well as copied to Garmin Connect where you can view your activity and complete workout history.
For those tech savvy folks, the .TCX files are XML variants which are used to store data including GPS, and other ANT+ metrics.  These files are copied locally on your computer, and are available for you to export to other applications should you need to:

Of note to some is that the FR410 doesn't export out the newer more compressed FIT files, like the rest of the new Forerunner and Edge line, it instead simply utilizes the older FR405/405CX firmware which also exports only .TCX files.
Garmin Connect
Once you've successfully uploaded the data, you have a few options for software suites.  The default (and free) option is Garmin Connect, which I'll cover here first before going onto 3rd party options.
Garmin Connect is Garmin's web based software suite which allows basis analysis of your workout, as well as overall day to day activity management.  The site enables you to setup calendars, track history and even set goals.
From a per activity basis, it allows you to see basic information such as pace, speed, altitude and maps of where you went.  Here's an example of a recent run:
You can see the main detail components along the right/middle side, whereas summary information is displayed on the left hand side.
Additionally, you can drill into splits if you'd like as well, via the splits function: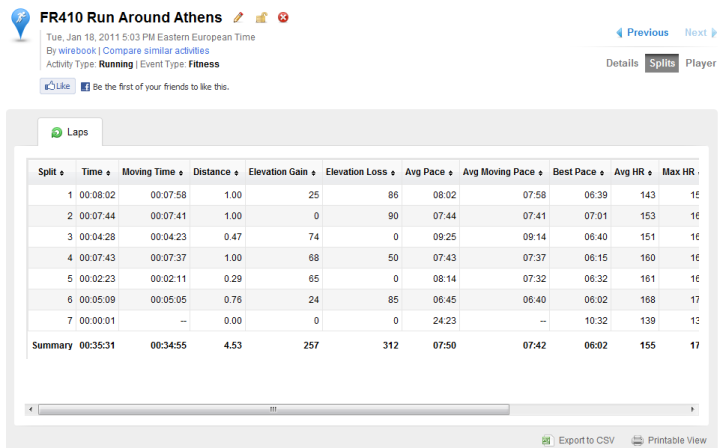 Finally, you can also replay back your run – allowing you to map exact heart rates, speed and other metrics against a moving map of where you were at that exact time.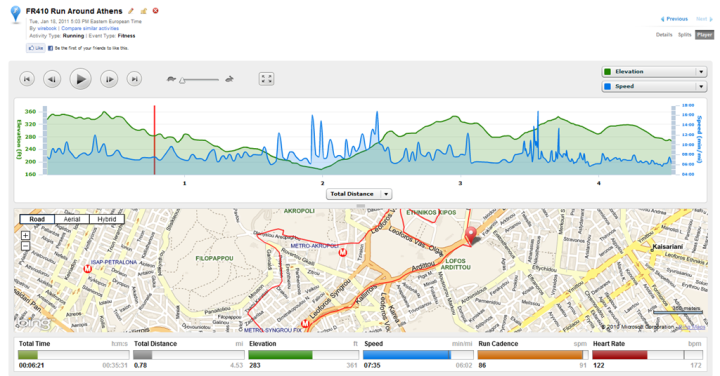 In general Garmin Connect is a good solution for the average athlete looking to track information about their workouts.  It does not however cater well to the advanced athlete looking to get more analysis out of their workouts.  For that, you'll need to turn to some alternate solutions (all of which below have free versions).  The next three pieces of software are simply ones that I like – though there are plenty more out there that do similar things.  Garmin Connect supports both PC and Mac.
Sport Tracks
Sport Tracks is a great alternative that allows far more in depth analysis.  It's also the only piece of software in the sports application world that allows community plug-ins – and they have a ton of them.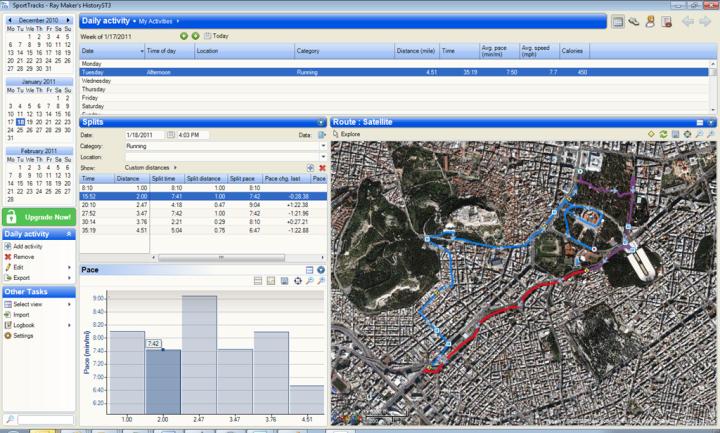 You can read more about Sport Tracks in my 3.0 review, as well as my Top 10 Sport Tracks Tips.  Sport Tracks has two flavors – one for $35, and one for free.  The free version is limited to 2 plug-ins, and also limits some reporting functionality.  The $35 one has no such limitations.  Note that Sport Tracks is only available on PC.
Training Peaks
I use Training Peaks on a day to day basis to upload workouts from my devices to the online site.  From there, my coach is able to analyze the workouts in depth and provide commentary.
Uploading is super easy using the Training Peaks device agent, which simply scans the folders that the FR410 ANT+ Agent dropped files in.
From there, it'll upload them to the TrainingPeaks.com site.  After uploaded you can drill quite deep into individual workouts, looking at everything from maps, to 'Bests' such as your 30s fastest pace, or your highest cadence.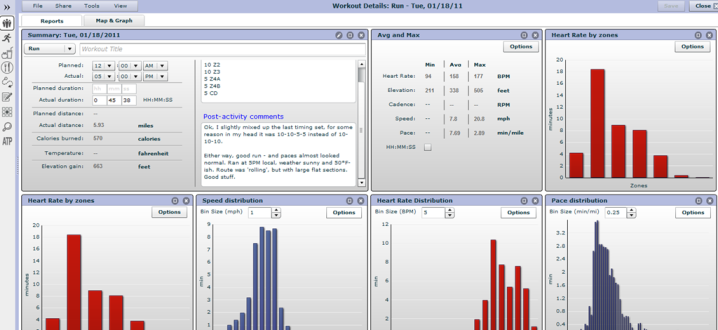 Training Peaks has a free variant, and a paid variant on a subscription basis.  I use the paid variant, but most of the features that FR410 would be able to take advantage of are offered in the free variant.  Many of the more advanced features such as in depth power analysis aren't really relevant to the FR410 since it doesn't include power meter support.  Training Peaks supports PC and Mac.
Golden Cheetah:
Last but not least – is Golden Cheetah.  This is actually the first time I've featured them in a product review before.  But with their recent release this past December, I feel they're too the point that a larger group of folks can start to look at them as a realistic option.
Golden Cheetah is an open sourced based software application that runs on PC's, Mac's and everything in between.  It's primarily geared at the cycling crowd though, so understand that for runners, it's probably not a great fit.  But for those cyclists that want to analyze their workouts – this is an amazingly detailed piece of (free) software.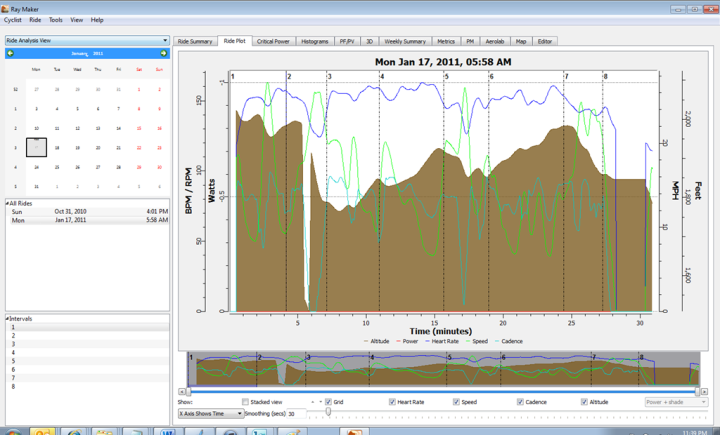 I'll be talking about Golden Cheetah more in the coming weeks in its own post, but for now – consider taking a peak at it if you want to delve into more detailed analysis of your workouts, especially cycling ones.
Accessories:
The Forerunner 410 has a number of compatible accessories that you can either buy individually, or with one of the bundled packages.
Heart Rate Strap
Ok…hold onto your seats – this is gonna get messy!
Garmin introduced a slightly new heart rate strap with the Edge 800 – and that same strap is being carried through to the Forerunner 210 and the FR410.  This new strap aims to reduce many of the spiking/dropout problems of some of the previous straps.  And based on my testing – it does a pretty good job of this.  It's reduced those problems for me by about 95%.  There's still an occasional spike – but mostly they're gone.
This new strap looks like this: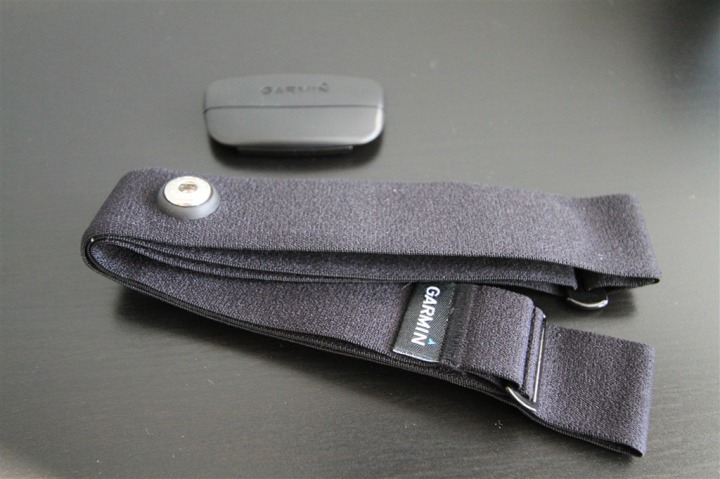 However, be aware – there are still two older (more common) types out there, which compared, look like this:
The new 2010 edition of the premium soft strap is currently only available with the bundled FR210, FR410 and Edge 800 units, however, Garmin has confirmed will eventually be sold separately as well.  It's also made it into some of the FR310XT boxes out there as well.
The previous heart rate straps can be bought individually for about $55 for the non-2010 premium soft strap version, and about $30 for the old school classic edition.
Foot Pod (for indoor treadmill use)
There are a slew of different ANT+ foot pods out there, and all of them will work with the Garmin FR410.  However, none of the FR410 packages include a foot pod – so if you want that, you'll have to pick it up separately.  Personally, I love it – since it allows me to easily record workouts while in a gym on a treadmill: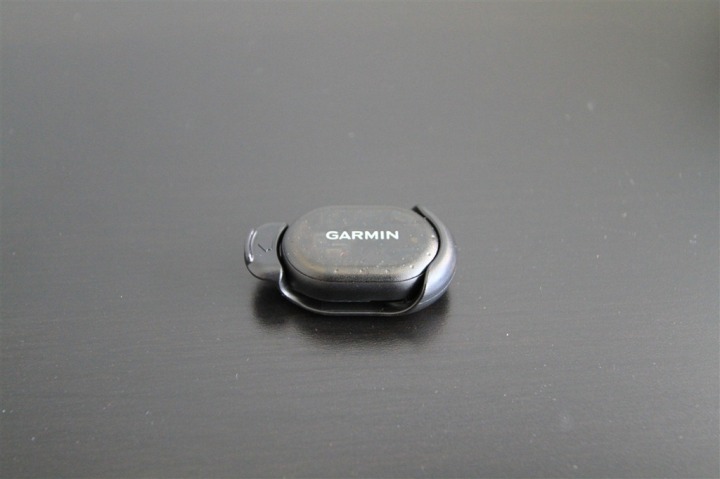 Out of all the foot pods I've tested, you can't beat this tiny little foot pod, about the size of a quarter.  Plus, the battery lasts forever (at least a year).
You can pick this up for $60.
Rubber Bike Mount
Perhaps one of the best priced accessories out there, the rubber bike mount is great for when you want to mount the watch to your bike's handlebars (or any similarly sized object).
The rubber bike mount costs about $13.
Speed/Cadence Sensor (Bike):
As noted earlier, the speed/cadence sensor allows you to get speed and distance readings indoors, while also giving cadence information as well.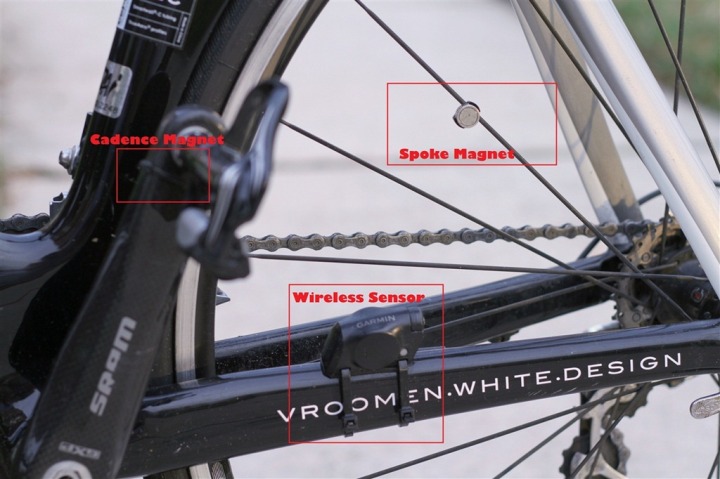 The speed/cadence combo sensor costs about $35.
Other accessories that aren't supported
I wanted to briefly call out two items that aren't supported, just to reduce any confusion – ANT+ power meters are not supported on the FR410.  No ANT+ power meters are compatible with the FR410, since it's primarily aimed at runners and not cyclists.
Additionally, the Tanita BC-1000 wireless scale does not work/communicate with the FR410.
Comparison Chart
Here's a quick comparison chart I drew up with some of the top features with the most common watches out there.  You'll probably need to exercise that click button on your mouse to get a bigger view:
Function/Feature

Garmin Forerunner 410
COROS Vertix
COROS APEX Pro
Apple Watch Series 6
Apple Watch Series SE
Copyright DC Rainmaker - Updated February 22nd, 2021 @ 5:17 am New Window
Price
$239.00 / Discontinued
$599
$499
$399/$499 (cellular)
$279
Product Announcement Date
OCT 4, 2010
May 2019
Sep 2019
Sept 15th, 2020
Sept 15th, 2020
Actual Availability/Shipping Date
OCT 2010
May 2019
Sep 2019
Sept 18th, 2020
Sept 18th, 2020
GPS Recording Functionality
Yes
Yes
Yes
Yes
Yes
Data Transfer
ANT+ Wireless
Bluetooth Smart (smartphone)
Bluetooth Smart (smartphone)
Bluetooth Smart
Bluetooth Smart
Waterproofing
IPX7
15fffff0m
100m
50m
50m
Battery Life (GPS)
10 Hours
60hrs, up to 150hrs UltraMax
40hrs, up to 100hrs UltraMax
7hrs GPS on time (18hrs standby)
6hrs GPS on time (18hrs standby)
Recording Interval
Smart
1-second
1-second
Varies
Varies
Quick Satellite Reception
Good
Great
Great
Most times
Most times
Alerts
Sound/Visual
Audio/Visual/Vibration
Audio/Visual/Vibration
Vibration/Audio/Visual
Vibration/Audio/Visual
Backlight Greatness
Good
Great
Great
Great
Great
Ability to download custom apps to unit/device
No
No
No
Yes
Yes
Acts as daily activity monitor (steps, etc...)
No
Yes
Yes
Yes
Yes

Music

Garmin Forerunner 410
COROS Vertix
COROS APEX Pro
Apple Watch Series 6
Apple Watch Series SE
Can control phone music
No
No
Yes
Yes
Has music storage and playback
No
No
Yes
Yes
Streaming Services
N/A
N/A
Apple Music
Apple Music

Payments

Garmin Forerunner 410
COROS Vertix
COROS APEX Pro
Apple Watch Series 6
Apple Watch Series SE
Contactless-NFC Payments
No
No
Yes
Yes

Connectivity

Garmin Forerunner 410
COROS Vertix
COROS APEX Pro
Apple Watch Series 6
Apple Watch Series SE
Bluetooth Smart to Phone Uploading
No
Yes
Yes
Yes
Yes
Phone Notifications to unit (i.e. texts/calls/etc...)
No
Yes
Yes
Yes
Yes
Live Tracking (streaming location to website)
No
No
No
With 3rd party apps
With 3rd party apps
Group tracking
No
No
No
No
Emergency/SOS Message Notification (from watch to contacts)
No
No
No
Yes
Yes
Built-in cellular chip (no phone required)
No
No
No
Yes (with cellular version)
Yes (with cellular version)

Cycling

Garmin Forerunner 410
COROS Vertix
COROS APEX Pro
Apple Watch Series 6
Apple Watch Series SE
Designed for cycling
Yes
Yes
Yes
Yes
Yes
Power Meter Capable
No
Yes
Yes
No
No
Power Meter Configuration/Calibration Options
N/A
No
No
N/A
N/A
Power Meter TSS/NP/IF
N/A
NP only
NP only
N/A
N/A
Speed/Cadence Sensor Capable
Yes
Yes
Yes
No
No
Strava segments live on device
No
No
No
No
Crash detection
No
No
Yes via 'Fall Detection'
Yes via 'Fall Detection'

Running

Garmin Forerunner 410
COROS Vertix
COROS APEX Pro
Apple Watch Series 6
Apple Watch Series SE
Designed for running
Yes
Yes
Yes
Yes
Yes
Footpod Capable (For treadmills)
Yes
Yes
Yes
With 3rd party apps
With 3rd party apps
Running Dynamics (vertical oscillation, ground contact time, etc...)
No
Yes
Yes
No
No
Running Power
Yes
Yes
With 3rd party apps
With 3rd party apps
VO2Max Estimation
No
Yes
Yes
Yes
Yes
Race Predictor
No
No
No
No
No
Recovery Advisor
No
Yes
Yes
No
No
Run/Walk Mode
No
No
No
With 3rd party apps
With 3rd party apps
Track Recognition Mode
Yes
No

Swimming

Garmin Forerunner 410
COROS Vertix
COROS APEX Pro
Apple Watch Series 6
Apple Watch Series SE
Designed for swimming
No
Yes
Yes
Yes
Yes
Openwater swimming mode
N/A
Yes
Yes
YEs
YEs
Lap/Indoor Distance Tracking
N/A
Yes
Yes
Yes
Yes
Record HR underwater
No
Yes
Yes
Yes
Yes
Openwater Metrics (Stroke/etc.)
N/A
Yes
Yes
Basic stroke type only
Basic stroke type only
Indoor Metrics (Stroke/etc.)
N/A
Yes
Yes
Basic stroke type only
Basic stroke type only
Indoor Drill Mode
N/A
No
No
No
No
Indoor auto-pause feature
N/A
-
-
Yes
Yes
Change pool size
N/A
Yes
Yes
Yes
Yes
Indoor Min/Max Pool Lengths
N/A
15y/m-300y/m
15y/m-300y/m
1y/m to 1,500y/m+
1y/m to 1,500y/m+
Ability to customize data fields
N/A
Yes
Yes
Very limited
Very limited
Can change yards to meters
N/A
Yes
Yes
Yes
Yes
Captures per length data - indoors
N/A
Yes
Yes
Indoor Alerts
N/A
Yes
Yes
Yes (goals)
Yes (goals)

Triathlon

Garmin Forerunner 410
COROS Vertix
COROS APEX Pro
Apple Watch Series 6
Apple Watch Series SE
Designed for triathlon
No
Yes
Yes
Not really
Not really
Multisport mode
N/A
Yes
Yes
Yes
Yes

Workouts

Garmin Forerunner 410
COROS Vertix
COROS APEX Pro
Apple Watch Series 6
Apple Watch Series SE
Create/Follow custom workouts
Yes
Yes
Yes
With 3rd party apps
With 3rd party apps
On-unit interval Feature
Yes
Yes
Yes
With 3rd party apps
With 3rd party apps
Training Calendar Functionality
No
Yes
Yes
With 3rd party apps
With 3rd party apps

Functions

Garmin Forerunner 410
COROS Vertix
COROS APEX Pro
Apple Watch Series 6
Apple Watch Series SE
Auto Start/Stop
Yes
Yes
Yes
Yes
Yes
Virtual Partner Feature
Yes
No
No
Sorta (Pacing feature)
Sorta (Pacing feature)
Virtual Racer Feature
No
No
No
No
No
Records PR's - Personal Records (diff than history)
No
No
No
No
No
Day to day watch ability
Yes
Yes
Yes
Yes
Yes
Hunting/Fishing/Ocean Data
No
No
No
No
No
Tidal Tables (Tide Information)
No
No
No
No
No
Jumpmaster mode (Parachuting)
No
No
No
No
No
Geocaching
No
No
No
No
No
Weather Display (live data)
No
No
No
Yes
Yes

Navigate

Garmin Forerunner 410
COROS Vertix
COROS APEX Pro
Apple Watch Series 6
Apple Watch Series SE
Follow GPS Track (Courses/Waypoints)
Yes
Yes
Yes
With 3rd party apps
With 3rd party apps
Markers/Waypoint Direction
No
Yes
Yes
With 3rd party apps
With 3rd party apps
Routable/Visual Maps (like car GPS)
No
No
No
With 3rd party apps
With 3rd party apps
Back to start
Yes
Yes
Yes
With 3rd party apps
With 3rd party apps
Impromptu Round Trip Route Creation
No
No
No
With 3rd party apps
With 3rd party apps
Download courses/routes from phone to unit
No
Yes
Yes
With 3rd party apps
With 3rd party apps

Sensors

Garmin Forerunner 410
COROS Vertix
COROS APEX Pro
Apple Watch Series 6
Apple Watch Series SE
Altimeter Type
Yes
Barometric
Barometric
Barometric with real-time watch face
Barometric
Compass Type
GPS
Magnetic
Magnetic
Magnetic
Magnetic
Optical Heart Rate Sensor internally
Yes
Yes
Yes
Yes
SpO2 (aka Pulse Oximetry)
Yes
Yes
Yes
No
ECG Functionality
No
No
Yes
No
Heart Rate Strap Compatible
Yes
Yes
Yes
Yes
Yes
ANT+ Heart Rate Strap Capable
Yes
Yes
Yes
No
No
ANT+ Speed/Cadence Capable
Yes
Yes
Yes
no
no
ANT+ Footpod Capable
Yes
Yes
Yes
No
No
ANT+ Power Meter Capable
No
Yes
Yes
No
No
ANT+ Weight Scale Capable
No
No
No
No
No
ANT+ Fitness Equipment (Gym)
No
No
No
No
No
ANT+ Lighting Control
No
No
No
No
ANT+ Bike Radar Integration
No
No
No
No
ANT+ Trainer Control (FE-C)
Yes
Yes
No
No
ANT+ Remote Control
No
No
No
No
No
ANT+ eBike Compatibility
No
No
No
No
No
ANT+ Muscle Oxygen (i.e. Moxy/BSX)
No
No
No
No
ANT+ Gear Shifting (i.e. SRAM ETAP)
No
No
No
No
Shimano Di2 Shifting
No
No
No
No
Bluetooth Smart HR Strap Capable
No
Yes
Yes
Yes
Yes
Bluetooth Smart Speed/Cadence Capable
No
Yes
Yes
No
No
Bluetooth Smart Footpod Capable
No
No
No
No
No
Bluetooth Smart Power Meter Capable
No
No
No
No
No
Temp Recording (internal sensor)
No
Yes
Yes
No
No
Temp Recording (external sensor)
No
No
No
No
No

Software

Garmin Forerunner 410
COROS Vertix
COROS APEX Pro
Apple Watch Series 6
Apple Watch Series SE
PC Application
GTC/ANT Agent
No
No
None
None
Web Application
Garmin Connect
No
No
None
None
Phone App
Garmin Fit
iOS/Android
iOS/Android
iOS only
iOS only
Ability to Export Settings
No
No
No
No
No

Purchase

Garmin Forerunner 410
COROS Vertix
COROS APEX Pro
Apple Watch Series 6
Apple Watch Series SE
Amazon
Link
Link
Link
Link
Link
Backcountry.com
Link
Link
REI
Link
Link

DCRainmaker

Garmin Forerunner 410
COROS Vertix
COROS APEX Pro
Apple Watch Series 6
Apple Watch Series SE
Review Link
Link
Link
Link
Link
Link
Summary:
The FR410 represents an update to the previous generation FR405 and FR405CX.  The primary selling point of this series of device was the slim 'watch-like' design – effectively reducing the wrist footprint of the larger (and more capable) FR305 and FR310XT.  At the time the FR405 and FR405CX originally came out, there were simply no other options in this form factor or size.  If you wanted a slim GPS watch – the FR405 was it.
However, with the introduction of the FR110 and the FR210 over the past 10 months, the number of GPS watches that 'look normal' has expanded.  And as such, the reason for purchasing the FR410/405/405CX has declined.  Further, the FR410 didn't really see a significant number of features added over the previous FR405, aside from an improved bezel.
However, the FR110 and FR210 lack in feature depth compared to the FR410 – and as such, aren't direct replacements.  Those FR110/FR210 watches are aimed at the majority of casual runners – not the runners that want lots of options and configuration tweaks.  That's where the FR410 differentiates itself – in an expanded and more configurable feature set.
At the end of the day, all three watches record the same data (though the FR110 doesn't support the footpod or bike accessories) – so it's just a matter of how much configuration you want while your actually running/cycling.
Which, in a  long winded manner brings me around to my principal issue with the FR410 – the touch bezel.  While I was optimistic it would be flawless in the FR410 compared to the FR405…it isn't.  And to some degree, I'm not sure if it would matter if it was to be honest.  To date – after nearly two years of using touch-bezel watches, I personally don't see why I want a touch-bezel device on my wrist in its current implementation.  I think capacitive touch (similar to an iPhone/iPod) will undoubtedly be the future – but that's very different from how the touch bezel works on the FR410/405/405CX.  As such, I found that in general the touch bezel simply adds more complexity than is needed.  Buttons in my opinion work just fine here for this purpose at this time.
As such, I want to be very clear on exactly who I'd recommend this watch to:
1) The Triathlete: No, go pickup the FR305 or FR310XT.  Both watches are just as capable (actually, more capable).  Yes, they're not as sexy – but they get the job done…every.single.time.

2) The Casual Runner: Check out the FR210.  It now supports the footpod,

3) The Advanced Runner: The FR310XT is the way to go here. If you're looking for a slim-line watch, then take a look at the FR60 – no, it's not GPS based, but it's accuracy matches GPS in my testing.

4) The Cyclist: You want the Edge series of devices, check out the Edge 500 – it's the best bet here.  If you want a crossover device, than go with the FR305 or FR310XT.

5) The Person who wants the touch bezel: The FR410.

6) Someone that doesn't fit in the above five categories: Check out my post – covering all the major categories here.
That's not to say that some folks don't love their FR410's (or FR405's) – I know they do.  And I've had no general issues in the day to day use of it for the past five weeks.  It's just that given the other options on the market (primarily those by Garmin themselves), I see those offerings as a better option – both for the money, and for the features – when looking at a sports watch.
Pros and Cons:
Finally, no review would be complete without the infamous pros and cons chart:
Pros:
– A GPS watch…that looks like a regular watch
– Accurately tracks distance, heart rate, pace and a ton of other metrics
– Improvements with water with touch bezel over previous versions
– Connects to ANT+ foot pods and speed/cadence sensors for indoor workouts
– Works as a normal watch (time/date/alarms) when not being used for fitness
– Wirelessly downloads workouts via ANT+ to computer
– Comes with soft strap
Cons:
– Touch Bezel can be rather frustrating at times
– Doesn't work well with gloves
– Doesn't support ANT+ power meters
– Doesn't support ANT+ weight scales (i.e. BC-1000)
– Not fully waterproofed
As always, thanks for reading, I appreciate it.  If you have any questions – feel free to post them below, I try to answer as often as possible.  Thanks!
Found this review useful?  Here's how you can help support future reviews with just a single click!  Read on…
Hopefully you found this review useful.  At the end of the day, I'm an athlete just like you looking for the most detail possible on a new purchase – so my review is written from the standpoint of how I used the device.  The reviews generally take a lot of hours to put together, so it's a fair bit of work (and labor of love).  As you probably noticed by looking below, I also take time to answer all the questions posted in the comments – and there's quite a bit of detail in there as well.
I've partnered with Clever Training to offer all DC Rainmaker readers an exclusive 10% discount across the board on all products (except clearance items).  Because the FR410 has been discontinued, you won't be able to get the unit from them – but you can get accessories. Then receive 10% off of everything in your cart by adding code DCR10BTF at checkout.  By doing so, you not only support the site (and all the work I do here) – but you also get a sweet discount.  And if you spend more than $75, you get free US shipping as well.
Note: As of June 11th, 2013, the FR410 has been discontinued, any remaining inventory is simply that – leftover inventory.
Additionally, you can also use Amazon to purchase the unit (all colors shown after clicking through to the left) or accessories (though, no discount).  Or, anything else you pickup on Amazon helps support the site as well (socks, laundry detergent, cowbells).  If you're outside the US, I've got links to all of the major individual country Amazon stores on the sidebar towards the top.  Though, Clever Training also ships there too and you get the 10% discount.
As you've seen throughout the review there are numerous compatible accessories for the unit. I've consolidated them all into the below chart, with additional information (full posts) available on some of the accessories to the far right. Also, everything here is verified by me – so if it's on the list, you'll know it'll work. And as you can see, I mix and match accessories based on compatibility – so if a compatible accessory is available at a lower price below, you can grab that instead.
Thanks for reading!  And as always, feel free to post comments or questions in the comments section below, I'll be happy to try and answer them as quickly as possible.  And lastly, if you felt this review was useful – I always appreciate feedback in the comments below.  Thanks!
Finally, I've written up a ton of helpful guides around using most of the major fitness devices, which you may find useful in getting started with the devices.  These guides are all listed on this page here.