Please see my updated 2011 GPS recommendations here.
The vast majority of folks who end up here do so in search of one of the many different athletic GPS devices out there on the market.  In most cases, once you've arrived here you've found more information than you can shake a stick at.  Perhaps so much information about a given watch that while you know more than you wanted to, you aren't quite sure which one to choose anymore – especially if your athletic category doesn't precisely match mine.
So, I'm here to solve that.  I'm going to give my recommendations based a few different categories of folks – in hoping that I've covered all but the furthest of edge cases.
Finally, I'm going to focus on devices that are on market today – though I'm not aware of any significantly new devices (in particular, running) coming out anytime in the next 6 or so months.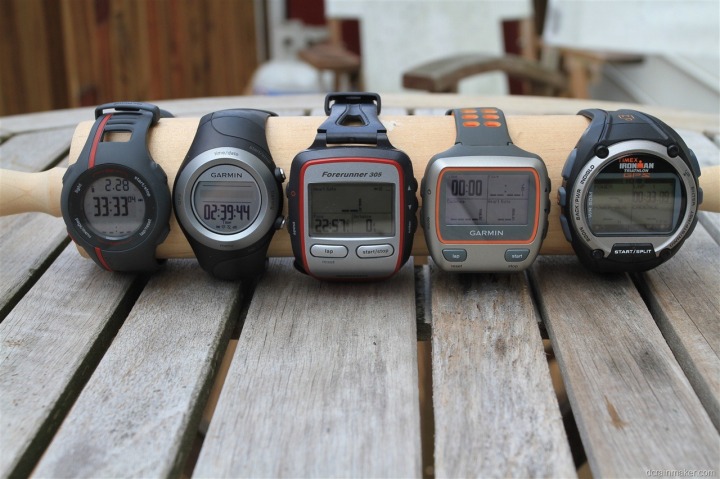 Let's get into the different athlete profiles…
The Triathlete-
For the triathlete there's basically three options in the market today: The Garmin Forerunner 310XT, Forerunner 305, and the Timex Global Trainer (TGT).  The Global Trainer is the newest of the lot, the 310XT about a year old, and the FR305 about 3 years old.  That said – functionally – they're all actually pretty similar.  The 310XT and the TGT have newer GPS chipsets (identical in fact) and they also both support power meters.  They have similar battery times at about 17-20 hours, whereas the FR305 has up to 10 hours of juice.  The TGT and 310XT are also fully waterproofed to dive depths, while the FR305 won't survive more than 30 minutes in your kitchen sink.
So – what would I recommend?  Well, if budget isn't an issue, I'd recommend the FR310XT.  It's got the longer battery life, it's fully waterproofed so you simply don't have to worry about it, and I find the user interface is really polished.  Why not the TGT then?  Well, the primary reason is that they made a firmware decision to not support foot pods for running indoors on a treadmill.  And while I understand some folks may not run indoors often – I personally do, and more importantly – I want the option to.  In my mind it's sorta like buying a car without Air Conditioning because you don't generally live in a really hot place…even though it only costs a tiny bit more.  Just my two cents…
Now, here's the kicker, over the last few weeks the prices for both the Garmin Forerunner 310XT and the Timex Global Trainer have fallen by between $25 and $50 (at least on Amazon).  I suspect there's a bit of a price war going on here.  The TGT is down to $249, and the FR310XT is down to $299 – definitely teetering on the edge of the impulse buy category, especially going into the fall running season.  Meanwhile, the trusty FR305 is still holding the line at around $145ish (including the HR strap!).  Here's all three:
The Hardcore Runner-
So, you're a runner's runner, eh? You go out there day in and day out and beat down the trails or streets.  You frequent the treadmill if it's required to get the job done, and you hang out at the track just as much as the fridge  Which watch should you choose?
Well, in many ways I think you're looking at the same watches as above.  The difference is that the FR310XT isn't really going to buy you much unless you're a ultra-runner and going more than 10 hours.  The key differentiators on the FR305 vs FR310XT are: 1) Cycling power 2) Fully dive-friendly waterproofing 3) 20hrs battery instead of 10hrs.  Given the first two aren't applicable to runners, the third one is the only real consideration.  Also, both perform equally as well in the trees and on the road, so GPS signal isn't too much an issue either.  Though the FR310XT will generally pickup satellites at the start of the run a bit faster than the FR305.
The two products from a feature set are nearly identical – and quite honestly, they aren't much different in size.
As for the Timex Global Trainer,  it's an option and from a running standpoint is basically on par with the FR305 and FR310XT.  The only catch is it doesn't support the foot pod – which is critical for indoor treadmill running.  Thus I have to whack it from my 'Hardcore Runner' list.
Finally, the one non-GPS option I'd highly recommend considering – which is my favorite – the little Forerunner 60 (FR60).  While it's not GPS, I've found it gives just as accurate results (actually, scary accurate sometimes – after miles of intervals and hills I'll get the exact same reading as GPS).  It has the bonus of looking like a normal watch.  Many advanced runners (including myself) really like this watch because you never have to worry about battery life with a 1-year battery, and it supports all the most advanced workout features.  That said…
Final recommendation: Get the Forerunner 305, unless money is more plentiful and then spring the extra $150 for the 310XT.
The Casual Runner-
Are you a fair weather runner?  Enjoy running…but not enough to go out on a 12*F day and brave the ice and in the snow?  Well, no worries, it's easy to pick a watch that fits you well.
First off, you have a few options.  You can go with watches that a chunkier (like the FR305 and 310XT) or watches that are smaller (like the FR405 and FR110).  From a feature standpoint the FR305/310XT/FR405 are all basically in the same ballpark.  But the FR110 has a much more reduced feature set than the other three and thus it's hard for me to heavily recommend it when the FR305 is $50 cheaper and has exponentially more features.
Finally, by looking at the FR305 – you're able to relatively cheaply (at $145) get a watch with a heart rate strap, and then you can expand it by adding the foot pod (for treadmills) or bike speed/cadence sensor if you want to get more data.  It's also a really good watch to 'grow into'.  It's easy to master, but allows you to use it for years even after you've moved into more rigorous training.  Finally, it's also the staple watch of marathoners and triathletes alike…everywhere.
The Hardcore Cyclist-
This is simple: The Edge 500
Ok, maybe it's not simple.  It's only not simple if you want Tom-Tom like bike route mapping.  In which case, that's offered on the Edge 800.  I've also had the Edge 705 for quite a while, which is similar to the Edge 800 with respect to additional mapping capabilities.  Up until the Edge 800 I would have said that I probably wouldn't generally recommend the Edge 705 unless you were really hardcore about mapping.  But with the Edge 800 and satellite and custom maps, I'm really liking what it offers. In general though with both the 705/800, I thought I'd use it all the time, but for me I'm really riding the same routes over and over again – and I know those routes.  Now, if you are riding a new route every week and really like exploring – then the Edge 800 makes a ton of sense.
Given the announcement of the Edge 800, I don't see any real good reason to buy the Edge 705 anymore.  The price is basically the same, but with a much smaller set of features compared to the Edge 800.  Unless you REALLY need the device in the next 6-8 weeks, I'd wait for the Edge 800 if you're leaning that way.
Why not the 310XT or the Timex Global Trainer?  Well, for a pure cyclist, those two have features that aren't needed.  Further, they also lack some cycling specific features in the Power Meter arena – such as power meter smoothing, calibration options (TGT) and ability to configure various zeroing options.
That said – for everyone else who isn't worried about mapping, you can't beat the Edge 500.  It has GPS, supports power meters, speed/cadence sensors, and every other thing you can think about.  Plus, both units have barometric altimeters.  Virtually all the initial bugs are now gone with the Edge 500, with the latest firmware as well.
The Casual Cyclist-
Perhaps you enjoy a leisurely bike…but aren't about to spend 6-8 hours ass-to-saddle on a typical weekend.  Which GPS is right for you?
Well, while the Edge 500 is a great bike-specific GPS – it doesn't do much else.  Sure you can bring it for a run, but it won't sure you your pace in minutes/mile, but rather in MPH.  That's why for most recreational cyclists I recommend looking at the Forerunner 305.  This allows you everything you'd need on your bike, but also gives you the flexibility to go for a run/walk/hike if you want – or just simply take it and track your progress on a cross-country flight.
The Edge series is about cycling, whereas the Forerunner 305 is about flexibility.  Finally, at less than $150 – you can't go wrong.
The 'I have small wrists and want something small' peeps (AKA I want to look cute)-
Ok…I hear it…a lot.  Some folks just don't like the look of the Forerunner 305, 310XT or even Timex Global Trainer – despite these companies best efforts to make a 'pretty watch'.  It's understandable you don't want something the size of a bedside alarm clock strapped to your wrist.
Now, I do have to say it first – you truly won't notice the size of the FR305/310XT/TGT after about 30 seconds of running.  I promise you it.  Really…it's true.  Plus, these watches come with smaller bands in box in case it doesn't fit.
But, I also recognize that strapping that monster on your wrist won't likely help you attract any dates during a run around the ever-so-posh NYC Central Park (even if running in your underwear).
Thus, I give you options.
Well, three options anyways.
First up is the Forerunner 110.  This is a new watch that looks like a normal sports watch.  The only problem with it is it's feature set is greatly reduced, which isn't conducive to advanced runners – or runners looking for lots of detail while running (post-running analysis is about the same though).  In particular, it does not show your current pace while running – only average lap pace.
The second option is the Forerunner 405.  This watch has all the features of the Forerunner 305/310XT and Timex Global Trainer, but in a much smaller almost normal like form factor.  What's the catch?  Well, the touch-bezel system.  It works sorta like an iPod would without firm buttons to press, which is a love it or hate it feature.  I personally hate it, but some do love it.  So I highly suggest you hit up a local running store first and try it out before buying.
Finally, you have the non-GPS FR60.  I mention this again, because it's a normal size watch that has all the features you'd want…just without the GPS piece.  It's an option to consider if you're really set on a small form factor watch.  Plus, unlike the others – it has the best battery life of the bunch – at a full year!  Crazy, I know!
Summary Comparison Chart
No comparison and recommendation post would be complete without a comprehensive chart.  You'll want to give the chart below some clickage love in order to see the much larger size and be able to actually read the text.  Enjoy!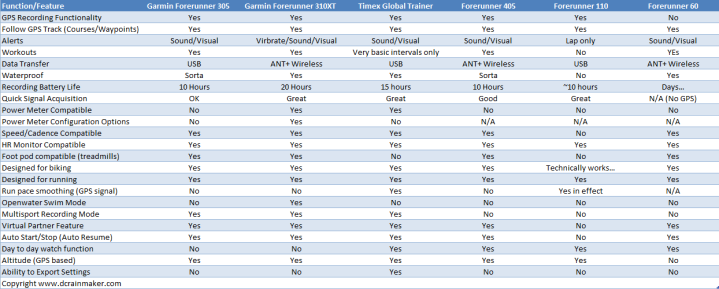 ('Yes in effect' on FR110 smoothing is because it only shows lap pace, not instant pace – thus smoothing your laps.)
Hopefully you found this useful in your purchasing.  And remember, anything you buy off this page via the Amazon links does indeed help support the site and more product reviews (even for ya Brits!).  Thanks for stopping by!