Quick Administrative Note: In an effort to bring you the latest scantily clad triathletes running around central park, the normally scheduled Weekly Mailbag post will instead appear tomorrow.  Thanks!
As you might have guessed by the title, I'm up in NYC now – preparing for tomorrow's NYC Triathlon.  I've actually been here since Thursday evening – largely relaxing and taking care of various race items as applicable.
For example – taking care of packet pickup and the expo (yes, I'm going to make you sit through that before you get to see peeps in underwear – think of it like veggies before dessert).
First up was the athlete briefing.  While I'll also be going to the Pro/Elite briefing later this afternoon, in order to get my packet, I had to first go to the normal briefing.  So…in I went.
Unlike most races, they actually didn't have a USAT official presenting rules of the race, which surprised me a bit as this is a highly popular race with many folks who are new to the sport.  Though, given I am a USAT official, I suppose I probably know the rules already. 😉
After getting a stamp on the hand, I went and got in line for my yellow card.  This is a card I'd eventually give to another person to get my packet.  The whole process was super efficient.
From there I wandered over to the packet-man, and got my actual race packet of big numbers, helmet stickers, and bike tags.  Actual chips would be handed out on race morning.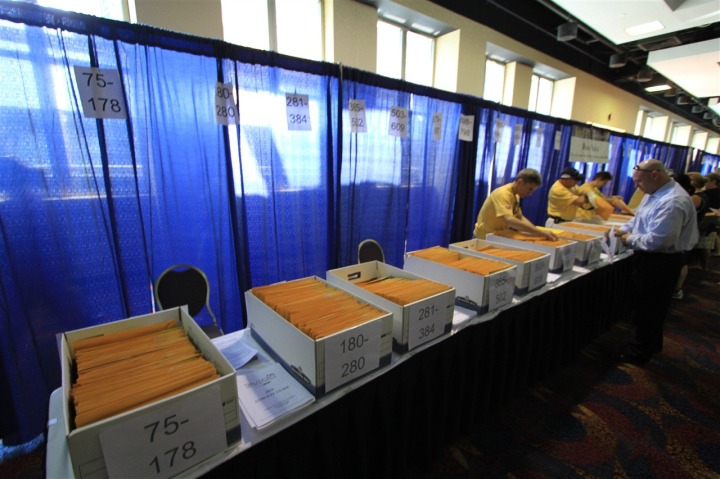 Finally…I was free to navigate down through the expo and find my bag of goods.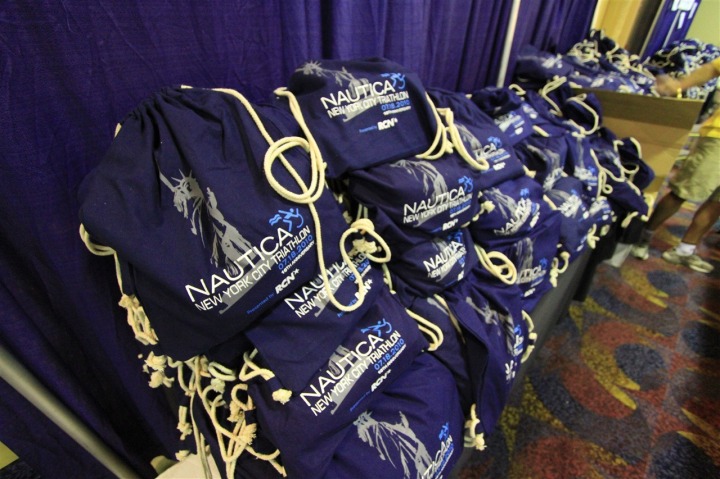 The bags were quite nice actually…like really nice.  They were fully organic cloth, as were the t-shirts inside them.  And the design was pretty solid too.  Woot!
After bag pickup, it was time to explore the expo area – and unlike most tri's, there was plenty to explore.  In fact, this expo easily blew away all three Ironman races I've done from an expo perspective.  Really the only bigger expo I've been too was the Marine Corps Marathon, Army 10-Miler and Phily Marathon expo.
Speaking of Army…free army towels: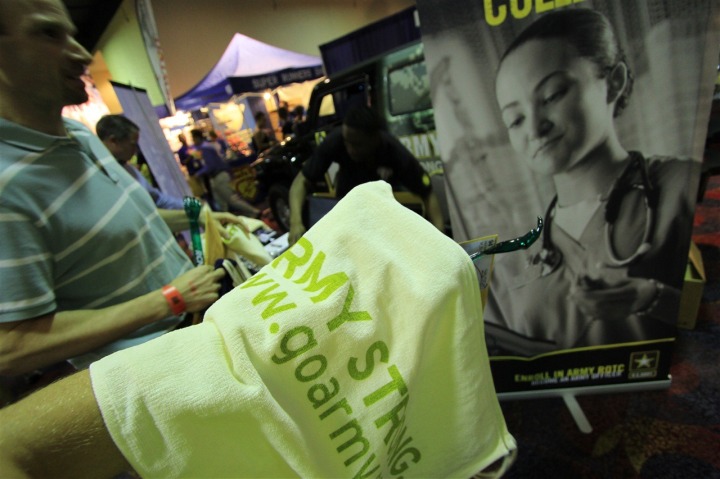 And here's a slew of other pictures from the expo:
(I would point out that you shouldn't put your bike 'gear-side-down' like it's presented above.  Nor should you put your wheel in the trunk at this angle up against the hinge, or when you close said trunk, the trunk hinge will snap it.  And that would make you very very sad.  Just sayin'…)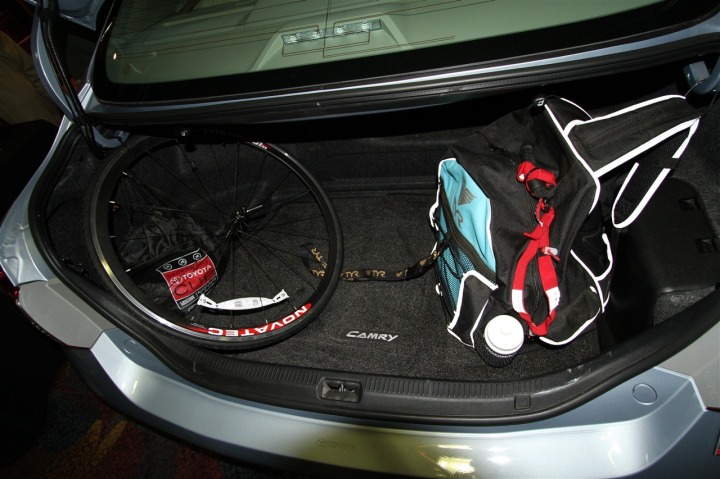 Oh – and there was a baby race going on.  Pretty hilarious.  The winning baby hauled serious diaper ass.  He apparently had a thing for watermelon (no really, the parent held up watermelon and the kid flew towards it – you can see it to the left).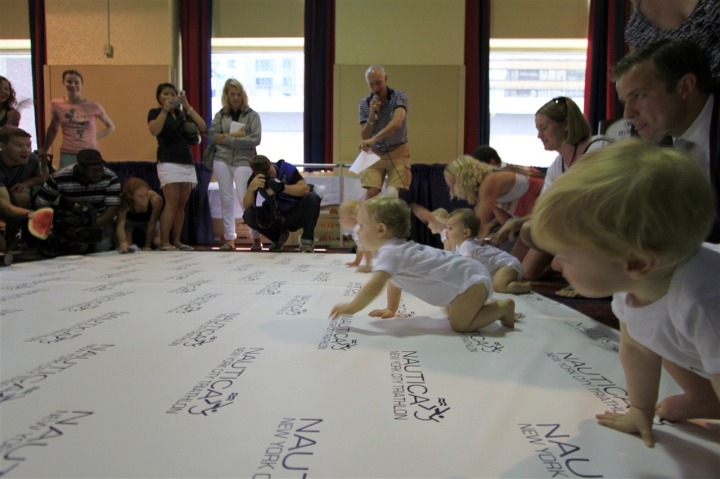 Ok…with that – expo complete!  Here's my final loot: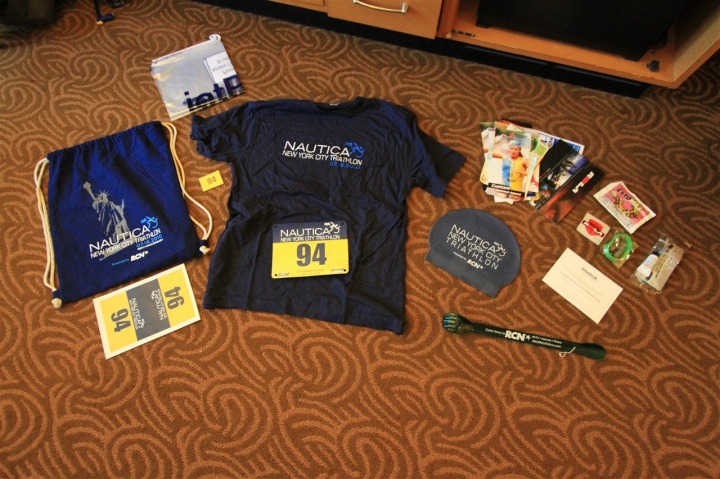 Now, the part you've all been waiting for.
The NYC Triathlon Jamaica Underwear Run (I'm not clear on why Jamaica was sponsoring it, but we got free Jamaican flags, so I'm not asking any questions…).  Now, this isn't my first underwear run, in fact, it's my fourth (Here's the other three, complete with pics: Ironman Canada 2008, Ironman Canada 2009, Cupids Run 2010).
Let's get into some of the pre-race action.  Oh – and like the Jamaica sponsorship thing, it's best not to ask questions about some of the outfits.
But – the real action was down on the start line of the 1.7 mile long race.  The Naked Cowboy had shown up, and was accompanied by a number of gals.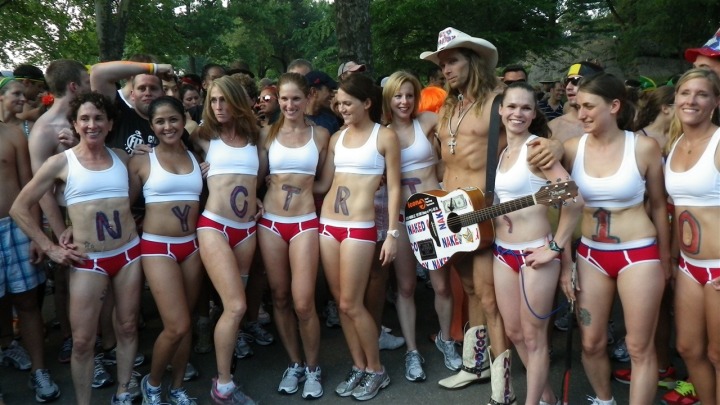 Speaking of that starting line, this is a run after all, and it's time to get running.  Though, that wasn't before a BUNCH of media took a ton of pictures.  I have to imagine it wasn't hard to get volunteers to shoot this event.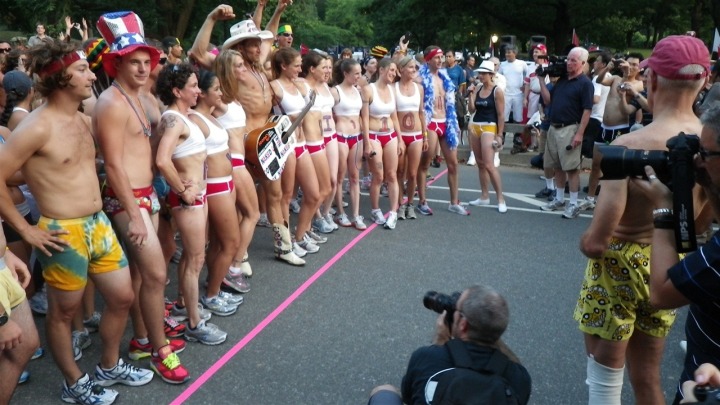 And finally, at 7:30PM on the dot…we were off: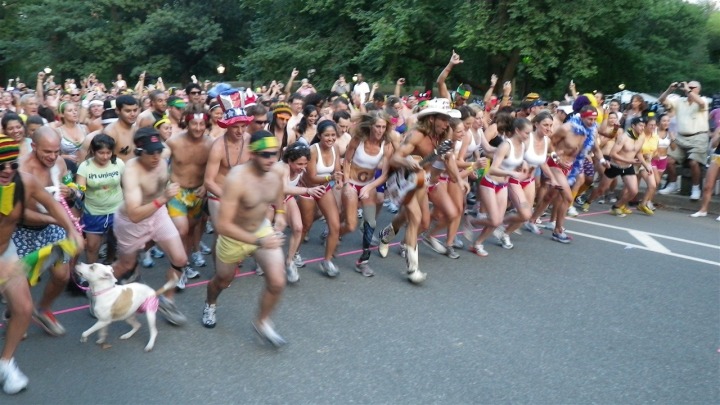 It's really hard to know how many folks were out there.  While the official registration says 500 – it's clear there were many many many more.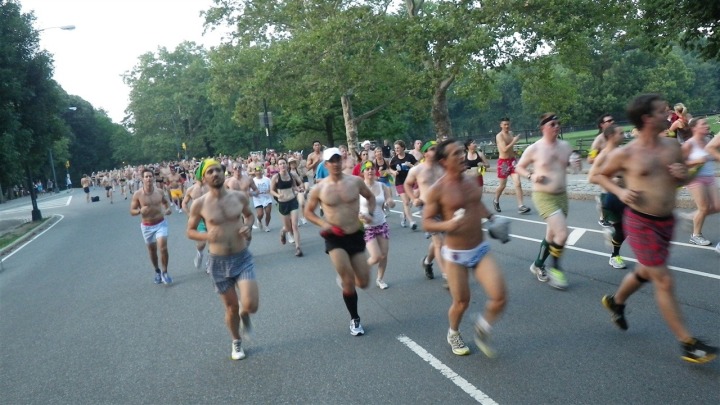 Oh – and here I am.
The course simply wrapped around a portion of NYC's Central Park, before circling back to roughly where we started.  They had setup a nice finish area (which will double as Sunday's actual race finish area).
And upon finishing they had all sorts of refreshment drinks, and even some free Nautica boxers.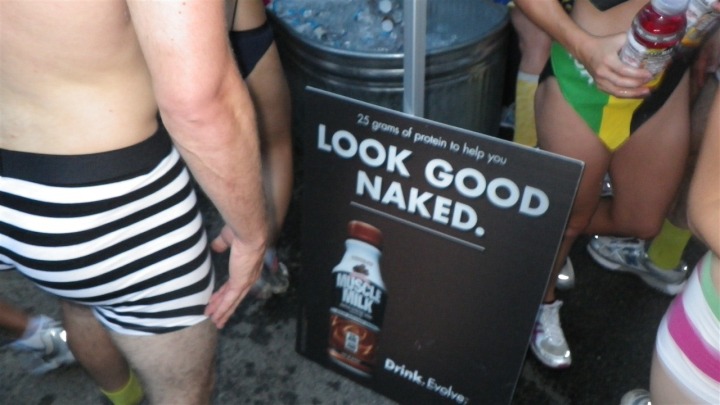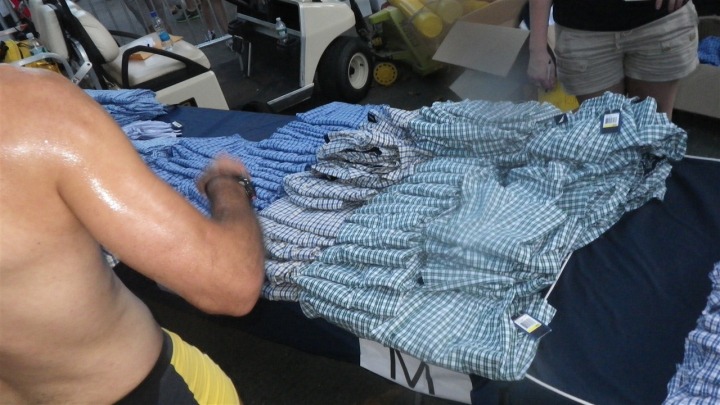 And of course… a few more interesting costumes.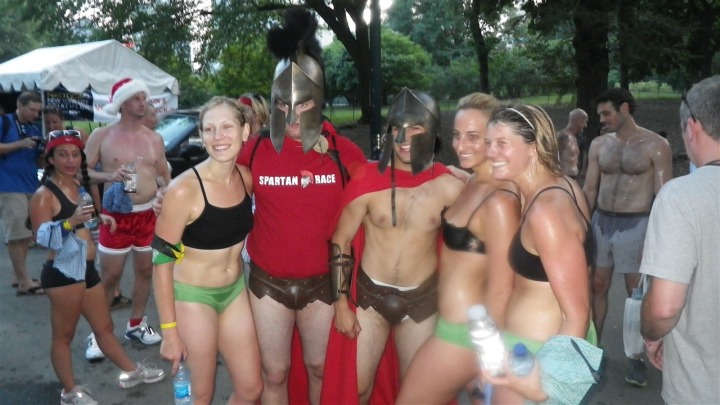 So with that…I'm spending the rest of the day relaxing and getting ready for tomorrow's race.  I'll be starting at a rather early 5:54AM, with the Men's Age Group Elite wave.  It's apparently a dive-start for us, which should make for a whole bowl full of entertainment.  See ya out there tomorrow!