In addition to racing this past weekend, I also became a new USAT Certified Official Referee.  The process involves wading through an extensive 91 page manual (very in depth by the way, but also fairly well written and easy to follow) on all the sport's rules, as well as a short clinic, and then officiating a race.  Actually, technically I have one more race to officiate.  Adam also has a good intro to the hierarchy of officials and the advancement levels.
(Side Administrative Note: I was going to post my race report from this weekend, but the pictures from the race still aren't up yet, so I'm holding off one more day…)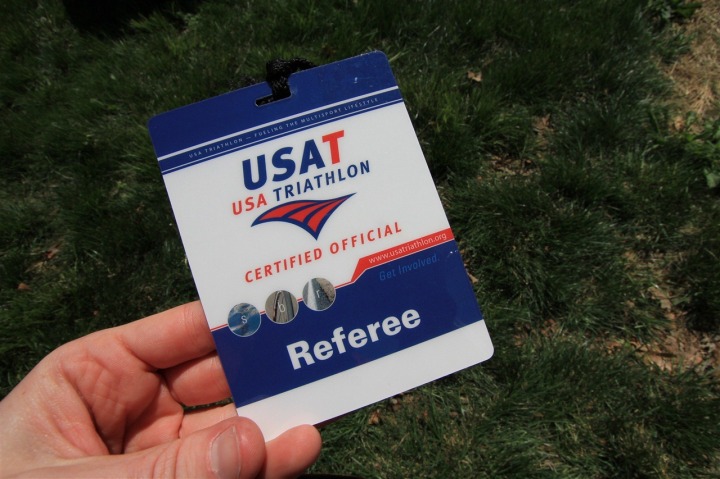 Of course, with the badge comes a USAT red polo shirt and a hat.  The actual black and white striped shirts are saved for the USAT Head Referee – in case you're curious.  So with me, my red shirt, my hat, and a pen and paper pad I set about for a full triathlon's worth of officiating.  But what does that involve – and more importantly – what on earth are the officials looking for anyway?
Well, I'm here to try and break it down – section by section on what the red-shirts are looking for.  Or, at least, what I was looking for.
Transition – Pre-Race: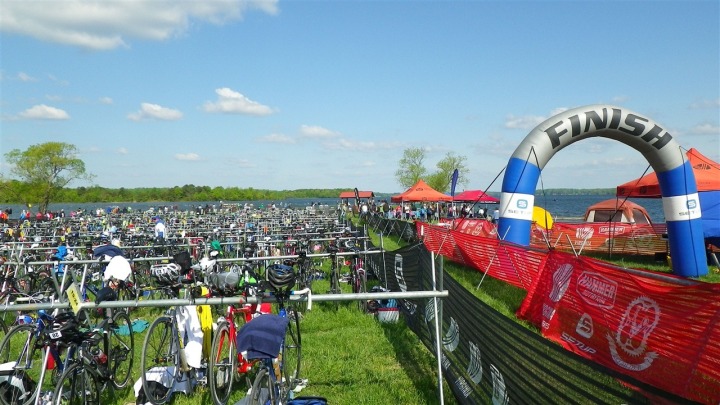 For almost all triathletes there's probably almost nothing more intimidating than a USAT official snooping around your bike rack prior to the race even starting.  After all – it would have a high degree of suck to get a penalty before the gun goes off.  Most folks eyed me cautiously, but a few people straight up asked exactly what I was looking for – and so, here you have it, my short list of things I'm validating:
1) Bar ends plugged: I'm simply validating that your bar ends have plugs in them.  If they don't have plugs then you need to get them plugged prior to the race starting, otherwise you can't race.  This is because during a crash, those unplugged bars can take a human core sample from you – which really really really sucks.  The good news is that most races simply have a bag of them handy and will plug them.  And if all else fails, a quarter combined with some well wrapped tape will suffice as well.  Tape alone is not valid however. Just please, get them plugged.  For those not quite sure what I'm referring to, here's a quick picture of one I just popped out of my bike handlebar – note the empty hole: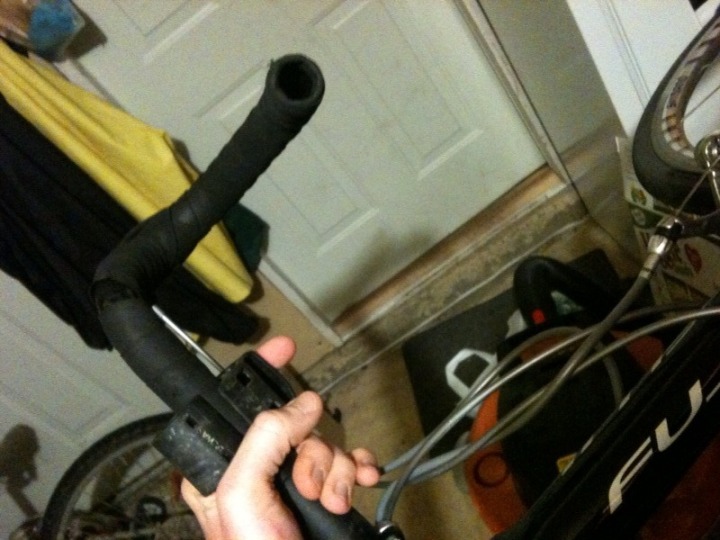 2) Aero helmets have CPSC sticker: While in theory you would check every helmet for the sticker, in reality it's pretty hard these days to get a non-certified normal helmet.  So the focus is on aero helmets due to an influx a few years back of non-certified helmets that will crack open like an eggshell even when barely dropped.  If the sticker is missing (no matter the excuse) – you have to obtain a different helmet to race.
3) No glass: This is simple and logical, but not well advertised.  If you have a glass bottle on you, it's actually grounds for instant DQ.  Keep them out of transition and the course.  Simple as that.
4) Racked in the correct location: This one is simple as well.  Your bike needs to be in the right rack location.  If the racks have individual spot labels, then you also need to be on the correct side of the rack.
5) No balloons or markers on your rack: These are considered an unfair advantage, and once transition is closed, they'll all be removed by the race director.  That includes cheerleading pom-poms, pink tape, Spongbob Square Pants Balloons, and anything else creatively tied to the rack marking your spot.
So, in summary – the quick hit-list:
1) Bar ends
2) Aero helmet CPSC stickers
3) No Glass
4) Racked in correct location
5) No unfair advantage items
See, pretty fair and simple and pretty much focused on safety, isn't it?  Good, let's get racing!
The Swim: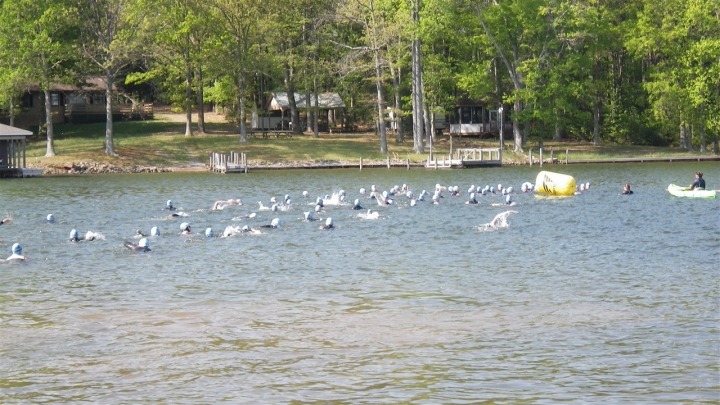 The swim is 'officially' the easiest leg for the officials, as there really isn't a lot to do here.  But, there's pretty much just one thing to be on the lookout for:
1) No illegal swim toys: This means no pull buoys, fins/flippers, gloves, inflated floaties, or anything else that might float you along or propel you faster.  However, it should be noted that snorkels ARE permitted in USAT sanctioned events.

Also, note that you are allowed at any point to stop and stand up if the bottom allows, as well as receive assistance from official on-course kayaks, without being disqualified.  You just simply need to ensure that if you're being held up by a kayak, that you're making no forward progress.  The general goal here is that everyone successfully finishes the swim – it's not really about penalties in the water.
The Bike: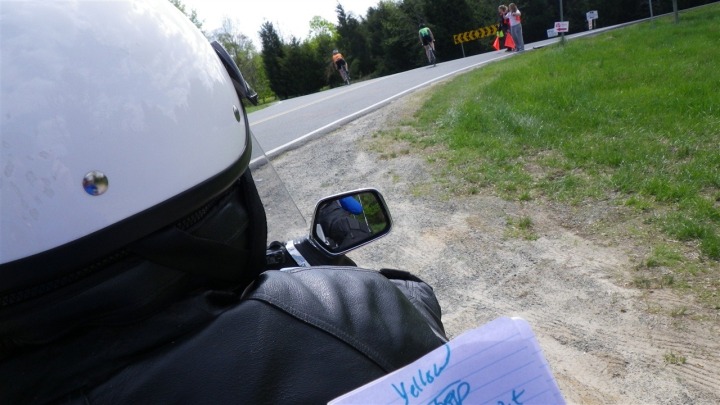 Now that we're out of the water, the USAT officials take to the back of motorcycles to monitor the progress of the race.  We spaced out as evenly as possible, given the number of racers and officials, and then each did two loops on the bike course, at whatever pace we felt necessary.
Once out on the road, I was specifically looking for a few key items.  I've gone ahead and taken the super-brief description examples directly from the USAT manual, just so you can see what I'm seeing, those are in photo snippets.
1) Drafting/Overtaken: First up – the biggie.  By the rules this is when you pull within 7 meters of the rider in front of you and do not successfully make a pass within 15 seconds.  It should be noted that the only valid way out of the draft zone is forward.  Meaning, you can't back out and ask for a 'do-over' at the 13 second marker.  If you fail to make the pass, it's drafting.
The trick here though is that it's not as easy as it seems to catch drafters.  First, in order to be fair I need to be dead-sure they're within 3 Bike lengths – or slightly longer than a minivan (about an extra 5-6 feet).  Then, I have to start my stopwatch and get to at least 15.  But most officials will go a few seconds longer just to error on the side of the athlete.
If the pass hasn't been completed within that timeframe, a penalty has occurred.
At which point, I have to gather three identifiable pieces of information – such as bike type, color, jersey, shorts, etc…  Depending on the race distance, the time penalty will vary, but for an Olympic distance race it's 2 minutes.

Also, if you don't fall back when passed, then you can get an overtaken penalty:
Now is a good time to point out appealing penalties.  You can appeal any penalty you'd like…but there's a few penalties where appealing is just a waste of time (and money) – one, for example, being drafting.  Drafting penalties cannot be appealed.  Simple as that.

2) Traffic Laws (Crossing the Double Yellow Line): This one is simple – please don't cross the double yellow line.  If you do, and the course hasn't specifically permitted it (such as a fully closed course), then it's a penalty.  As I raced the day before I saw some pretty brazen yellow-line moves resulting in near accidents with cars and farm equipment – even on blind corners.  Remember, you may be able to dodge the car, but the car may decide to turn into your fellow athletes out there – endangering or killing them.

3) Blocking & Position: Blocking is when you're impeding another athlete's forward progress on the course.  Similarly, it's also illegal to hang out on the left side as well, even if you didn't pass anyone – that's a position penalty.  Virtually everyone has been in the situation where the (slower) cyclist in front of them just sits in the left side blocking a pass.  If you went to the right, then you'll get a penalty for passing on the right (which I'll talk about in a second).

4) Abandoned Equipment (Garbage tossing): If you toss garbage, you'll get a penalty.  If your water bottle drops out of your hands and onto the ground, and you don't go and pick it up – you'll get a penalty.  If the gel wrapper flies out and you don't get it, you'll get a penalty.  This is super simple – leave nothing behind – just like wilderness camping.  If it drops, go get it – that's the only way out of the penalty.  The only valid place to drop garbage is at designated garbage dropping locations near water stops, which are usually only on half-iron and longer courses.

5) Passing on the right: Not as well known, but is illegal to make a pass on the right.  The person on the left that's blocking the way can indeed be charged with a blocking or position penalty (per above), but if you go and pass on the right, then you'll get charged with a passing violation.


Now, there's a slew of other little rules you can get hit with on the bike, but these are the big ones that folks are focused on.  And there are also different rules for both pro races and ITU races.  And WTC events have a slightly tweaked list as well.  You can see the form below listing some of the different penalties for a standard USAT race though.  This is the form I have to fill out for each penalty.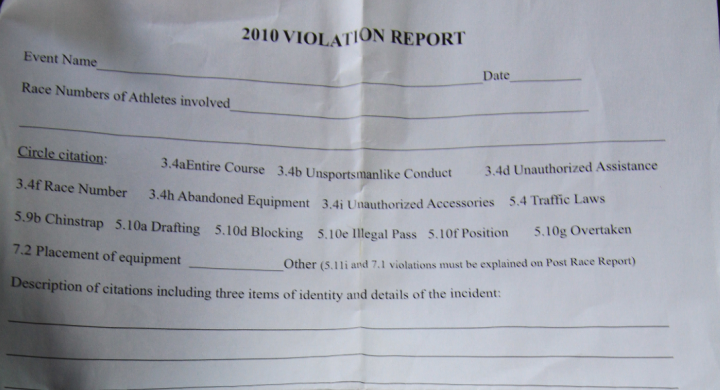 The Run: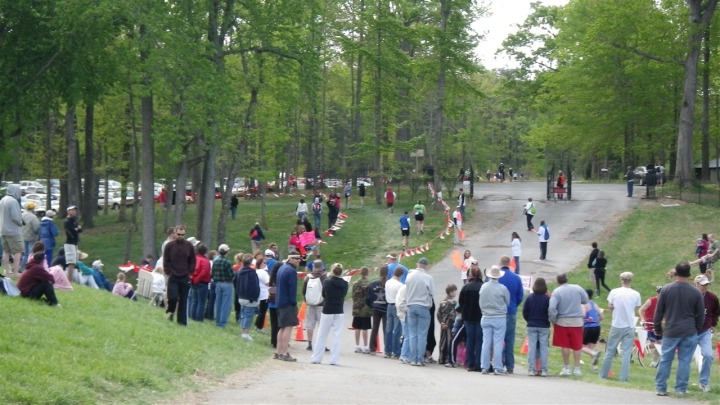 On the run, the number of penalties you'll run into (no pun intended) is significantly reduced.  And the likelihood of committing them is pretty minimal.  That said, here's what I'm looking for:
1) iPods and the like: The rules are simple here – if you have an MP3 player or other 'Unauthorized accessory' – including a hard cast – then you can get a penalty.  I know it sucks for those that really like listening to music on the run, but it is considered an unfair advantage by USAT, and thus banned.

2) Authorized assistance (pacing): Basically, you're not allowed to have folks pace you on the run.  Be it a friend running alongside, or a bike pacing alongside.  Both can result in you getting a penalty.  This is especially well enforced at the longer distance events like half-iron's or Ironman races where friends and family want to run alongside.  Ensure you inform your BFF's that they cannot go for a stroll with you during the race.

3) Abandoned Equipment (throwing trash again): Just like on the run, if you toss garbage, you get a penalty.  Just keep it to the aide station and you'll be fine.
See, like I said – the run is pretty harmless for the most part!
Summary:
Without a doubt, being a Referee is a great learning experience – and a great way to better understand the sport and both sides of the race.  I think if everyone had to ref one race, races would probably be a fair bit cleaner, and people might avoid penalties.  As a racer I know you get into that zone during a race and sometimes time and space sorta gets a bit fuzzy.  But the bulk of the USAT rules are simply there to keep you and other competitors safe.  And the remaining rules are to ensure a fair race.
Simple enough, eh?