I have officially discovered there is no better way to do local or semi-local race weekends than renting out a little RV and going full tilt at the race site.  Let's do a not-so-quick recap on how it all goes down:
First, you go to your nearest RV pickup place – ours happened to be just a few miles away and right next to a metro station (subway) – making it super ideal for easy pickup.  After a short once-over from the dude at Cruise America, I was off driving a 25' RV.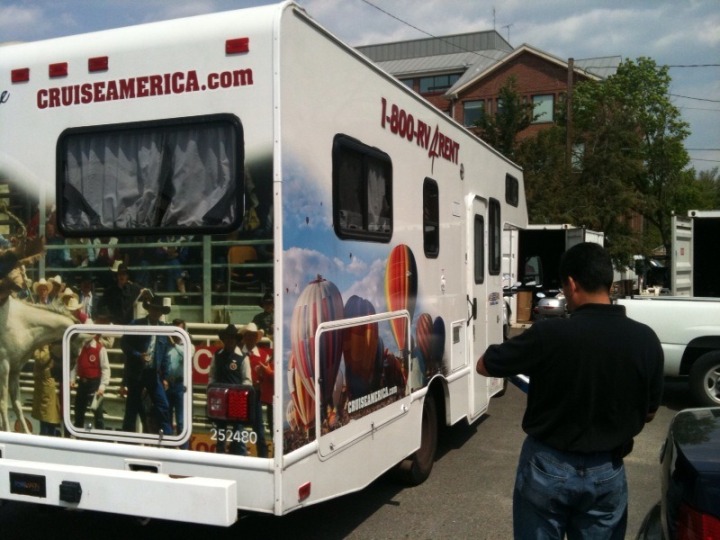 This may be an ideal point to note that I have no idea how to drive anything other than my little car (and my bike…and maybe small airplanes).  Nor have I ever driven an RV, or utilized one outside of a pre-parked condition.  Unlike my Vancouver 2010 Olympics foray with RV's, this one wasn't all hooked up for us at the RV grounds.  Nor did we have to drive it anywhere then.  Nonetheless, I successfully managed to make it from the RV rental place – to my place, to pickup our gear.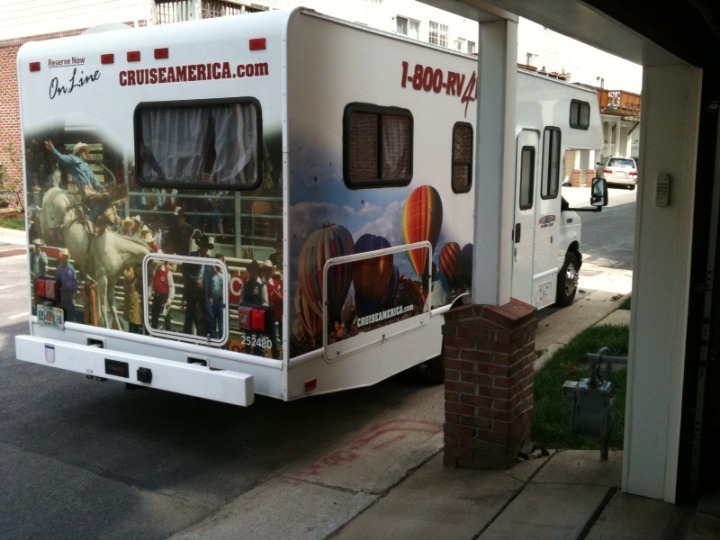 From there, we headed southbound in typical crappy DC afternoon traffic.  It doesn't suck any less in an RV, in case you're curious.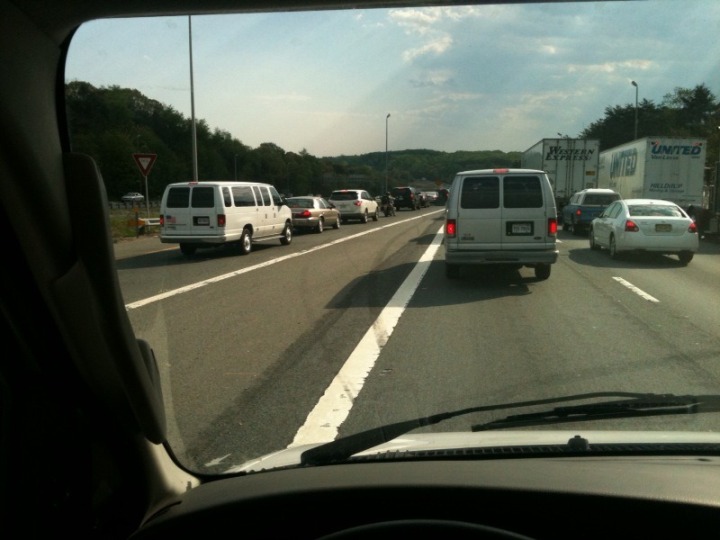 About 70 miles later (or 3 hours of traffic) we finally got off the highway and into nice rolling countryside.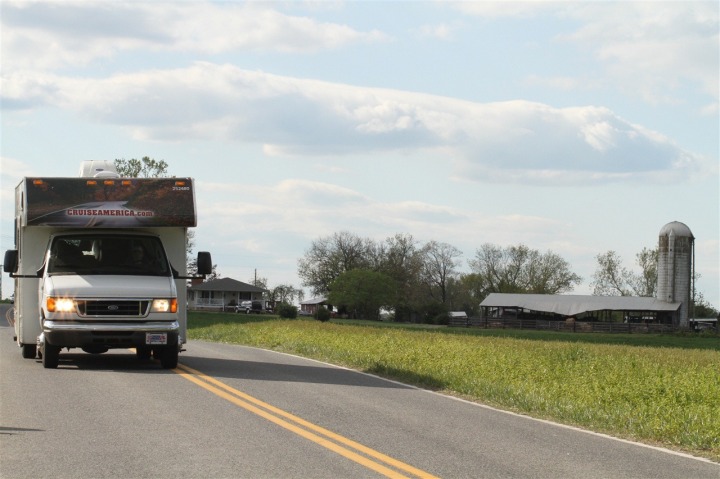 (Dramatic RV countryside scenes re-created)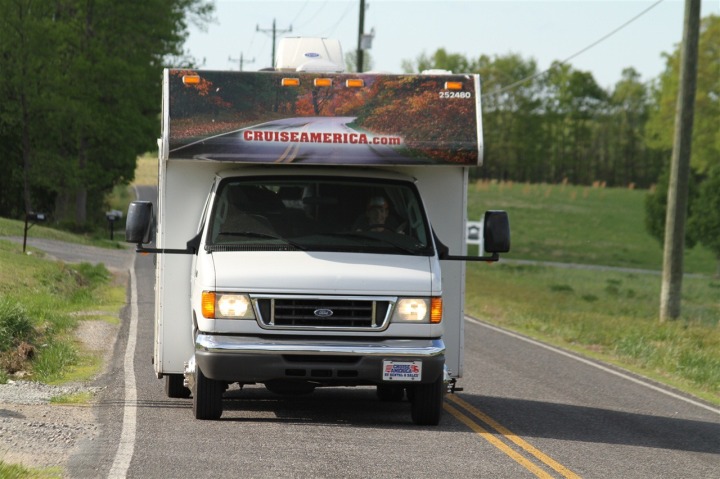 By the time we got to this point in the journey I was getting pretty good at keeping the majority of the RV not only on the road – but also in my assigned lane.  I did notice that at certain speeds the ride is less 'smooth', such as speeds higher than certain signs suggest you travel.  Many things rattle as well.  Perhaps super expensive luxury RV's don't have this musical cacophony. 
Also, I learned that if the fridge is not properly latched orange juice (both in plastic bottles and cardboard containers) will depart the fridge.  When said departure occurs gravity eventually takes over.  That gravitational pull combined with any forward movement effectively causes the orange juice to be a missile…or bomb rather…which eventually explodes with pulpy shrapnel all over the place.  It's less than ideal.
Anyway…after a long drive we successfully made it to the lake and got dinner all cooking.  It's nice to be able to cook your own pre-race meal…even if it is just spaghetti.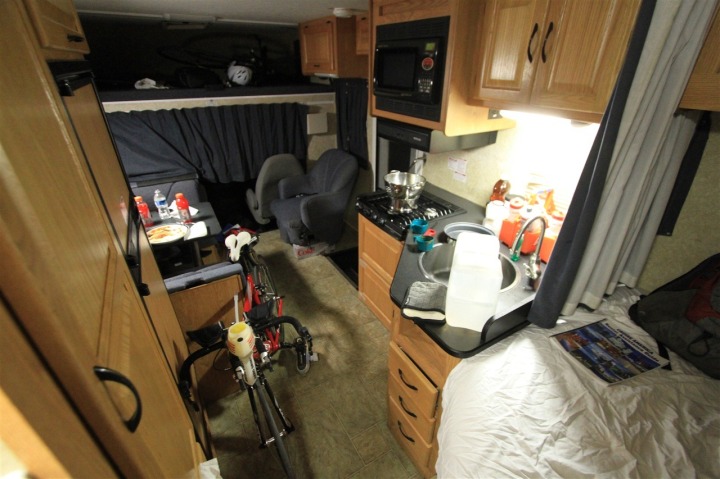 From there we simply fell asleep – happy to know we didn't have to drive anymore this weekend.
The next morning was race day – and this is where the RV starts to really shine.  For example, when we finally got around to getting up and out the door, everyone else was frantically still trying to get out of their cars and unpack/find everything.
But us?  Well, we just pulled the bikes from the defacto internal bike storage location…the extra full bed's up top: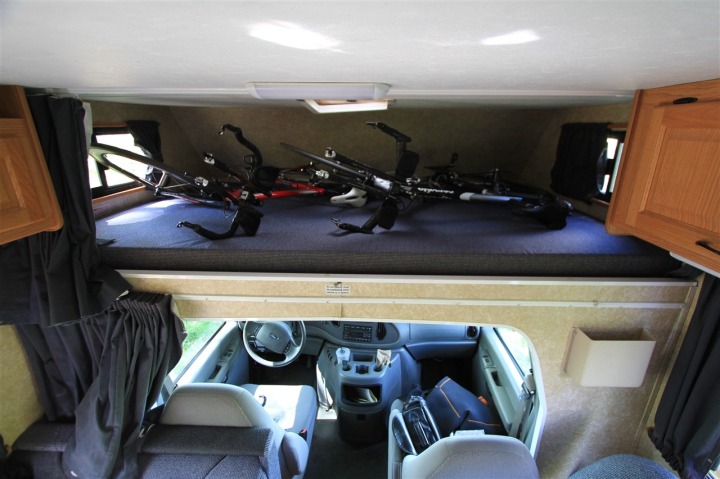 Brought them outside and took care of the tire swapping business and tire bumping action.  All from the comfort of our little home.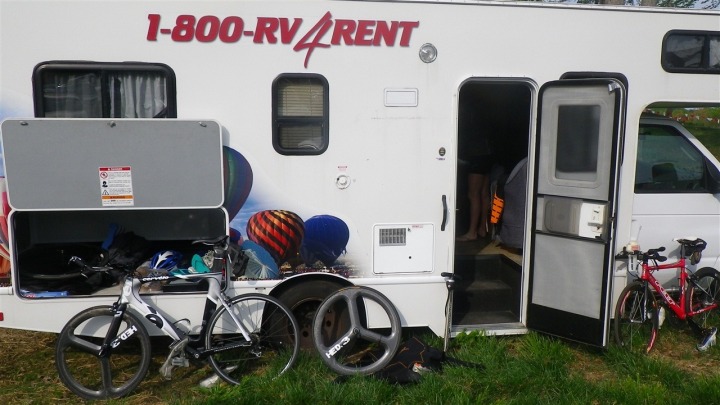 And think about all that race day nutrition mess you have to deal with far in advance at the hotel.  Us?  We simply did it right then and there.
Just take them out of the cupboards and to the official nutrition station…approximately two feet away.
Once we were ready to go we had a pretty significant distance to cover…you know…especially given the course was about 10-20 yards outside our window.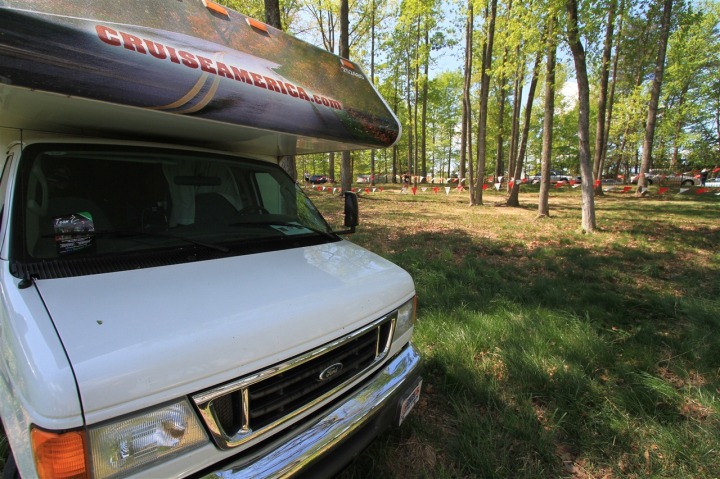 Now – the biggest benefit here – aside from the 100 yard walk to the packet pickup tent?  Our own porta potty.  Yup, while everyone else is out there standing in line – we just simply go over to our own private reserve.  It's beautiful.  And yes, there's always toilet paper.
Around this point in the RV journey it's suggested that you do like the rest of the race athletes and get on with the whole competition thing.  Which we did.  Though I did wave 'Hi' to Mr. RV when I passed him going out/back on both the bike and the run – given he was just a few feet away.  As for how the actual race went…we'll get to that tomorrow.
Once the race is over though, Mr. RV still isn't done being awesome.  Oh no – he's just begun.
See, you have (theoretically) hot showers right there near the finish line: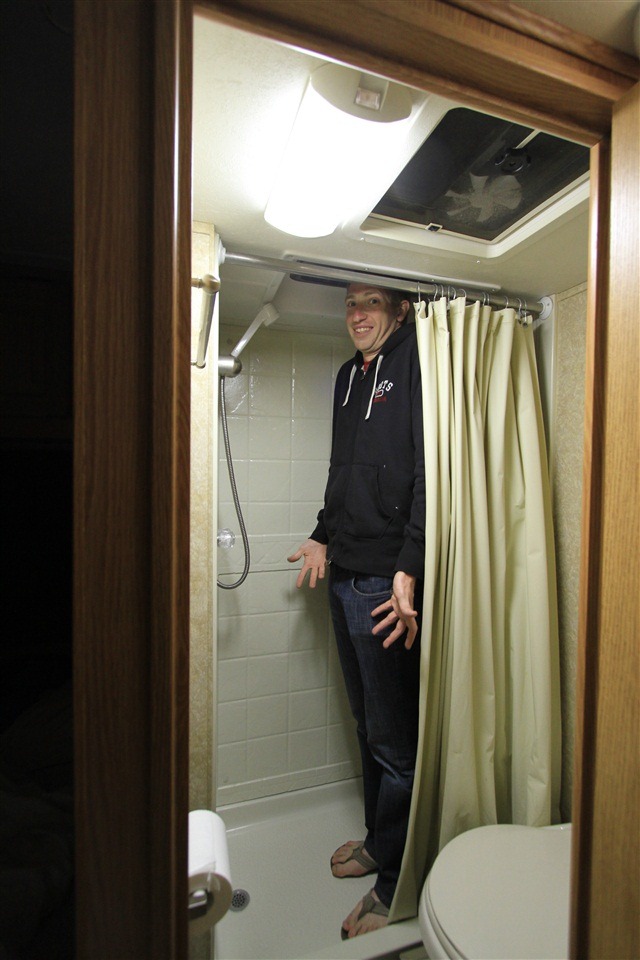 Though… I may be a bit tall, thankfully there was a sunroof above the shower for my head to go through.
And, while you may be getting wet – your wetsuits probably want to get dry.  And there's a perfect drying location for those: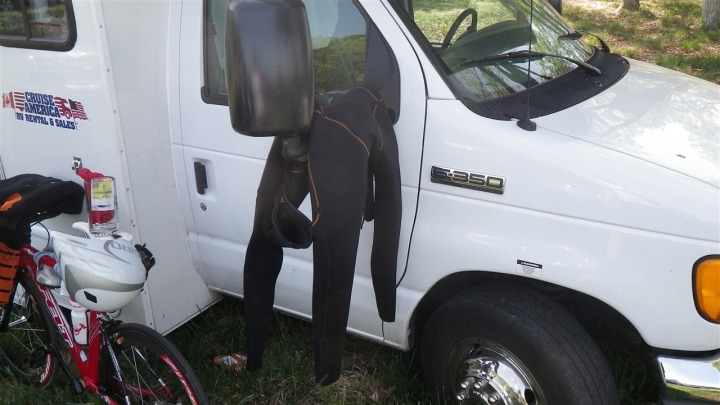 And finally, if you're lucky enough to have finished before everyone else, you can from the comfort of the RV simply open up the windows and cheer, all while surfing the internet at the same time.  See, we brought along Mr. Moosetracks (after the ice cream flavor).  That's the name of the portable 3G/4G WiFi hotspot we I have – awesome for our own private WiFi internet access all weekend long – he's hanging out there in the window below.  A friend of mine actually wrote up a pretty in depth review of the little device in case your interested.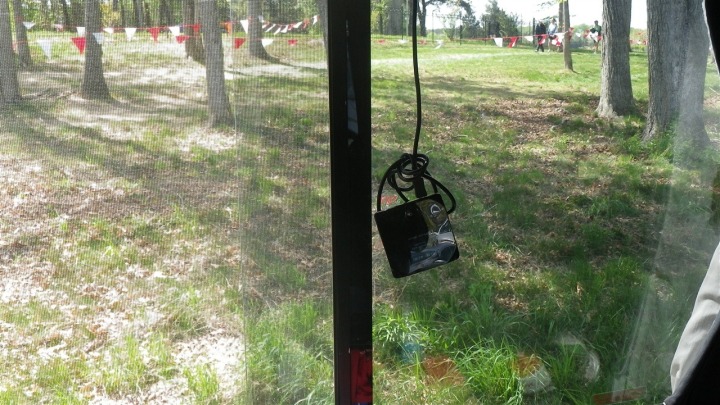 That internet also comes in handy the next day when you're tracking your friends doing Ironman New Orleans 70.3: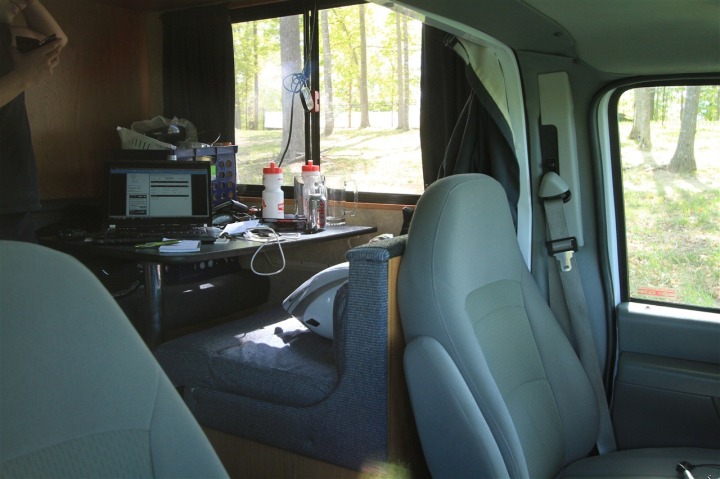 Of course, once everyone leaves for the day – you've got a nice quiet spot in the trees all to yourself again.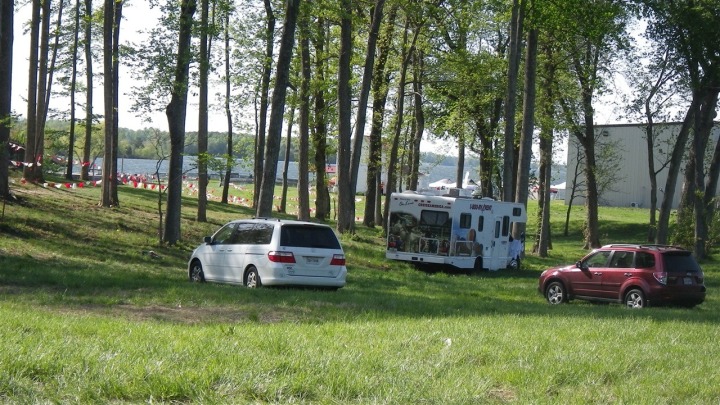 And when it's time to go home, there's TON's of storage to pack away any extra hardware you may have picked up at the race…or just simply extra firewood: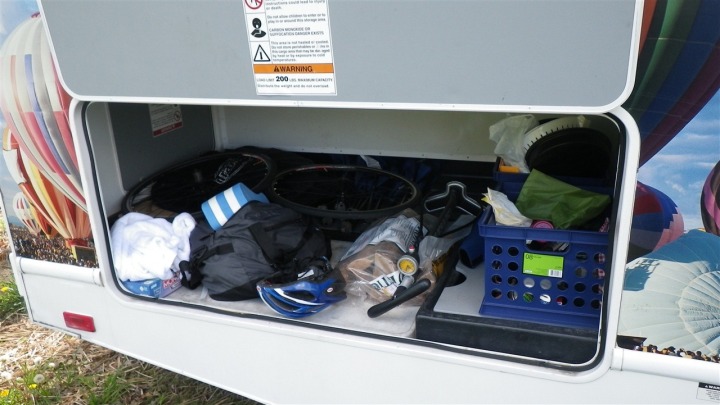 Perhaps the best thing though is the cost.  The whole kit and caboodle costs about $100-$120 a night including fuel.  Not too bad at all really – basically the same you'd spend on some small motel down the road – but without the luxury of a kitchen or no commute on race day.  And of course, I'm pretty sure $100 is worth the cost of your own porta potty on race morning in and of itself.
But that's just me…
…as for the race report – that's a 'coming tomorrow.