We heard the news late the day before, and worked for about a day and a half to see what our alternative options were.  What news you ask?  Well, due to the lack of snow at the Winter Olympics, the bulk of the spectator tickets for many of the snowboarding tickets were cancelled.  This was due to the snow melting in the area where the spectators like us were going to stand.  Only those with super-expensive grandstand seats were permitted to see the events.  As a a result, our snowboarding half-pipe tickets were no good.  Thus, we had a pretty substantial 7 hour gap in our Olympic schedule.
So what do you do?  Well, you fish around the RV park's listing of 'for sale'/extra tickets and see what other folks are trying to offload.  Turns out a few RV's down a die hard Olympic fan was looking to offload two tickets to…curling.
Given The Girl is actually a curling fan, this turned out quite nicely.  The guy gave us 2 for 1 prices (and at just face value, which is an awesome deal in this town), so for only $35 each, we headed out to the Curling Venue: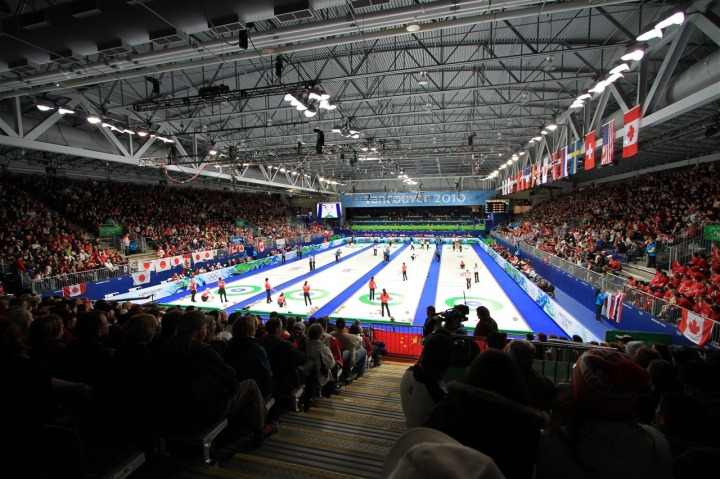 Turns out, we had awesome seats – right at the end of the Canadian-Germany lane: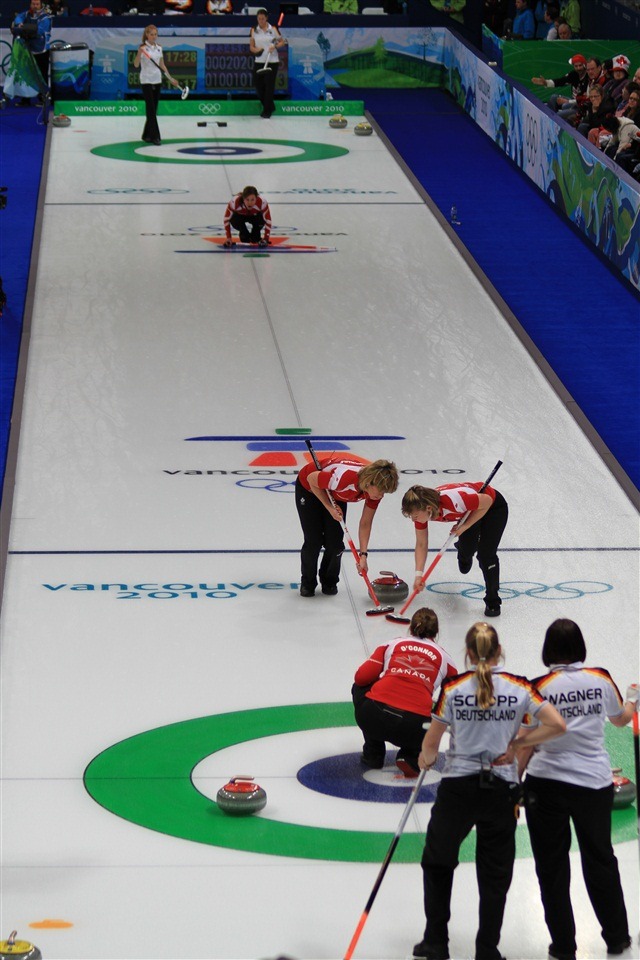 And the American match was just a few lanes over: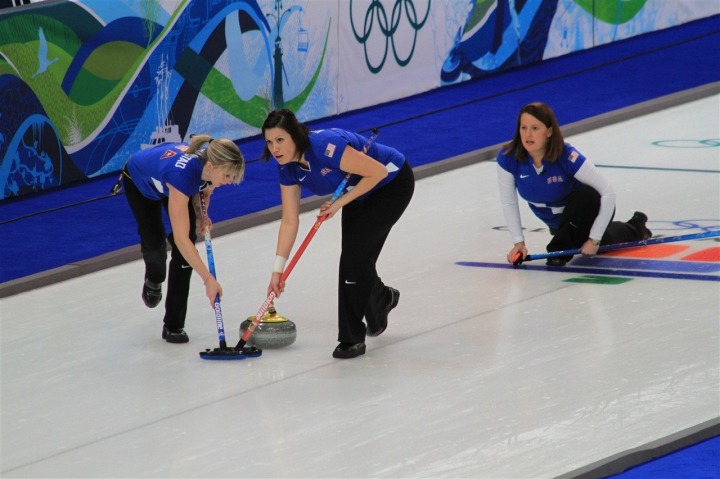 The Russian-Great Britain matches were squeezed in the middle, along with the China-Japan match: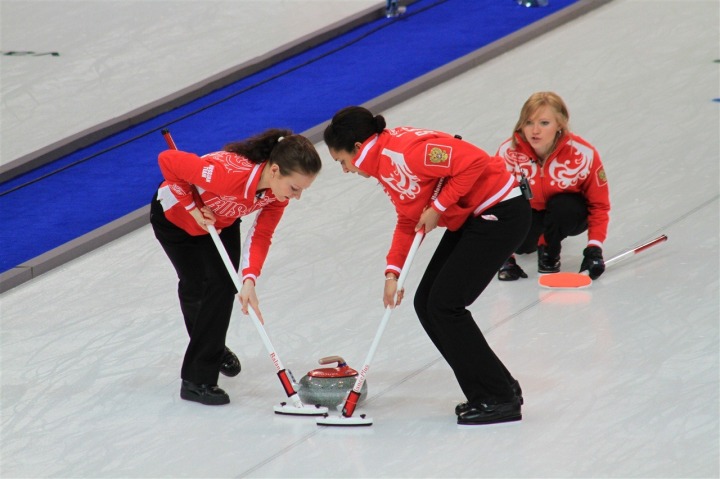 Now, somewhat surprisingly, you can actually get into curling a bit.  It's a very technical game that kinda resembles a big chess match.   Making the situation more interesting was that curling is huge in Canada, and the game was in Canada – which meant a MASSIVE hometown crowd.  Further, people that go and watch curling…are generally…really…really…really…into curling.  Kinda like people who who watch bowling, croquet or polo.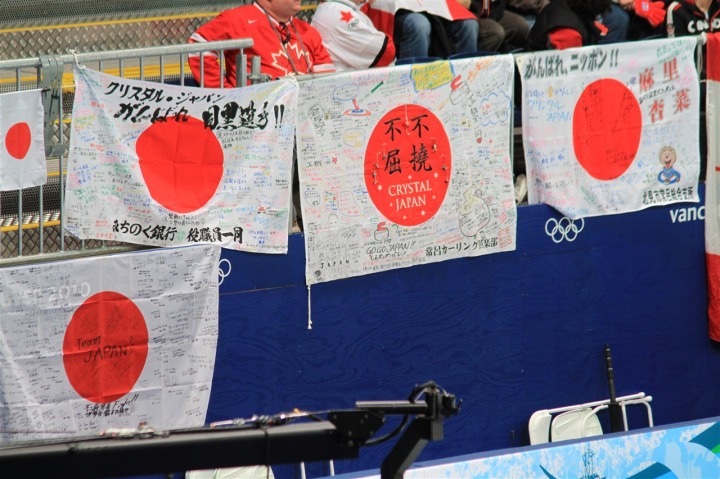 Anyways, good times!
Post-curling we headed down to the Olympic Store, which is where they sell all of the Olympic branded merchandise at highly overpriced rates.  In a lot of ways, it's kinda like the merchandise store at an Ironman – there are big lines to get in, and the price tags are even bigger once inside:
That said, it generally doesn't keep folks from picking up items.  I got a few little things, including a poster and a cowbell – I now have cowbells from Salt Lake City, Turino, and Vancouver.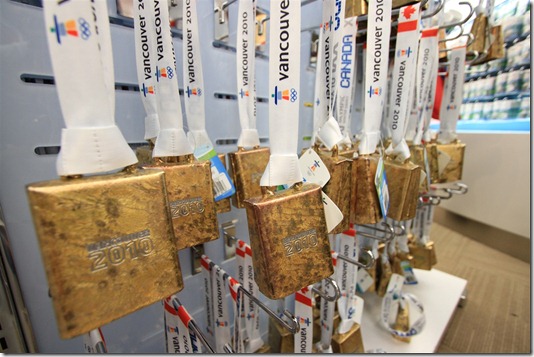 Of course, there's tons of other trinkets as well:
Now, the big talk of the town are these red mittens – for only $10.  They usually sell out within a few minutes of being put out on the floor, it's crazy competitive to try and get the right size – like when stores open up for Black Friday sales: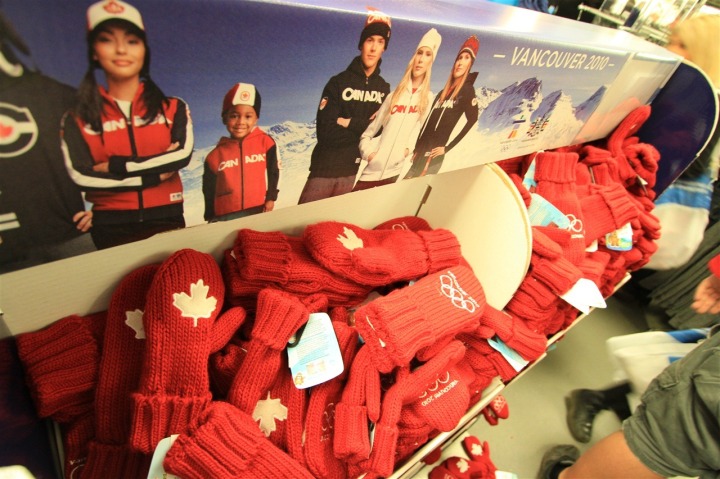 I literally had to keep my shopping bag sealed tight with my hands otherwise normally innocent grandma's try to poach them out of your bag when your not looking.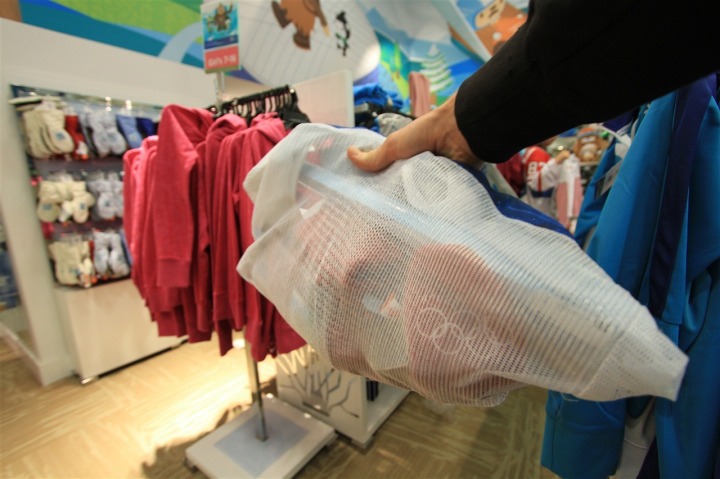 Once I got everything, it was off to the check out stand to let the Visa card to its thing.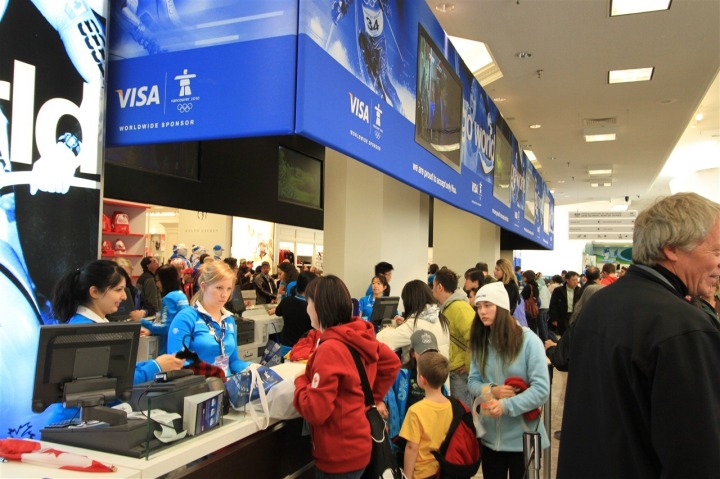 After our shopping expenditures, we headed on over to catch a hockey game.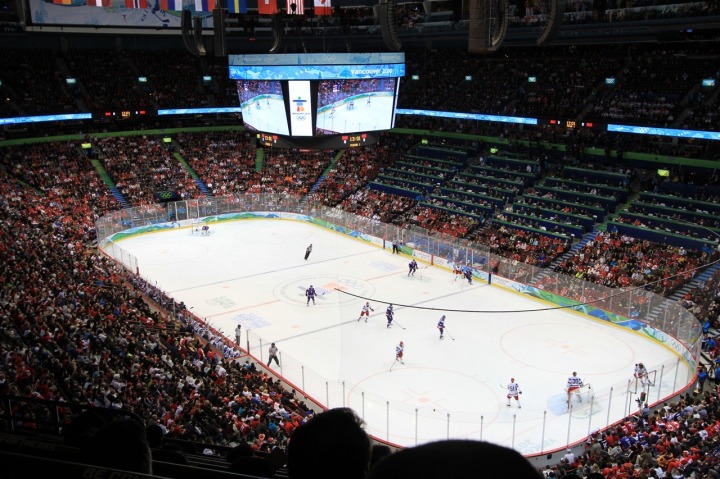 (Notice the massive section of media seats?  Amazing how much space they take up…)
When it comes to Olympic tickets, hockey is sorta the sport that's easy to get tickets to.  You typically buy game tickets for matches before you know who is actually playing.  So sometimes you luck out and get a solid match when the teams are announced.  This night we got to see Russia go at it with Slovakia.  Anytime you have Russian's involved, it's going to be entertaining.  Now you add Russians, Hockey and a bunch of Canadians rooting for Russia to lose (it benefits them later on) – and it's even better.  It did not disappoint.
We also got to see Alexander Ovechkin play – a local DC NHL Capitals player, that is playing for Russia.  This was the game where he flatted a Slovakian opponent.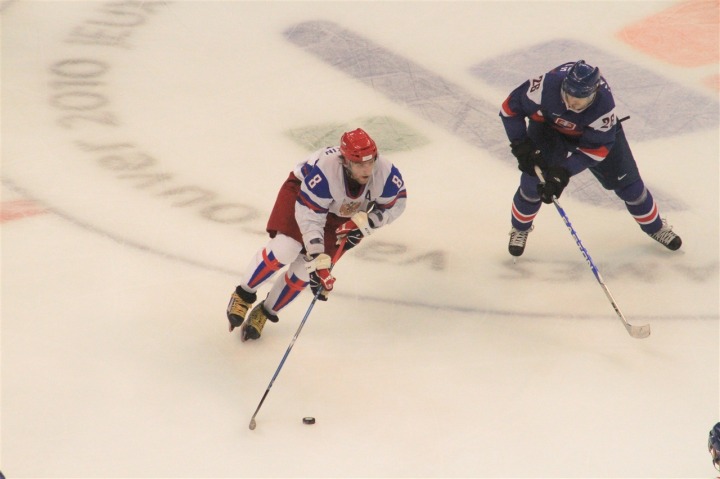 In looking back on the game, my brother pointed out one valid difference between the hockey games here in Vancouver (2010), and those in Torino (2006).  In Vancouver, they had a 'cheerleader' in the aisle here and there: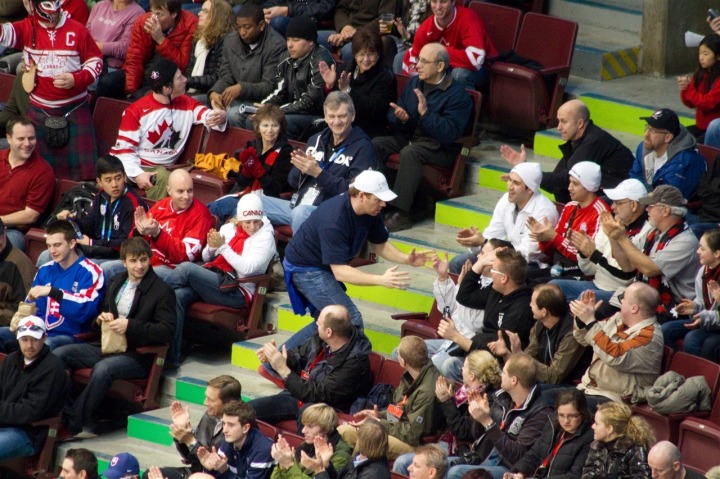 In Torino – they had cheerleaders: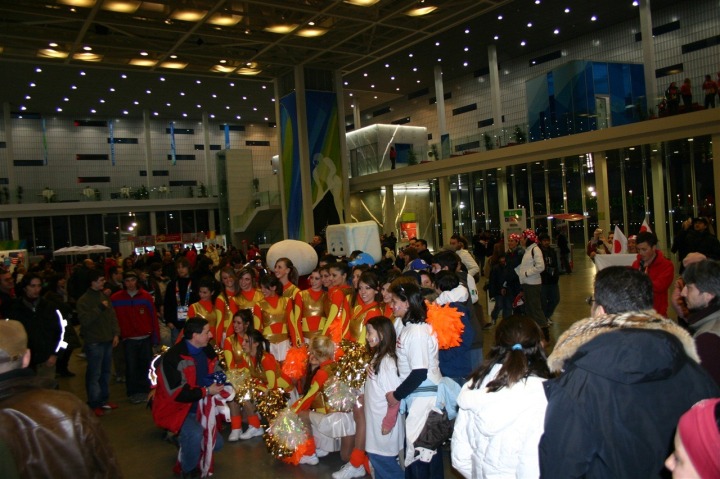 (Above/Below – From Torino, the Ukraine vs USA game)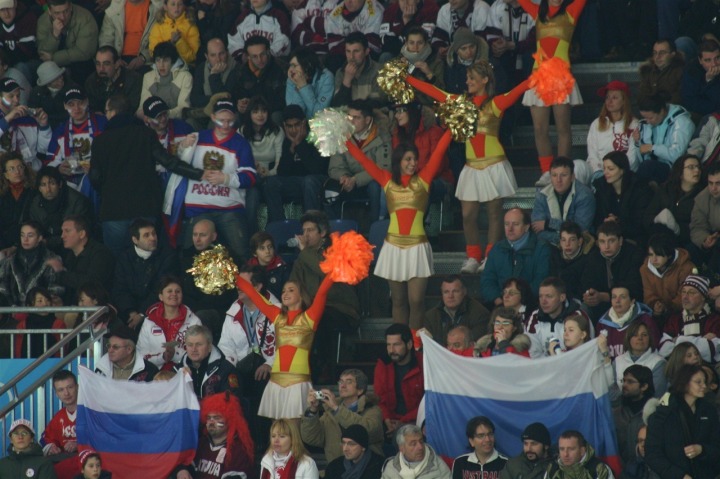 I wonder what Sochi, Russia (2014) will bring?  Well, hopefully the fan/guy below isn't the centerpiece of their plans (yes, he's wearing a giant teddy bear costume, and yes, he's waving a massive flag…and no, I have no valid explanation):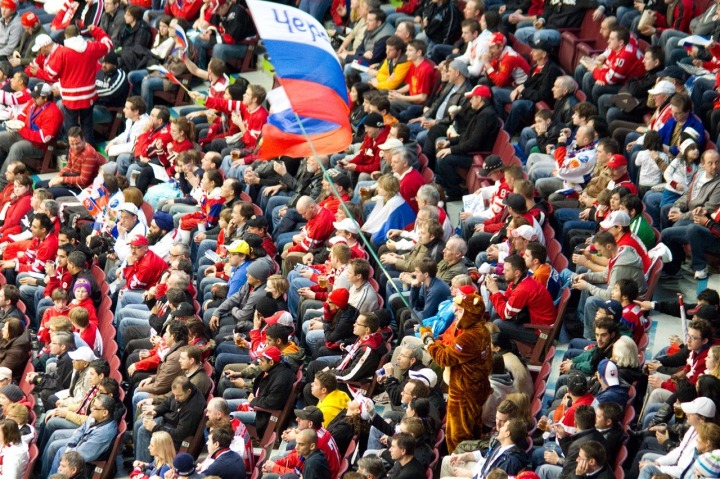 What's on the docket tomorrow?  It starts with a trip north up to Whistler…