Over the past few months I've gotten a ton of questions around Sport Tracks 3.0 and what I think of it.  In the past I've recommended Sport Tracks in the past pretty heavily because of it's free status and because it's pretty kick-butt.  But the primary trigger point for many of the questions around 3.0 is the new pricing model.  Up until this point Sport Tracks was fully free…but now the new 3.0 full version costs $35.
Now, there's still a free version which offers many of the features as the full version, just with some capacity limitations.  So I'll discuss some of those details later.
Before we get into the weeds – let me first preface with what Sport Tracks is for those not familiar.  In short, it's a desktop app (though not Mac compatible) that enables you to manage all of your training activity in a single location.  It's highly customizable, and can accept additional plug-ins from developers across the community.  It's like Garmin Connect…except on your PC, and a million times more in depth.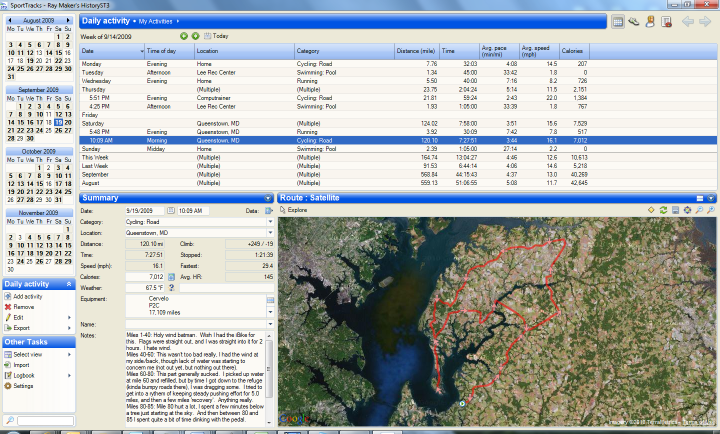 I've talked at length in the past about ST – including my Top 10 Tidbits for Sport Tracks.  These posts, combined with peoples general love for Sport Tracks, have helped it to gather over 80,000 users.  A fair number for a downloadable application in a niche genre.
So finally, what's new and improved in this milestone new version?  Well, let's get into it…
What's new:
The full list of all of the new features can be found here.  But I'm instead going to focus on the ones that I think are most applicable to folks, or simply the coolest.
FIT File support (read: Garmin 310XT/Edge 500/Edge 800 native support)
When the Forerunner 310XT was introduced in Spring of 2009 so was a new file format – the .FIT file format.  While the 310XT was kind enough to also export out a legacy .TCX file, the Edge 500 and Edge 800 did not.  As a result, folks couldn't easily get data into sport tracks without having to first export it from some other program.  However, with 3.0 – that's now been resolved.  It includes a .FIT parser, so it's able to natively handle all the latest Garmin devices.
For example, below is the brand new Garmin Edge 800 – you can see it easily pulls in my ride file: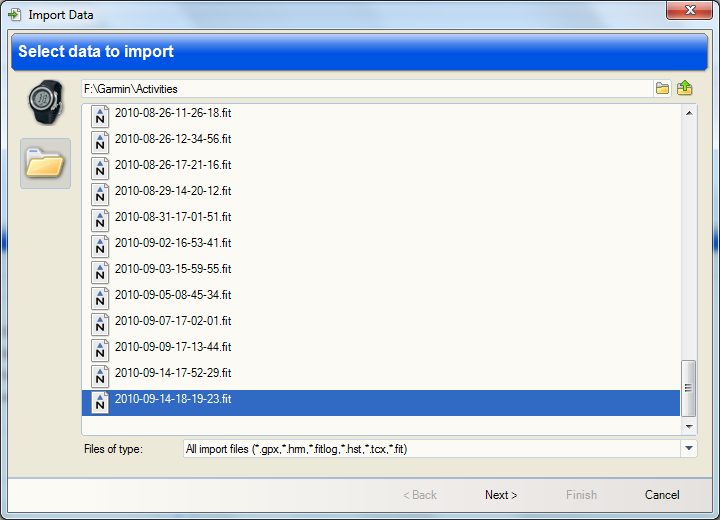 And, once imported, it shows up in all its glory in my logbook – including details such as power and laps.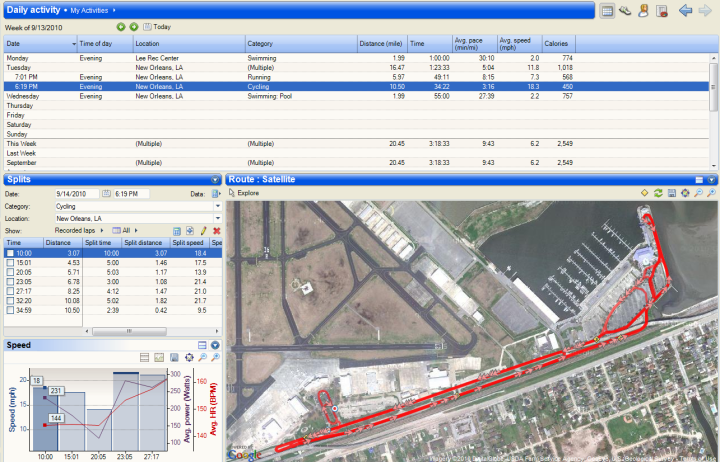 Customization of speed/pace types
One of the issues in the past was that if you entered a 3,000 yard hour long swim, it would show you're distance in either miles per hour (MPH) or in minutes/mile.  Basically, as if the activity was running or cycling.  Now, you can customize how these pace units are displayed.  Here I've customized the swimming metric: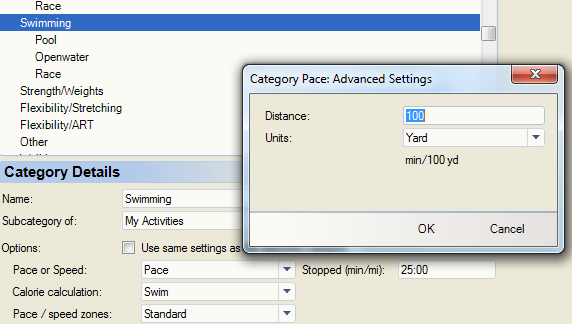 Now when I look at a given swim, it'll show up as minutes/100y instead: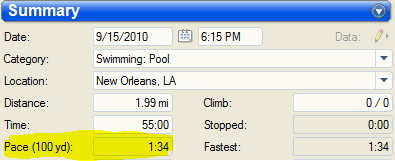 Addition for Google Terrain Maps & Other Providers
There's now even more options when it comes to mapping.  In the past, you had to utilize different plug-ins to get different mapping providers.  Now, you can quickly make swaps – including to some more open sourced options.  This is useful if you have an area that's not well served by one of the major providers.  For example, here's a short kayak trip I did up in Newfoundland, by changing the map mode you can see the nearby terrain more easily than if I was using the low-res Google imagery for that area:

Or just in areas like mountains where it makes the elevation changes much more clear: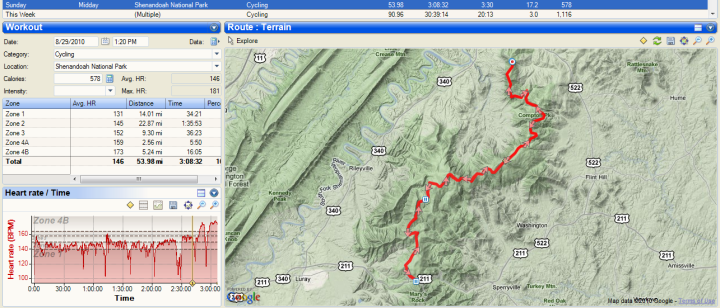 Ability to create custom data fields
This may sound trivial – but it's actually super cool.  Most applications have fields to place common bits of information – like 'Run Description'.  But Sport Tracks now has the ability to create your own data fields, and populate them wit your own data.  For example, I created a category called 'Nutrition Used" – where I could put in what type of nutrition.  I then went and put a quantity as well:

Of course, your imagination is the limit here – tons of options.  I contemplated "Total cookies consumed afterwards", but figured that might lead to bad things.
Lots of new reporting and charting options
They've overhauled the whole reporting interface to make it much easier to chart to your hearts content.  For example, now you can show up to four chart pages per screen.  While I'm not sure this is terribly useful on its own, I think it can be interesting if you're trying to note trends with respect to cause and effect across multiple data segments.  I do wish I could do the same however on individual activities from the activity view – and say display HR/Speed/Power/Cadence as separate charts in the same manner.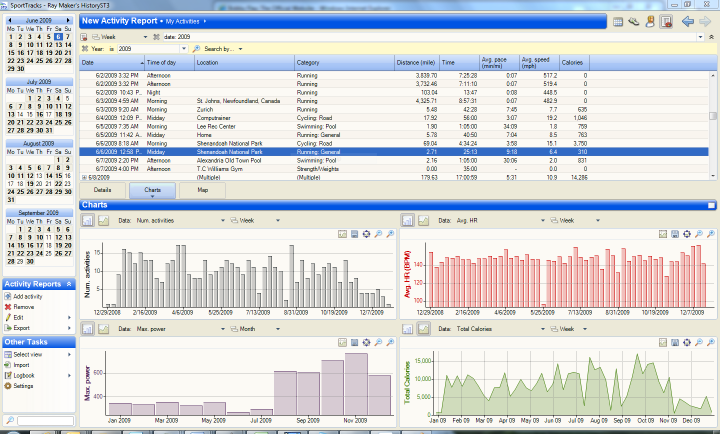 Of course, my favorite report is still the good old world map of workout locations:

Files longer than 18 hours
Speaking of worldly things.  If you're out there longer than 18 hours – such as for Ultra's and the like, Sport Tracks will now support it.  This also goes for anything crossing over time zones or past midnight.  In the past these things caused some trouble.  For me, that was most visible actually when I'd leave my GPS on during long international flights.  Now – these files open up seamlessly – and you can also join multiple files easily as well: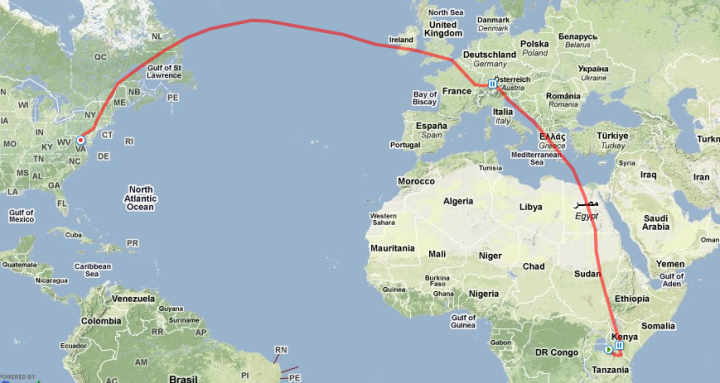 Behind the scenes
Much of the work has gone on behind the scenes in enabling a foundation for better plug-ins in the future and a more integrated approach.  As such, you may not see some of these improvements initially – but they are being worked on.  If you're a developer – you can start here to learn more.
One area though with respect to development I thought could have been streamlined was the plug-in purchase process.  Today, plug-in's are sold on each developer's own website and you download the applicable files from them.  I'd much prefer an Appstore approach to allow for cleaner installation and a bit of QA to plug-ins being submitted.  Just my two cents though.
Things that are gone…or could still use work:
Some of the plug-ins that you've had in the past may not work on Sport Tracks 3.0.  In my case, all the ones I had, did actually continue to work – so that was good.  But I know there are some out there that might require updating.  But by and large, virtually all critical features within the Sport Tracks application itself were maintained.
Then there are those features that I was hoping would be included.  For example – at $35, I'd expect to see some form of online backup component for the logbook included.  Given my logbook of years of data is only about 20MB, it would be a relatively trivial cost for Zone Five Software to store backup copies of the data using an online cloud service such as Amazon S3 or Microsoft Azure.  The biggest complaint I hear from folks about Sport Tracks (aside from lack of Mac compatibility) is the concern about losing all their data if their computer dies (and given most folks don't have good backups, this is a valid concern).
The second item I was really hoping to see solved/addressed was the Mac side.  This is due to the fact that the application is written in the .Net Framework, which doesn't have a Mac runtime.  While I fully understand the reason there isn't a Mac version due to the coding language chosen, I think it's artificially limiting growth of the application.
And finally, I was hoping to see some of that Cloud/Online based integration I was referring to above, where I could utilize a iPhone or Android App to connect to my workout data.  Workout data would still be stored locally, but also a copy online – thus making it available to me anywhere.  And then perhaps show a subset of data.  Similar to how Withings does their iPhone/iPad app for their wireless scale.
Price & Summary:
Looking at the two versions (free and $35) – I honestly think most users can get along just fine with the free version.  It's really the advanced reporting and plug-in limitations that might draw folks towards the paid version.  For example – if you have the Withings WiFi Scale and use the Sport Tracks plug-in for it, in the free version of ST3 it will only show 90 days of data – whereas you'd want the full version to see all the deets.
One of the issues I'm seeing is that it's not terribly clear up front on the site that there is indeed a free version.  In fact – if you didn't know anything about it, you might simply continue on wandering to any one of a number of online sites that do the core functionality for free thinking that ST is only available in a paid version.  To get the free version, you simply download the paid version…and don't pay the money to activate it.
However, Sport Tracks in my mind isn't just about core functionality – it's about all the really interesting and cool things that you can do.  It's about the ability for developers to create all sorts of plug-ins to do anything from importing Nike+ workouts from your iPod to TSS style analysis.
Further, Sport Tracks in comparison to other products out there (such as Training Peak's WKO+) is relatively cheap at about a quarter the price.  And, by and large it does the majority of what WKO+ does if you include plug-ins that only cost a few dollars extra (like OMB's Power Plug-in)  In my opinion, desktop-only programs like WKO+ are slowly sliding towards the edge of the cliff – especially once you look at the online options with Training Peaks.  Years ago with only a few folks looking at power meter data, it was highly specialized – now, it's more mainstream and thus the application needs to appeal to more mainstream folks to stay alive.
So – would I spend $35 for Sport Tracks 3.0 and the plug-ins it enables?  If you value the ability to really dig into workouts and analyze them, then there is no better value across multiple sports than Sport Tracks.  There are certainly some applications which when looking at a single sport (i.e. Cycling) do a better job out of the box – but nothing like the holistic view that ST provides.
Thanks for reading!  As always, if you have any questions, feel free to post them in the comments section.