One of the most common questions I get is how you can create routes and maps that you can follow on your Garmin device.  Many of the most popular devices support this feature – including the 305/310XT/500/705 – however most folks never use it.  So, I set out to create an easy to follow guide for how to most efficiently create a route and get it on Mr. Garmin.
First, let's site with the easiest site out there for creating routes – MapMyRun.com/MapMyRide.com.  Here's how it all goes down:
1) You select to create a new route.  You can create an account if you'd like to save them handy for future reference, but you don't have to – or simply choose one of a bajillion already out there (technically that's 1,831,610 routes).  From there you simply map out your route like you'd normally do: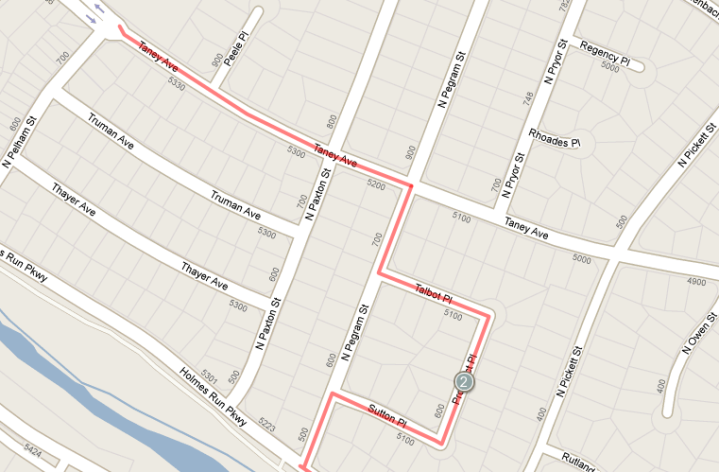 2) Note a couple of things – you have the little option to 'follow roads', you can turn this on or off mid-route.  For example, if you divert onto a trail, you'll want to deselect this for that brief portion, then turn it back on.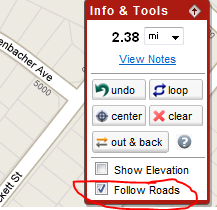 3) Also note you can add points to create a printable cue sheet – or create markers with things like 'water', 'aide', 'turn left' etc… I was hoping these would show up on the devices, but they don't. 🙁  Just for printing (I always have a backup printable cue sheet just in case for long rides).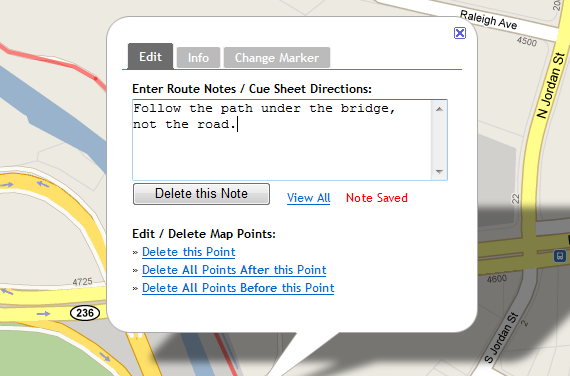 4) Once you're done creating your masterpiece, you need to save the route.  You can make it public, private, stored in your account and assign it a ton of options.  The key here is you have to save it before you can export it to Mr. Garmin – otherwise the option to export won't appear.  You don't have to create an account though to save a route.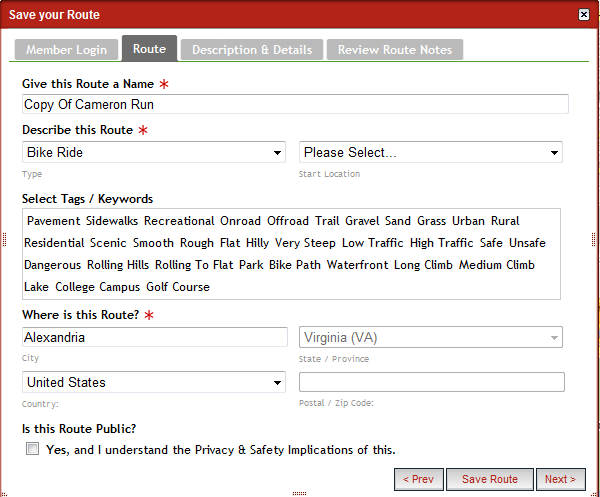 5) Ok – all saved?  Good.  Now comes the fun part.  Click the little route button, and then click 'Save to Garmin/CRS'.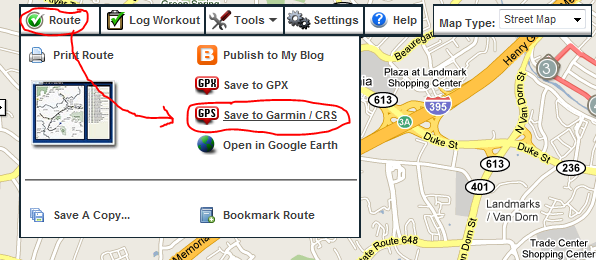 6) You're then able to choose a speed or pace which will trigger the Virtual Partner feature on your device – which is useful for pacing (particularly on runs).  Once done, click Download CRS file and save it away somewhere where you won't forget it for at least 8.5 seconds (I suggest the desktop…).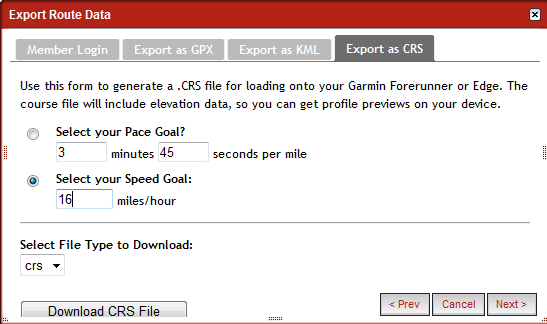 7) Now crack open Garmin Training Center, and select to Import the Course file you just created.  It will show up then under Courses.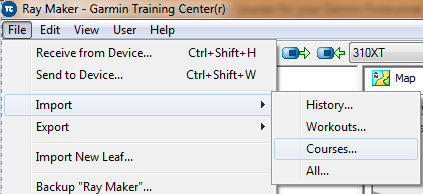 8) Then just click the little blue button to sync it to your device (next to the text '310XT' above).  Zip!  A moment or ten later, it will be on your device (Ok, I'm going to assume you've connected the device…otherwise now is an opportune time to do that…)
Let's get on the bike!…or the run!
9) Ok, go ahead and start your device and navigate down under Training to Courses.  It will vary slightly by device – but all of them generally have it in the same rouge place.  I'm using the Garmin Forerunner 310XT as an example…mostly because the orange looks pretty in pictures.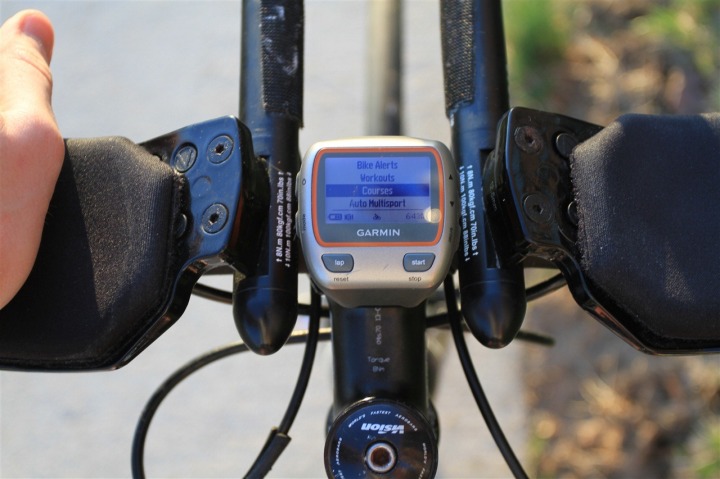 10) Once you're there, you can choose your course – the one I'm using here is named Cameron Run.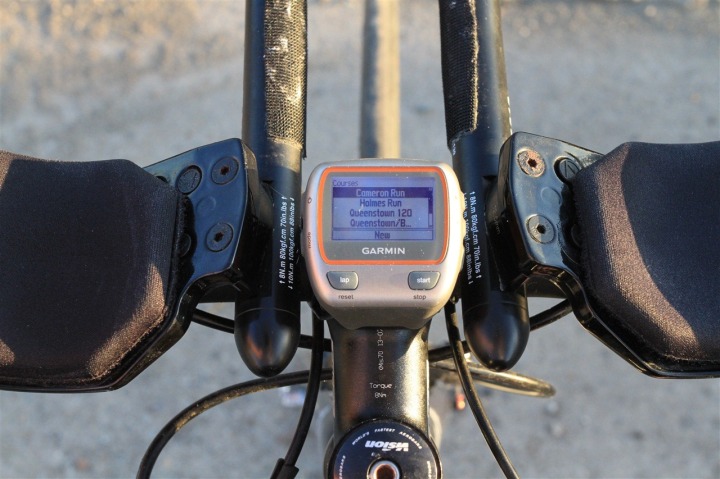 11) If you select it, you'll get a few options, including do course, show map, and show course profile.  Here's what the elevation looks and map looks like – all data included in the course file.  The map is pretty basic – just a simple outline on a blank slate – but it works.  That 'Edit Course' option you see…well that's mostly useless.  It's just to change the name of your course.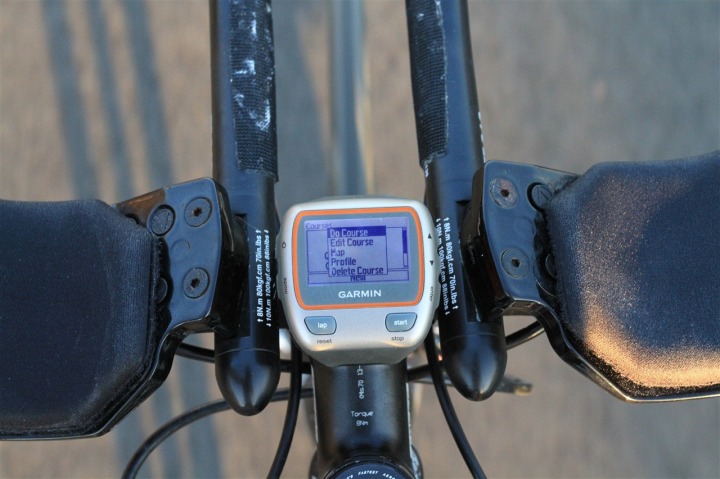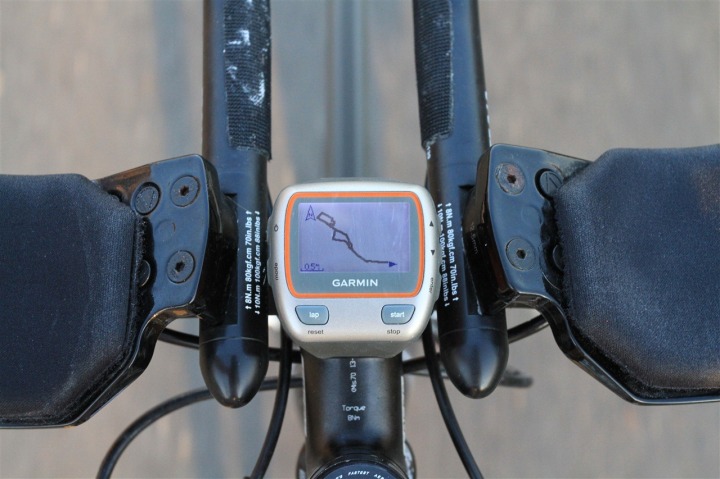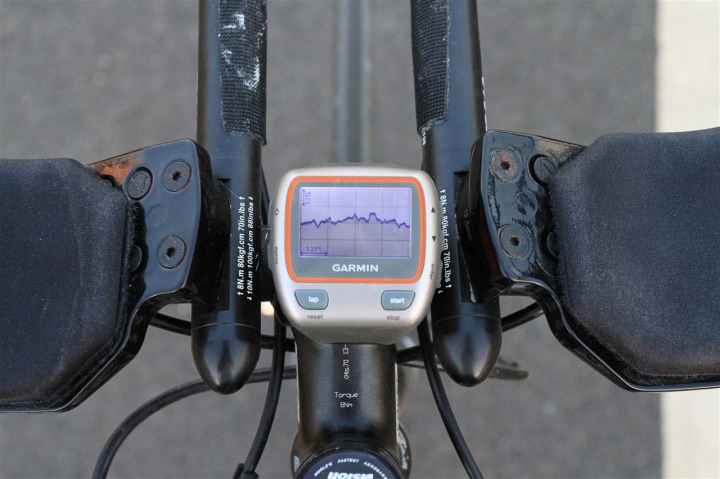 12) Ok – enough looking at the maps!  Time to ride!  Click 'Do Course', which then gets things moving.  Now – unlike your average Car GPS, this won't show you street names, or tell you to take a turn in 200 feet (though, the Garmin Edge 705 will do those things).  This is more like Boy Scout orienteering.  It's not perfect, but I've done some 120 mile rides in the middle of nowhere with it, and it is functional.  It follows a breadcrumb trail of little dots – many of them, thousands of them – getting you to your destination.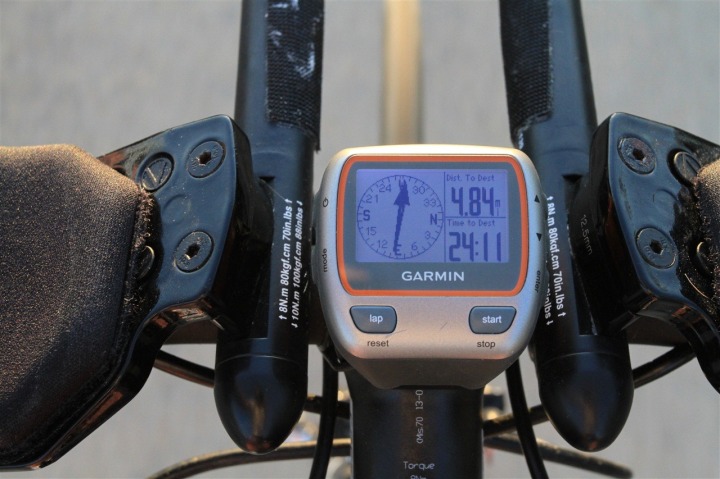 13) The cool part is the virtual partner page is easily accessible, and will show you how far ahead or behind you are with respect to your goals (you can see the 'little man' below that you're trying to beat):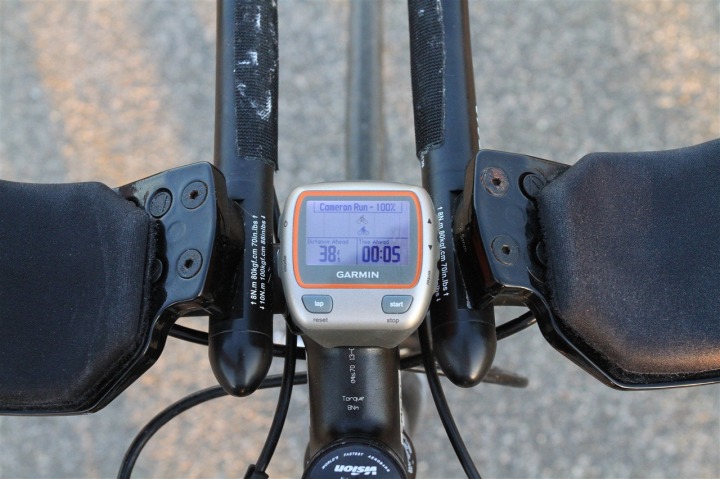 If you want to see where you are and where your little friend is on the elevation map – you can do that too: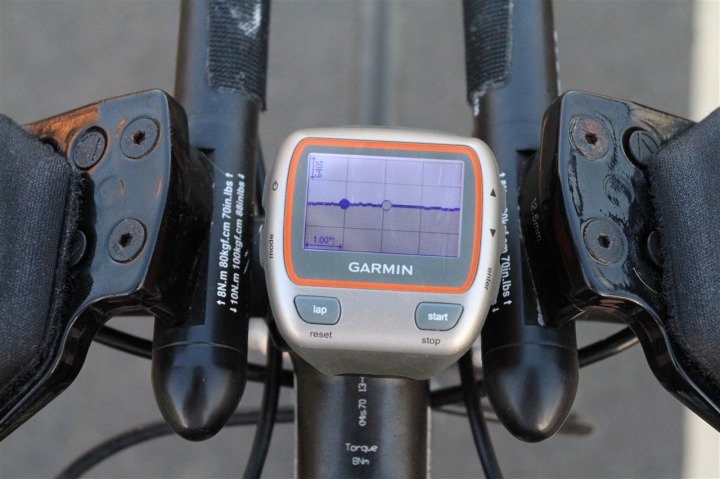 Finally – you can also see all the usual ride/run information that you would normally configure – along with data about the overall course following progress.
14) Last but not least, if you stray off course, the device will warn you, and tell you how to get back on course: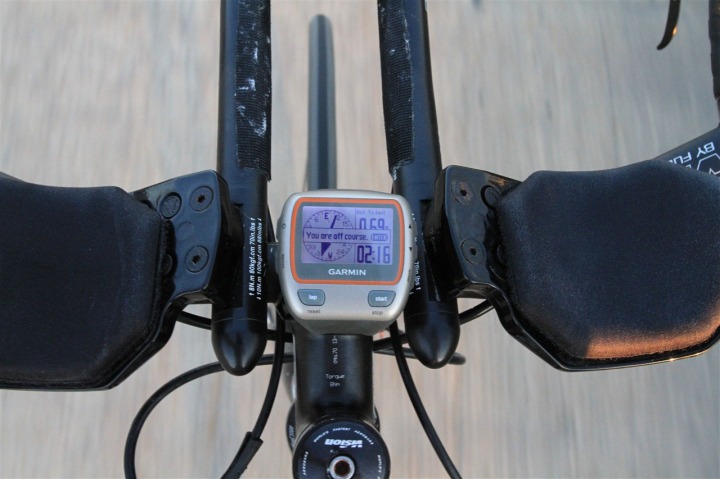 PS – For those curious, the above Garmin 310XT above is actually using the Edge 500 mount with the 310XT Quick Release Kit base piece.  I personally find this the best combination, as the Edge 500 mount is a nice easy non-Ziptie solution (uses industrial rubber bands) that you can quickly move between bikes without any tools (scissors).  The kit includes two bikes worth of Edge 500 mounts, so you really can't go wrong.
So – with springing now sprunging – go forth and conquer those new routes – without fear of getting hopelessly lost with all new new birds and bees out there.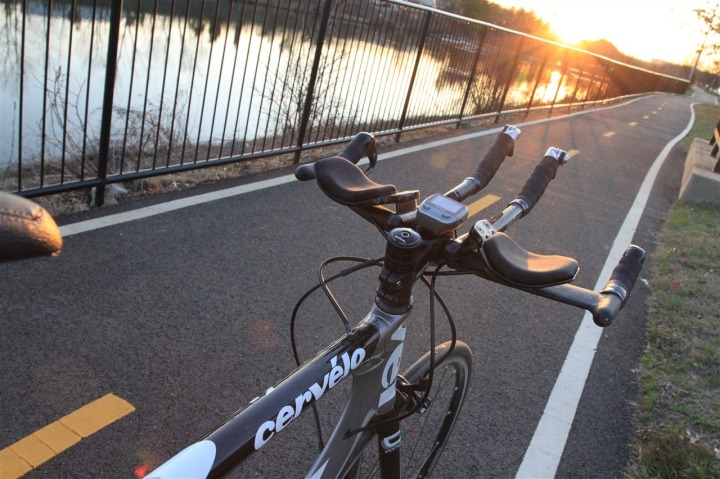 (Tonight…sunset – on a 70*F day in DC…finally – spring has sprung!)