Earlier in the week I had finished up my bike and run and was delegated to go to the grocery store to search out options for dinner.
Meanwhile, the Girl was just leaving for a short run.  Given I had just solicited feedback for dinner, she knew what store I was planning on going to – and I had a good handle on where she was going – just in case something came up.
So I set about to complete my mission as the hunter/gatherer, and she went about hers.  I got to the store, wandered around for a bit and eventually ended up with a boatload of interesting things to eat and cook.  I went ahead and checked out and went downstairs to the parking garage (which is below the store).  As I looked out across the vastness of the garage I see a strange large orange cone protruding towards the ceiling like a beacon of light.
As I near closer, I realize this orange space needle is actually based on the roof of my little car. Sorta like a bike on my bike racks, but…not. Which…is…well…kinda strange.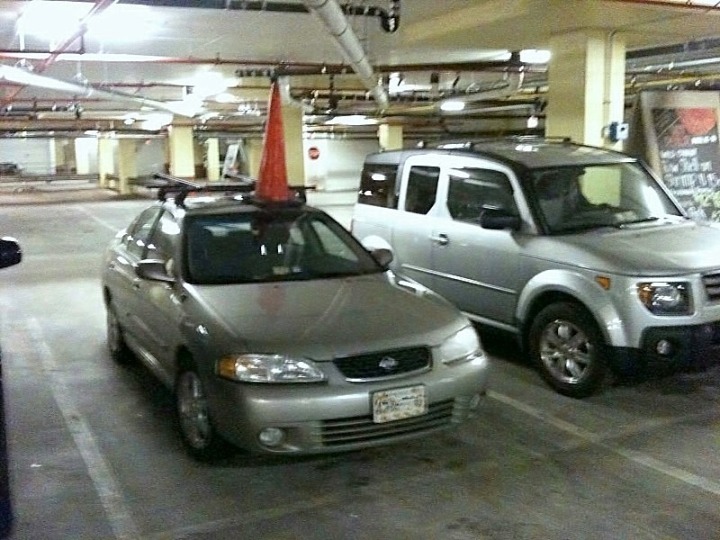 It was then that I realized it was a message from The Girl.  A sort of 'Hello, I was here'. 
She had learned.  She had learned from when I did this to my coach during a 20-mile run.  Except in that case I had used a nice big rock on his doorstep.  Thankfully she didn't use a rock on my car.
Have a good weekend all – I'll catch-up after the race on Sunday!