I think mentally I had written off this week as part of the taper for Rhode Island next week.  Perhaps because I didn't really look at my schedule in detail, perhaps because it was July, perhaps because I don't really know why.
Let's recap thus far…
Sunday: 102 mile bike ride.  Nuff said there…
Monday:
The week started off with knocking out a 3200 yard swim, and a nice 46 minute trainer ride to loosen things up…at 9PM, due to meetings all day long.  Yuck!
Tuesday:
Tuesday included another set of all day meetings, pushing back my long run until late in the evening.  I didn't get 'on the trail' until after 6PM, which, when you're going 20+ miles means that it's gonna be pushing twilight.
I started off at Wakefield Park, and headed south on the CCT (Cross Country Trail, really…I don't come up with these names).  I'd never run south on the trail before, and while it goes something like 40+ miles, I didn't know how far south it actually went based on where I was starting.  And for that matter, where it even went.  So off I went…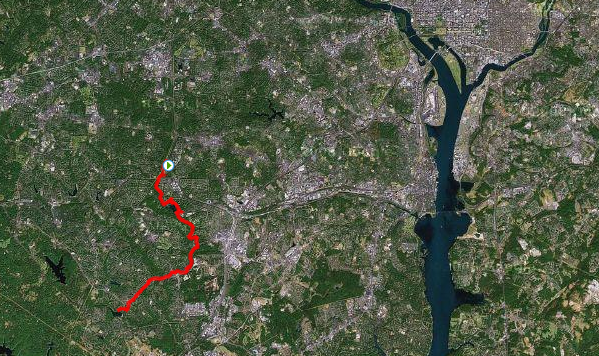 Eventually I popped out somewhere near where Coach Alan's house is, which meant of course I had to pay him a visit.  Now, it was a tiny bit further than I was supposed to go timewise – but what's 3 minutes?  So I wandered on by and left a big ole rock on his doorstep, and then kept on running.  I figured I'd explain that one later and let him ponder in the meantime.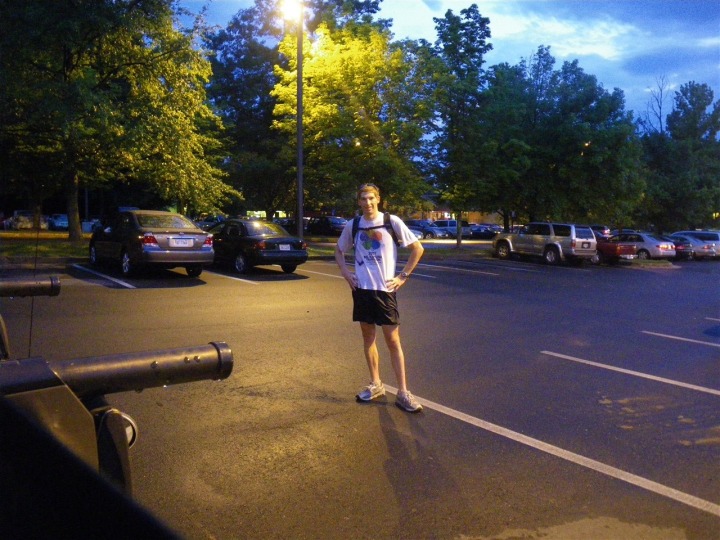 I made it back just as the sun was setting, some 2hrs and 30 minutes later, and a total of 20.5 miles.  Woot!  Mid-7/min/mile paces.
Oh, and because it was late…I went to my favorite place for a quick calorie refill – Chipotle!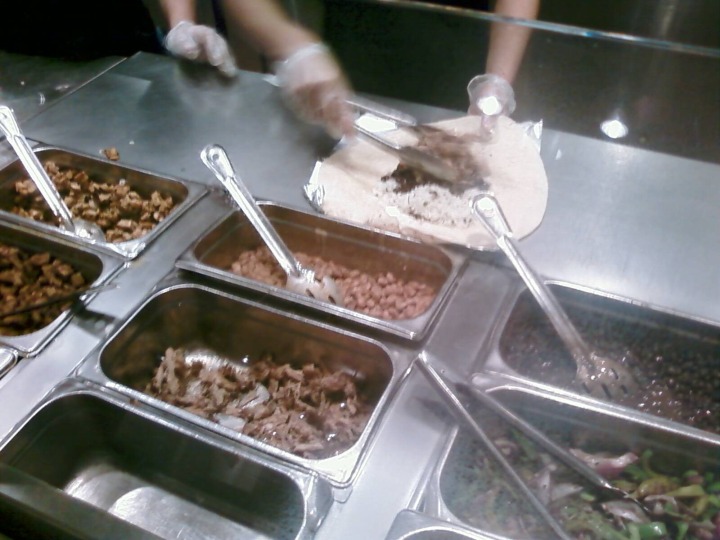 Wednesday
Wednesday brought another trainer ride and swim combo.  65 minutes on el trainer, and 3,900 yards of swimming.  Unfortunately that'd be split between two different swims because a kid left a present in the pool half way through my first swim, causing the pool to close.
The bike was nice though, all Z2 and relatively easy.  With 5 minute sets buildings up to 125 RPM.  Power output was constant across all of them until the last 5 minute set of 125, when I had to back it down a bit to stay in zone.

In general, the lower the cadence the higher the wattage I can sustain.  Obviously, that tears up the legs long term, so it's used for muscular endurance in these sessions.  Whereas this one was all about high cadence (up to 125RPM), so the wattage was relatively low.  Well, much lower than the 415w 30/30 sessions I have to do (which reminds me, I need to write about those fun trainer rides sometime…).
Thursday: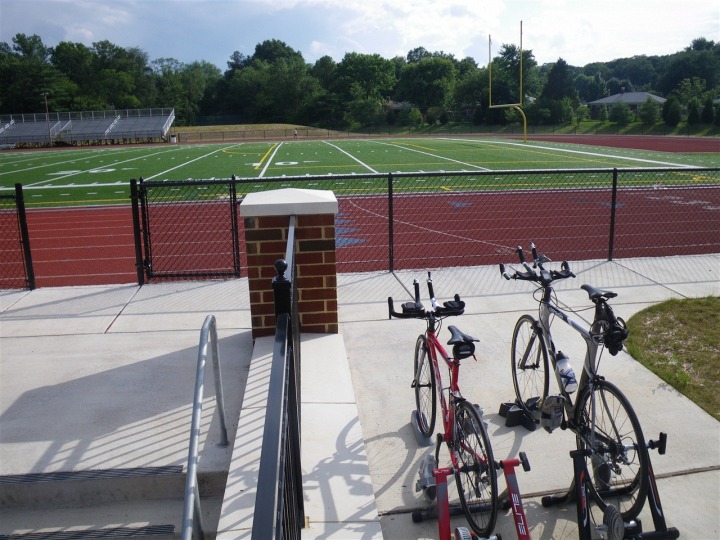 Finally, brick-day at the track.  With the trainer in tow, the girl and I setup and then knocked out a short 34 minute high intensity sweat dripping ride in the windless sun before circling 7.25 miles worth of running on the track.  Now, the bike was solid – but the run was incredible.  I was sustaining low 6's (6:00-6:15/mile) lap after lap after lap.  Incredibly fast for an off the bike run in the late afternoon sun and heat – and for a relatively modest HR.  Good stuff, bodes well for Rhode Island next weekend.  Woot!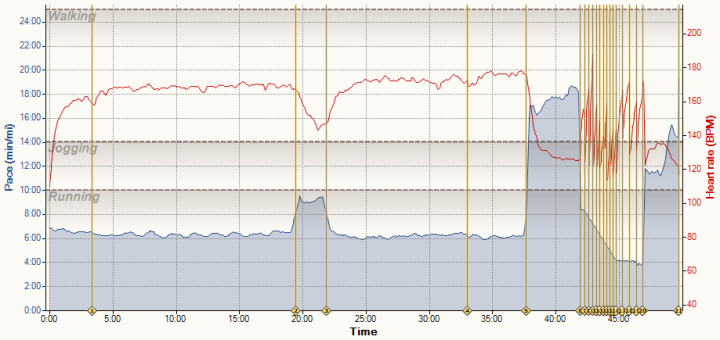 Friday:
Today was all about a swim, a nice long continuous swim.  Due to some earlier week mathematical errors I think I thought this was shorter than it was.  Nonetheless, I decided to head to the George Mason University Competition Pool to get in some time long course (50m).  It was pretty kickass, and very empty – which was nice.  At times I was the only one there.

One thing I really enjoyed though was the synchronized large digital clocks the corners at the end of each lane.  This was really useful in pacing.  There was also one mid-way down the wall closest to me.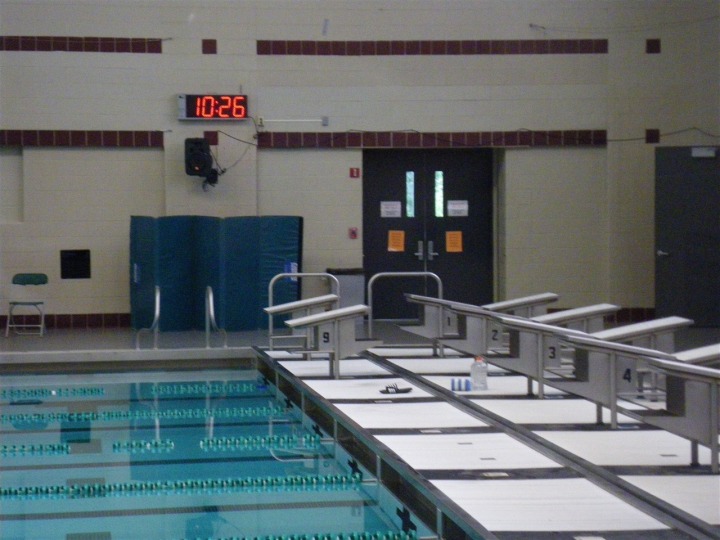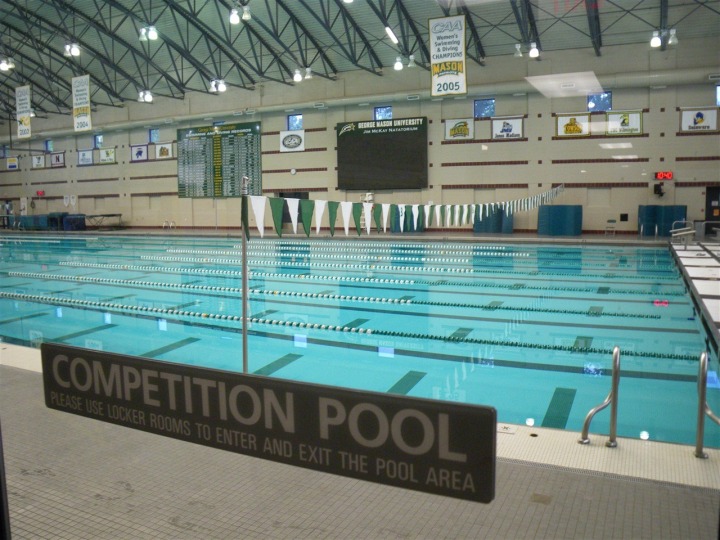 It's an awesome facility, and at only $5 – you can't beat it.  After some 5,200 yards (converted from meters), I was done – which was nice.  This being my second time swimming in a long course setup (first was in Kenya), it definitely takes some time getting used to.  You also have to remember that your splits will be slower because you're doing less turns, and my flip turns are pretty quick (and you go pretty fast off the wall).  But that's alright, it's better for what we do anyway.
So with that, I think I finally get to start my taper.  Though, technically – today was kinda taper-esque for me.  Tomorrow's brick (Saturday), is also significantly down for last week's.  All signs are definitely looking good for next weekend!
Rice Krispie Update: I found out that the massive 55 pound rice krispie treat we build and left at the Pacers Saturday Fun run took until Tuesday to consume, all while hanging out at the Pacers Store in Old Town Alexandria.  Pretty awesome!
Antarctica Update: For those of you following along from home – here's the current score: Other people: Lots of votes, Me: Not as many lots of votes.  So – if you're contemplating clicking the vote button to give me some votage love, now would be an awesome time to do it!  I'm like the turtle, slow and steady wins the race…but, I'd like to win it sooner!  Thanks all for reading, and voting!
Have a good 4th of July everyone!