If you've read my blog for any length of time, you know I enjoy cooking.  Though I'm not sure if this particular activity actually counts as 'cooking' per se.  But it does count in the book of slightly odd tasks I may have taken on.
Back a while ago I had seen a picture of someone who made a big square Rice Krispie Treat that was about the size of a small moving box, and was 41 pounds large.  I filed it away into the 'things I want to do' box and kept it there.  A few weeks ago while discussing it with the girl we came up with the idea to do a big Rice Krispie Treat for an upcoming group run.  I think she may have come up with the idea of the shoe piece as well.  Soon, a plan was set into motion.
Luckily the picture I had seen included the rough quantities of butter, cereal and marshmallows.   So we started with the total quantities of that (41 pounds initially) and went to the store to deplete it.  Off to Shoppers we went (a local chain that has bargain prices).  Given the quantities we were purchasing, finding the absolute lowest cost per ounce was key.
We found ourselves at the cash register a short time later, with what would be our first of three shopping trips:
We headed home and converted a standard recipe to a more appropriate bulk recipe.  A little Excel action and we were all set.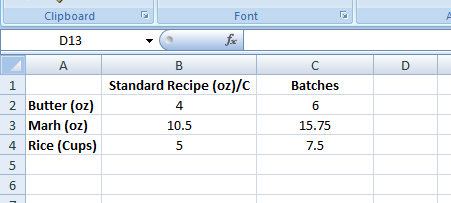 From there, we drew out the outline of the show base, and the girl had mocked together a show example in Microsoft Paint (yeah, we both have Paint Skillz!).  We weren't going for an exact replica, but more just to keep things focused.  Oh, and we decided to change up the colors and stuff too.  So really, in the end it won't look terribly like this…but that's all good.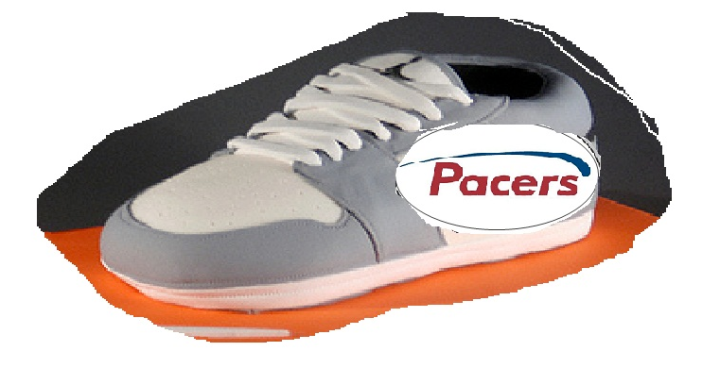 And then…it was time to begin:
Now, this whole process took about two nights (Thurs/Fri), and then off an on during the day on Friday she and I would do a batch here or there.
Of course, we eventually starting running low on ingredients, so…another trip was in order.  Turned out to be two more trips actually: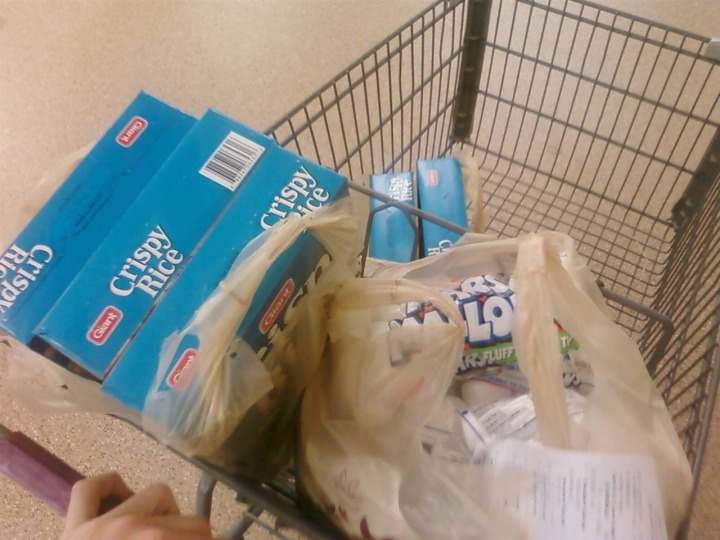 But, back to building:
Finally, we were on the home stretch – time to apply licorice to make the shoelaces and some outline work: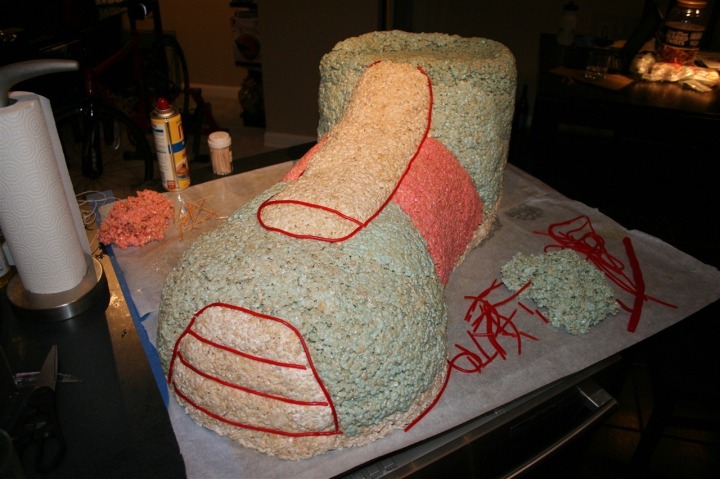 Of course, while it looks complete…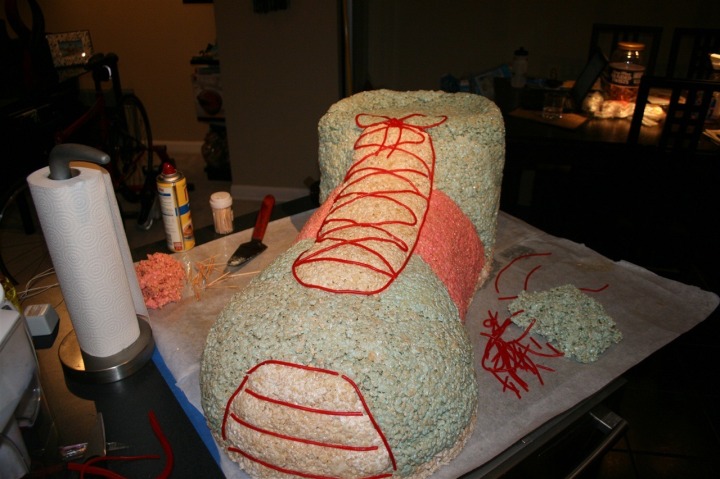 …we had one minor little detail to take care of.  The Move.  We had to get this massive shoe onto a board that I had foil wrapped, and then move it.  You ever watch those Food Network cake contests where the final step is to move their massive creation to the display table?  Yup…it was just like that.  But armed with a bunch of huge pizza peel's to move it and a lot of PAM spray to get a good slide going.  Like one giant slip and slide.
Here's the nifty animated version of the whole build (if an RSS reader, you'll likely have to click to see the original post, it's worth it!):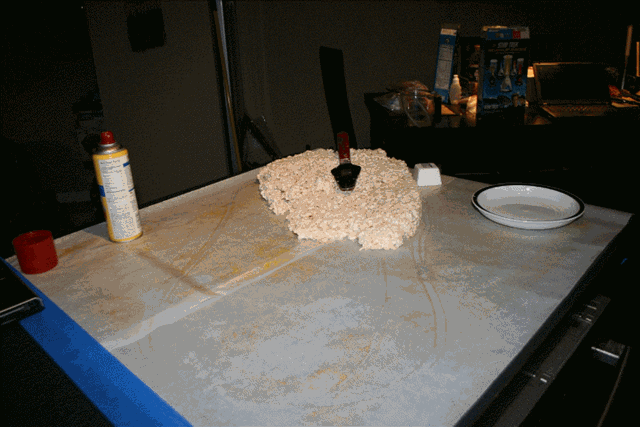 And thus, I present our final creation:
The next morning (a mere 4 hours later actually) we brought it to the Pacers Fun Run.  Now, normally people bring something (like treats/drinks/etc..) for afterwards, every few weeks or month or so.  We decided we'd simply get a year or two's worth of treats in one large shot.  Of course, that involved another move – this time all the way downstairs and through the garage and into the car.  But it found its new home in the backseat without issue.
So with that, we left behind the 55 pound shoe.  We sure as heck didn't want all of it hanging around the house.  Yup…55 pounds per the scale, here's the breakdown of ingredients.  Of course, it doesn't exactly line up with the size when we weighed in the final product on the scale cause of extras chunks, occasional snacking, etc…:
5 boxes of butter = 10 pounds 
23 boxes of Rice Krispies = 18.5 pounds 
36 bags of Marshmallows = 31 pounds
Now, if that isn't a reason enough to vote for me to go to Antarctica…I don't know what is!  It takes only a second, and perhaps you'll see a giant Rice Krispie Penguin, just like the penguin cupcakes the girl made previously.  Oh, as for the claim of the largest Rice Krispie Treat Shoe on earth…I'm fairly confident – but if someone else has proof of a larger one – I'll still take second place. 🙂  Have a good weekend!