When you first get your Garmin Forerunner 305 or Forerunner 310XT – you're abound with happy.  Snugly tied to your wrist, life is grand. You can run with it on your wrist, bike with it on your wrist, and even slide down the twisty slide at McDonalds with it on your wrist.
But then one day you wonder – what would it look like if it were mounted on my bike?  Which is shortly followed by: How would that work in transition?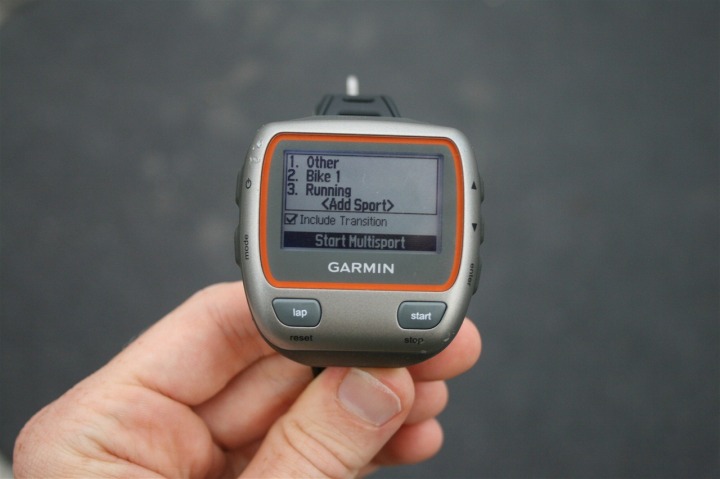 Well, a while back I wrote a rather lengthy post about how to use a Garmin in races/triathlons.  Some might say it was over the top (actually, I think some did say that), so I'm going to go simple on this one – and just simply talk about the quick release kit itself.  The reason being I see a TON of questions about how to use a Garmin during a race, and to me – the center of that experience is the quick release kit.
And at less than $20…you really can't go wrong.
So what is it?
Well, in short, it's a replacement band for your Garmin 310XT or 305.  But it's not just a band. Instead, it's actually a new mounting system that replaces your entire band.  It's not something you'd swap out during a race – but rather something you do well before hand.  Once in the race though, you'll just be able to quickly click between the different mounts.
(Forerunner 305 on left, Forerunner 310XT on right)
This quick mounting system enables the watch to essentially go band-less (kinda like bandit, only different) and thus be attached to a bike mount system.  And, because it's designed to just snap in place – you can quickly swap between the two (bike and run)…just like you might in transition.
Running:
When you're running, you're likely going to be wearing it on your wrist (the exception here being if you still have it in your swim cap from the swim and forgot to take it off a few sports prior).  Assuming it's on your wrist, with the FR305, it's a fabric band (best thing evah!), and in the case of the 310XT – it's a plastic band.  They look like this:
(Forerunner 305 on left, Forerunner 310XT on right)
In the case of the FR305, the band pops out vertically.  While with the 310XT, it uses a twist lock mechanism.  This is one area that's greatly improved on the 310XT over the 305 – which is the new twist lock system, removing any of the 305-ejection problems that some folks have reported on the bike.  While there were some initial issues with the 310XT pins, those have been resolved and you can ring up Garmin support to get your band swapped out for the sturdier ones.
Cycling:
If you're on your bike, the quick release kit enables you to simply snap the watch in place.  And once in T2, you can snap it back out to go onto the run.  The mount system on the FR305 uses two zip ties, as does the 310XT mount.  However…here's a bit of a secret: The Edge 500 mount kit uses the same system – and because it uses nifty industrial strength rubber bands, it's super quick to install (I haven't had my pop off yet in almost two thousand miles of riding).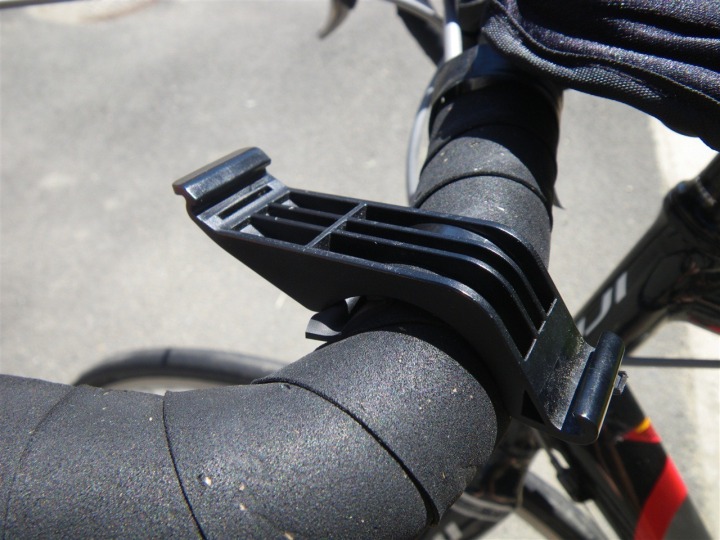 (Forerunner 305 on left, Forerunner 310XT middle, Edge 500 on right).
Oh – and here's the kicker.  That Edge 500 kit above, it's less than $10…for TWO mounts, and a gazillion bands.  That's like the end of evening hot dog special at the county fair.
Swimming:
Now – what's the one greatest feature of the quick release kit?  It removes the need to have the dorky band in your swim cap when you're swimming with it.
(Ok, side note: Yes, you can use the watch on your wrist – and yes, it does work sorta-ok using the new 310XT Swimming Mode, but, in my opinion, it's much more safe on your head than on your wrist in a race.  Training is different.  Plus, the data is way more accurate.  Just my two cents…)
Ok, right, back to swimming.
See, without the strap – the unit just sits there all nice and pretty.  Nice, ehh?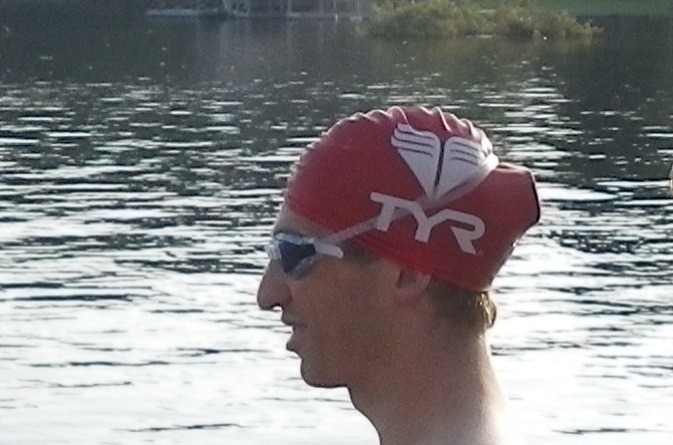 Now – a few weeks back a reader sent in this super-cool idea for how to utilize the quick release kit in conjunction with your goggles and the swim-cap method..  This removes the issue where the 310XT is floating around aimlessly in your cap, but now ties it to your goggles – much more secure.  This is all Dustin Schneider's idea – so I can't take any credit for it…but it's brilliant.
(Photo Credit: Dustin Schneider)
See, he's just zip-tied the quick release kit to the goggles straps, which incidentally is the perfect location on your head for the 310XT to receive coverage while your swimming (horizontal).  This secures it to your goggles, while also making it easy to twist off in T1 to take onto your bike.
Wrap-up
Note, there are actually a few different quick release kits available – here's the rundown:
Forerunner 305: $19
Forerunner 310XT Variant 1: $20 (First generation edition)
Forerunner 310XT Variant 2: $21 (Second generation edition: This one includes the Edge 500 style bike mount as well as a better design to reduce pin popping issues – I prefer this)
Garmin Edge 500 Mounts: $9 (two mounts per box, a million rubber bands)
So there ya go – the in's and out's of the quick release kit.  Now go forth and conquer your race (and transition) without stumbling all over trying to undo the strap while running. 🙂