Have you noticed that your Garmin 305 (or similar) takes longer and longer to first initiate a data dump to the computer?  My guess is it's probably that your contacts that are dirty.  No, not the ones in your eyes – but the ones on the Garmin. Those would be the four little gold things on the back of the watch.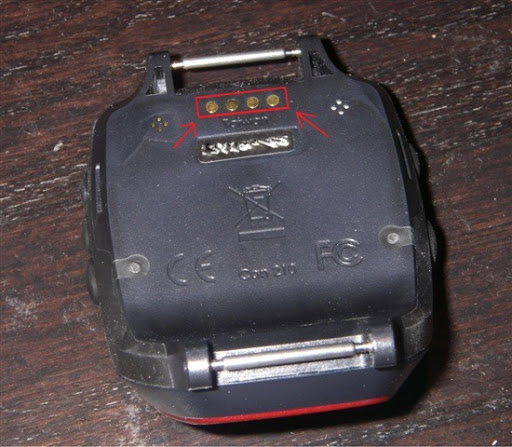 Over time sweat and other things will start to erode them and create a layer of badness over the top – causing the device to fail to connect as well as simply take forever to first initiate the conversation.  You may have noticed that when you connect the device and start the download the time between the first set of three little beeps and the second beep takes longer than it used to (before it actually downloads the data).  That's a sign of contacts getting dirtier.
But the fix is easy.  It simply involves an eraser.  Just take any old eraser (like the top of a pencil) and rub the contacts until you feel they look cleaner.  You'll notice that afterwards connection beep time will be reduced.  Or if your device didn't connect at all – then it will likely work now.  However if you're device is dead for other reasons…it won't fix that.   Massaging an otherwise dead toy does not bring it to life.
It's a good practice to do from time to time even if you're device is fine – as it will keep gunk from building up on the contacts and causing said problems later down the road.