Garmin has released a substantial update that adds the TrainingPeaks metrics of NP/IF/TSS to the Edge 800, as part of their previously stated plan to add it to the Edge 500/800 and FR310XT/FR910XT.  In line with the power meter improvements they've added support for ANT+ left/right power meters, which will ultimately include the Garmin Vector pedal based power meter, the Brim Brothers Zone cleat based power meter, and the O-Synce pedal based power meter.
In addition, they've also increased the number of bikes you can store to five bikes (on par with FR910XT), as well as added a lap summary training page that is fairly similar to the way the Joule works, showing you lap averages.
Finally, additional improvement were made around courses, workouts and map drawing.  Here's the official listing of changes.

I updated the firmware on my unit for an easy indoor trainer ride I had planned.  It only takes a few seconds to do so via the Garmin Web Updater:
Unlike some updates, this particular update does NOT erase any settings or user configuration – it all stays there.
Here's a handful of screenshots and photos from that, showing the new fields in action:
TSS/NP/IF:
There are numerous display options around TSS/NP/IF (see last section of this post), but the goal here was to display these values on your Edge 800 and be EXACTLY the same as that displayed on TrainingPeaks.  As I detailed back in September, there was significant work done here between TrainingPeaks and Garmin to ensure that the numbers matched across the board – from the device to TrainingPeaks.  Today that information isn't displayed on Garmin Connect, but the goal is to display it down the road.
Note that the above TrainingPeaks data is not displayed within the history menu area afterwards, just in real-time and uploaded file data. Here you can see the totals from my trainer workout, first up – on the device:
Then on Training Peaks: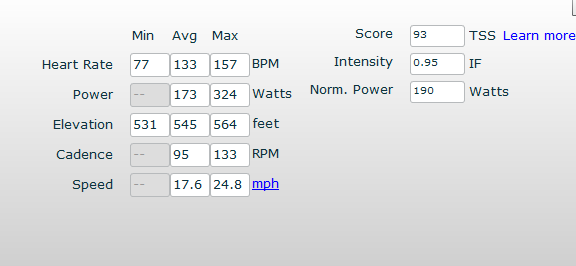 (For those power geeks amongst us, you'll notice my TSS/IF was fairly high – this was merely because I realized afterwards that my FTP on the Edge 800 was set at 200w, versus reality at closer to 300w.  In order for your score on TrainingPeaks and your Edge 800 to match, the FTP must also match).
At the end of the post you can see all the variations on how you can display these numbers (i.e. per lap, overall, etc…).
Lap Summary Training Page:
The lap summary page is fairly customizable, with the upper portion showing two values of your choosing, and the lower portion having the lap summary pieces. 
The lap summary's can be modified to show different values, with your choice of the following:
Cadence – Avg.
Calories
Calories – Fat
HR – Avg.
Power – Avg.
Power – Max.
Power – NP
Speed – Avg.
Speed – Max.
Total Ascent
Total Descent
Again, this is just for the page that displays a lap total on the bottom half of the screen.  This new lap summary page is in ADDITION to all of the other five custom data pages, two course time pagers and map page.  In other words, you've got plenty of data viewing options.
Left/Right Power Meter:
While I don't have a left/right power meter available to me today, that doesn't keep me from showing you how it works.  I simply used the ANT+ simulator to show you live left/right power data streaming direct to the Edge 800.  The Edge 800 has no idea that the data is coming from an emulator, it just displays the ANT+ signal being sent.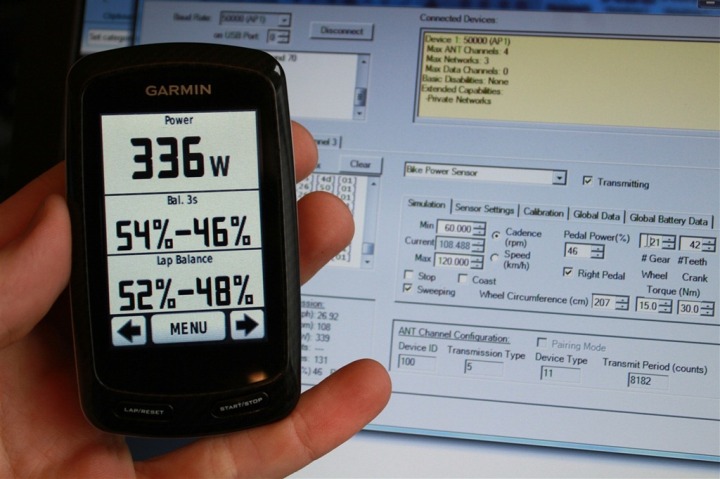 This is actually the first time I've used the ANT+ simulator for any sort of photos and/or post.  In this case, it fit the bill perfectly.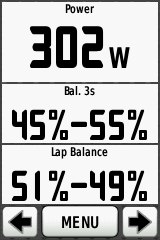 The left/right power is measured via a power meter that supports left/right power (basically just pedal/cleat ones today).  The way ANT+ works is it sends the 'Total power' and 'Right %' power to the head unit, and the head unit does the math to determine splits and actual left/right power.  For more information on how this all works, see my Vector post.  Actually, as a general rule – for anything to do with left/right power and/or Vector, see that post.  For things like baking car troubles, gardening issues, etc… – you can probably also see that post. It's like the oracle of information for everything.
Complete list Power Meter Data Field Options:
The Edge 800 now has the following power meter data fields available for selection.  In addition to all the new left/right (balance) fields and TSS/NP/IF fields, you'll also note the new 10s average fields.
Balance
Balance – 10s Avg.
Balance – 30s Avg.
Balance – 3s Avg.
Balance – Avg.
Balance – Lap
Power
Power – % FTP
Power – 10s Avg.
Power – 30s Avg.
Power – 3s. Avg.
Power – Avg.
Power – IF
Power – kJ
Power – Lap
Power – Last Lap
Power – Max
Power – NP
Power – NP Lap
Power – NP Last Lap
Power – TSS
Power – Watts/kg
Power Zone
Got all that?  Good.  Remember, those are just the power meter related fields.  When a field says just 'Balance' or just 'Power', that's really just instant as in 'Power – Instant'.  Avg fields are average for the entire ride/activity.  10s/30s/3s averages are rolling averages for the past 10/30/3 seconds.
Finally: NP = Normalized Power, IF = Intensity Factor, TSS = Training Stress Score, kJ = Kilojoules, kg = Kilograms, FTP = Functional Threshold Power.
New Five Bike Option:
As noted earlier, the Edge 800 now supports up to 5 bikes, each with their own custom naming and ANT+ sensors defined.  Each bike as before also has a separate odometer and weight settings.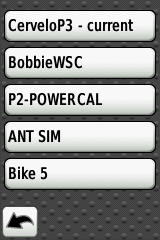 Each one of the above is a different bike I have set on the Edge 800.  I don't currently have a Bike 5 defined.
Future Firmware Updates:
As previously announced by Garmin back in September, the goal with respect to adding all the new fields was to get the Edge 800 firmware done first, then follow up these same changes to the Edge 500 and finally, the Garmin FR310XT.  The Garmin FR910XT will come with these features out of the box.  The goal at that time was to have the units following pretty closely after one another for the firmware updates – meaning on the order of weeks, not months.
If you've got any questions on the firmware update, just drop a note below.  For questions on Vector, see the 'Everything you ever wanted to know about Garmin Vector', and the same for Brim Brothers.
Thanks for reading!