Last year when I was at Interbike I had the chance to sit down with Barry Redmond of Brim Brothers and talk about his work on their cleat-based power meter.  At the time the meeting was conducted in a closed door room away from the main show floor.  Typically this sort of treatment is reserved for other types of establishments in Vegas – but in the competitive power meter market, secrecy is king.
But things have changed in a year – and for the most part the wrappers are off and he was ready to give some demo's.  While Barry didn't have a booth this year, we went ahead and hijacked the ANT+ booth to get a walk-through of the technology.
Let's start off with what it is though, first – with the name:  Zone.  Zone is a cleat-based power meter which means that everything from a measurement standpoint is contained within the cleat of your bike shoe.  This is different than something like PowerTap (which measures in the hub), Quarq (measures off the crank at the spider), or Garmin Vector (measures in the pedal).  Like Vector however, one of the advantages to a two-sensor system (left and right shoe) is that it can measure left and right force – as well as a host of other metrics specific to balance and fit.
Now that we've got the basics out of the way – we'll dive into the different pieces.  Zone is identical across the two shoes, and each shoe has two pieces: The cleat-based measuring device, and the transmitter pod.  These two are connected via a small wire (more on that wire in a minute).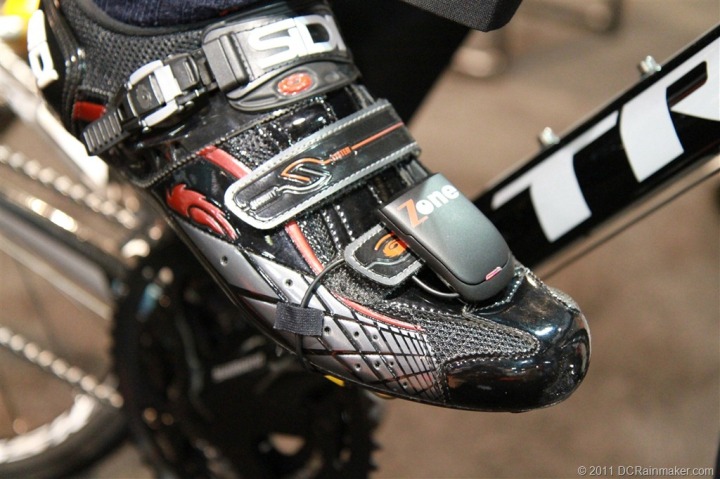 Under the shoe is where Zone's power sensors are.  They've replaced the standard Speedplay baseplate with a modified baseplate, but the remainder of the body of the cleat is complete is completely standard Speedplay.  However, they wanted to be clear that while they have a great relationship with Speedplay – Speedplay is not endorsing any particular power product as they want to remain neutral.
And the same neutrality applies to Zone as well.  They absolutely have plans for additional pedal types once they get out the door with the initial Speedplay variant.  This includes not only other road bike types, but also mountain bike and indoor as well.  Further, they see applications in other sports as well given the shoe-nature of the device.
Next we have the transmitter pod that sits atop the shoe.  These pods take the information from the cleat via the wire and transmit it to the ANT+ head unit.  Only one of the two pods will transmit it to the ANT+ head unit, and unlike static systems such as Garmin Vector or Polar's Look/Keo, the Zone can dynamically change the master based on availability.  For example, say the left unit is lower on battery – it could potentially use the right unit as the master (though they are determining whether there are any savings there).  And at the same time, either unit can work independently should the other unit completely fail.  The power will be correctly transmitted to the head unit such that it pretends to know both values.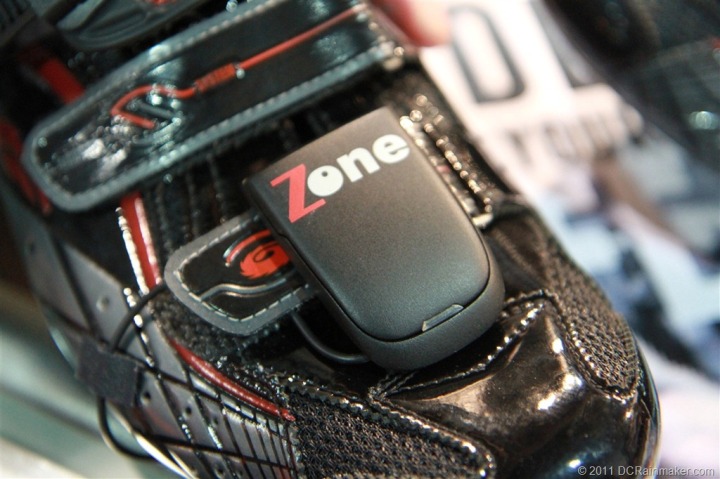 Each transmitter pod is split into two pieces – the clip that stays on your shoe (and connects via wire to the cleat), and the actual transmitter.  You can see these take apart below:
The transmitter pieces are rechargeable and last about 18 hours between charges.  They do not need a typical CR-style coin cell battery but instead are just put into a docking cradle.  If one of them happens to run out of battery sooner than the other the system will compensate and still transmit power until both are dead.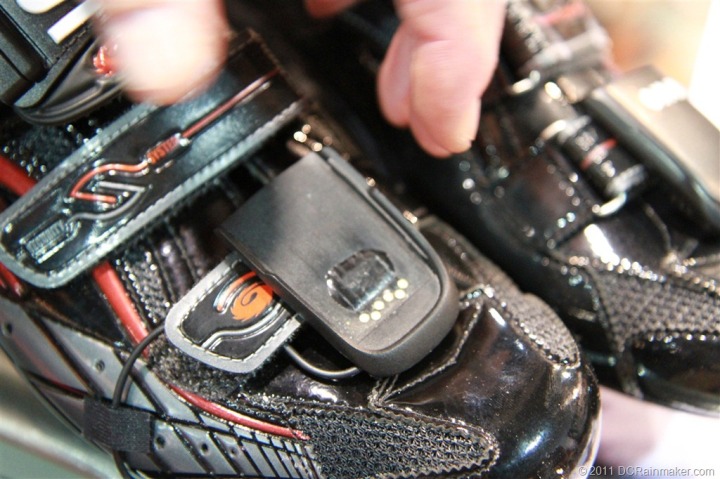 Finally, the little wire that connects the cleat to the transmitter.  Today this is connected to the shoe using small bits of Velcro.  I asked about the secureness of it and Barry noted that it's actually more rugged than it looks.  They've been experimenting with a few different options there for the wire and how it could route – and aren't finished there.  There also exploring some other options as well for connectivity between the cleat and the pod.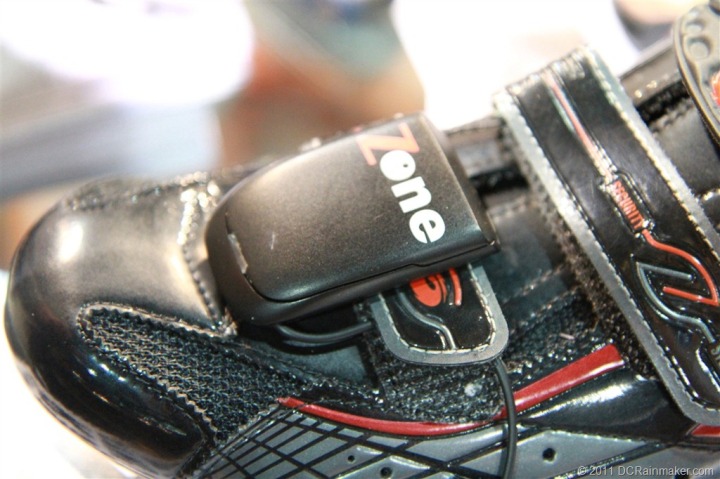 As I mentioned earlier, last year everything was still in non-final form and looked a bit raw. Parts then looked very boxy and hardly ready.  However, as you can see now things are definitely looking pretty darn close to final production.
If you had asked folks around the industry whether or not the Zone power meter would be at Interbike and showing real and active power – most would have guessed no.  Thus I was surprised last weekend when Barry e-mailed saying he wanted to show it in a live setting with real power.  And he didn't disappoint.
Yesterday afternoon I spent a got to see a hands-on demo with an Edge 800 that supports L/R power (using this noted update), to demonstrate the Brim Brothers Zone power meter.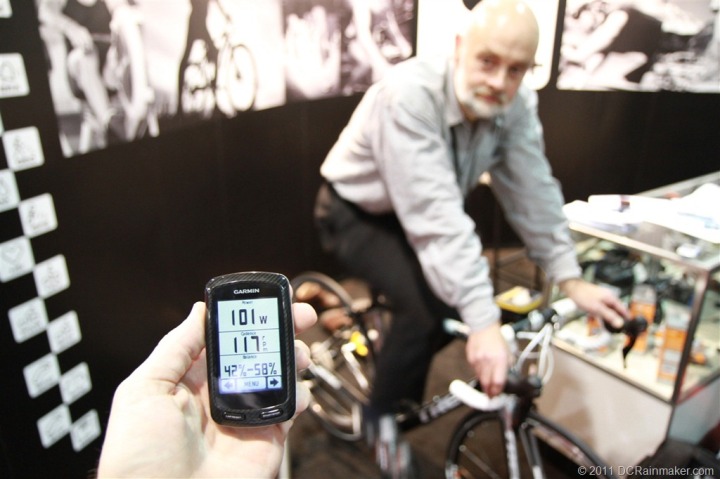 (As a side note, this is actually pretty cool of Garmin to allow us to use a beta and unreleased firmware version to show off a competitors power meter.)
In addition to using the Edge 800, we also pulled out an Android-based Sony Ericsson Xperia phone to show a custom app that supports Left/Right power as well.  You can see that on the last line which shows Right Power at 56% (this app merely shows raw values being sent, and in the ANT+ left/right power world, only the total power and right power as a percentage is sent to the unit):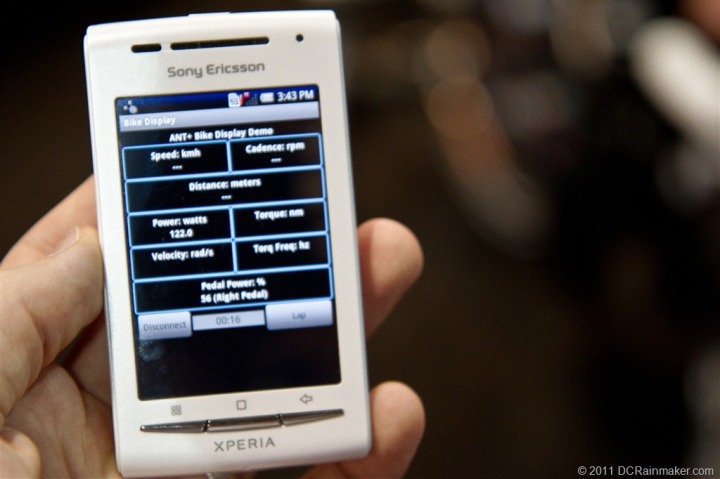 However, because video tells a better story – here's a short video clip showing the power being demonstrated:
Brim Brothers Zone Left/Right Power Meter Demonstration with Edge 800
By the way, I give props to Barry in actually doing power tests in dress pants. In fact, during a different first shot of the video we did he unfortunately caught the pants onto the chain ripping them.  A man willing to make sacrifices!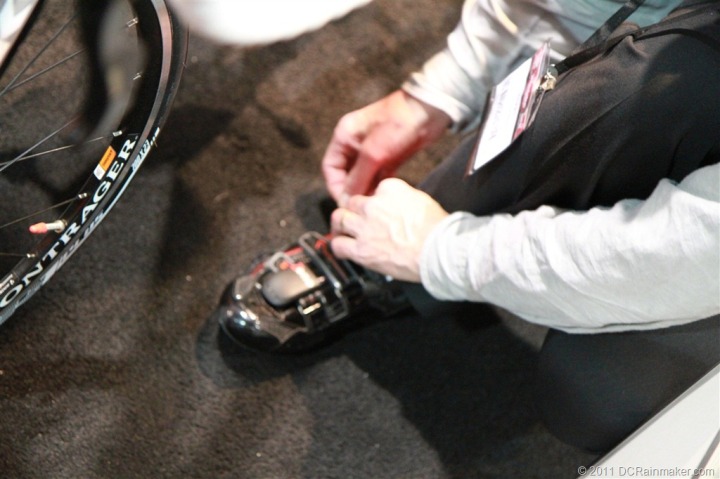 One of the things that differentiates Brim Brothers form other power meter companies is that they've been developing in the open for the past two years.  Most companies develop in secret and then open up closer to availability – thus giving the appearance that they came out with a power meter quickly.  So when you look at availability, Barry and his team are still a bit shy about when it will be released.  They are publically targeting 2012 and he's fairly confident they'll get there no later than that.  Of course, retail pricing is still to be determined but he notes that they'll be competitive.
As always, if you've got questions on Zone, drop them below in the comments.  I'd be happy to round up your questions and get the answers.
—
For the latest Interbike coverage, remember I'll be tweeting nonstop, so you can catch all the latest action there.  And here on the blog you can use this tag to see all the Interbike 2011 posts. Thanks for reading!