This first day at Interbike was (as usual) a complete blur.  I had a number of demo periods scheduled (called appointments here) that left me running around back to back.  Look for the results of all of those spread over the course of Thursday.
First up was an early morning pre-show ANT+ overview where a number of vendors covered some of their new products.  This is where the Timex Road Trainer GPS was first semi-announced, so I quickly made my way over there to get some photos – which ended up in this post: Timex Announces Road Trainer GPS–New Cycling Computer
From there it was off to the Garmin booth to catch up with them regarding Vector.  This ended up being nearly 90 minutes packed full of information.  You can read all of that here: Everything you ever wanted to know about the Garmin Vector pedal based power meter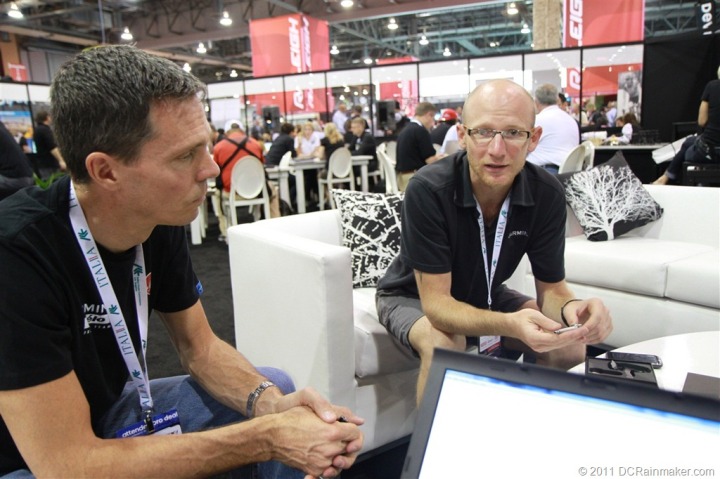 And…I managed to sucker in Clark Foy into committing to a bow-wrapped Vector by the end of the year to test out (ahead of the March 2012 release).
Following a very quick lunch I got a demo of a very cool new system for mountain bikers that allows you to precisely configure your suspension system on Fox bikes.  It works via ANT+ and the Edge 800.  Though, since it's all ANT+ – there's no reason why another company couldn't leverage either the iPhone ANT+ dongle or the new Sony Ericsson ANT+ phones (like the Xperia Active I just reviewed) to do the same thing.
I'll have more on this shortly – including a vide on how it all works.  Suffice to say that even though I'm not a mountain biker – this is really damn cool.
After I was set with the Fox guys, it was time to catch up with Barry Redmond from Brim Brothers.  Last year at Interbike we met in a closed door room to see his latest components – but this year we hijacked some of the ANT+ booths bikes for him to give me an up close and personal demo of it.  Brim Brothers makes a cleat-based power meter.  This is different from a pedal based power meter in that it's on your shoe versus being attached to your bike.  So you could walk from any Speedplay bike to the next and get instant power.
Again, like the earlier mountain biking pieces, I'll be writing the Brim Brothers piece shortly.
Last but not least on the technology front – I got to checkout the new Timex Run Trainer (see, there's something for runners here too this week!).  As I noted previously – I'm really really really excited about this watch.  I think they listened and nailed all the features you could ask for on a sub-$200 watch.  From a functionality standpoint it edges out the FR210, primarily due to the waterproofing.
Their goal is to get me one of the Run Trainer's in the next few weeks to start testing out – with the Timex Road Trainer GPS shortly thereafter.
Then with one more technology stop left – I swung briefly by the Polar booth to check out their Look/Keo system.  But I've got them scheduled for later Thursday – as well as a set soon coming to me to test in a real environment.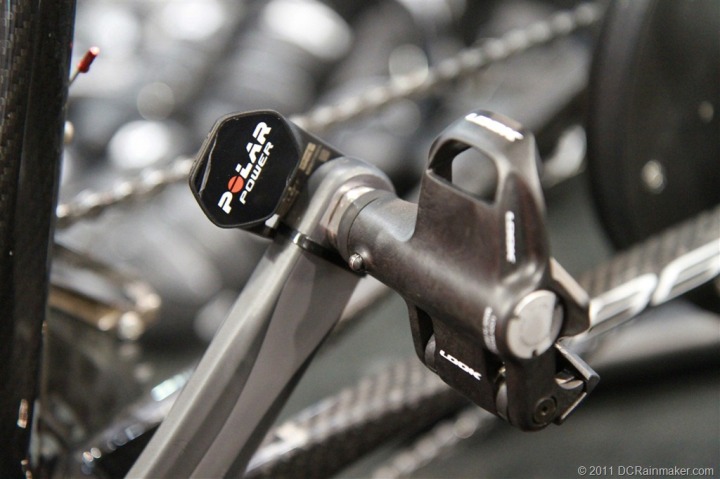 The remainder of the day (what was left of it) – was spent wandering around taking in interesting things.  For example…
Here's Phil Keoghan – host of The Amazing Race was at a booth signing.  I also saw him again just walking the show floor like any other.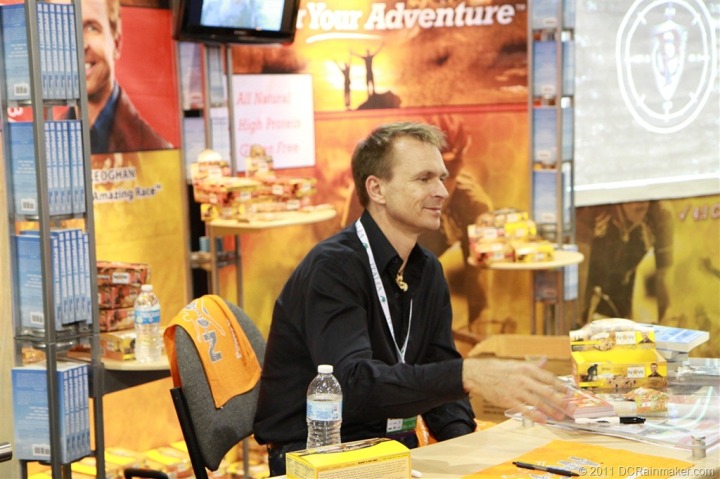 Then we have the always popular log rollers. No, not the log roll.  Log rollers. Makes your rollers at home look like a kids tricycle.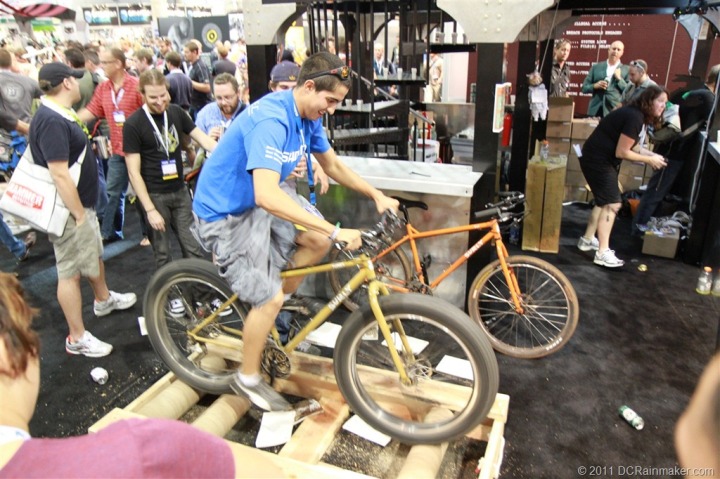 Wait, what's that? You want to see that in video form? Sure, here ya go (btw, he makes this look easy, I saw many people fail):
Log Rollers…not for the faint of heart.
Inside a section of the Quarq booth (which is now part of the larger SRAM booth), they had a fun little torque test to see how much torque you could generate as if you were arm wrestling: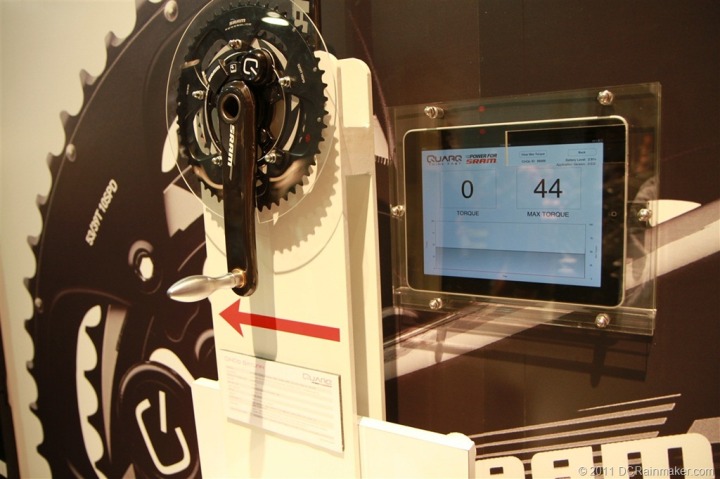 In fact, the SRAM booth in general had a number of cool things – including the SRAM Art Project – where all the pieces were made of bike components:
Speaking of artsy looking things – we've got these bike fenders (covers wheel and prevents mud from going onto you).  If you like the aero-golf-ball look, these are for you!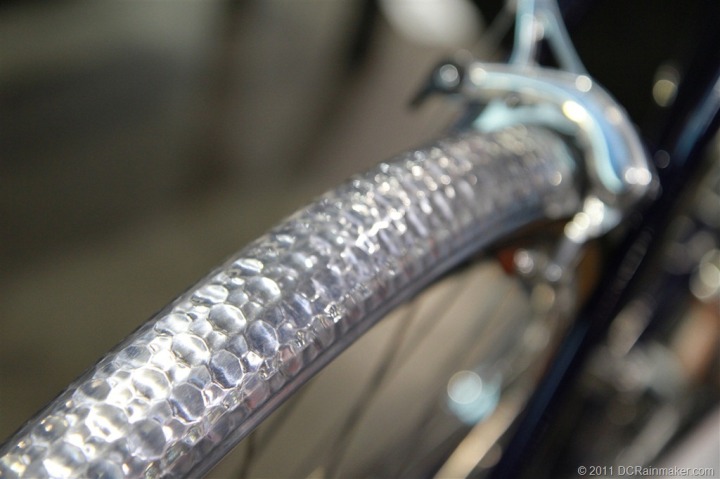 But it's understandable that silver isn't for everyone.  Perhaps teal is more your color?  If so, simply hang out in the Bianchi booth for a bit and you'll be well immersed in it.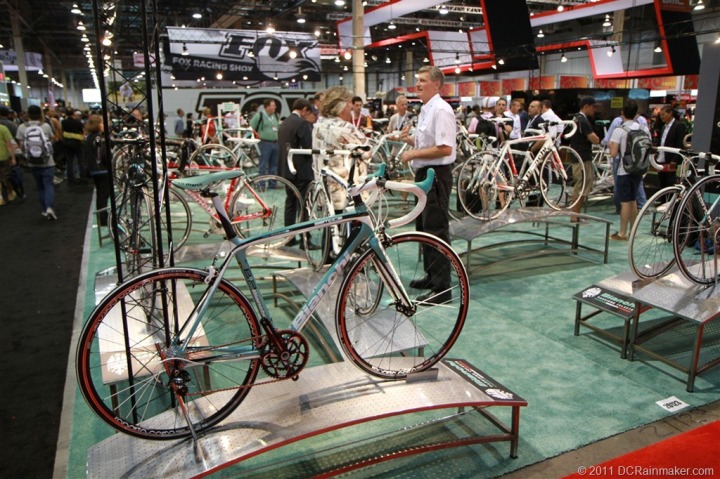 While most of the booths have some sort of flooring – usually carpet – some booths go the route of artificial grass in order to make a more outdoor-like experience.  But one company decided that just wasn't going to be enough.  Nope, they brought in the real stuff: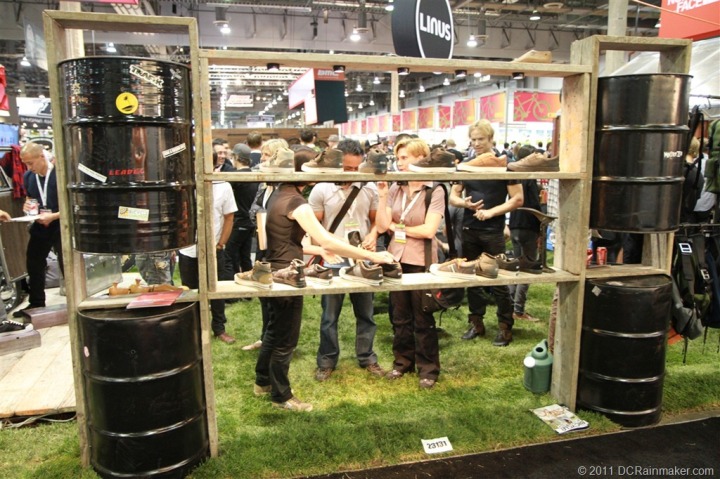 And no – this isn't any special rubber infused turf. It's real grass that any goat would be happy to mow.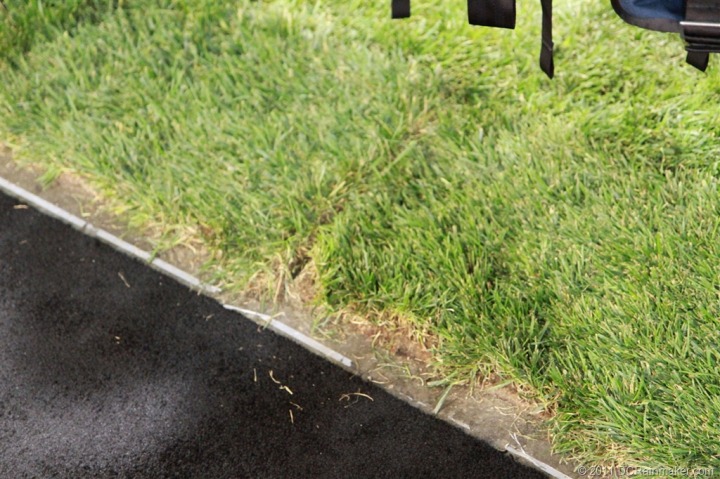 Last but not least, I feel like it's important to leave you simply pondering for a bit.  Thus, the only way to do that is to present the following picture.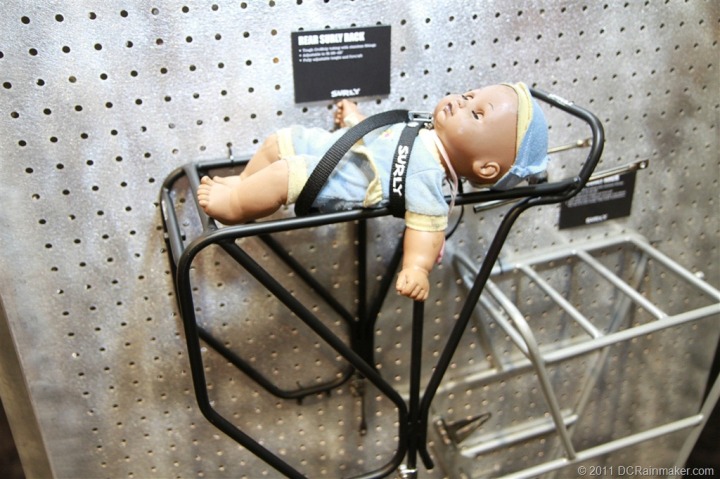 Caption contest anyone?
—
For the latest Interbike coverage, remember I'll be tweeting nonstop, so you can catch all the latest action there.  And here on the blog you can use this tag to see all the Interbike 2011 posts. Thanks for reading!