When Sony Ericsson added ANT+ capabilities to some of their Android phones last year, it was a pretty cool milestone.  But with ANT+ comes the outdoors – and with the outdoors comes things that are generally considered 'unhappy' to electronic devices – like water and mud.  But now, that's been solved.
Last week Sony Ericsson sent out an Android phone (loaded with OS version 2.3, Gingerbread) for me to try out. And since it arrived I've been throwing everything I can at the phone (and having a lot of fun doing it).  But in addition to torturing the waterproof phone, I've also been using the ANT+ capabilities to monitor my heart rate while running and recording the rest of my ANT+ sensors from my bike rides.
Now before we get into the meat of the review, for those of you who've read my reviews in the past know that I tend to be pretty detailed…and in depth.  That's just the way I do things around here.  Think of them more like reference guides than quick and easy summaries.  My goal is to leave no stone unturned – both the good and the bad.
Finally, it should be noted that I'm going to focus on the 'active' piece of the 'Xperia Active' – since that's what I normally focus on.  While there is certainly merit in discussing the ins and outs of specifications of the phone in comparison to others on the market from a more general phone use standpoint, I feel that I can bring the most value to the portion of the discussion relating to using it in sport.  Of course, if you have questions on the other pieces – I'm certainly happy to try and answer them in the comments section.  Onto the unboxing!
Unboxing and Contents:
Like most products that aren't quite available yet, I don't have a fully finished retail box – but rather the contents of the box – so we'll have to work with that for now.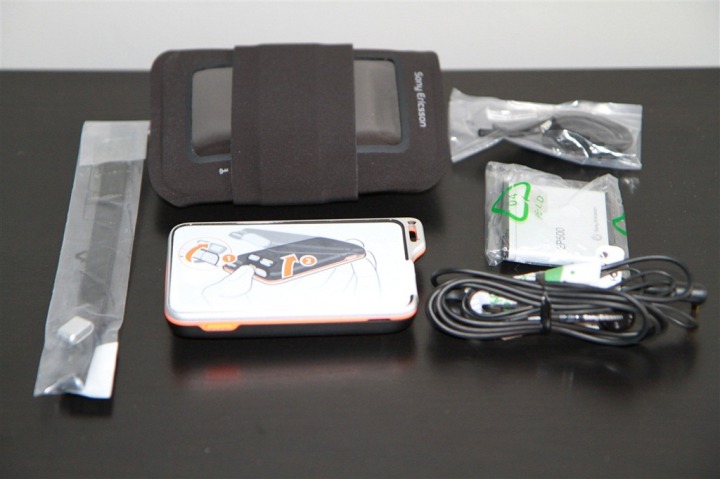 Inside we have the earphones (with mic), earphone adapter for sport use, a micro-USB charger, a strap that hooks onto the phone, the battery, the phone itself and an arm band for sports use.
Let's take a closer look at the phone.  Both the headphone jack and micro-USB charging port are located beneath two little rubber covers – which must remain closed for full waterproofing:
The edge of the phone has a small loop that the strap ties into.  As silly as this sounds, I've found this actually really handy – just like you'd have on a small point and shoot camera.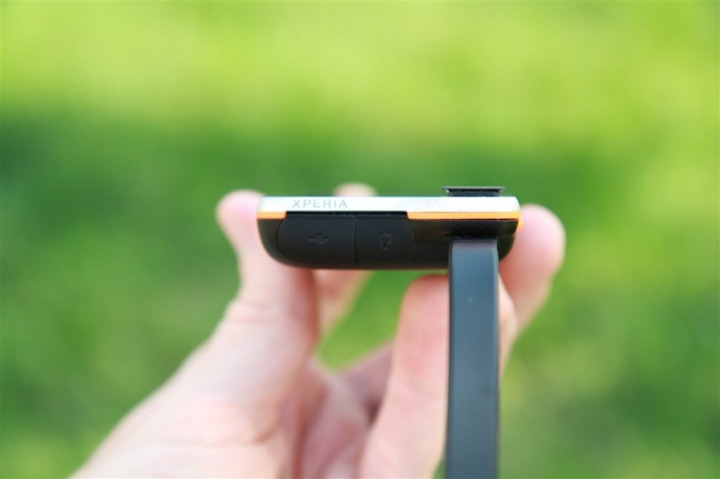 The phone itself comes apart in three pieces, which allows you to get a better look at the waterproofing layer (lowest one in photo):
Here's a few quick overview shots as well:
Finally, here's the armband that came with it.  It's not specific to the Xperia Active, but it fits in there pretty snug and is functional enough for basic use while running.
Of course unlike traditional phones, this one doesn't exactly need the protective armband pieces, but it makes for a handy place to stash it while running or riding.
Waterproofing and Durability:
Between the two sport specific features of this phone that excite me the most (waterproofing and ANT+), I think it's really the waterproofing and durability features that push me over the edge.  The Xperia Active is waterproofed to IPX7 levels, which means that it can withstand submersion in liquid (ocean, pool, lake, beer, cupcake batter) up to 1 meter deep (3ft) for 30 minutes.
I've long been using a small waterproof camera with the same rough waterproofing specs (the Optio series), but having a cell phone which can do everything that camera can…but also make phone calls, host apps and do everything else you do with a phone – offers a significant advantage.
Because pictures say a thousand words, I'm going to start with the below picture.  This was taken after my Saturday long run, with a bit of extra sports nutrition gel I had left in the bottle: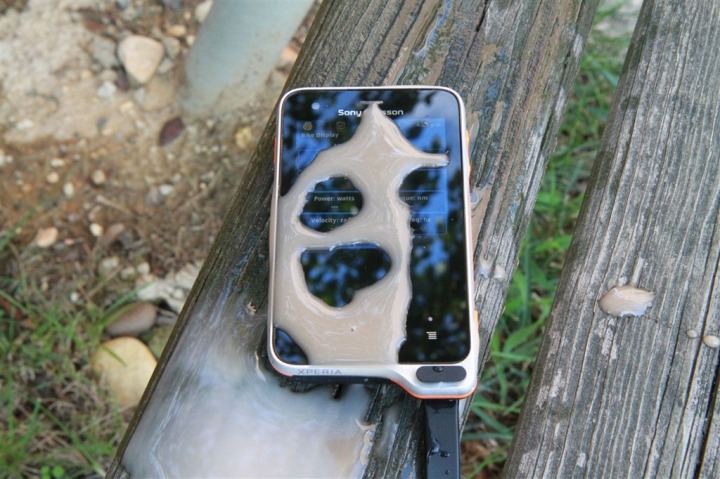 For those not familiar with sports gel, the stuff gets everywhere and sticks like nobodies business.  You can ride for hours sweating and the stuff will still be sticky on your fingers – mind boggling. But want to see what happens next? No problem, let's add some video to finish the job.  Here I walk through applying the gel to the phone like sunscreen, and then easily washing it all off with just a small bit of water:
Giving the Sony Ericsson Xperia Active a nutritional bath
Next up was the pool test.  While there were some little videos floating around when the phone was first announced showing it sitting in a small 6" deep round fishbowl, I decided that really wasn't good enough for my kind of reviews.  Nope, I wanted to go swimming with it.
So swim I did.  I stuck it in the my swim shorts leg and jumped to the pool.  I swam about 20 minutes with it there, before pulling it out and shooting the below video.  As you can see, the phone can record video underwater – and any apps that you started above water will continue to display underwater.  However as expected, the touch screen itself doesn't really work underwater (since there's constant water pressure on it) – but the other buttons do (such as the camera shutter button).
Running in a downpour with the Sony Ericsson Xperia Active
Since shooting all these videos, the phone is still alive and quite happy – which is both good for both me as well as Sony's phone (it's always awkward to send waterlogged devices back…even more awkward if it had been filled with gel).
ANT+ Functionality:
For those in the endurance sports world, ANT+ is at the core of integration across different sensors that measure your effort, and those that display it.  The most common ANT+ sensor is likely the heart rate (HR) strap – made by vendors such as Garmin, Timex, CycleOps and more.  Next you've got the Speed/Cadence sensors that adorn many bikes (or foot pods for indoor treadmill running use), and then you've got the higher end items like power meters  – with almost all of them now using ANT+: SRM, Quarq, PowerTap, Garmin Vector, Power2Max, O-Synce, Brim Brothers Zone, etc…
These devices all normally connect to head units like the Garmin Forerunners or Edge cycling computers (or Timex Global Trainers, CycleOps Joule's, etc…).  But with the Xperia Active containing an ANT+ chip within it, it can now replace that head unit piece in your equation.
Sony Ericsson was the first to put an ANT+ chip in a phone last year with their X10 series, but while successful in its own right as a first crack at it – it lacked both the sexiness as well as the durability that folks want in a phone.  Both areas that I think are genuinely improved in the Xperia Active (it actually looks cool).
And…it looks even better next to ones bicycle with all of the sensors paired to it.  See below, I've got the phone paired to a Garmin Heart Rate Strap, a Garmin GSC-10 speed/cadence sensor, and a Quarq Power Meter.  All via ANT+ (and MapMyRide).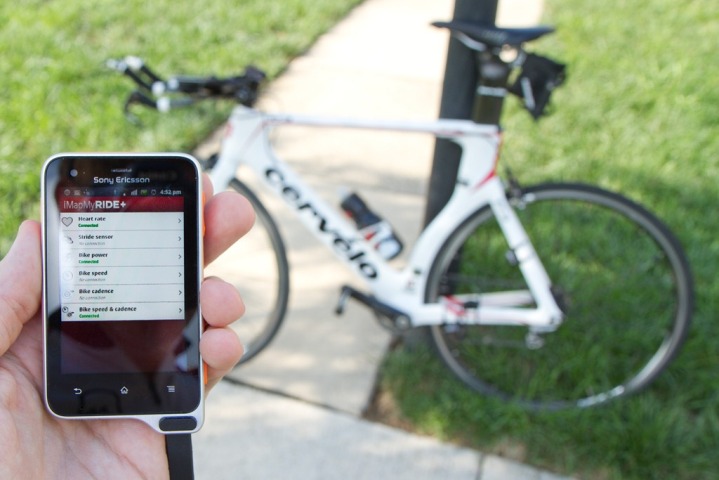 I adjusted the brightness above so you can more clearly see the screen in photo, but below you can see exactly what was displayed on the screen: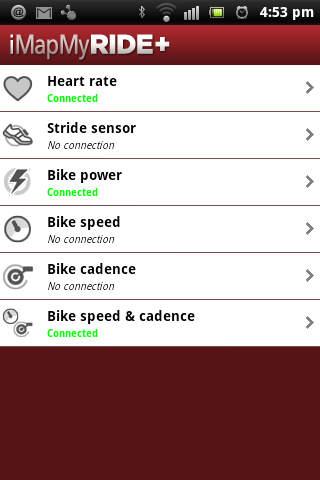 Each sensor type can be individually connected and paired to, just like on your normal ANT+ head units.
Once connected to the sensors the app will record the data just like normal.  The cool part is that like other ANT+ apps available for the iPhone, the options here are really limitless.  For example, Quarq developed an iPhone app that allows bike shops (or end users) to check the diagnostics of their power meters.  And others have written apps that allow you to stream your ANT+ data in real time to the internet, along with location data – allowing for real time tracking during races.  I'll get into the application options in a minute though.
Polar & Zephyr Bluetooth HR Strap Compatibility:
It's probably accurate to say that the Xperia Active phone is a playa (with the 'a' at the end).  It not only does ANT+, but also easily supports any of the other Bluetooth accessories such as both the Polar Bluetooth and Zephyr Bluetooth HR straps.  Of course, a given application has to support these on a platform (such as Android), but they do work just fine.  The nice part about the Polar BT strap is that it also supports legacy Polar devices (via 5kHz transmissions).  It's like two for the price of one.
You can pair both of these within the Android Bluetooth Settings control panel: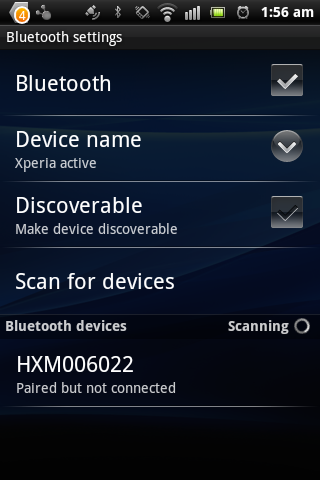 You can see above both straps, and using the My Tracks applications by Google, you can connect to either strap type (as well as ANT+ straps).  Speaking of My Tracks, let's get into the app options.
ANT+ Application Options:
Now in order to see ANT+ data, you need to have an ANT+ enabled application.  Meaning that you can't just use any old running or cycling app to record the ANT+ data – it has to be programmed into that application to support those sensor types.  The good news is that there are a number of applications out there, and the list is growing.  Like when ANT+ came to the iPhone via the Wahoo dongle, it takes a bit of time to get that list expanded.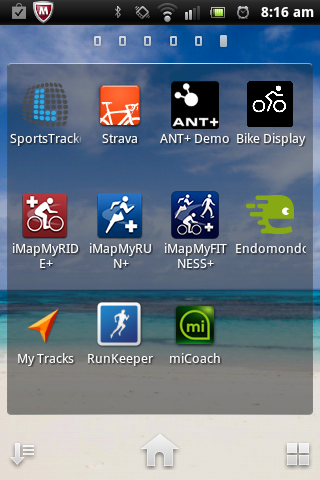 But the list so far is pretty good and offers a number of great options, here's a brief overview of the top ANT+ enabled apps:
MapMyRide/MapMyRun/MapMyEverythingElseYouCanThinkOf:
Out of all the ANT+ enabled Android apps, I've found MapMyRide/MapMyRun (and all the MapMyFillInTheBlank derivatives) to be the easiest to use.  I used it on my long run this past weekend (20-miles), as well as used it cycling – both connected to ANT+ sensors.
First you'll pair your sensors.  If you're running, this will likely be just a heart rate strap – or if indoors, also the foot pod for treadmill use (as well as running cadence data gathering):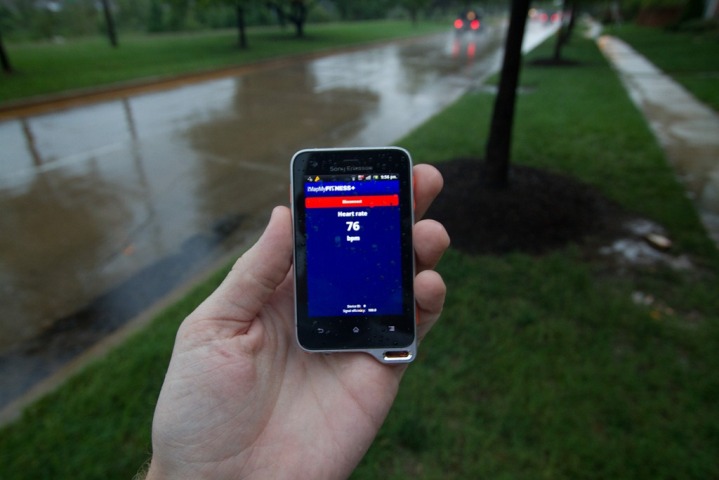 Once you're all set you'll start the workout and then press the big Play/Pause button at the bottom to start recording.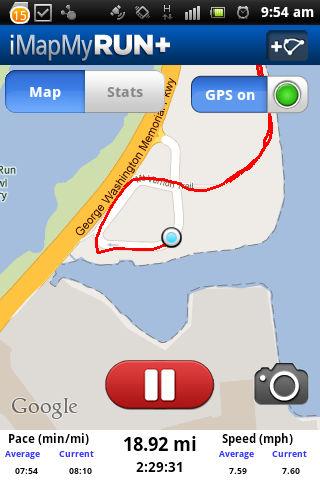 MapMyFitness can also broadcast your location/status to social networks such as Twitter and FaceBook, as well as provide a live tracking page for friends to follow you.  Pretty cool stuff.
Like virtually all fitness applications  it will show you a map of where you went both during the activity, as well as afterwards.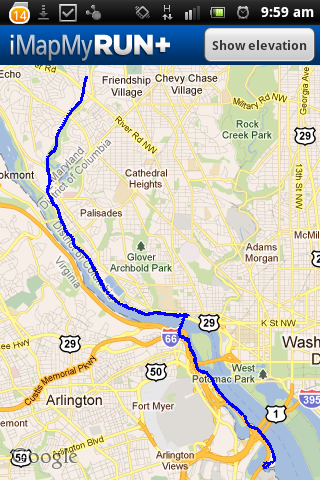 Once completed, the application will upload the data to their site.  I did find it interesting that they do a bit of data cleanup upon upload, as you'll see above the data was slightly short prior to upload – but afterwards it was corrected to be within 1/10th of a mile of my Garmin FR610 data (or roughly within 0.5% on a 20-mile run).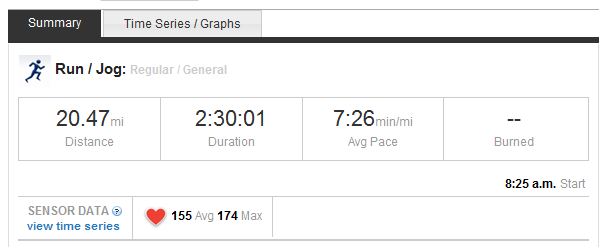 My Tracks (by Google):
My Tracks has long been a favorite of GPS tracking folks on the Android platform.  Developed internally by Google, it was also used as part of the Tour de France tracker application that was done last year (and this year again).
In addition to ANT+ sensors, My Tracks includes support for both the Polar and Zephyr Bluetooth HR straps too (and SRM's ANT+ bridge).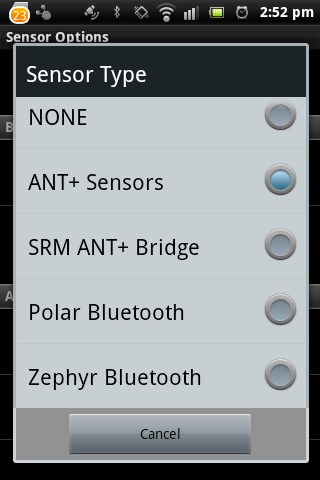 My Tracks then contains the ability to upload your recorded data to a website for later analysis.
Endomondo:
Endomondo is probably one of the most popular Android fitness tracking apps, and includes support for a number of different sensor types aside from just the ANT+ ones.  It also supports both the Polar and Zephyr Bluetooth HR straps too.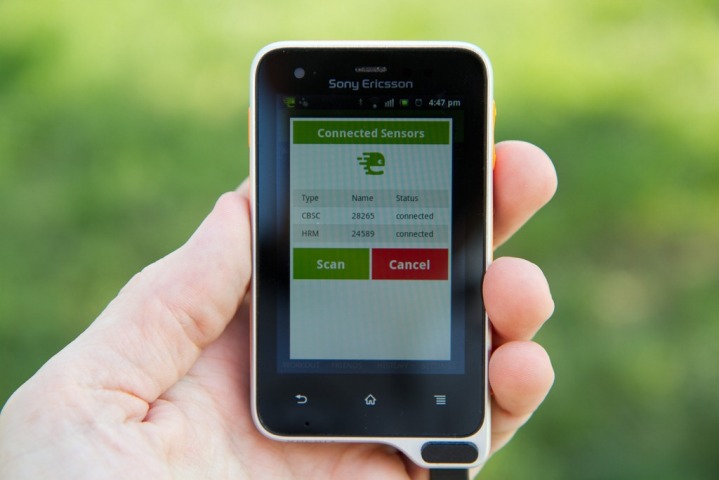 Once you've paired up the sensors, you can choose the sport type.  Like most fitness apps it will also do Text to Voice prompts for spoken alerts at mile markers of your choosing.
Once complete, the application will upload your workouts to a site where you can view them in more detail.
Other Applications:
Note that there are other applications that support non-ANT+ heart rate devices – such as as the Polar and Zephyr Bluetooth heart rate straps – but since Bluetooth is supported on virtually every phone out there you'll find them available in many of the more popular apps given the wider adoption of Bluetooth in phones.
Summary:
Having used this phone nonstop now for a bit, I'm really enjoying it.  I love that when I go out for a ride I don't have to worry about it in my back jersey pocket – and I love that simply using it in the rain isn't an issue.  For an active person like myself, it's really ideal.  For me one of the main reasons I've used a waterproof point and shoot camera all these years is the 'I just don't have to worry about it' factor – and the same really applies to this phone.  I simply just don't have to worry about it.  I know that I can throw anything I want at it, and it'll just keep on tickin'.
The Xperia Active is available now, though in the US you'll have to buy the phone and then simply put in your carrier's SIM card (both in the US and Worldwide). Which is what I do, and super-easy.  You can see all the detailed technical specs on their website at this link.
As always, if you have any questions – I'm happy to answer them below in the comments – and thanks for reading!