Back a few months ago I offered my views on how I avoid decapitation of my bikes when I pull into my garage after riding.  Like most, my method is simplistic and functional.  But it's also tied to the reality that I have to remember to do it.  And if you're feeling confident that you'll always remember – then I ask: Do you trust your wife/husband/kids, or whitewater kayaking grandma to remember? That's what I thought. Always grandma's fault.
And that's where HeadsUp comes in.  The HeadsUp system uses a set of wireless tags that attach to your bike (or other random gear) to visually and audibly warn you that you're about to remove your sports equipment/Christmas Tree from your car rack in a less than ideal way.
Last month the folks from HeadsUp sent me their new roof rack alerting system to try out – and I've been doing just that since then.  Let's get right into unboxing!
Unboxing & Contents:
The HeadsUp system will arrive in a simple box about the size of two cereal boxes put side by side.  It may or may not include enough stamps on it to postage your little brother to Kalamazoo.  Mine did. No worries, it's more vibrant that way.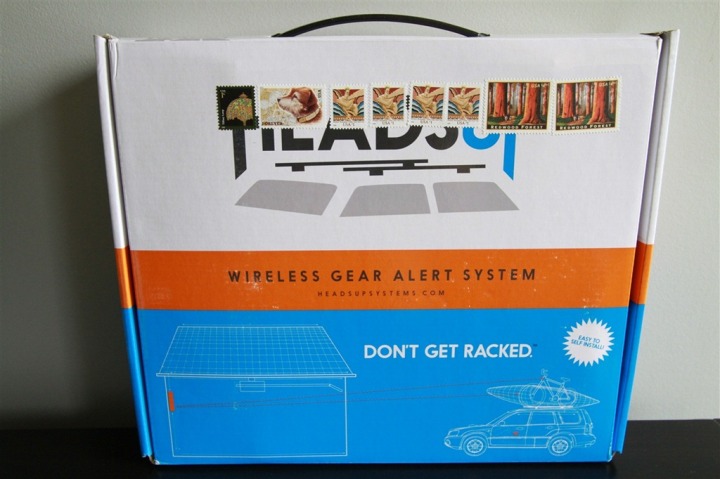 Once you crack it open you'll see all the contents neatly arranged inside: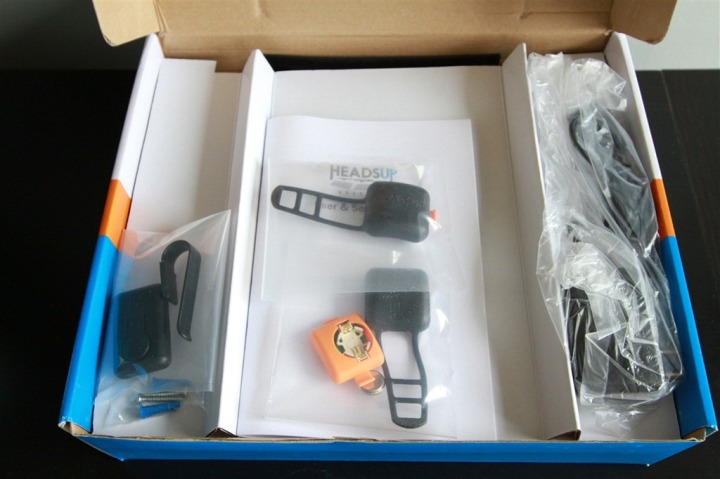 You've essentially got four major pieces in there: the LED Sign (and power plug), two Gear Tags, and one In Car Alerter.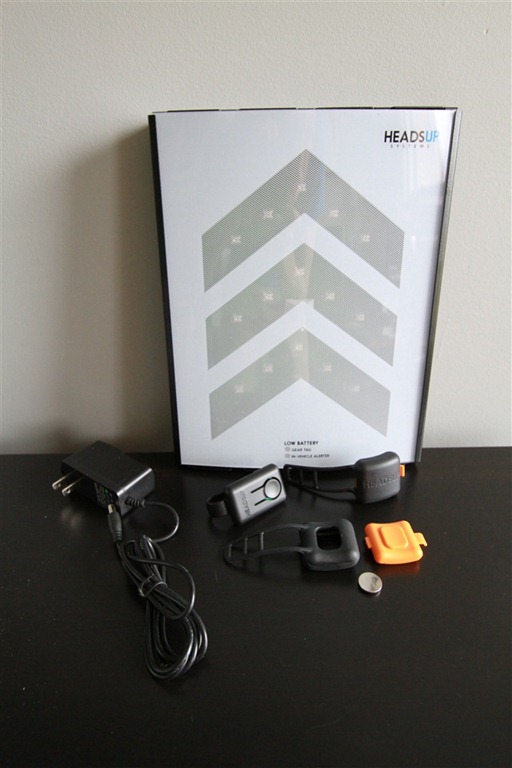 Let's take a quick look at all the pieces up close.  Here's what a gear tag looks like.  It has a small rechargeable coin cell battery that should last about two years.  It then pops into the orange piece, which in turn pops into the black rubber piece.  That black rubber piece that wraps around your gear – sorta like a rubber band.
Then we've got the in-vehicle alerter.  This is basically a mini garage door opener whose sole purpose in life is to beep really loud.  When you come within 50ft of the LED sign, this thing screams like the world is ending.  It attaches to your visor.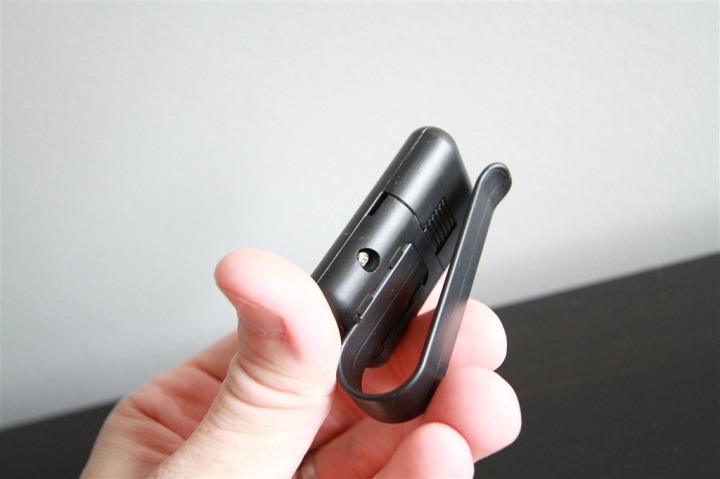 Then we have the LED illuminated sign.  This will light up like a Christmas tree when you approach within 50 feet of the sign.  It lights up at the same time as the in-vehicle alerter starts beeping.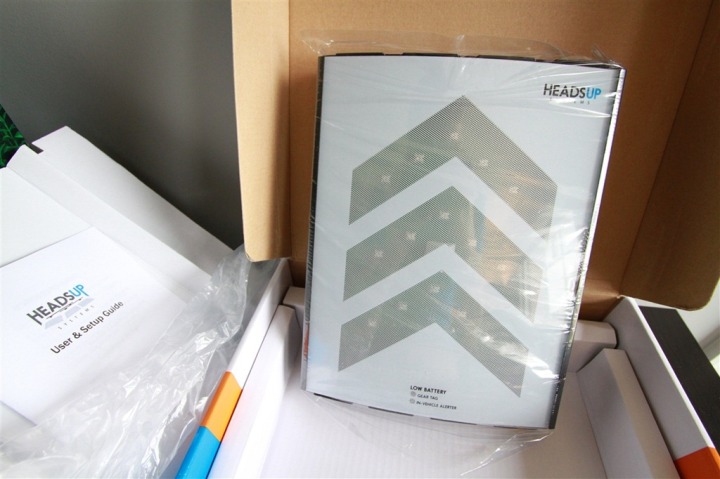 At the bottom it also has an illuminated area to let you now if a gear tag or in-vehicle alerter needs to have its battery replaced.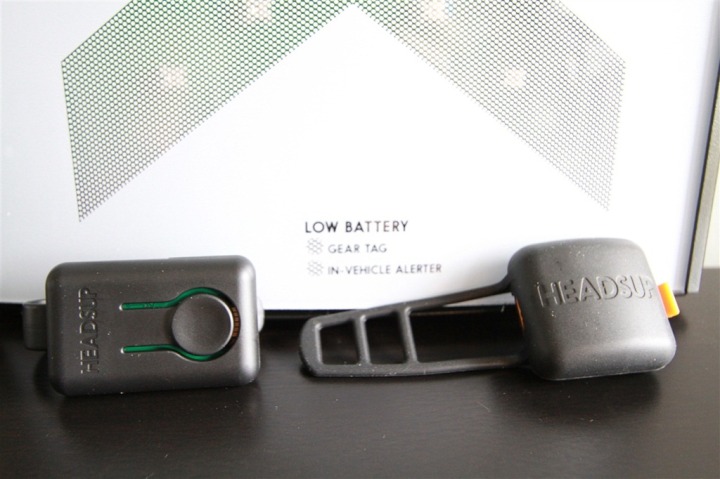 Finally, it should be noted that the default set comes with two gear tags, and one in car alerter.  But you can buy additional tags or alerters should you have additional pieces of gear.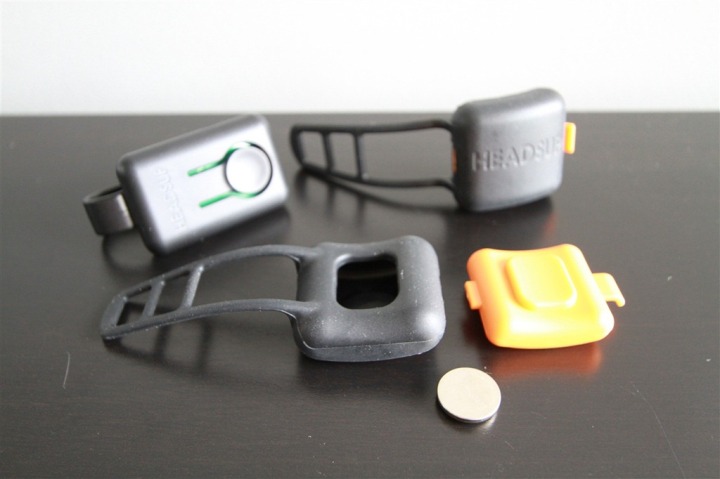 Installation:
Installation will take you approximately 28.2 seconds.  First, you'll need to find a place to stash the sign.  The sign itself is about the size of a sheet of printer paper and includes mounting screws just like a picture frame would.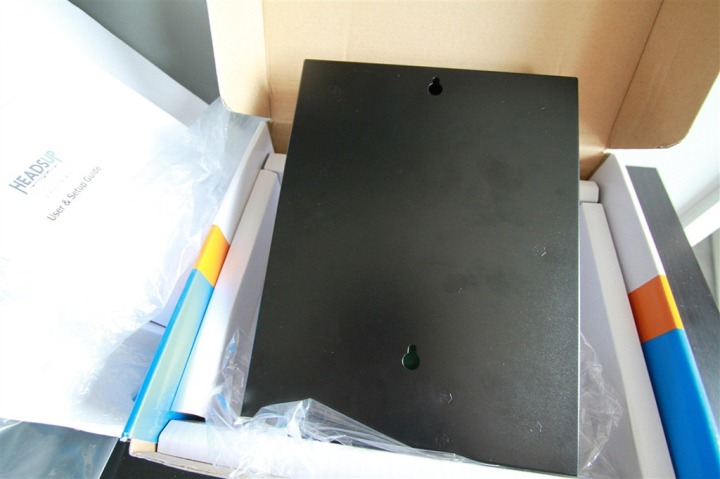 In my place, the best location was actually just sitting on the ledge of a freezer up against a small small fridge…so that's where it went: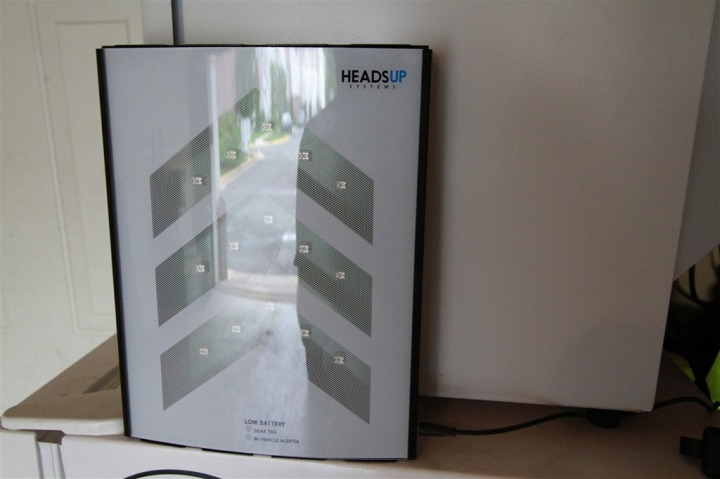 It does use AC power, so you'll need to consider that in the installation location.  But the power cord can be easily extended via an extension cord.
Next we'll have the gear tags.  You can attach these to just about anything you can think of.  Bikes, Kayaks, Canoes, Small Children, Turtles, etc… In my case, I just went with some bikes.
The tag will attach to the bike pretty much anywhere you can wrap it around.  I first went with the seat post:
Then I actually rigged it in the more aerodynamically friendly option under the seat itself: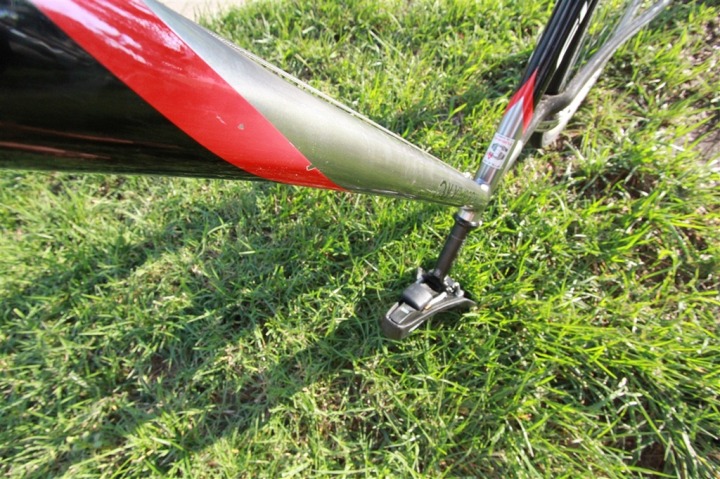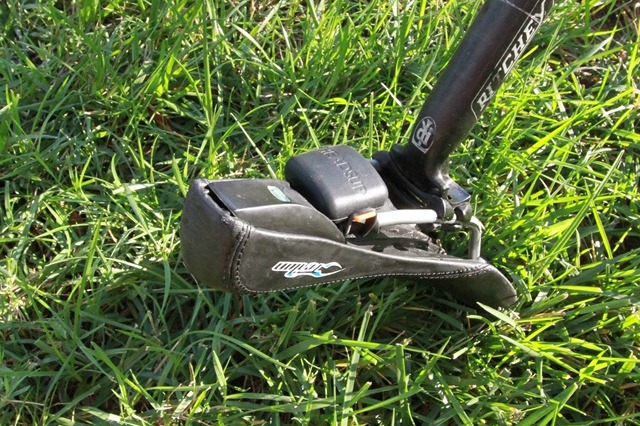 Though, in general the manufacturer says the safest place is simply inside a saddle bag if you have one.
I ran around for a week with one of the tags actually hooked onto my cars roof rack 24×7 – just to see how well it stuck – no problems.  I did have one tag snap on me when I tried to overstretch it and make a double loop (extra is better, right?). I asked the HeadsUp folks about it and they said that should any tags snap they'll happily send out a replacement (just the rubber piece would be needed). But that snapped during installation and not during use – once it's set, it seems fine.
And then finally, you'll want to stick that in-vehicle alerter in your car on your visor (and leave it there!).  With that, we're good to start using it.
Use and Effectiveness:
Now that everything is installed, here's how it all works.  As you approach the garage and get within about 50ft the unit uses 2.4Ghz wireless technology to alert you audible and visibly.  Visibly the alerter sign flashes up arrows over and over again:
You can see below in this photo the orange sign at the end of the garage lit up as I approached:
Then, inside the car the little in-car alerter (garage door opener looking thing) will start beeping at you.  You can silence the beeping at any time by simply pressing the button on the in-car alerter.  The sign meanwhile will continue flashing for about 2 minutes.
The best way to see how this all works is a short video.  So I grabbed my camera and put together this quick clip showing me approaching the garage with bikes on top and then it triggering both the audible and visual alert system:
Demo: HeadsUp Alerting System when driving into garage
You may have noted that the unit alerted somewhat later that you would probably want.  So I went back to the folks at HeadsUp and asked how I could improve the range.  It turns out the unit I got had a manufacturing defect where the wrong chips were installed in 50 pre-production units that resulted in the range being cut in half.  They're sending me a new sign Monday that I'll have when I return from Interbike to try out.
Also note that the tags won't alert unless you actually leave the proximity of the house with the alerter.  Meaning that simply going for a bike ride from your garage won't cause holy alerting madness when you return, unless you bring the in-vehicle alerter with you.  And bringing the vehicle alerter with you is like violating rule #1 of Alerter Club: Don't remove the alert from the car. Ever. No really, ever.
Summary
HeadsUp themselves acknowledge on their website that there's nothing wrong with the tried and true homemade systems that you and I have developed for remembering that there is something on our car racks when we come home.  But they correctly point out that these systems are dependent on human remembrance, as well as ensuring that nobody else modifies them (such as kids removing a traffic cone).  Thus while the $160 system is kinda expensive – it's also likely pretty cheap compared to the cost of bike loss, as well as damage to vehicle and home.
I know for many of you (myself included) – my bike is actually worth more than my car, especially once you start looking at race wheels and power meters.  If you put both my wife's bike and my bike up there, and the cost doubles.  Simply stashing a small tag the size of a three Starburst candies up inside the bike seat is a pretty cheap insurance policy against human error.
As with all my product reviews – if you have any questions, feel free to drop a note below in the comments and I'd be happy to try and answer it.  Thanks for reading!