I've had turtles forever…since I was a tiny little kid.  Of course, when I got my first turtle, our family didn't know much about turtles.  My friend had a few box turtles and I had decided they were too boring, so I wanted a water turtle.
Thus, my first turtle – Sparky.
Sparky eventually got two friends – Rosie and K2.   K2 was a young little thing, while mama Rosie was a bit well aged.  Eventually she went to turtle heaven.  But K2 and Sparky remained.  Fast forward about 15-20 years now…
My turtles have a tank in a small room that's off my home office (which is a converted spare bedroom).  From my desk I can see about half the tank without craning my neck too much.
Back a bit ago I was working in my office at home and thought to myself – hmm, I can't see the turtles from here – let's see what their up to.  Occasionally they'll stack themselves on top of each other on the land portion, just to get a better view or something.  So I went to check out their deal.
However…when I came into the room, I immediately noticed a lack of turtles in the water.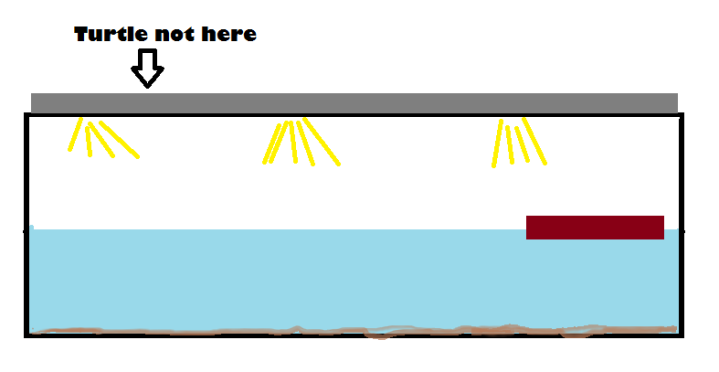 Now – I've seen the turtles attempt to go on unauthorized field trips before and have long since fixed that issue by simply ensuring they can't double-stack themselves on the little floating island and then climb out the top of the tank (seriously!).  Further, I usually put a heavy object on the front portion of the tank lid to prevent them from opening it (oh…they'll try).
So…back to walking into the room…
I wander in and for a brief moment in time there's just silence.  Kinda like when you're playing hide and seek and you know someone's in the room. (For those curious, my turtles don't bark or anything, but they do bonk into things seemingly all the time when they see you coming – thus absolute silence is actually unusual).
However – that silence was brief.  As approximately half a second later all heck broke loose.  I heard a cacophony of clunking, thumping and scratching. And then a bunch more scratching and then silence again.
I thought…what the heck is going on here?  And dude…where's my turtles anyway?
Well…
So I pry my head behind the tank where there's a small 4" wide gap between it and the wall.  There I find Mr. Sparky and Mr. K2 looking up at my in confusion…and some guilt and shame.  Their little heads pulled back into their shells trying to say "Umm…hi boss…" or perhaps "If I can't see you, you can't see me!".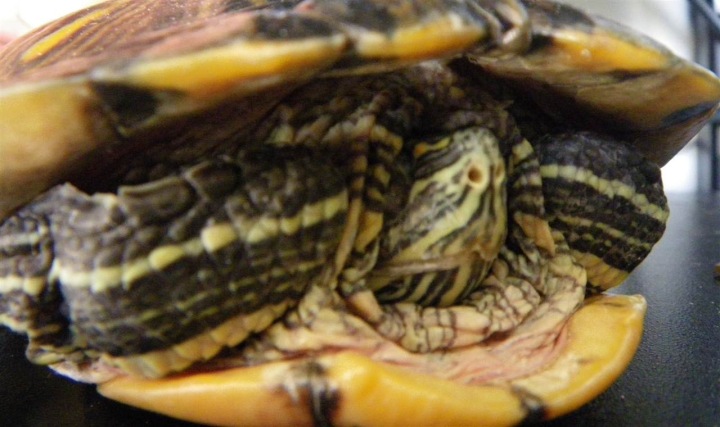 Now, it turns out that when I came into the room they were ever so carefully balanced on the upper edge of the aquarium.  Well…apparently when I showed up I scared the crap out of them.  As a result of my exciting (and unexpected) arrival, they lost their balance and fell down the backside of the tank near the wall (thankfully no actual crap was scared out, because that's messy to clean up).  The problem they had at that juncture was now two fold.
The first issue being that one of them fell upside-down on top of the other one, kinda like two burger buns inverted on top of each other.  A turtle burger if you will…
The second issue being that there's a metal bar behind the tank that holds up some bookshelves (above the tank).  They fell in a section that then made it too slim for their shells to simply walk back out to freedom.   Thus…they were essentially trapped.
Now, they had managed to somehow (and I'm still unclear how), get themselves up onto that edging (all of 3/4" wide), and then hang out there (I had forgotten to put the back piece of cover plastic on preventing their access).  As the time though the water level was too low – so they had to leverage the little floating island to use as a stepping stool to the upper edge.  But how both of them did it was beyond me.  Sure, I can see one of them while using the double-stack method (one climbs on tpo of the other, and then climbs to freedom).  But two?  That's a whole different story that I have no explanation for.
Either way…Escape Fail.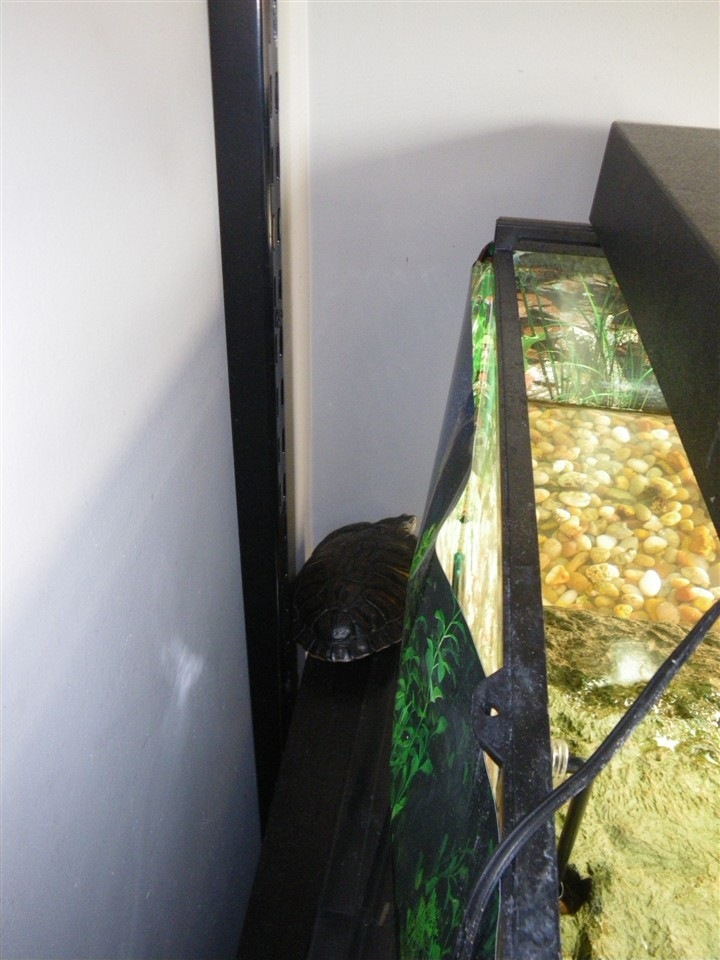 The lesson learned here is useful in life.  If you're ever about to get caught in the act escaping – don't make a racket and then fall upside and get stuck.  Never works out in the end.