After returning from Austin mid-last week, I've been in a fairly easy training mode.  Though, Saturday had a fair bit of pop to it with respect to workouts.
It started off with a 1hr wetsuit swim, as has been usual as of late.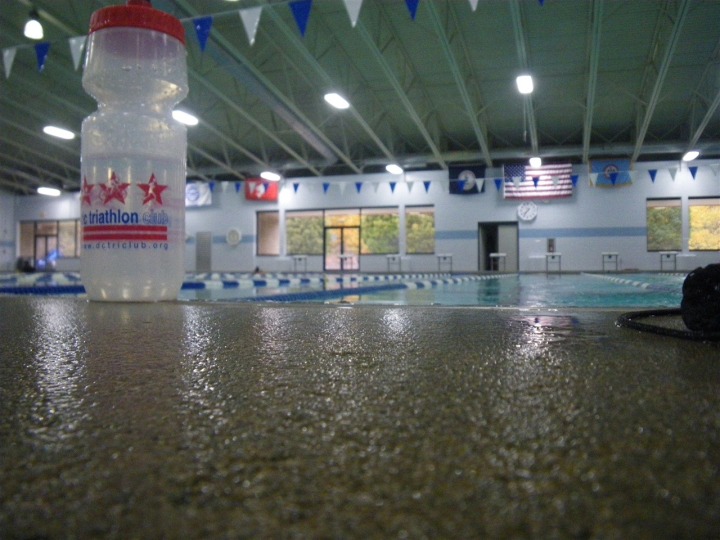 The swim went…swimmingly.  My 500's were spot on 7:00 flat every single time +/- 1 second.  In an 1:00 hr and 1 second I hit exactly 4300yds. I actually broke out my simple Timex wrist-watch I got last year on the podium at the Nation's Triathlon.  I hadn't used it yet, but my normal Nike wrist-watch is currently in a state of broke. 🙁  Either way, this one fit the bill as a simple stop watch in the pool.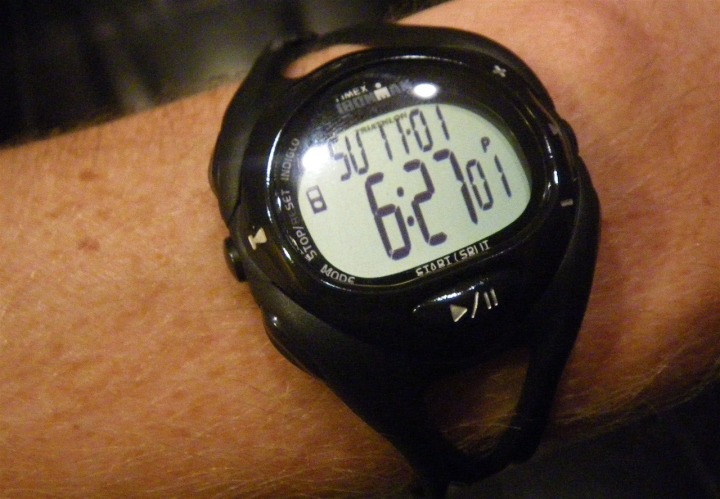 From there I zipped back to my house to hop on my bike for a 2 hour trainer ride.  It was mostly a normal 45 minute IT, followed by sets at Z2 and Z3…which you can see below.  Nothing like 1hr15m of continuous nothingness on a trainer.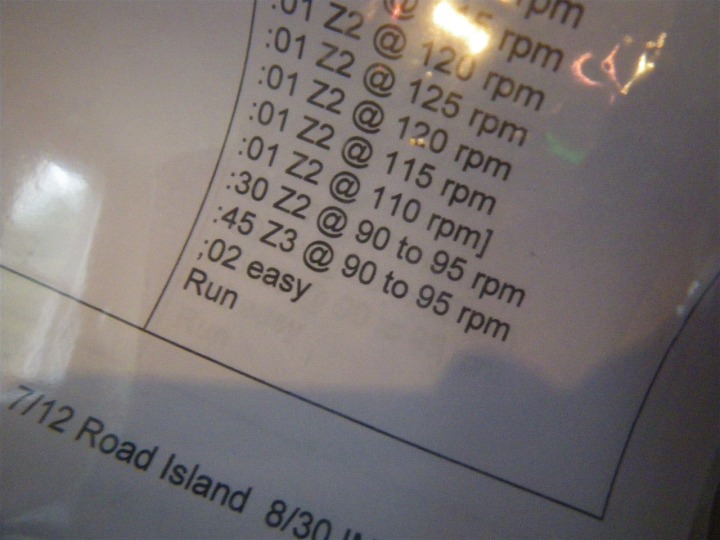 I did manage to get 2 hours worth of TV shows in the Recorded TV section knocked out however…and go through three water bottles and two gel bottles.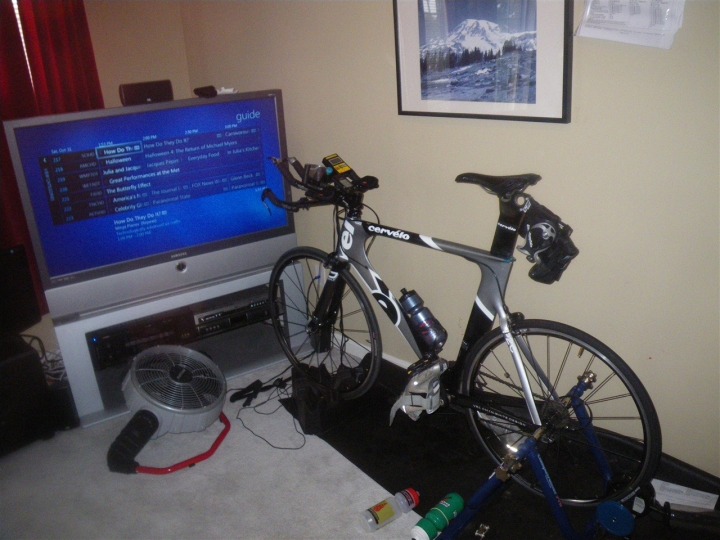 After my ass had become relatively accustomed to the bike, it was time to head out for a little jaunt on the run.  Now, interestingly, my ass had also become accustomed to a new set of bike shorts…well…tri shorts.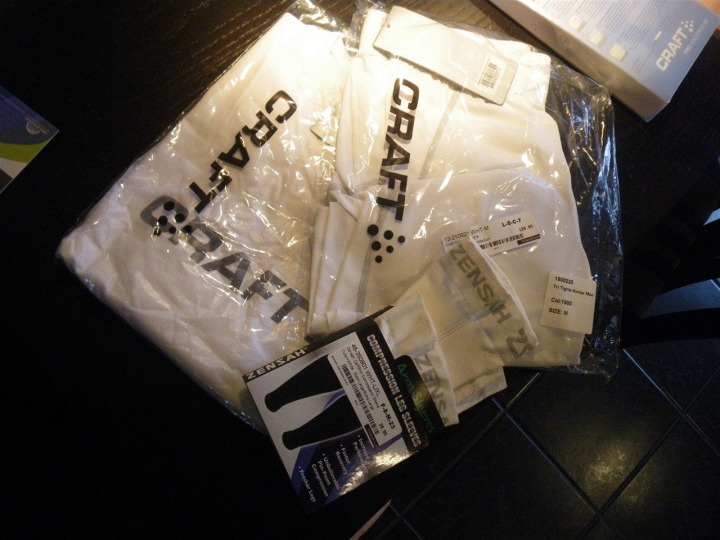 This new 'tri suit' of sorts will be familiar to many of you following the warmer triathlon scene.  I'm going with a long-sleeve white triathlon top (sorta compression), along with a short compression tri shorts.  Now, interestingly, I ordered this kit, and I noticed it included a pair of underwear.  By myself I wouldn't have ordered the extra piece – but I'm dang glad I did.  Because let me tell you – without that underlining, it would have been the equivalent of a male wet t-shirt contest.  Potential bad situation (at least from my perspective).
Anyway…
The tri shorts worked really well.  I think I might just pickup a pair of the black shorts for longer training rides.  I like them.
I went out for the run at pace – 7:40/mile – and just plodded along.  It was rather warm – mid-70's here in DC, and a fair bit humid from the early morning rains.  So that threw me for a bit of a loop, but I just pushed on through it and stuck the pace.  With the virtual partner thing it's so easy to just nail paces.
Of course, despite the heat – you can definitely tell it's fall here.  Below is the little 8 mile round trip run/bike trail in front of my house – and there's actually a wooden bridge below all those leaves.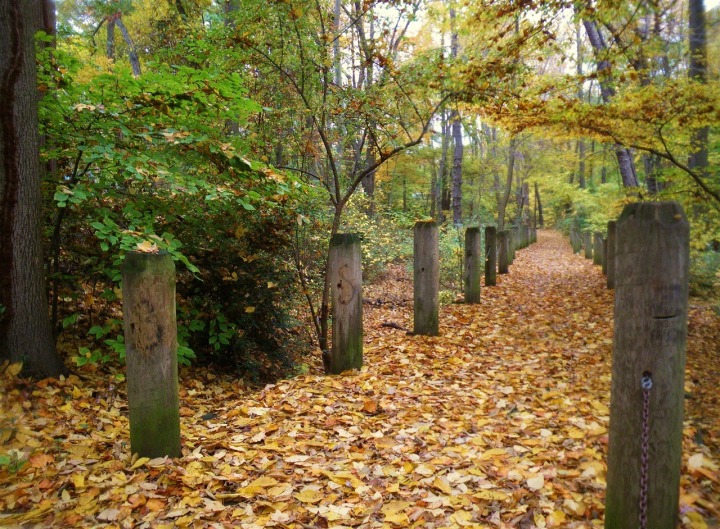 After I finished up with the four hour brick I went out to complete a few errands – which ended up including food for the belly.  Turns out if you wore tin foil to Chipotle, you get a free burrito.  A bit of scrounging around later (and a fairly long wait), and I got a free burrito.
Halloween around these parts was pretty quiet.  A few kids showed up at my door, but otherwise not much.
Sunday I had as a rest day, and thus far I've been resting around.  11 hours of sleep, lots of TV, and watched the NYC Marathon earlier in the day live on TV.  My marathon running buddy Rob (he and I ran Boston earlier this year, and MCM and Philly in the past) was out there rocking it today with a very huge PR.  Though, much of the time while tracking him I was getting a 'Runtime error' from the tracking page.

Which…I thought had a bit of irony to it.  Get it..'Runtime error'?
Ok…nevermind*…
(*Being a computer dude by day I could go into all sorts of tidbits as to what a Runtime error actually is…but I'll save you that bonus material)
On the little of little random notes:
1) Garmin currently has a $50 rebate out there for the 310XT if you buy it from any authorized Garmin dealer (Online or Store).  It's not advertised on Garmin's site, and after some back and forth with the Garmin rebate folks about that I can confirm it's a legit deal.  Personally I think it's dumb they don't have it on their site – but yet, $50 is $50 I guess.  Anyway, PDF file here.
2) I got all signed up for the NYC Triathlon next year (Oly distance, mid-July).  It sold out in 12 minutes.  Yikes.  Should be a fun time.
Have a good week!