While down in Austin this past week I had a chance to checkout Lance's bike shop, which is called Mellow Jonny's.  Before I went I checked out the website – which honestly came off a bit over the top.  They had few items on there and they were all super-expensive.  So while I was still absolutely interested in going, I didn't quite know what to expect.  But when I got there, I was blown away.  Turns out there's good reason to be over the top at a place like this.  Here's a bit of  bike shop goodness to help kick off your Friday morning – enjoy!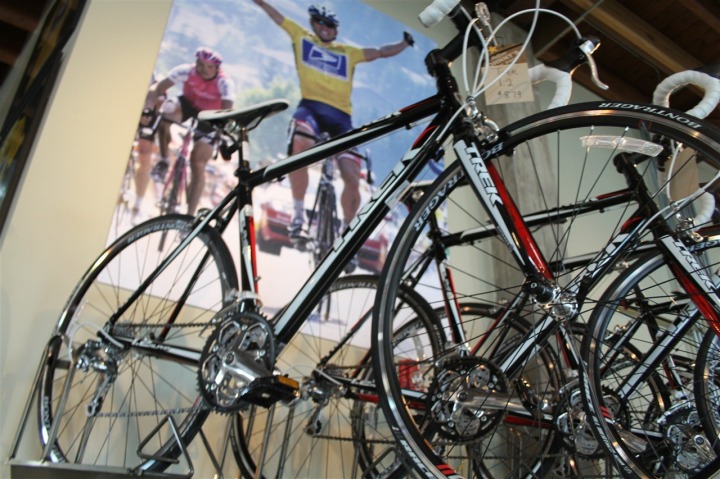 This place is the mecca of cool cycling stuff to ogle at.  Hands down…no competition.
Let's start off with just walking up to the front of the store.  As I was walking in, a SRAM's Neutral Support car was getting set to head on out (turns out it was around from helping out at an event this past weekend).  The coach/driver was actually packing up and just about to drive off when I snapped this.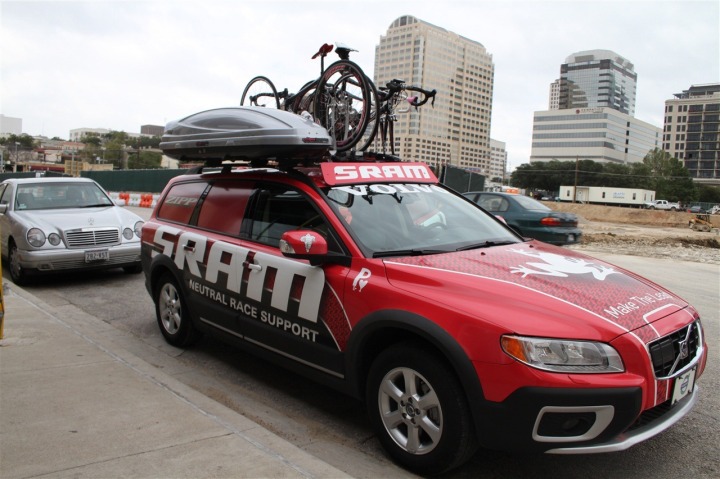 Once you walk inside, you'll note there's two floors – the main floor with mostly merchandise, and the lower level with non-merchandise.  The main floor also has the repair shop and cafe.  Let's hit up the main level first.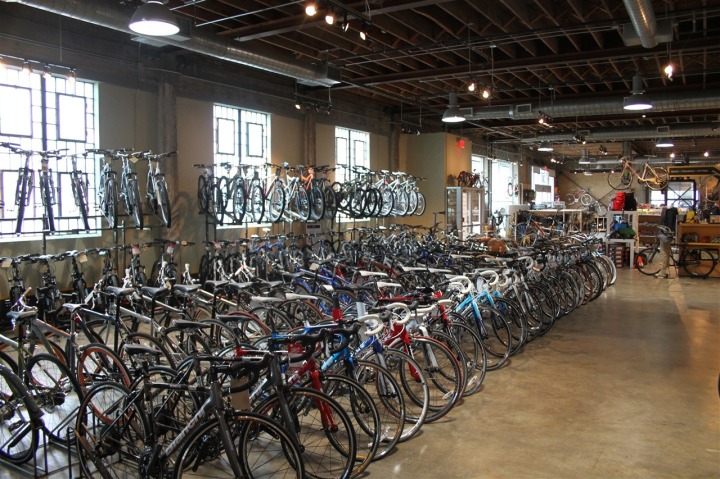 First off – there be a crapton of bikes here for sale.  And not all road bikes either.  There are mountain bikes, road bikes, commuter bikes and fixies.  And while there are plenty of TT bikes hanging around that aren't for sale, I didn't actually see any on the floor for sale.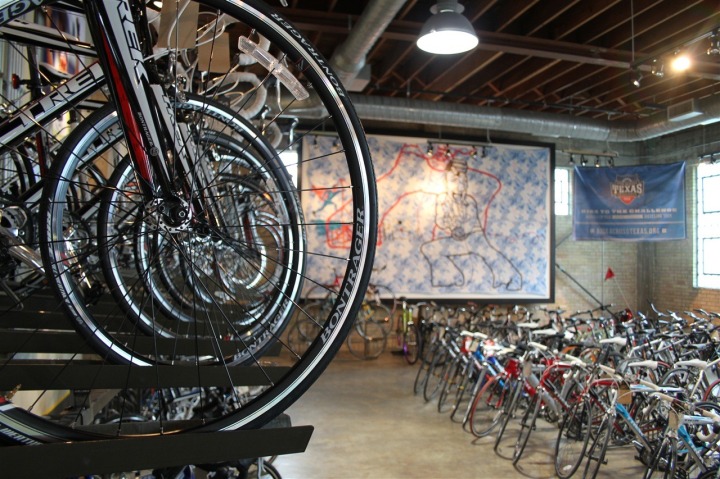 Now, while this shop has lots of special stuff (which we'll get to in a second) – it also has plenty of normal stuff that you'd expect from any other bike shop – like nutrition and bike accessories.
And it a wide assortment of clothing as well – everything from very prominent Livestrong items to stuff focusing on the Austin/Texas cycling scene.  Most of the designs were pretty cool too.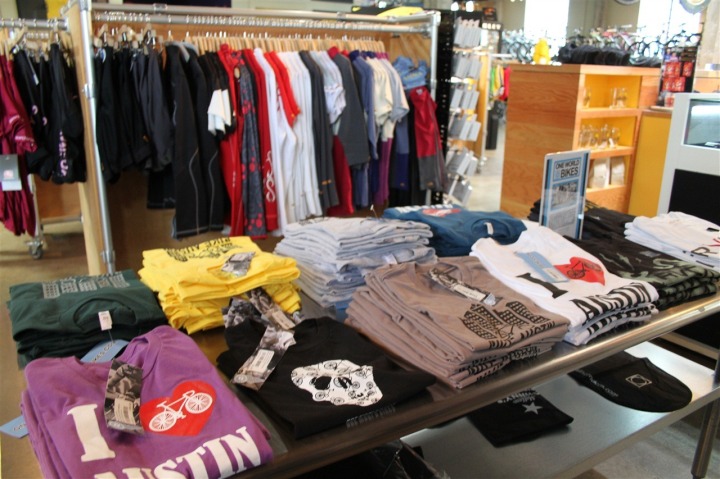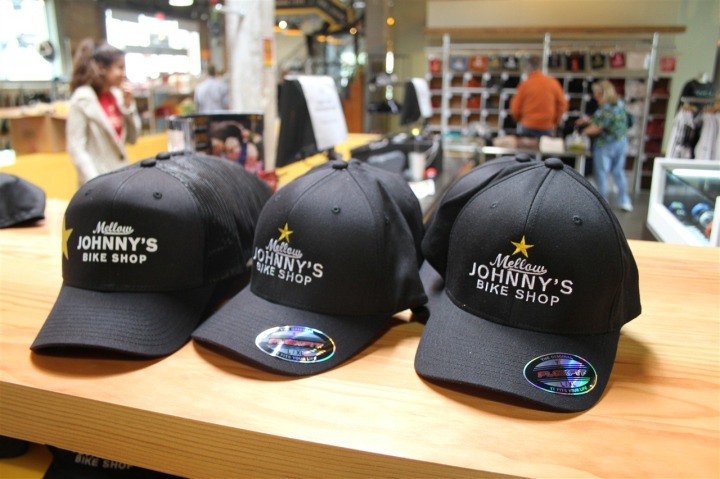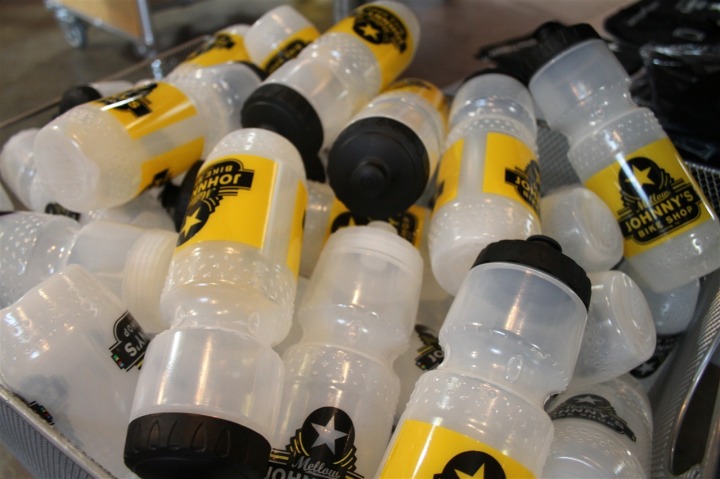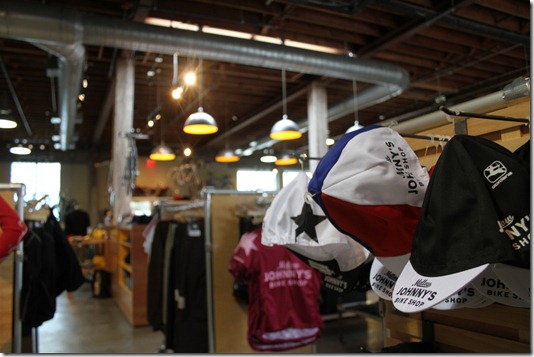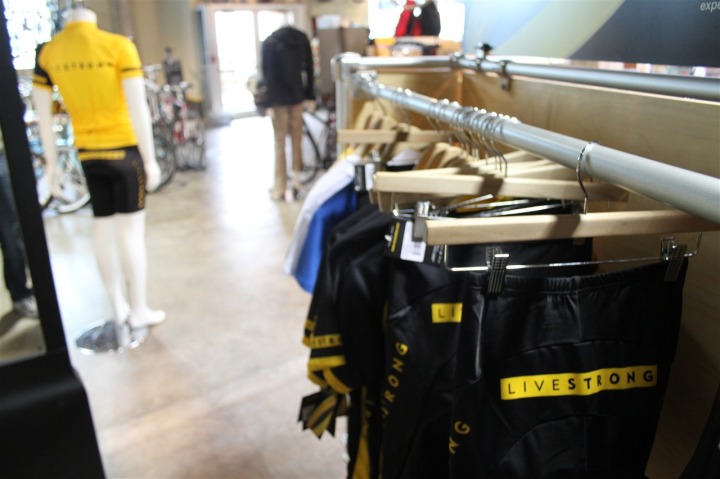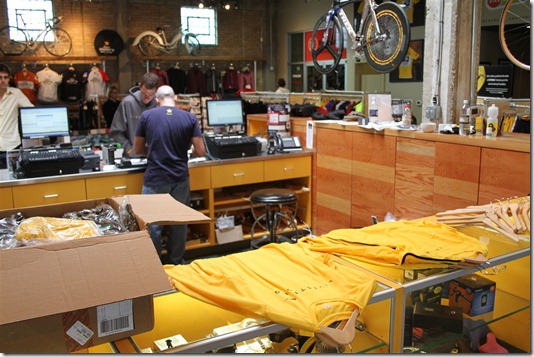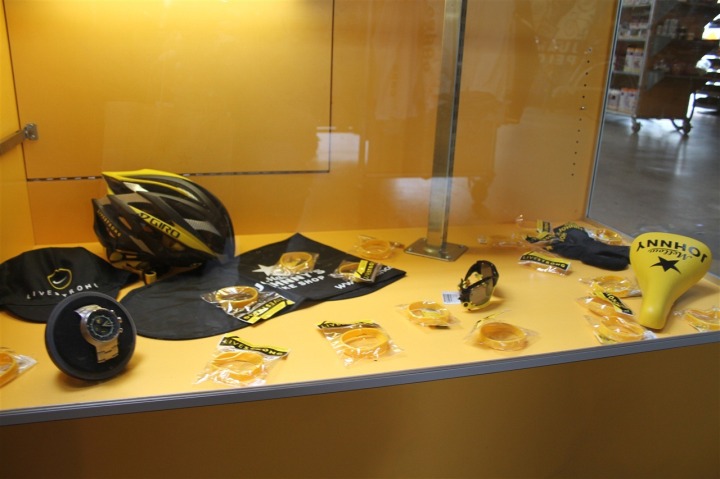 While most of the stuff in the photos above was kinda reasonably priced (about $20-30 for a nice t-shirt), there was some stuff that was definitely not.  Exhibit A – the Jersey's below – would fall into that category:

They were $120 a pop.  Had it been a special jersey from an event like the Olympics, or The Tour de France where I was there myself…then perhaps.  But a jersey from a bike shop?  Ummm…no thanks.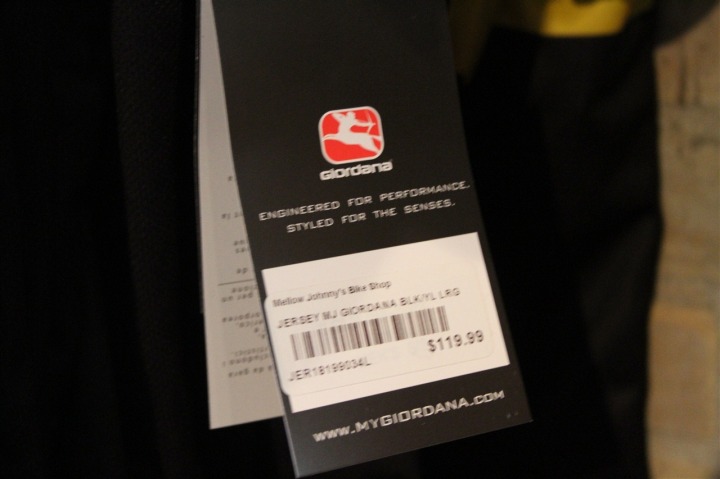 Now, while the normal bikes and apparel are neat and all – it's at this juncture that we take a completely different track from normal bike shops.
For example – does your bike shop have this hanging from the ceiling?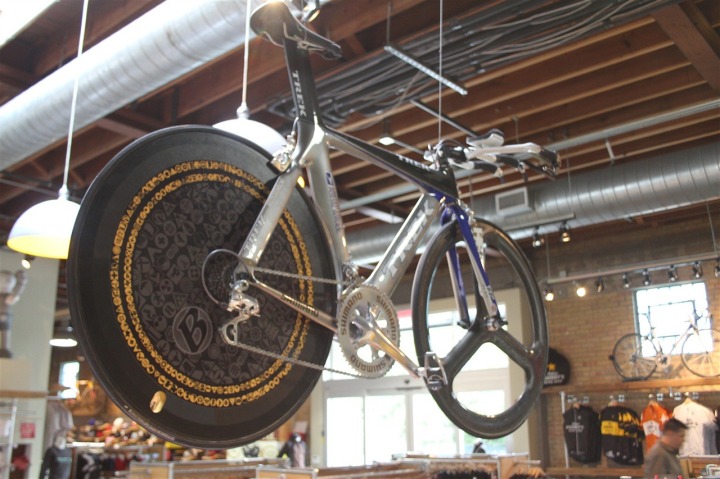 On the main floor there is also this back area, which looks like it's the team workshop area for the newly formed RadioShack Pro Cycling team.  I thought it was interesting all the bikes had PowerTaps on them.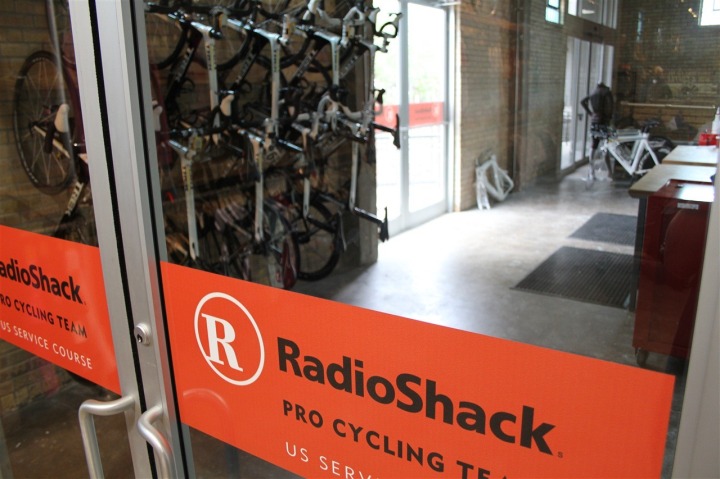 There's also just a lot of random cool stuff floating around.  For example, he has all of the Yellow Jersey's from each and every tour up on the wall.  Here's four of the seven: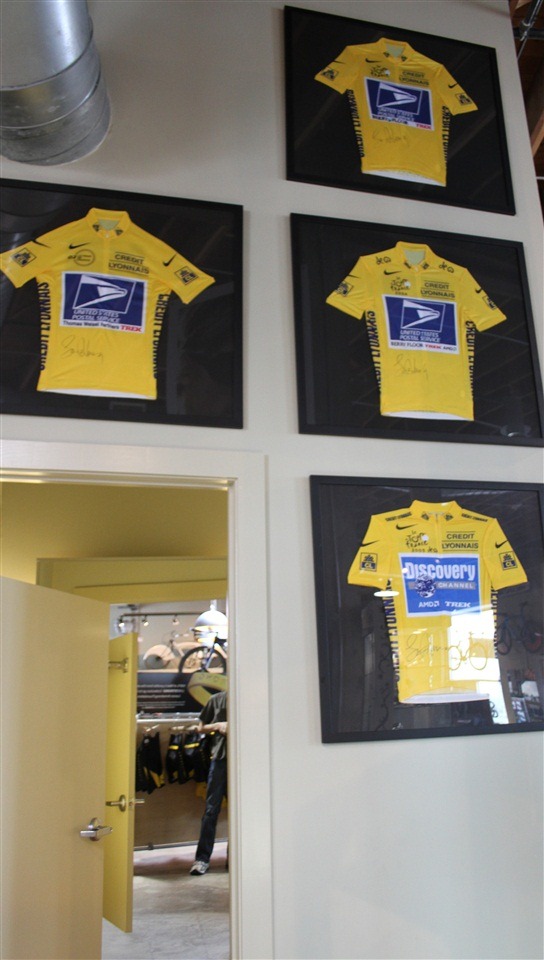 And if you wander towards the bathroom they have this cool piece of artwork up on the wall, which when you look a little closer has a cyclist for each stage of the tour he's done.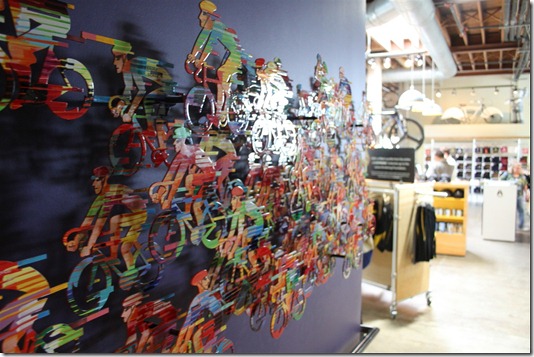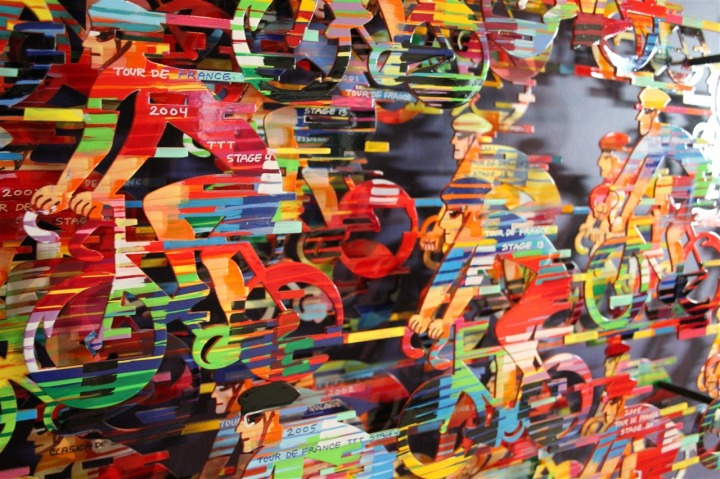 And the decorating carries into the bathrooms as well.  When nobody was in there, I got this quick shot:
Wondering why there are lockers?  Well, one goal of this bike shop is to be a community hub for cyclists and bike commuters.  So they offer free bike storage (the place is basically downtown), and also offer showers/soap/lockers for only a $1.  Sweet.
Like many shops, they also have a slew of weekly rides as well.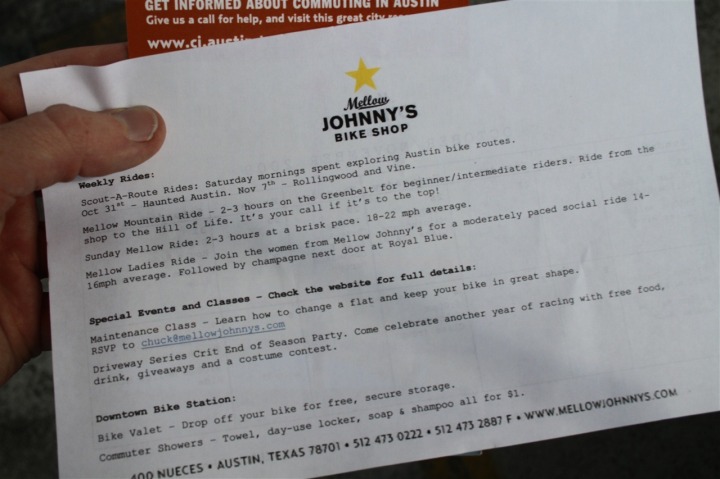 That said, it's time to head downstairs…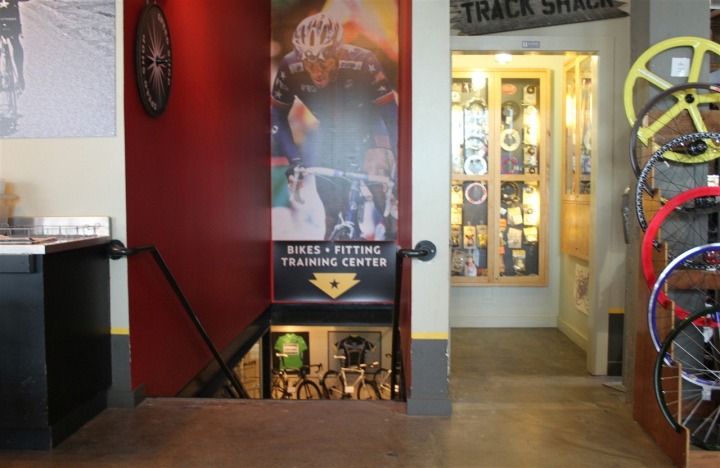 The downstairs is divided up into a number of areas.  First up to the left is a fit center and indoor training center.
The training center does bike fits, threshold testing, training and team CompuTrainer competitions.  This is pretty cool – and becoming increasingly popular.  You take CompuTrainers and link them together and then race against each other.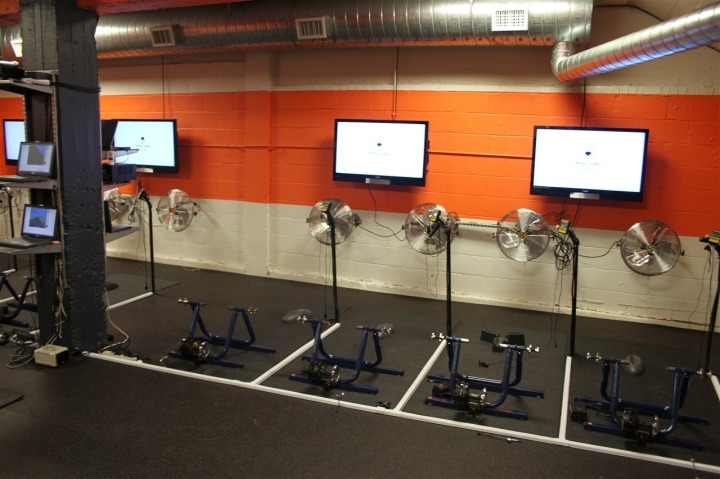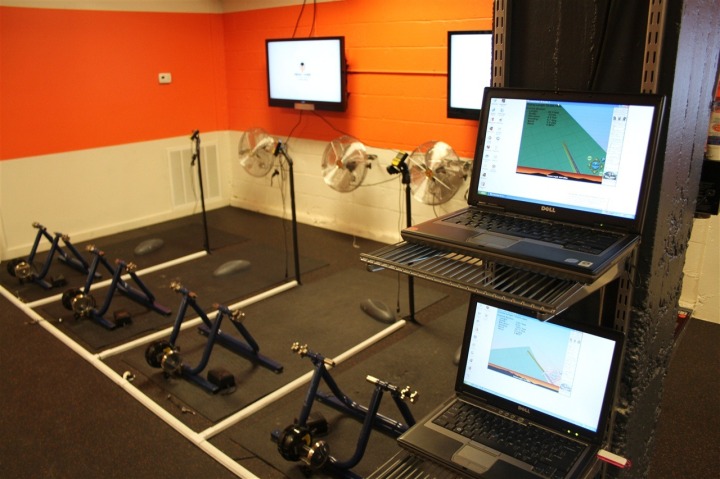 You bring your own bike in and just toss it on the trainer.  I thought it was interesting some bikes had aero wheels on them (given the expense of the tires and using them on a trainer wears them out faster).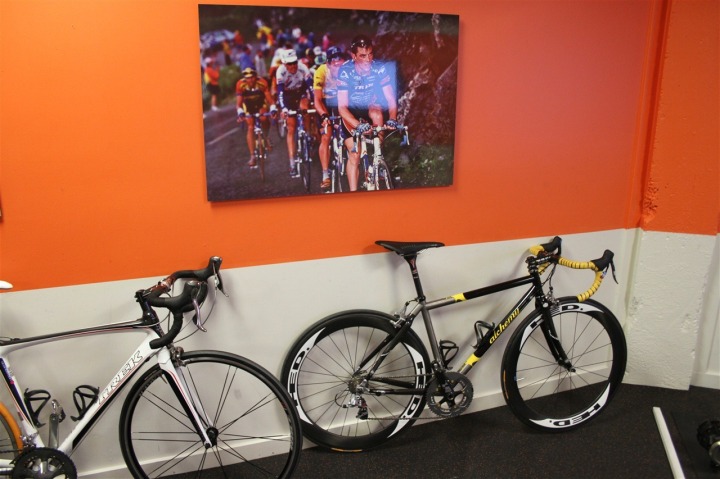 If you swing over to the opposite side of the basement, you'll find a fit studio and another conference room.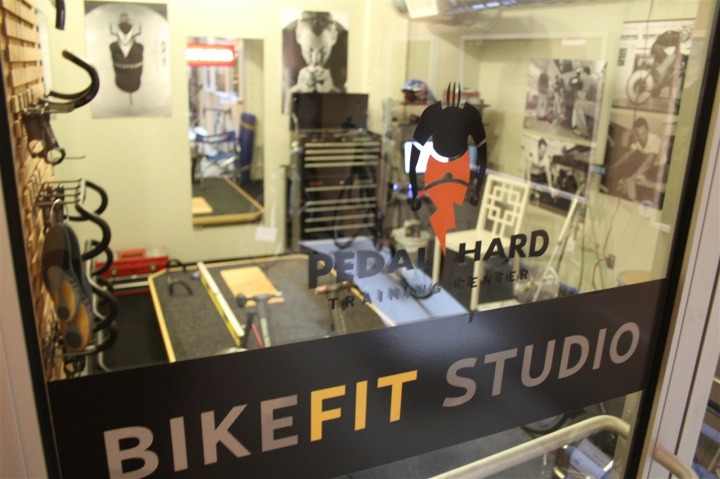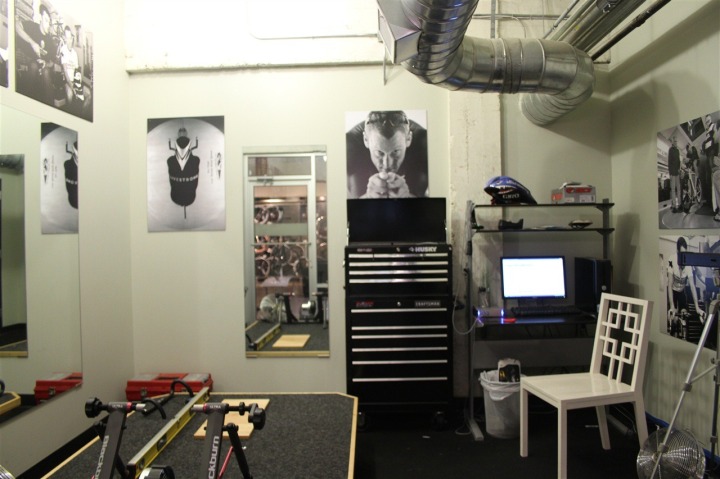 It's inside this conference room that the never ending stream of expensive bikes begins…  The below costing a cool $11K.  Interestingly, this was the only bike 'protected' – everything else was hanging out in the open where anybody could check it out in detail.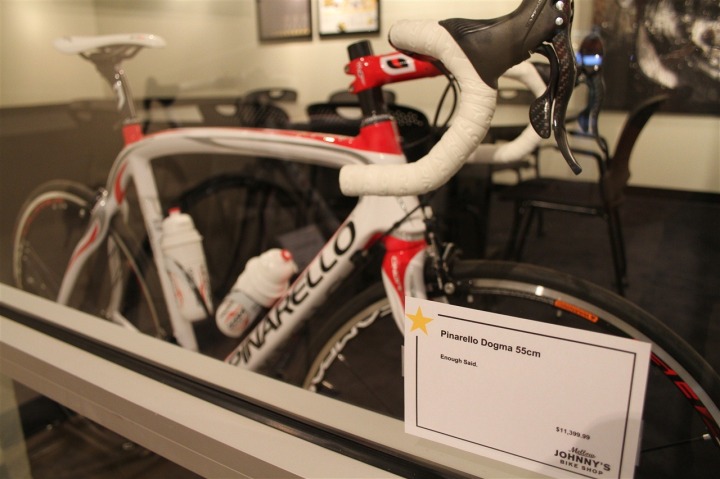 But, the real good stuff is just a few feet away.  Behold – Lance's 2009 Tour de France bike – which is interestingly being auctioned off this Sunday for charity.  Looks like I caught it just in time before it went out.
(It's below – the one to the right)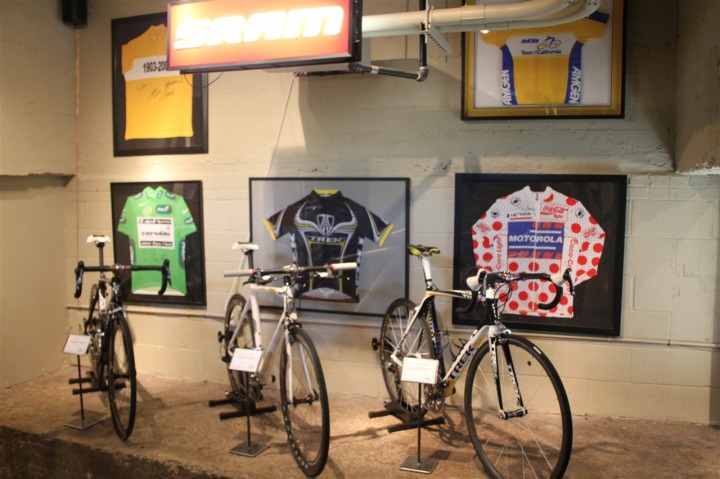 Yup, I've now touched the same place that Lance has touched.  He's sweated in the same place I've touched with my pinky.  Perhaps that bit of cycling connection will carry through to future races.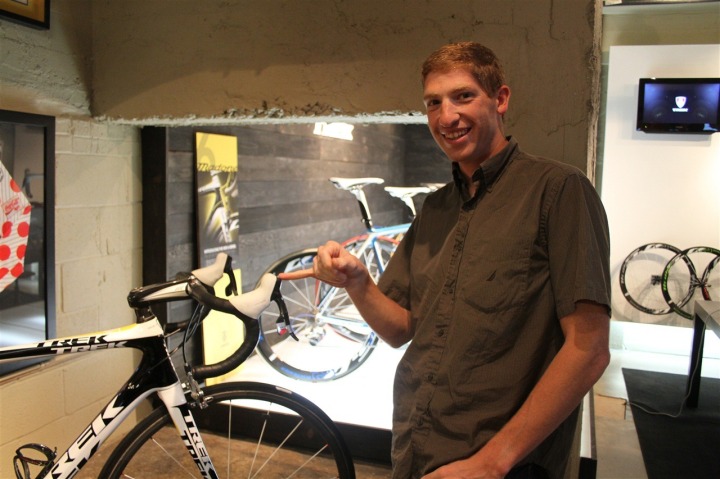 There's also a display of new Trek bikes down here as well: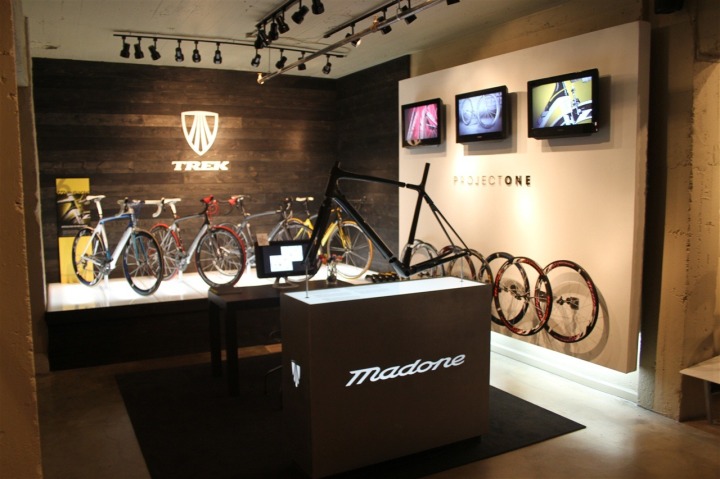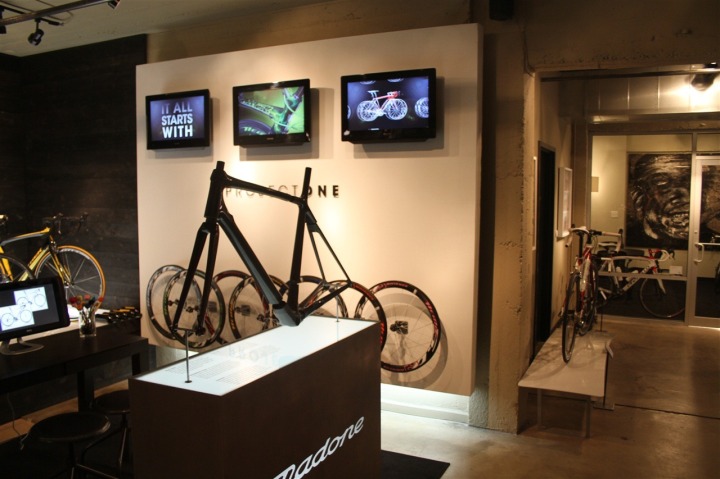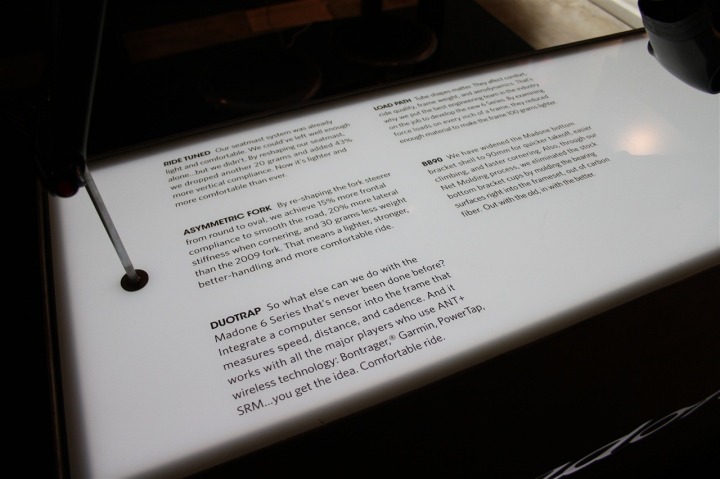 I thought it was cool to see the integrated ANT+ cadence/distance/cadence sensor (Duotrap, noted above) that they introduced earlier this year on some of their bike lines (most expensive).  This means you no longer have to deal with a separate sensor for ANT+ compatible devices (like the Garmin 305/310XT/405/705, etc…).  Hopefully other bike companies will catch on here as well.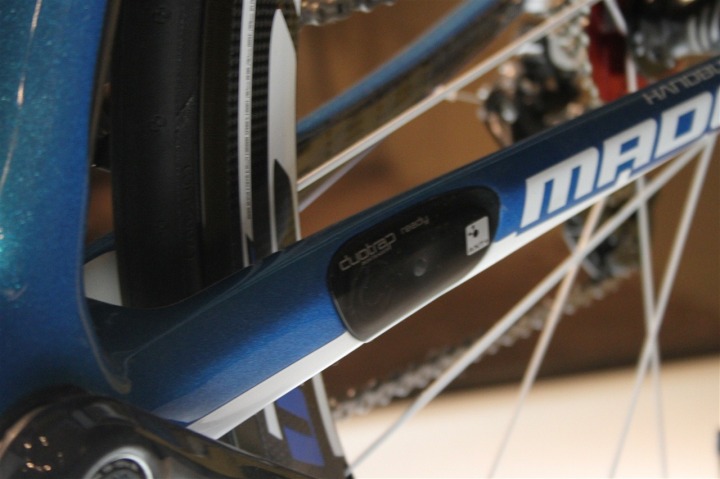 There's also a bunch of just random interesting stuff floating around – such as below – a good party's worth of wine bottles.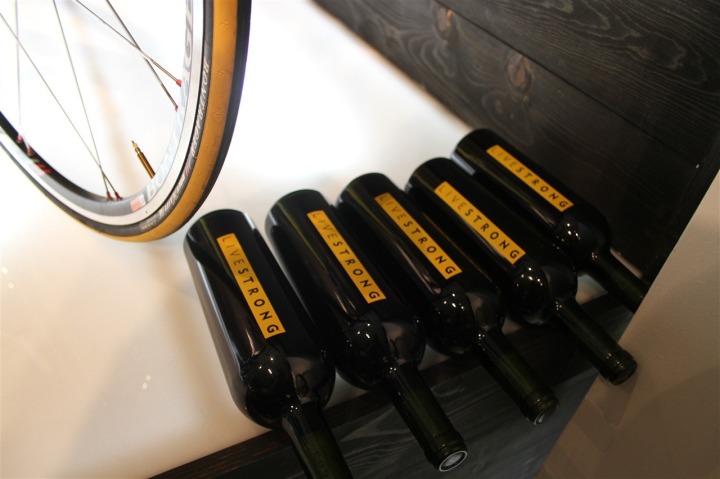 Or these flowers sitting on a desk – which if you zoom in a bit you'll see is made from bike parts – cabling for the stems, bar tape for the flowers, and then simply chains in the bottom of the vase.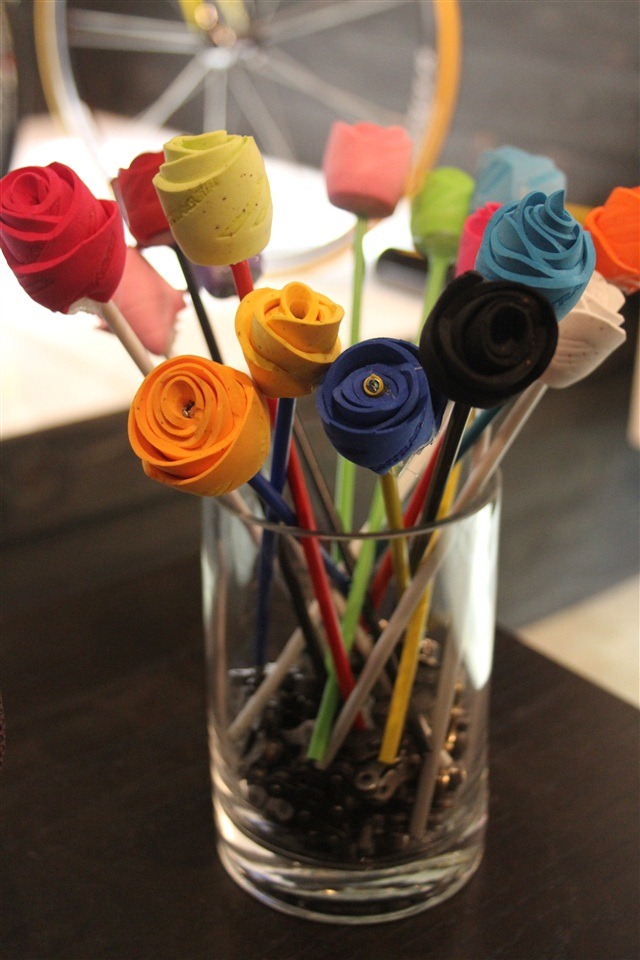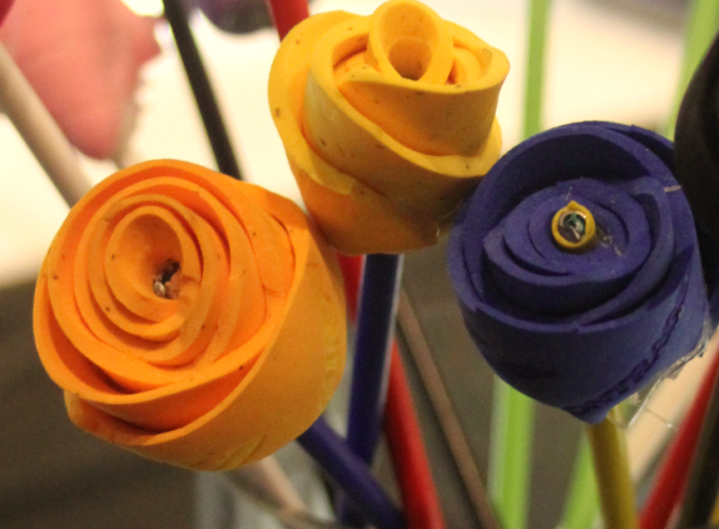 Last but not least…the cafe.
With the goal of the shop being that of a hub for cyclists, it stands to reason a cafe would be a logical addition.  This fairly laid back cafe had a steady stream of folks swinging by while I was there.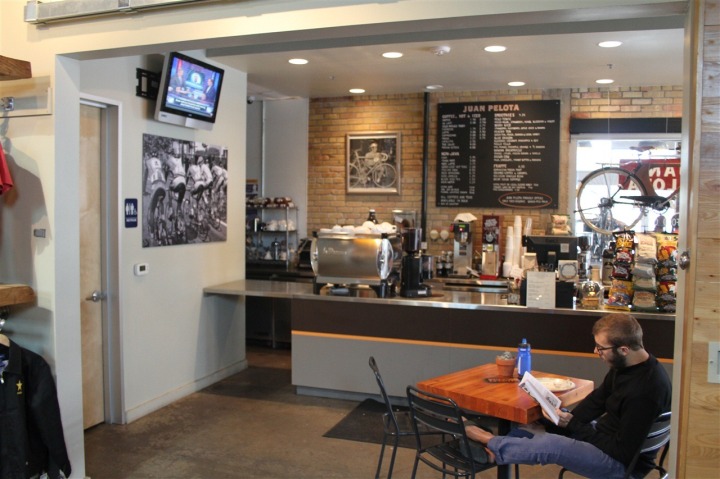 So with that, I hope you've enjoyed this little trip through his store.  If you're ever down in Ausitn – definitely go check it out.  It's absolutely worth the trip – even if you end up getting nothing more than a sticker for your bike case.