If you have a bike…and you have a car…it's likely the two occasionally mate.  There are many ways they can have a relationship together – be it inside the car, hanging out on the back, or one of the most popular – up on top.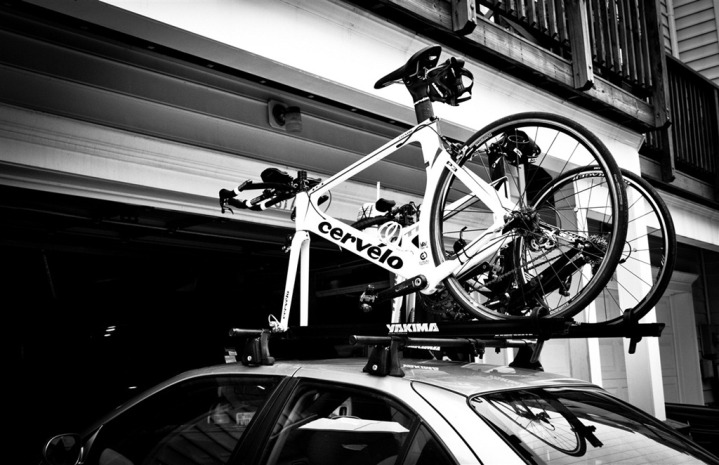 The problem with the up on top methodology is that it places the bike in the ideal position for a post-ride fail.  What kinda fail?  Well, you've finished up that long bike ride and you're either exhausted…or jazzed.  As you approach the house you revel in the fact that you can finally relax a bit.  Naturally like every other time you near the garage you press the magical button and the garage door opens.  Moments later you start to drive in without a second thought.
And then you hear it…a bunch of snapping, shearing, and twisting pain.  You have now disassembled the bike in a less than ideal manufacturer recommended manner.
So, how do you prevent this?  Well, there are a number of ways that folks try.  Most center around placing something in ones garage that blocks them from entering – such as a box or traffic cone.
The problem with that is that I'm lazy.  That requires me to both remember and then actually complete the task of placing the item there pre-ride (especially early in the morning).
My method?  Much simpler.
As I leave the house and press the button to close the garage door I simply take the garage door opener off the visor and toss it into the passenger side on the floor.  This is beneficial in that I've now removed it from my easy access.  So I as drive back to the house hours later it's no longer something I'd reachable mindless access to or press without realizing it.
Thus: Problem…meet…solution.  No bike decapitation.
Have a great weekend all!  And if you're in the DC area and headed to the Bumpus in Rumpass on Saturday for the Olympic race and see me at the race, say hello!  Would love to meet ya!