You're likely very familiar with emergency contact ID tags – typically small bands that you wear on your shoe or person that identify who you are, and your emergency contacts.  These are invaluable in case you get into trouble and are unable to provide that information yourself.
Back nearly a year ago I wrote about the idea of combining an ID tag like a RoadID with that of a GPS watch.  Some letters were sent off to both Garmin as well as RoadID – without any results.  But earlier this summer I was e-mailed regarding a new company that's aiming to fill that void.  Thus for the past month I've been wearing a new ID tag from a company called 1BandID that wraps onto your existing sports watch, including every GPS watch I've tried.  Those of you with eagle eyes probably noticed it in a few shots and videos, especially over the past week. In fact, The Girl has also been wearing one (hers is pink though, because…well…she wants it pink).
See one of the only challenges to existing ID bracelets that you wear on your wrist is that you need to actually remember to wear it.  While this sounds silly, I've found that I rarely remembered to wear mine – or just write it off to wear it next time.  I'm simply too lazy to run back upstairs and grab it.
But that's what's cool about the 1BandID system – it's simply always there.  See for me, I never go out on a run without my watch.  And, even while I'm riding I'm almost always wearing the watch anyway.
So let's get into what's included and how it works.  Don't worry though, this is a simple product, so I'm not going to overthink/overwrite this:
Box and Product Contents
The 1BandID comes packaged in a small mini-CD case.  Which, actually works pretty well in keeping it all neat and tidy.  I suppose they could have some fancy packaging, but this is honestly pretty effective and keeps it nice and flat.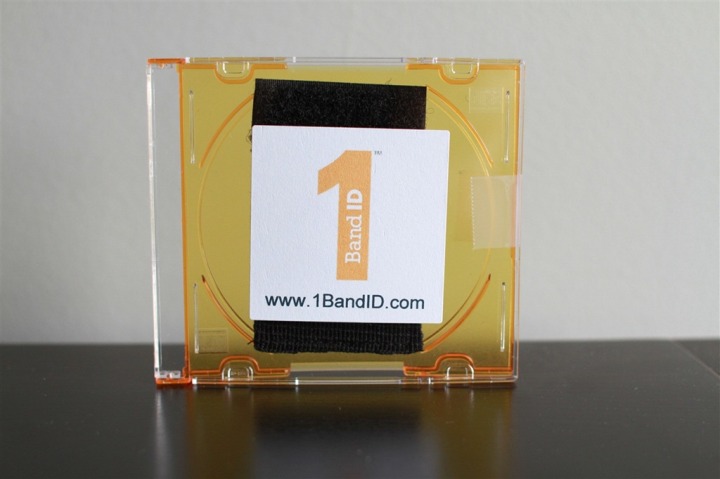 Inside you'll find your ID tag already sewn to the Velcro strap: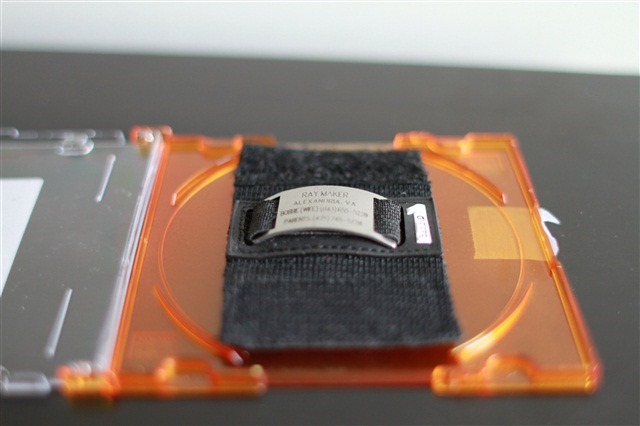 Each ID tag allows up to 6 lines of information to be customized (25 characters per line):
Note that the above two 'blank' tags were sent to me as extras to illustrate what's displayed on them.  In reality, these are sewn to the Velcro straps so they don't come off.
Attachment & 'Configuration'
Out of every product that works with sports technology that I've used, this is probably the simplest to install.  You simply take the Velcro strap and wrap it around the watch band.  And then you're done.
The Velcro is wide enough to wrap about just about anything – and is strong enough to stay put.  Here it is wrapping around my Garmin FR610:
See? Simple.
And here's what the small Velcro piece with the band looks like without any watch:
It's pretty much impossible to mess up.
You can wrap it on either side of the clasp, though I find that the side that doesn't have the metal clasp works best, since the other side on smaller wrists would mean that you have to wrap the watch band into the loop of the 1BandID.  Not a big deal, but it's just easier the first way.
Compatibility with watches:
The Velcro strap is designed to be flexible and thus will work on virtually any watch out there.  Thus I decided to grab the majority of the watches I own and double-check them all for compatibility.  So, here's the skinny on GPS compatible watches (the name of the watch is in the upper left corner of the image):
There was one that didn't pass the test – the Nike+ Sportwatch GPS – which was simply too darn wide for the Velcro strap.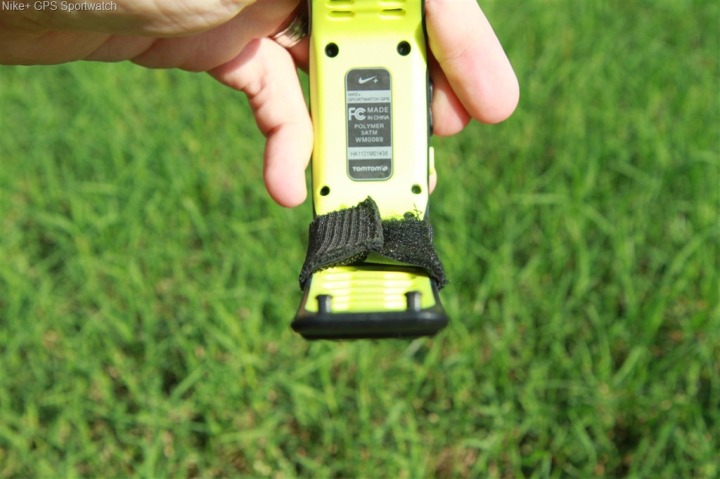 You can see that while it technically makes the 'connection', it would realistically last all of about one run before falling off.  And then someone would think you just got kidnapped when they found your empty tag, following which temporary chaos would ensue.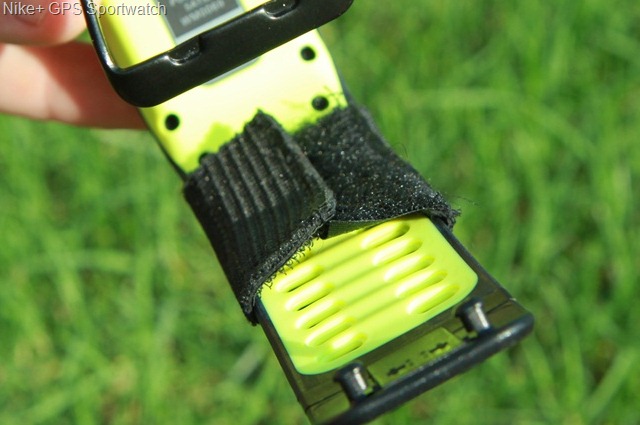 But beyond that,  they all worked without issue.  They are virtually unnoticeable during normal use and there's no reason to remove it from the watch band when in water (swimming, shower, or otherwise).
Summary:
From a product functionality standpoint the 1BandID works and stays on the watch flawlessly.  With a month of pounding thus far it's stayed snug on my FR610 without any issues (and thousands of yards in the pool on my Swimsense watch):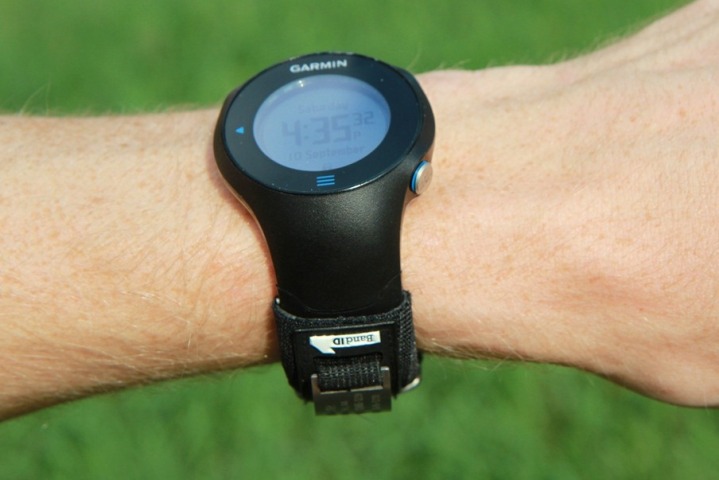 While we all hope that we'll never have to use something like this, we also need to be realistic in that it can make a big difference if the time comes.  When I was hit by a car on my bike last year I was not wearing an ID tag on my person.  Had I been knocked unconscious and not been in a race at the time, it would have been very difficult for emergency folks to get in touch with my family.  For the $20 that this costs, it's a small price to pay. And being combined with your sports watch, it's virtually impossible to forget at home on the kitchen counter.
You can hit up their website to learn more about it (though their Facebook page has more info), the tags should be available shortly.
As always, if you have questions feel free to leave them below – I'm happy to answer them.  Thanks for reading!