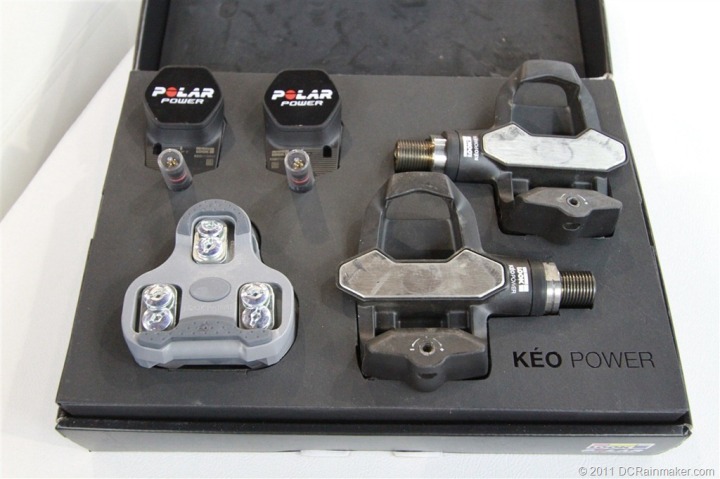 (Above: The shipping/retail box for Keo Power)
By most accounts, the Polar/Look Keo Power pedal based power meter system is the closest pedal based power meter to public availability.  In fact, some units are now available at a few shops to look at.  Units were also ridden on a handful of riders bikes during this years Tour de France, primarily on Team Cofidis – but also with another team (which he preferred not to name publically). We actually saw this previewed back in March during one of their training camps.
However, there's still been quite a few questions about how the Keo power meter will work.  So I sat down Friday morning for over an hour with one person who knows all the answers: Fabien Delangue.  He's one of the lead engineers based in France that works for Look on the power meter.
You may remember my discussion with the team about how progress was coming, which is a great place to start for some background on how it all works. It includes a 10 minute video I shot at Interbike last year with the team explaining the concept.
Crashes, Parts, and Repairs:
Probably the most common concern of pedal based power meters is around breakage during a crash, primarily due to the potential exposure of the pedal and/or radio transmitter pod to the ground.  But Fabien said to date they haven't had any issues in testing with damage to the internal components in the event of a crash.  Though he echoed a sentiment shared by the Garmin Vector team that the pod's proximity to the ground is somewhat of an optical illusion that in that should the angle be low enough to cause a crash the pedal would clip prior to any pod.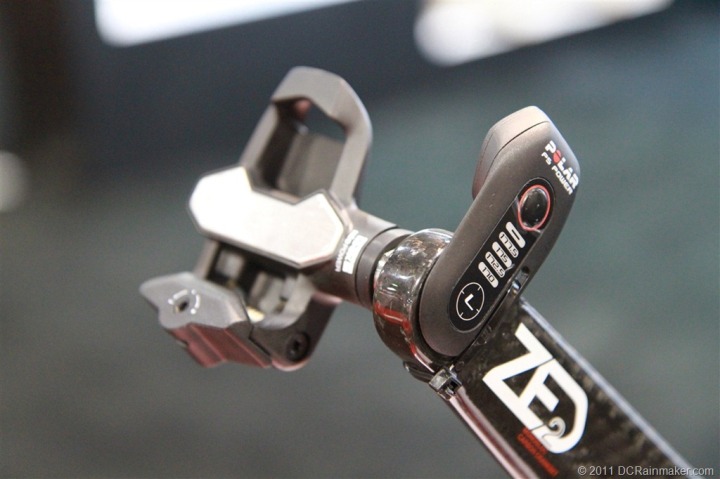 That said, should a crash occur Fabien noted that the dealer would have loaner Keo power pedals to give to the customer during the time period where the customer's pedals were being sent back for a checkup.  He said that "this consumer is like a consumer of BMW, Audi and the like. We want to treat them the same way".
And while he was quick to point out that repairs wouldn't necessarily be free, they would be comprehensive.  Any units that were potentially damaged would be sent back to France for testing and re-calibration.  Only if the internal axle components were damaged would replacement of axle parts need to occur.  If merely just the outer pedal casing is damaged, then the internal components can be swapped out to a new pedal casing without significant cost.
From a bike shop perspective, shops will have four types of 'accessories' that customers can purchase (and should be on hand at the dealer/shop):
A) Radio Transmitter/Pod (that's the little piece that hangs off the crank-arm)
B) Locknut on axle (which he said is slightly more susceptible to damage with frequent removal/installations)
C) Sealing o-rings for radio, and zip ties
D) Cleats
You can see the small bag of sealing rings present in the below photo to the right of the tools.  Everything in the photo is included in the Keo power meter box.  There are both little red rings, as well as larger white/clear rings – all within that plastic bag.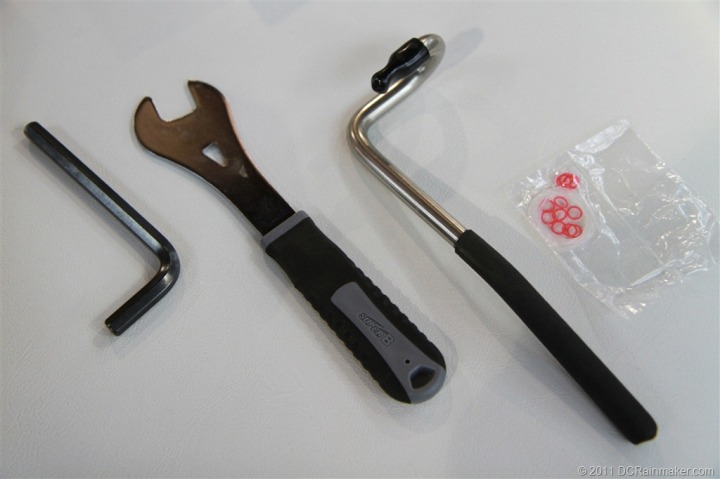 It should be noted that the Keo Power system comes with a 2-year warranty, though crashes are typically not covered.
Data Transmission, Reception and Head Unit Support:
All pedal based power meters to date operate in some form of master/slave system – where one of the pedals is considered the master and the other pedal is considered the slave.  The master is typically responsible for communication to the head unit, transmitting the combined and separated (per leg) power figures.  Keo is no different here.
The master is controlled and configurable via button press on the radio transmitter pod. This is the same button responsible for crank length selection. This button covers any configuration items related to the Keo power system.
Once the master has been established, the pedals will communicate between themselves for power measurement, and will then transmit both total power (i.e. 250w) as well as the right/left power percentage (i.e. 47%) to the head unit.  This is identical to both Garmin Vector and  Brim Brothers' Zone.
The transmission from the master pedal to the head unit is done across Polar's W.I.N.D. protocol. In fact, from a programming standpoint it was noted that the two companies split the work load. "The axle software is very different to the pedal software.  All communication between the pedal transmitter and the bike computer was made by Polar.  Whereas the axle software was made by Look".
One of the more common questions is around using the W.I.N.D protocol, which effectively limits the Keo power system to only Polar head units.  Fabien noted that "ANT+ is a closed standard and we chose Polar which is the best partnership for this product".  He said that longer term "we (and Polar) believe more in  BTLE (Bluetooth Low Energy), and [that] the systems and consumers will go that way".  He noted that when he looked how the Garmin units worked in comparison to the Polar units (watches), that with the majority of the Polar units supporting extremely long battery life (6-12 months), that from his perspective with the Garmin units that "every time you want to run you have to recharge your computer (watch), it's very bad for the consumer".
I inquired about what their plans looked like for BTLE and while he said it's certainly a direction for them in the future, there are no current timeframes to port Keo Power to BTLE.
Today (Sept 19th, 2011), the Keo power system is supported on two head units – the Polar CS500 and the CS600X.  The CS500 is considered Polar's premier cycling computer and has previously supported Polar's chain based power meter.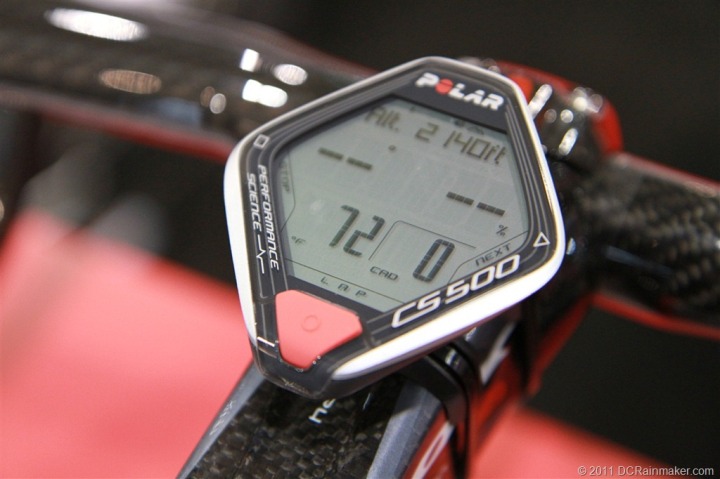 Additionally, the CS600X is supported and considered their triathlon focused watch that supports power meters.  You can see below the split of left/right power.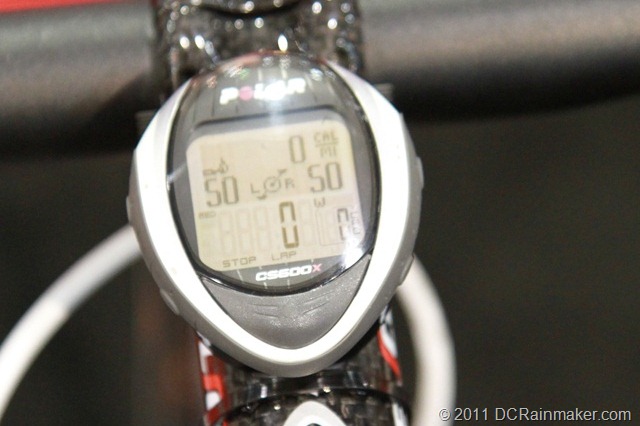 At the time of the interview, Fabien was wearing the Polar RCX5 – so I asked him about the decision to not include Polar's newest and premier triathlon watch in the list of units that worked with Keo.  He stated that was about to change, and that we should see a firmware update for the RCX5 shortly that will enable Keo power meter support.  He was unclear on whether or not that would also enable Polar's legacy chain based power meter as well.  However, I am getting clarification on this.
Finally, it should be noted that the Keo system does not have a field upgradeable firmware.  Fabien said that the Look team "saw that as very risky and very dangerous".  They would prefer to handle any firmware upgrades via shipping the units back to France.  He did want to clarify while the pedals don't have any field upgradeable firmware, the Polar watches that support Keo do.
Pedal Types, Crank Notes, and Future Plans
Given the fact that Look is the manufacturer of the Look pedal system, it's pretty clear that there is no chance of Speedplay pedals on the Polar/Look horizon anytime soon.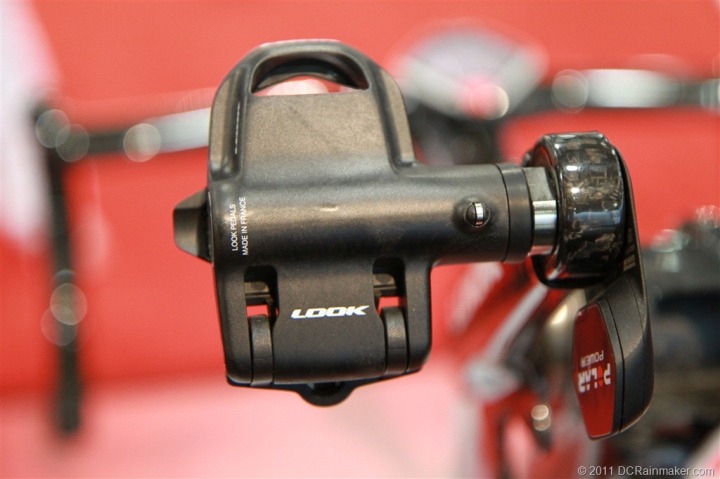 But I asked if they planned to approach other markets – such as mountain bikes and indoor bikes and he confirmed that's definitely on the table today.
He said that at this point it's "simply a case of a different pedal body, very easy".  This echoes statements made by Garmin's Vector pedal power meter team in the past and present, noting that the spindle/axle is relatively easily ported between pedal types and that the hard work has already been done.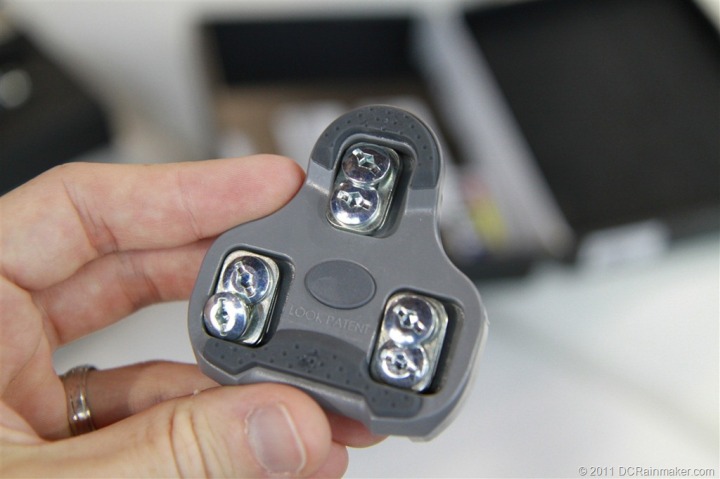 When I asked about timeframes for future pedal types he stated that "it's a new market for us and everybody (pedal power meters), so after we are sure of the product and the market we will probably launch a product for the mountain bike".  There are not any specific public timeframes for that however.
One of the benefits of pedal based power meters is the ability to go beyond just simple left/right power, such as into the areas of pedal force and bike fit analysis.  In other words, how does one place load onto the pedal and in what areas, and how can that be improved by merely moving the location the cleat that attaches to the shoe, as well as changes to the overall bike fit.
He said that longer term they'll look at how that can be brought to the consumer level with Keo Power. But he said that today that's already being done behind the scenes from an academic standpoint – a tune I heard repeated by the Garmin Vector team who is also working with academic groups.  He said that from a Look Keo standpoint they hope to have some of that data published publically in the next few months.
On the weight front Keo Power is 204 per pedal (including the transmitter pod) – for comparison, Vector is 178g per pedal (including the pedal pod).  In the case of Keo, the pedal itself makes up 170g of that 204g, with the transmitter pod being the remaining 34g. And while Keo is slightly heavier than that of Vector, the current crop of ANT+ compatible head units are slightly heavier than the lightest Polar unit's.  So overall it's roughly a wash.
Finally, for those wondering about crank width/length/height limitations, they are as follows:
Crank Lengths Supported: 177.5mm, 177mm, 172.5mm, 170mm
Crank Width Maximum: 16mm
Crank Height Maximum: None
The crank length is selectable on the inside of the radio transmitter pod, and is important in the correct calculation of power.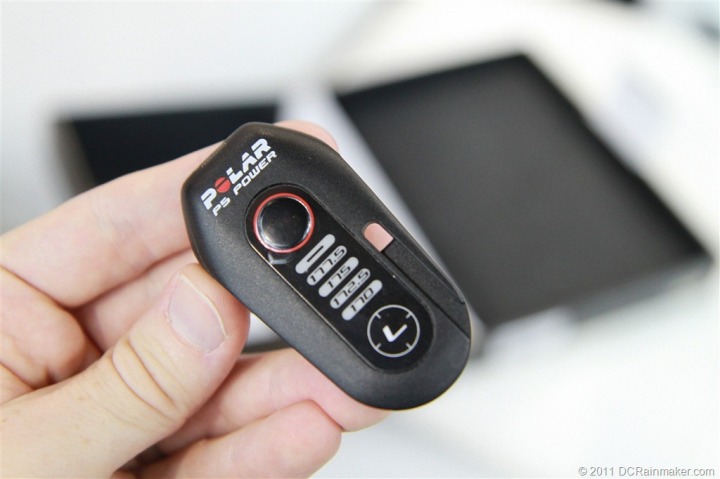 Calibration, Auto-Zero, and Use Notes
For power meter folks, it's all about calibration and ensuring ones data is accurately measured and gathered.  Unlike running a mile on a track where the track doesn't change dimensions, power meters do need to be calibrated – both at the factory and then again by the end user.  Without such calibration one can and will find variances in power measurements – especially due to changes in environmental conditions such as temperature.
In the case of Keo, the unit is automatically performing a zero-offset each time it's powered on.  This is done when the unit's button is pressed on the side of the radio transmitter.  Without pressing this button the unit will not be powered on or transmitting power.  Once the button is pressed the unit completes its zero offset calibration at that time.
Should the user wish to re-calibrate mid-ride, they would need to press the button again (likely by getting off the bike).  I asked about the case of a longer ride that may start early in the morning  when it it cooler (like an Ironman race) and the continue for a significant time where the temperature increases, and how it might affect calibration.  He said that "all weather conditions affect every sensor out there, but the variation of the sensor is very, very small – there's no need to recalibrate on long ride.  Once it's set, it's set. [If one wanted to calibrate, they] would need to press button again".
The Keo power system will automatically power off after 30 minutes of inactivity, in an effort to save life on the battery (which lasts approximately 500hrs on a coin battery). Since Fabien is a triathlete, I asked how this is best handled in transition since most races would result in a gap larger than 30 minutes between the point in which one left their bike to get in line for the swim and when they exited post-swim.  He said that when he arrives at his bike during transition (T1) he merely taps the button before he puts on his helmet, ensuring the system is turned on.
From an installation standpoint the one item of note is the use of this specialized locknut wrench to ensure that the locknut is correctly aligned.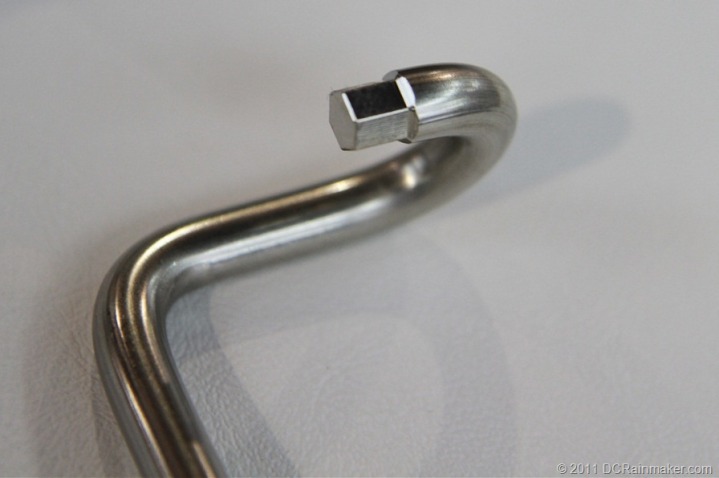 When utilized the wrench will ultimately end up in perfect alignment with the crank itself, as pictured below:
Lastly, I asked if there was any way to check the torque value statically, such as in a single orientation (i.e. horizontal with weight hanging to check the tangential force reading).  He said that while not today, it may be possible in the feature.  He said that "the product is measuring the load and not the torque, so we could give the consumer the loads during the calibration procedure factory – but we aren't doing that today", and thus would require a bit of change in process.  With such noted values, the consumer could potentially check the load values – but again, that is not possible yet.
Price Point, Availability and Product Lifetime
Perhaps the biggest point of discussion for Keo Power is the price point. At $2,200US for the pedals it ranks above even the cheapest SRM power meter – and is more than three times the cost of a wireless PowerTap.  Even within pedal based power meters, it's $700 more than the Garmin Vector pedal system.
As one who's really focused on the engineering aspects though, he unfortunately didn't have any comments about price (an area I can relate to in my own line of work, I just make things work – I don't set prices).  Though as he alluded to earlier with his comments, as a company they understand that this (Keo power) isn't necessarily a product for widespread adoption at this stage.  They're targeting a bit of a niche market, and are aiming to ensure that customer service and support match that price point.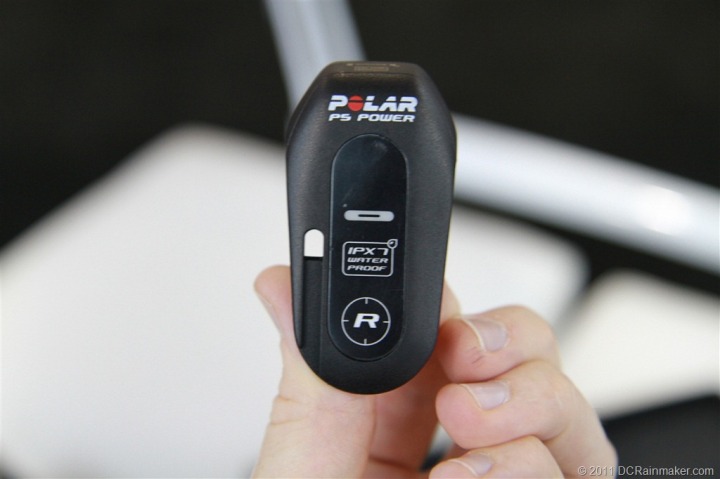 The Keo Power system should be available in the late October/November timeframe, in small quantities. He said that wanted to ramp up production slowly.  As noted earlier, there are currently units at some bike shops, distributors and media for demonstrations, but that shipping to normal end customers won't happen until the October/November timeframe.
Finally, from a product lifetime standpoint, much of that is yet to be determined.  However after a year of field testing they haven't seen any wear issues of concern thus far.  He noted that "we have a lot of experience in pedals and axles, and the electronics have very good water resistance", subsequently saying that they're "aiming for at least 5 years", but that he expects it to be much longer than that.
—
For those curious on when I'll get a set to put through their paces as part of a full in-depth review – I've been told to expect them to arrive in the coming weeks. As always, if you've got any questions (or if you just found this useful), feel free to drop a comment below.  Thanks for reading!
—
For all my Interbike coverage here on the blog you can use this tag to see all the Interbike 2011 posts. Thanks for reading!