It's September.  Which means that all (ok, probably just many) of you are preparing to run some sort of race.  Perhaps you've already run a shorter race this season on the way to that goal.  For me, my main race this fall is the Philadelphia Marathon, which is almost two months to the day from now.  In between now and then I have a series of races, albeit somewhat unconventional, as part of the Urbanathlon series in NYC, Chicago and San Francisco.
But for most of you, you've probably got some 5K's or 10K's leading up to the longer events.  And it's during these shorter races that you can work on the one thing that will legitimately buy you free speed: Running a cleaner line.
It's often said in triathlon that the transitions between sport are 'free speed'.  While I've never fully bought into that (it takes actual work to get efficient at transitions, not just mental efficiency), I can say that running a clean line is absolute complete and total free speed. It only takes mental awareness of where your running to slice off that time.
In the past I've written a whole post on the subject – once that I think ranks amongst the most informative posts I've written, as far as running advice go.  I go into exactly how much extra distance the average person will run if not careful – all of which translates directly to time savings.
For me, I'm aiming to shave off a few minutes off my marathon PR time.  Quite simply – I have two ways to do this:
1) I can run faster.
2) I can run smarter.
In reality, it's probably a combination of the two.  Looking at my run the last time I ran the Philadelphia Marathon, I ran an astoundingly short line of 26.26 miles – just .06 miles long.  I'm pretty darn happy with that (here's my actual TrainingPeaks file for those curious).
But to take a more real world sample of recent data, I looked up results for the Philadelphia Rock & Roll Half-Marathon – which was just this past weekend.  I choose that race simply because a friend ran it, and it was the first (and most recent) thing I could think of.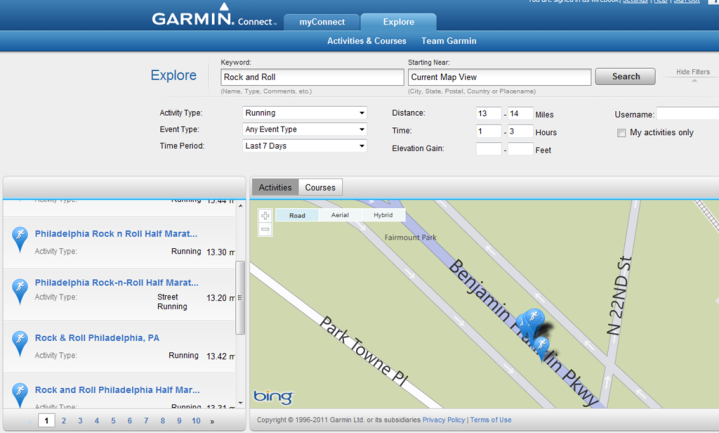 I searched using Garmin Connect and simply pulled up the first 10 folks Garmin Connect returned that ran the race, and plotted their Garmin distances against the extra ran below: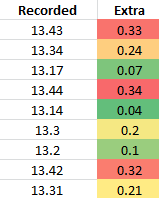 We'll get to the "Extra" section in a moment and why this is important in more ways than you might think. But if you're looking to save yourself a few minutes – just think – if you ran a third of a mile shorter, that's probably 2-4 minutes of savings right there.  And all you have to do is watch where you run and think ahead of the crowds a bit.
The next piece of the puzzle is pacing with a GPS watch during events.  I've received a few questions lately about this, so I figured now is a good time to re-discuss this.  The one and only lesson that you really need to come away with is the following:
Must remember: At the end of the day, the one and only time that matters is the clock time…not your Garmin's time.
If you're shooting for a Boston Qualifier (BQ) time, simply saying that your Garmin 'measured long' won't cut it.  You're going to have to run a time that's recorded via the timing system that the race uses.  Everything else is horseshoes and hand grenades.
So how will I pace?  My goal is somewhat time driven, and thus – the clock is of significant interest to me.  During training runs I do use Average Pace (Pace – Lap Avg) during mile repeats to get a rough idea of my paces within a second or two.  But I don't use Auto Lap.  Why?
Well, Auto Lap assumes that its definition of a mile is correct.  When in reality – that may not be the case.  Based on my testing, you can be reasonably sure your GPS unit is within 2.5% – but that's still roughly a quarter mile every 10 miles (at the outer limits).
Now go back and look at the above chart with the times for the half marathon.  Many folks were about 2% long.  That doesn't mean their units measured incorrectly (as otherwise we would see both short and long times).  Instead, it likely means they ran extra.  Certainly some folks were very close – one person in my initial results ran only .04 miles long.
So back to how I'll be pacing.  I'll be using a combination of two concepts.  Firstly, I'll use Lap Averages per mile to keep a steady pace, but I'll be resetting that lap/mile manually each time I hit the official course markers.  In addition I'll have a few time checkpoints along the way at major milestones.  Likely written down somewhere, that I can remember (it'll be cold and likely even snowing, so it probably won't be written on my arm itself).
This strategy protects me from scenarios that involve (me) running long – as I'm effectively cancelling those out each mile and starting anew.  I don't get a 'time credit', because I'll be doing checks every 5-6 miles, and if I find myself short (or long) along the way – I can adjust accordingly.
The point being that if you're looking to shave a few minutes off a long distance race – the very first place to start is your running line.  And if an exact time is important (i.e. a BQ time), then ensure that your pacing strategy is going to support that.
I previously wrote up a pretty in depth article on pacing strategies using a Garmin (and similar) watch – that I recommend you check out.  I go into a few other options (including Virtual Partner) for how to nail your times.  In addition, during 'Racing the Line' – I bring out the rollers and show you on a typical street just how much extra distance you really run on each and every turn.
The Art of Pacing with a Garmin
Thanks for reading- and good luck on your upcoming races!