Every time I travel to a race, my biggest worry is that I'm going to forget something.  You know, something so tiny – but so important, such as a small-but-required part for my bike, or sometimes something even much bigger – like my running shoes.  And it doesn't matter whether I'm travelling 3,000 miles or 30 miles, my fear is the same.
So, a number of years ago I put together a race day checklist, based on my continued packing and repacking.  I've since refined it to be my perfect list of exactly what I need for any race, be it close or far.
While there is no perfect 'everyone list', I think this covers most of the major items that folks usually need for a triathlon.  I would make tiny little tweaks for an Ironman event (more nutrition), but otherwise, that's about it.  And a few of them are specific to if I'm breaking down my bike to travel somewhere.  And finally, some of them are 'just in case' type of things…just because I've found it's nice to have spares in my transition bag.
So here's the whole list: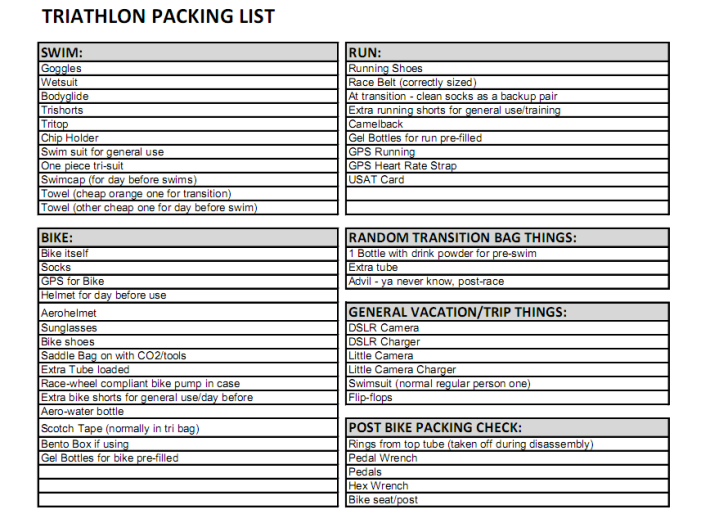 Now because I'm your bestest friend ever, I've also made the thing available in Excel format, so you can add your own items and tweak it as you see fit.  And, for everyone else who's Excel deprived…in PDF format.
Of course, the second list I use is my pre-race checklist.  This is the one I go through in transition area to ensure that during the race when I run into T1 or T2 I'm not missing something important (like my race number or gel bottles).  I do this just before I leave transition the final time to head to the swim start.
This list is meant to be super-quick, and is mini-laminated and zip tied to the top-inside of my transition bag, so it's always accessible and always there.  Here's what's on that brief checklist:
Pre-flight Checklist:

0) Liquid in bottle (water & gel)
1) Straw on bottle
2) Helmet on straw
3) Glasses on helmet
4) In easy gear
5) GPS on bike
6) GPS turned on
7) Towel to side of bike
8) Socks on towel inside out
9) Shoes on towel
10) Racebelt has number
11) Racebelt on shoes
12) GPS Running Watch on Shoes

Pre-Swim:

1) HRM on
2) Chip on
3) Swimcap
4) Goggles
This list can be found in a simple .txt file format here.
For me, getting to the race without having to worry about what I've forgotten is key to a successful race day.  Obviously, feel free to download these and tweak them however you'd like.  Good luck!