If you read my blog often, you know that I have little love for the majority of race-day photo companies.   These being the companies that are on the course during a race and take our photos, and then offer to sell them 4-6 days later via a website.  In most cases, they take general photos, middle of race photos, and finish line photos.  Usually they offer a a few photos of every participant and most are fairly decent photos.
However, what is not so decent is is the prices.  However, before we get to prices (my main annoyance), let's first discuss my other annoyances.
The target of my rant is primarily the larger companies, because there are a number of really good smaller companies that do it all right.  Lastly, it's just my little opinion – so I could be wrong in some cases.  But, my field is technology – and I understand photography and a bit about business too…
Delay to publishing:
Why on earth does it take 4-6 days to process photos?  It doesn't seem to matter if it's a marathon with 40,000 people – or a small race with 400 people.  It's almost always 4-6 days (usually a Thursday).  Of course, the vast majority of this time is spent tagging photos – basically saying that photo #32857 is really for bib #123.  However, in my opinion – they're doing it wrong.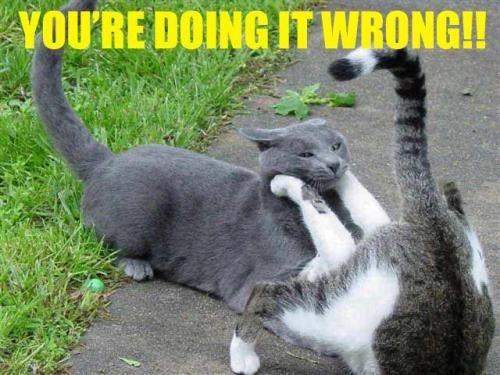 First off – my guess is many of these companies are letting photographers or other higher paid (and likely slightly older) labor categorize and tag the photos.  Why not hire high schoolers to do this work?  Oh – and do it via the Internet.  The speeds (internet) are there to transmit low-res identifiable photos in a semi-stream to an employee to tag at home – reducing costs.  The reality is that the majority of younger potential employees who grew up in this age can recognize and process (read: input) data soooo much faster and cheaper than most other folks.  Finally, what high school or college age student wouldn't prefer a job that allows them to sit on the couch and get paid for it – instead of flipping burgers at McDonalds?  Pay by the picture, and by the error rate margin (how many pictures you tag correctly, as a percentage).
Btw, this concept isn't new – Amazon does this type of work today in what's called the Mechanical Turk – basically the idea of taking lots of work and piecemealing it out on a micro-payment system.
Finally, there's photo recognition.  The software is there TODAY to do facial recognition.  While getting the original face to compare against is tricky in a race – what is not tricky is finding numbers in a photo.  That's a relatively trivial task in the technological world of photo recognition (you know how you have to type a keyword in some website to submit a comment – that's CAPCHTA – or basically recognizing text in a sea of imagery).  Apply it to race photos, and have a server simply index through 40,000 photos in a matter of hours and be done with it.  Simple.  Cheap.
Photographic positioning:
This category isn't so much a rant with photo companies – but rather some of the photographers they hire.  Many times the photographers know how to choose good locations on a course, but in some cases they don't.  Of particular problem is usually the bike leg of a tri.  Some day I'll write a whole post on how to position/take photos of tri's, but for now…
Let me offer these three simple tips to taking good bike pictures:
Do NOT take photos of triathletes climbing up shallow to moderate hills.  This doesn't look cool.  This is because everyone is on the saddle and out of the bars, which makes for a lame picture.  It makes us look slow.  Further, it reduces any of the wheel blur – because the wheels are going slow…which makes us look slow.  Taking pictures on a super-steep section is acceptable, but only if the vast majority of folks are out of the saddle – otherwise refer to the first portion of this rule.

Taking directly head-on photos doesn't generally look cool either unless we're talking a massive pack (not likely in non-drafting races).  Take it from an angle or off to the side.  This increases the blur because of the speed of the racer compared to the background.  It's all about the blur.  Blur of the background and blur of the wheels.  Blur = cool.  No blur = slow.  And slow != cool (!= means does not equal).

Do not take pictures in the first or last mile of the bike leg.  Most of us are still getting situated or getting ready to dismount.  It's sorta like a commercial airplane where you can't use your electronic devices below 10,000 feet.  Same concept.  We're not at cruising altitude yet.  We won't look cool.
To prove my point, here's a photo from the Kinetic Sprint (rest here):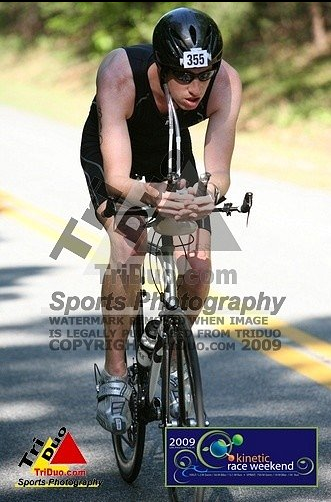 Note, in the shade, taken near head-on, just doesn't look as nice as this one my friend took a few hundred yards up the road: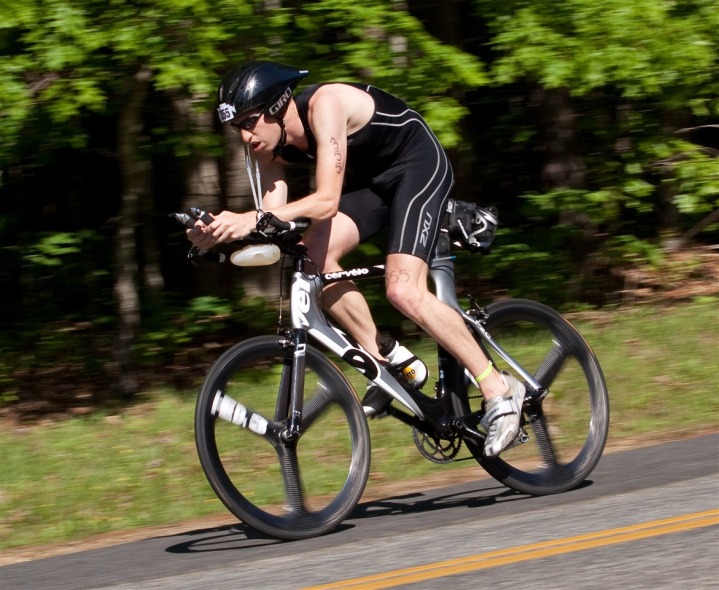 Ok, with those little items out of the way…let's move to the biggie.
Prices:
For the love of all holy pancakes why on earth must these pictures be so expensive?  Seriously.  Who in the world actually pays $39 for a single photo – let alone just an 8×10?  (Aside from your grandma?).  Yes.  Nobody.  Oh, and that 8×10 – that was just the printed copy.  Really? I can print it myself or simply upload it to one of the 8,328 different online photo printing services (like Costco, which I can pickup 1 hour later) and pay only $1.49 per 8×10?
Oh wait – I'm sorry, some do offer a CD version.  Seriously.  A CD?  I can download entire HD movies via Netflix or XBOX and yet I have to wait for a CD to be shipped to me with a 1MB photo on it (approximately 1/8000th the size of an HD movie).  Did we not miss this whole 'digital revolution' thing that occurred around 1995?
Or this little concept called iTunes or the App Store.  You know – that thing that just hit a BILLION downloads in less than a year?  Yes, the concept of small payments in large quantities equals more money than a few large payments.  Not that this concept was new mind you – it's been taught in business school forever.
I refuse to believe that a race with a 1,000 people in it sells more than a few dozen of these photos.  So basically 12X$40 = $480. (Though, since I have no real data, I could be wrong…)
Let's say instead we offer the photos for $2.99 each – downloadable only.  Now instead of 12 people, we have 300 photos bought.  Not people – but photos.  Because some people will buy more than one – given the price is sooo cheap.  300 photos at $3 each is $900 – almost twice how much we were making before.  Of course, there's an assumption that people will buy more photos – and I'm willing to bet that's the case with a more streamlined system.
See – people's interest wanes.  My interest level for seeing photos of a race is roughly the following: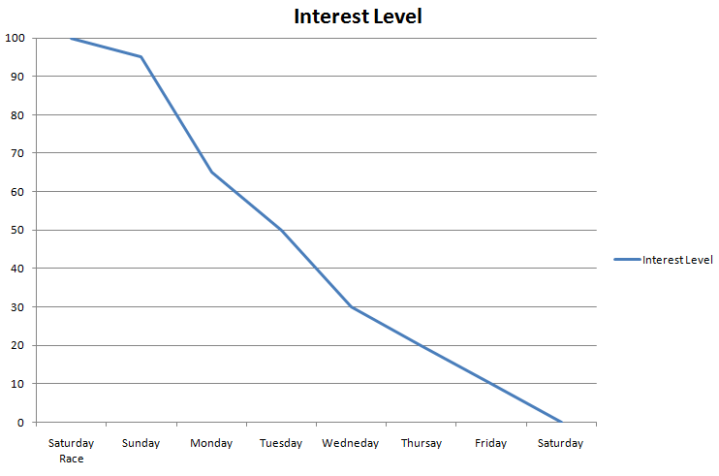 That's because I'm really wanting to get pictures out to friends and family on the weekend of the race, but after Monday rolls around – my level of care slowly decreases.  And by time Thursday or Friday comes around – my level of care is low.  I'm willing to bet this is why they sell lower numbers of photographs.
What if you got an e-mail the evening of a race or the following morning with a link to your photos?  (Remember – automatically tagged by computer or cheaper high schoolers/college kids).  Wouldn't your likelihood to purchase be significantly higher on Sunday than Friday?  You know, an e-mail something like this (but prettier, with someone who actually has graphic design skillz):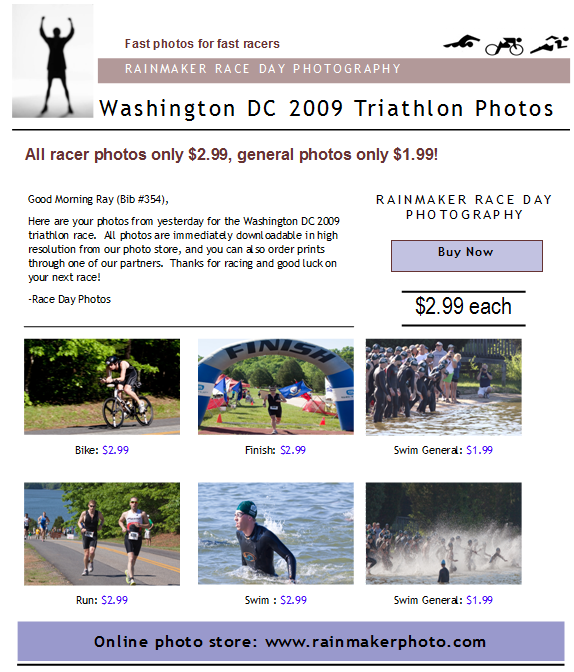 (Note: The above store/company/e-mail doesn't actually exist…it's just a figment of my imagination)
Ok, I think I've said my piece.  I now return you to your regularly scheduled programming.