A recent discussion with some friends around groups and training teams comparing race times got me thinking a bit about how most of us glance at race times we see on the Internet and make broad assumptions about one's athletic capability, training plans, or race execution.  The same also applies to how we attempt to evaluate our own race results.  And despite the timing, last week's comments directed at me in this post were actually not the driver of this post, as it's been one I've been slowly working on for a while.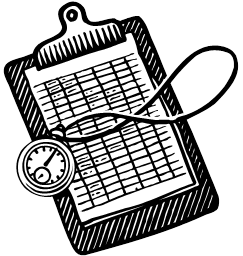 See, with triathlon being a combo dish of three sports it is interesting in that it makes it rather difficult to accurately compare times across different races – especially when the differences are small.  Sure, you can easily make broad athletic generalizations between a 2:10 Olympic distance finish time, and a 3:15 Olympic distance finis time – assuming comparing normal days.  But when you try and compare say… a 2:03 Olympic Distance finisher to that of a 2:15 Oly finisher, it becomes far more difficult.
Complicating the matter even more is if one were to look at the above example – 2:03  vs 2:15 – those are in fact vast differences in athletic capability between two athletes on the same course.  Now if you apply those same differences to your own PR's – how (if at all), do you differentiate between two Olympic distance races when you break your own personal record?  So let's look at what drives time differences across different races.
Course Shortcomings and Overextensions:
The simplest driver is differences in course length.  Now I'm not talking about comparing an Ironman to a Sprint, but rather comparing two events of the same type.  Despite how many races advertise themselves an 'International' or 'Olympic' distance course – I've found that that vast majority of them use some liberty with the term (intentionally), especially on the bike.  For example, let's compare some races over the past year or so that I've done with respect to actual distances (remember, Olympic distance should be 24.9 miles):
A) Escape from Ft. Delaware: 24.7 miles
B) Rumpus in Bumpass: 24.0 miles
C) St. John's International Tri: 28.0 miles
D) Nautica NYC Triathlon: 25.5 miles
E) Tidewater International Triathlon: 21.0 miles
F) Rev3 Knoxville Oly: 25.8 miles (2010 was 25.8, 2010 is closer to 24.9)
(Note: I validated these distances against a sample set for each race on uploaded files to Garmin Connect from other racers.)
Now, there's nothing fundamentally wrong with a unique distance race, after all – the podium doesn't care about the distance.  The challenge comes though when once glances at a time (or boasts about a time) for a distance that's simply inaccurate.  For example, for me to look at my 2:04 Tidewater time from last year and say "Yup, I'm a 2:04 Olympic Distance athlete", would simply be inaccurate and misleading.
But the inverse is also true.  If I were to look at my St. John's times (aside from the three flats), I would incorrectly assume I was a far slower cyclist than I actually am because I had to bike an extra three miles.  And that's before we talk about running an extra half a mile for the 6.5 mile run course.
In fact, if you look at the above listing – the vast majority of races were over/under by nearly a mile.  I've always found it funny that in triathlon the bike leg can get away with being so far off a standard.  After all, what would happen if you went out to run a half-marathon and it was 13.9 miles instead?
Now, the bike leg is just one challenge.  We've also got the swim distances.  Out of all the three legs the swim is the most notorious for being off, mostly due to race organizers not taking the time to accurately measure buoy placement.  As I've long since said – in this day and age of handheld GPS devices, there's really no excuse for this.  Nonetheless, I've swam courses that were clearly far short…and ones that were far long – slicing or adding minutes to ones time.
And let's not forget transition, or transition times.  Last weekend my transition times were measured solely when I was within the small fenced in transition area where the bikes were – which is why they were sub-1 minute.  Whereas other races measure them from water exit to bike mount line.  Even more, some races have half mile plus transition runs (looking at you NYC Tri).  All these elements add up.  How long does it take you to run 750 yards + normal transition, versus how long does it take you to run 50 yards?
Course Terrain Variations:
Assume for a moment though that we do have two even length courses with the exact same distances for all three events.  Now they're comparable, right?
Well, if it weren't for Florida they might be.
Florida is the great place if you want to set a PR.  The most famous of course is Ironman Florida.  Typically speaking folks will be between 20 and 60 minutes faster at Florida due to the pancake flat bike and run courses.  Oddly enough though, that didn't apply to me, as my Ironman Canada time was basically the same simply because me and long term aero position doesn't get along.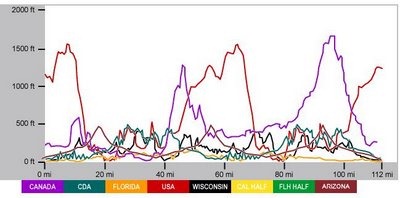 The same is true of shorter events as well, and that applies to both the bike and the run.  Even within the same geographic region, for example, the run at the Nation's Triathlon is pancake flat – whereas the run at the nearby Giant Acorn triathlon is moderately rolling.
And don't think the swim is exempt, not all swims are flat!  Take the Nautica NYC Triathlon for example.  This is a one way swim downriver.  Depending on the time of day, the current can be incredibly strong.  So strong in fact that the swim times for top athletes are often in the 11-12 minute range.  How do you compare that against an event that may be upriver for a portion, then back downriver for another portion (Nation's Triathlon)?  Or a flat and calm reservoir (lots of triathlons)?
Weather/Training/Other Factors:
Last but not least is the whole host of reasons why someone may perform at a given level at one race, but a different level at another.  For example – weather.  Some athletes may do better in colder races while others in warmer races.  Some races may have an outright monsoon while on the bike leg – which most certainly affects bike speeds for that race.  And we don't even want to talk about wind…
Additionally, some athletes may treat certain races on their schedule with lesser importance than other athletes.  Most athletes have an 'A' race or two, with other races along the way they may not fully taper for.  This is true for everyone from age groupers to Olympic champions.  This doesn't of course mean that you can't take pride in beating someone on race day, as a race is a race.
There are of course endless other reasons why someone may do exceedingly well at one race and poorer at the other.  But don't overlook the obvious: They simply may be better trained for that race.
So what does it all mean?
When you start looking at all the details that make up a triathlon, you find that the answers aren't as black and white as a simple finishing time.  For running races it's far easier, primarily because most races have a well measured and adhered to distance.  In general one can compare a handful of 10K race results and get a rough idea of one's running capability with a quick check of an elevation graph.  This is much more difficult to do with a high level of accuracy in triathlon.  Generalization yes, but basing performance on a single data point: Not really.
The point being – when you look at times, be sure to understand the courses – otherwise you might be giving yourself false impressions of your competition…for better or worse.
And when looking at your own results – be sure to balance 'making excuses' for a given race with objectively looking at a race result and its individual components and determining how you fared against competitors on that day on that specific course, versus previous results that may be years old on different courses with different conditions and different training/racing objectives.  Sometimes when you dig a little, you might surprise yourself.