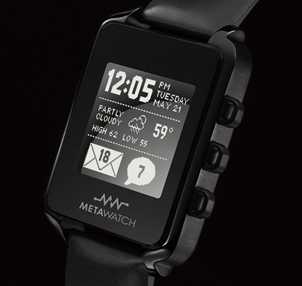 A little over a week ago at the Google IO conference a company called Fossil not so quietly introduced the MetaWatch.  The watch allows one to wirelessly connect to their cell phone and stream glanceable information, such as who's calling or new e-mail/text messages.  The idea being to take a normal looking watch (one of the two model actually looks formal dining room classy!) and combine it with the functionality that triggers most folks to pull a phone briefly out of their pocket, such as seeing who's calling during a meeting.  Applying that to the sports world, a company like RunKeeper could integrate their app such that the phone remains in your jersey pocket or armband, but the information you care about (speed/pace, distance, heart rate via BT HRM strap) is displayed wirelessly on the watch in real time.
But before I get to the details of the watch, there's one thing that's of particular note: The goal of Fossil and the MetaWatch isn't actually to sell directly to you, the end users.  Nope, it wants to re-invent how digital watches are designed ground up from a technology standpoint.  So how are you gonna get one then?  Well…hang on and I'll explain.
See, today when a company comes up with an idea to create a watch for some purpose they have to design everything end to end themselves.  This means everything from chip selection to firmware that runs the device to the software that you use to then have that device interact with a computer (like downloading workouts).  This costs a lot, with one of the major costs being production of the physical watch itself (manufacturing).  Typically this runs about $1M for the first year for a startup to get a complex digital watch off the ground.  Think of companies like Sportsense, developing the Swimsense watch for example.  When you look at that device, there's a lot of ground that they had to re-invent.  Some was unique, but some might have been re-usable.  And their costs might have been considerably lower initially.
That's where the MetaWatch folks want to interject themselves.  They're looking to offer startups the ability to do prototyping and limited production runs of watches at a fixed and cheap cost – $200 per device.  The key selling point to startups is that they've created a device that includes a highly visible LCD screen on the front of it that can be customized to do anything you'd like.  And since it's written on a fully open source code base, it allows a startup company to customize it how they see fit.  The only component of the watch that isn't open source is the Bluetooth stack.  This means that from a development standpoint there's nothing stopping a small company with a cool sports idea.  Well, except $200 and some quality dev time with pizza boxes and Mountain Dew.  Comparing this to previously, where they'd have to invest heavily in initial prototypes and manufacturing costs.
So how does this all integrate into the sports world?  Well, one of the guys behind the MetaWatch is Bill Geiser, who happens to have a long history with sports watches, in particular one of the very first watches designed for swimming, the Speedo Stroke Monitor, back in the late 90's.  This watch worked by a simple transistor switch that recognized when the water was in the water…or the air based on electrical current.  Thus each stroke could be counted simply due to the circuit being completed when the hand hit the water.  But that was 1998.
Now fast forward nearly 15 years to the MetaWatch.  This watch includes five key features that are of interest to folks in the sport device world: A fully customizable 96x96p LCD screen, an accelerometer, waterproofing to 30 meters (3ATM), up to a week of battery life, and a vibrating motor for vibration alerts.  Add to that it includes the TI 2560 Bluetooth chip for syncing data between cell phones and other devices (laptops/tablets/etc..).  Between all that stuff you've now got the majority of the parts needed to create your own sports watch.
The device does have a few areas which could be improved upon though should it want to be leveraged for sports.  For example, it doesn't have any method for audible alerts (beeping).  And for those in the running/cycling world, ANT+ capability is huge, and it doesn't have that either.  In talking with Bill Geiser about this, I asked what the path would be should a company want to integrate ANT+ into the device.  He noted that the current TI-2560 BT (Bluetooth)chip in these watches has an identical footprint as the TI-2567 chip, which include both BT and ANT+.  It should be noted that the current BT chip does not support Bluetooth Lightweight (BTLE) and only supports basic rate Bluetooth.  That's alright…as there's basically no BTLE devices out there yet in the sports world.  Even Polar has backed away from using it in the near term, instead focusing on their W.I.N.D. protocol for upcoming devices like the Polar/Look KEO pedal based power meter.
So what's the path ahead?  Well, over the next month the device will start shipping to people (developers mostly) who've ordered it.  From there those folks will need to start developing apps for it, either to control the watch from a cell phone, or to just use the watch natively.  From a phone standpoint this will for the immediate future be limited to folks using Android phones, and will require that the Openwatch App be installed on your phone – as this is the conduit between the phone and the watch.  And as noted earlier, this would then allow sports applications like MapMyRide/RunKeeper/etc… to stream the data you care about directly from the phone to your watch display – just as if you had a normal Garmin/Polar/Suunto/Timex sports watch.  And from a development standpoint, if a developer can program for the Android platform, they can program for and fully control the MetaWatch.
I asked about iPhone compatibility and they said that the major blocker today is around time limitations imposed by iOS for background tasks.  Additionally, the iOS platform prohibits calls to certain functions like inbound telephony information and text messages (without jailbreaking).  I also asked whether or not adding a GPS chip into the device was on the table.  They noted that while it has been considered, it would require an interested company to work with Fossil to create a new watch that supports it – a bit of a 'start from scratch' type of situation.
In all, I think the MetaWatch will present an interesting landscape for sports technology startups to quickly prototype and get beta and first run products in front of test groups.  I don't see it changing the game or development cycle for major and established players like Garmin/Polar/Timex/Suunto, but I do see it as an opportunity for smaller or no-name companies to quickly break on the scene.  I also see it as a very intriguing opportunity for classic phone app developers to dabble in the device world without any more investment than a $200 test kit.  And, of course down the road perhaps we'd get to a full color model not unlike a simple Apple Nano strapped to a watch band that allowed you to run whatever apps you wanted.  Think of a Garmin FR310XT…but with the RunKeeper app running on it.  Of course, today this is just Fossil's first generation device…but I think the future is bright. For now though, baby steps.
(P.S. – Yes, this may be a bit geeky for some…but I know y'all like the mix of sports technology and race reports, so fear not – tomorrow will be back to deep triathlon thoughts.)