When I was writing Tuesday's post on how to train and plan for an extended race season (where triathlons go into November), I got to thinking a little bit about how my mileage builds each week.  I was pondering the basics of training adaptation which essentially says that in order to improve you must make a change in your training over time.  That could be increasing time, distance, frequency or intensity. So I decided to look back at my training build on the bike and run thus far this year, as well as previous years.  It provides an opportunity to see how I've slowly built up in mileage from literally no cycling in December (you may remember…I was travelling around the world then), to the 70+ mile rides that I'm at now in preparation for Boise 70.3 in a little under a month. You can see below the simple stepping up of my cycling mileage, as well as reduction in mileage at the end of each training set.  Sometimes it was reduced a bit more due to a race (running or triathlon).  The chart below shows the longest single workout that given week (not total mileage).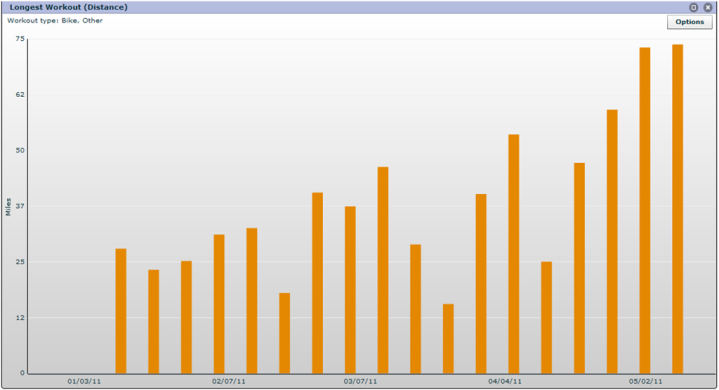 As you can see, there aren't any random 100-milers tossed in, or other massive spikes.  It's a pretty gradual build in mileage over time, with the time being basically 5 months.  It's not like I did a 15 miler one day, and then a 75 the next weekend. The same goes for the run, where you see essentially the same pattern – starting off at only 5 miles and then building up to my current long run being about 17 miles (2 hours).  Most of my runs are actually time-based and not mileage based. Again – a very gradual build here, even and without any surprises.  The few dips you see are related to races and the recovery afterwards.  Typically my coach is very cautious when it comes to running directly after a race – focusing instead on easier swim and bike workouts.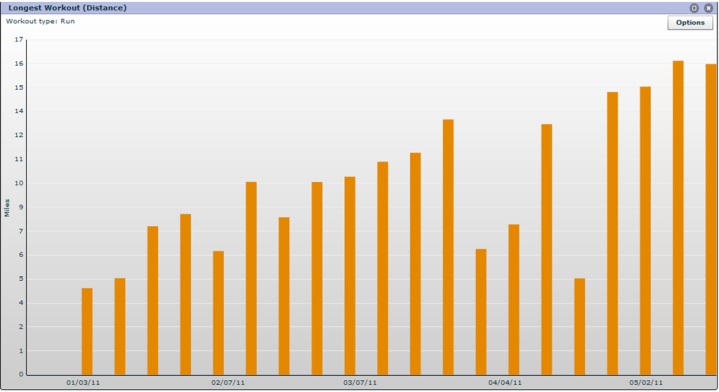 Now that we've looked at this year, let's turn back the clock a bit and look at 2009 – where I did a July 70.3 race, and then an Ironman in August, an Aqua-Velo Iron-distance race in September, and then Ironman Florida in November. Looking at the bike first, you see the gradual build to the first 70.3 race in July (though at that point my mileage was already 100+ miles), then a short recovery before peaking one last time before Ironman Canada in August.  Then you see recovery for a few weeks before a quick build again for a late-September Iron-distance race, before one final push and then taper towards the early November Ironman Florida: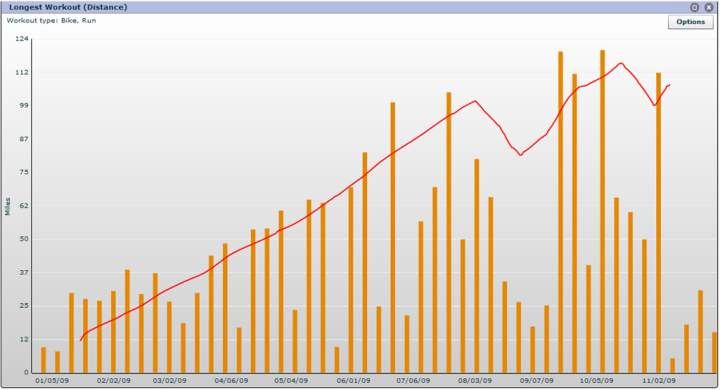 Looking next at the run front you see that I largely start to plateau (except longer races) by April, as I was doing Boston that year and needed to have my mileage built up earlier.  The three massive spikes are the three marathon's that I ran (Boston Marathon, Ironman Canada, Ironman Florida).  Otherwise, my long run distance stayed the same at around 20 miles (2hr 30m) for the duration of the season.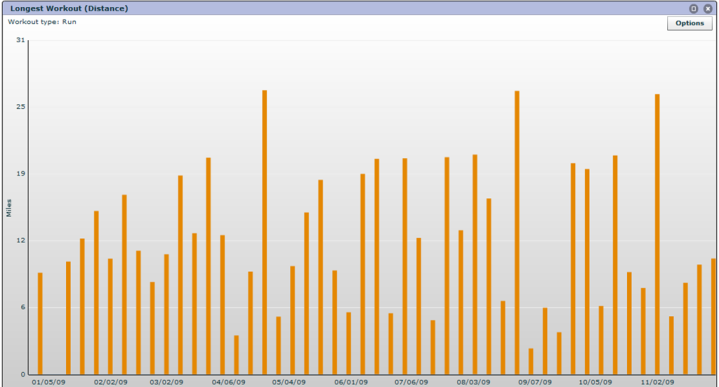 The point of my post isn't terribly profound per se – but rather just a look a well structured build (not by me, of course, but by my Coach).  Sometimes you have to step back a bit from the week to week runs and rides to see the bigger picture.  It allows you to understand the overall trending and ensure that you're not going astray of typical 10% rules (which say no more than 10% increase a week) or just going crazy on mileage that may not be beneficial at a given stage in training.