In light of the world apparently ending on Saturday, and failing that, a bunch of cycling careers getting even more dorked up on Sunday evening during 60 minutes.  So I figured I'd share a brief shot from the Tour of California today that might just make it better.
I was watching along this evening using the online page/tracker/live video they have.  Which aside from the (lame) fact that it only shows you the last hour or so, is pretty cool.  I was on my laptop doing something else at the time, but keeping the tracker open on another computer in my peripheral vision.  That's when I noticed a giant antlered animal on the course.
Oh, no wait.  Nevermind, that's not an animal.
That's just some crazy cycling fan from California.  All's cool now – totally understandable.
I mean, once you put it in that context, a man running uphill at impressive speed kitted out in a crimson cycling uniform with 5' high antlers surgically attached using steel bolts to a brilliant yellow football helmet, seems perfectly normal.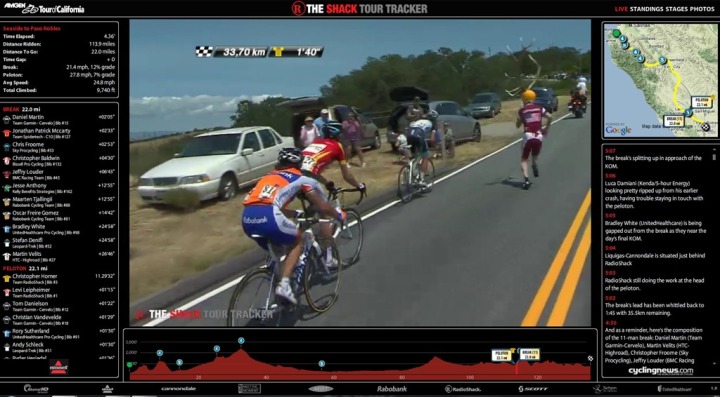 And because it's possible the above snapshot isn't clear enough – let me help you out a bit with some stylish digital zoom: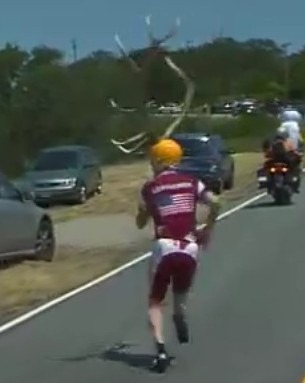 There ya go.  That probably makes it more clear.
Turns out, Antler Man has a bit of history (awesome pics there btw).  And, by the looks of things, he's actually from Montana. And he's apparently also wearing mountain bike shoes/cleats as well.  That's hardcore, yet it doesn't phase me somehow.  Though I typically expect it from our European cycling friends during their Grand Tours, us American's as a whole haven't quite elevated to that level yet.
But that's what I love about cycling.  We need some of that in triathlon and running races.  I wish I could see Antler Man on Sunday during my race – I'm sure it would be motivating on the bike or run.  Concerning if I saw him on the swim though…especially since it's a point to point swim from an island to shore.
Have a great weekend all!