One of the primary reasons you'd buy a training device like a Garmin Forerunner or similar would be to allow you to pace more effectively, whether that be in training or racing.  While most folks understand that once you turn the watch on it'll show you your pace, there's actually a number of different ways you can display 'Pace'.  Each variation allows you to track slightly different metrics, but metrics that unless understood could you leave you short of your goal pace or PR.
The primary goal of this post is to outline the different methods you can use to pace with your Garmin, as well as cover some tips on how best to pace in races.  After all – while your Garmin's GPS is actually quite accurate, that won't matter when it comes to your real race time on a USATF approved course.  Meaning that even if your Garmin measured 26.5 miles instead of 26.2 – you're not going to get credit for that extra .3 miles when it comes to a Boston Qualifying time.
Which reminds me, since one of the fundamentals to understanding race pacing with GPS or foot pods is to understand how actual courses are measured – I highly recommend everyone first read this post (pretty please?) on understanding how race courses are measured by USATF and exactly why getting your Garmin (or any GPS or footpod device) to match that distance in an actual race is incredibly difficult.
With that said, let's get into the methods that your Garmin can display.  I've included photos of each method taken from actual training tonight during intervals I was doing – so you'll have to forgive the lack of photographic beauty in lieu of realistic numbers.  Also, I happened to be using a FR310XT, but you can use pretty much any running watch to display these common metrics.
Method #1 – Instantaneous Pace:
This metric is the default measurement displayed on the majority of Garmin watches (FR305, FR405, FR410, FR310XT, FR60, etc…).  It should be noted that on the FR110 and FR210, this is not the default.  This metric is simply called 'Pace'.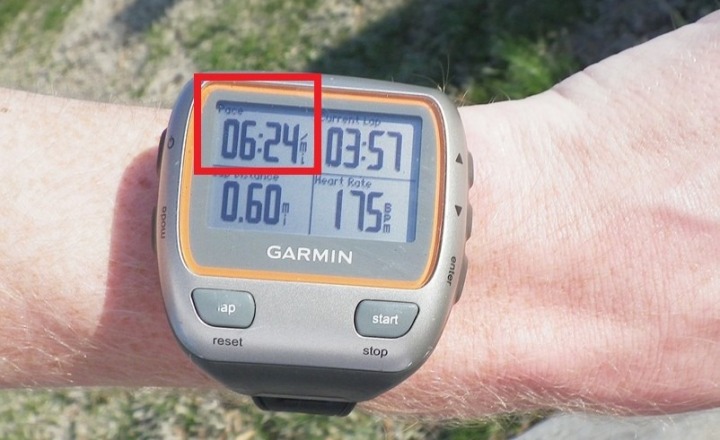 Instant pace is just that – your instant pace.  It's the speed the unit thinks you're going right this second (well actually it lags about 5-7 seconds behind).  The challenge with instant pace and running is that it tends to wander a bit.  One second it's displaying 7:30/mile, and the next second it's showing 7:50/mile – even if you didn't vary your actual pace any.   In an ideal world, vendors would use a slightly smoothed GPS pace – such as taking the average over the last 5 seconds.  And in fact, the Timex Global Trainer actually does this, and it helps to make this a more useful metric.
Nonetheless, I use instant pace on the majority of my non-paced runs as a quick metric to glance at.  By non-paced I mean runs where I'm not trying to hit an exact pace, but rather focusing on some other measurement (heart rate, perceived, not dying, etc…).  In these cases, I don't much care what the pace is, as long as I'm not being passed by grandma in a wheelchair.
Method #2 – Lap Pace:
Lap pace became a more popular way to measure your pace after folks complained about instant pace being too jumpy/inconsistent.  In fact, it's the default of the newer FR110 and FR210 watches – which aim to simplify the running experience.
Lap pace simply shows you your average pace for that lap.  What's a lap you ask?  Well, anything you want it to be.  On watches with Auto Lap turned on, that's every 1 mile.  But you can change it – it can be 1 kilometer or 5 miles.  Whatever you want it to be, it'll be.  Or you can just have it off and be manual only (my favorite).
Lap Pace simply takes the distance travelled thus far for that lap, your total time in transit for that lap – and calculates your average pace.
For many pacing efforts – this is the ideal metric.  It allows you to absorb slight changes in terrain like small hills, and understand how a short change in speed has affected your pace over a longer time period (like a mile).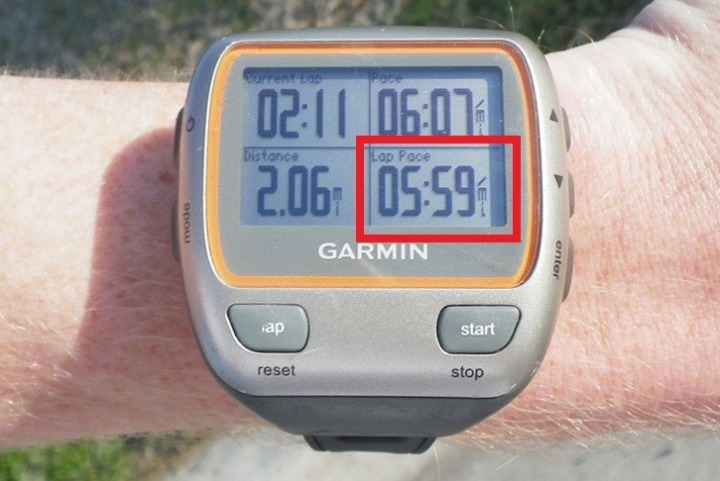 You can see above how at that moment my instant pace (upper right) is slightly slower than my lap pace (lower right).  That's because at that moment I was headed up a slight incline during that portion of the interval, slowing me down a little bit.
Lap pace is also great for intervals.  I use it on my intervals and tempo runs by resetting the lap at the start/stop of each interval, so I can both monitor my average lap pace for that interval – but also record that data later on.
It should be noted that if you never press the lap button (and don't have Auto Lap configured), then lap pace simply equals average run pace since you'll in effective have just one lap.
Also, as a side note to lap pace, you can also show 'Last Lap Pace'.  This is useful if you are taking mile splits, but want to keep track of what your last set time was as well as this current lap time.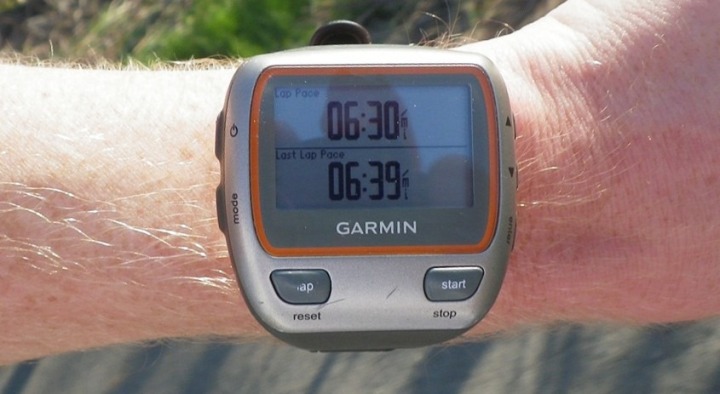 You can see above how I've configured one screen to show both my current lap average (upper half), as well as my previous lap average (lower half).  I should point out at this juncture that you have a ton of different options for configuring data fields on your watch.  Here's a post I wrote up on my configuration, as well as all the options for the most popular Garmin models.
Method #3 – Average Run Pace:
If you're with me thus far, then you'll find that Average Run Pace is simply your average pace across your entire run.  It's like having lap average…except without the lap part.  This is useful in longer runs or races where you're trying to maintain a specific pace.  This allows you to understand the impact of water breaks or even start-line crowding, on your ultimate average goal pace.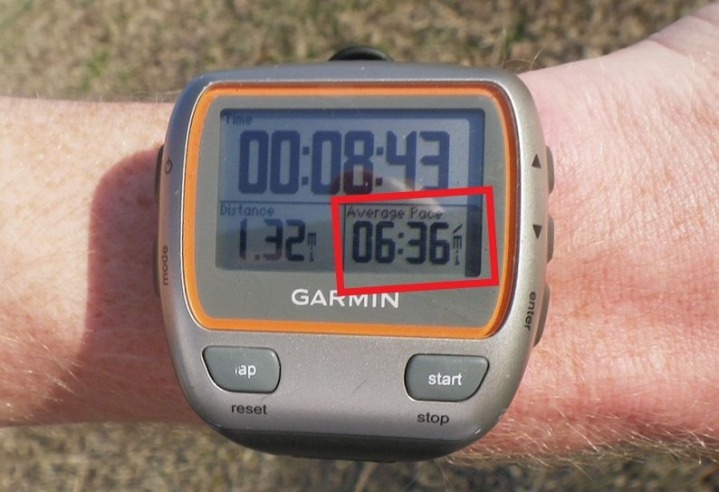 It's important to note (and I'll talk more about it in a minute) that if you're pacing a race off of Average Run Pace in hopes of hitting a specific time, then you need to aim for a slightly faster pace to account for 'running long'.  But more on that in a minute…
Method #4 – Manual Lap Splits in Races:
You may know that you can manually create your own laps on your Garmin device by simply pressing the lap button – or in my case the well used 'ap' button (see below).  This is incredibly useful not only in training – but also in races.  See, in races with posted mile markers you can create simply hit lap to create a lap for what is truly the actual mile markers in your race.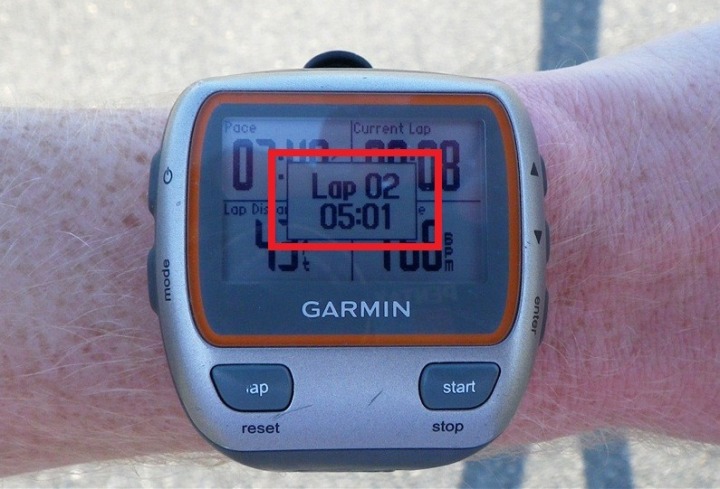 (In the above photo I was simply doing 5-minute sets, but you can use this for any distance/time you want.)
This means that you can then display lap times for your real pace (as opposed to the slightly longer GPS pace).  I use manual splits instead of Auto Lap in virtually every scenario from racing to training.  I use it to both demark intervals and to mark mile markers in races.
Method #5 – Virtual Partner mode:
Virtual Partner mode is a pretty cool option that essentially takes all the mental brain work out of options #1-4 in a race or training effort.  Instead of having to track numbers, splits and times in your head (which I can attest no longer works after about mile 18 or 19 in a marathon), it does it all for you.
You simply tell it your goal pace, and it then tells you how many minutes and how far ahead or behind that goal pace you are.  It also adds in two little stick figures on a screen to show you just how far behind you've gotten (or ahead, if you're lucky).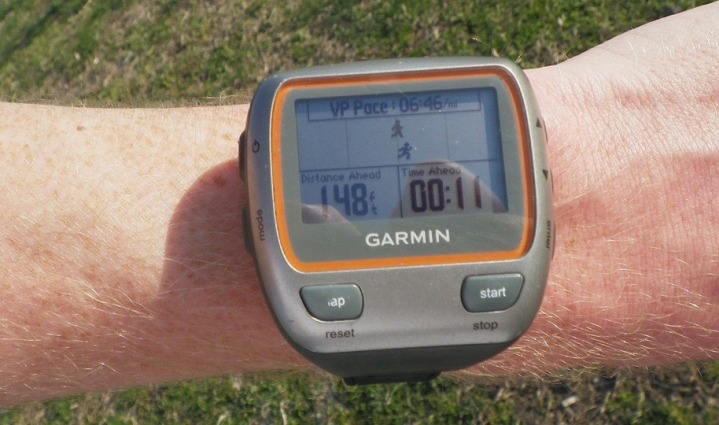 I've used this in some Ironman races to account for walking water-stops.  At that point in the day my brain simply isn't going to be able to handle doing mental pace math with numbers (though it always tries).  With Virtual Partner mode I merely have it preset for a specific pace, and it automatically keeps me in line.  I try to aim to be about 100-200 feet ahead of 'the little man' on the screen.
Note again though, that this is basing everything off of your actual run distance – not the race distance.  So if you're going for a very specific time goal, the you'll need to buffer for extra distance ran.
Racing with a Garmin – Things to Understand:
You've heard me caveat the last five methods with some form of 'you need to buffer for extra distance' – but what does that really mean?
As I outlined previously, it means that virtually nobody in a long distance event is going to be able to run an exact 13.1 mile race.  The nature of race measurement mixed with race logistics dictate that on race day you're going to be running around people and objects that simply weren't likely there when they measured the course to the absolute perfectly minimal distance possible.  These could be misplaced cones, a police car, spectators, water tables, or even just a pile of other runners like yourself.
This weekend for example I ran the National Half-Marathon.  I'm pretty meticulous when it comes to running as clean a line as I can from a race standpoint.  But it requires a lot of attention.  You have to look ahead sometimes hundreds of meters on a road and understand where the race course would be measured (most direct point to point route) – and not where the runners are necessarily running.  My overall distance for the race was 13.2 miles – which, to brag a moment – is pretty darn close to perfect.
So this ultimately means that if you're looking at hitting a specific goal time (and thus goal pace) – you should adjust your paces accordingly so that if you want to hit a 7:30/mile pace for 13.1 miles, you may want to plan that you'll be running 13.3 or 13.4 miles instead and adjust your pace to say, 7:20 or 7:25.  Again, this has nothing to do with GPS accuracy – but rather everything to do with ones running route (these two are often confused).
Finally – what to do about races without mile markers.  My plan this weekend was to take manual splits at each actual race mile marker.  This would give The Girl and I a clear picture of each of our mile splits – both for race day pacing, and later analysis.  Regrettably, the National Marathon didn't have any mile markers except for mile 10 (I don't know why).  So in that case, I simply switched over to using the data the Garmin was providing.  It's not perfect, but it's pretty darn close.  Sometimes (most times), the mile markers are actually spray painted on the road if you look carefully – usually not very big, but they're typically there (and were there this weekend).
Also, in larger races like the National Marathon, there are so many people with Garmin's that if you simply listen you'll hear a chorus of 'bee-boop' as you hit each mile marker, since most folks have Auto Lap configured.  That's typically a good indication of where the mile marker should be – regardless of where it may actually be.
In summary, there are many ways to pace with a Garmin (or without one), so it's really a matter of deciding which method works best for you.  It may be just one of the above, or a combination of them.  Good luck with the upcoming season!
Sport Device GPS Accuracy In Depth- Part I
Sport Device GPS Accuracy In Depth- Part II
Racing the line – understanding how courses are measured