Thanks all for the awesome entries in the FR310XT giveaway.  There's literally over a thousand hilarious stories in there.  Everything from folks running over into a canal while watching 'cute girls', to endless cycling dismount failures, to quality time spent in the bushes when porta potties couldn't be found.
If you haven't had a chance to go check out all the entries (yes, all 1,200+ of them) – definitely go spend some time reading them.  It's almost as addicting as reading the Fail Blog.
Unlike previous giveaways, there were no points awarded for re-tweeting/blogging/FaceBooking or skywriting.  This lead to a fairly simple selection of winners.  I had a total of 1,219 comments (that made it before the midnight cutoff), and then another pile of comments from Active Duty military folks via e-mail.  I've given them numbers from 1,220 to 1,230.
With that, I was off to Random.org to pick out a winner!  And the lucky person is: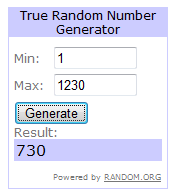 Working by simply copying everyone to a giant spreadsheet, I get the following:

Here's what our lucky winner Peter had to say:

Woohoo, congrats Peter!
For those that didn't win – don't worry – you can still go out and pick up your very own little orange watch and enjoy it for the upcoming tri season (or, if you're upside-down in New Zealand, the peak of your current season). 
And if you utilize the link above, you help to support more giveaways like this.  It's sorta like recycling: Utilize linkage > More Giveaways > More good stuffs for you.
Thanks for reading and supporting the site!